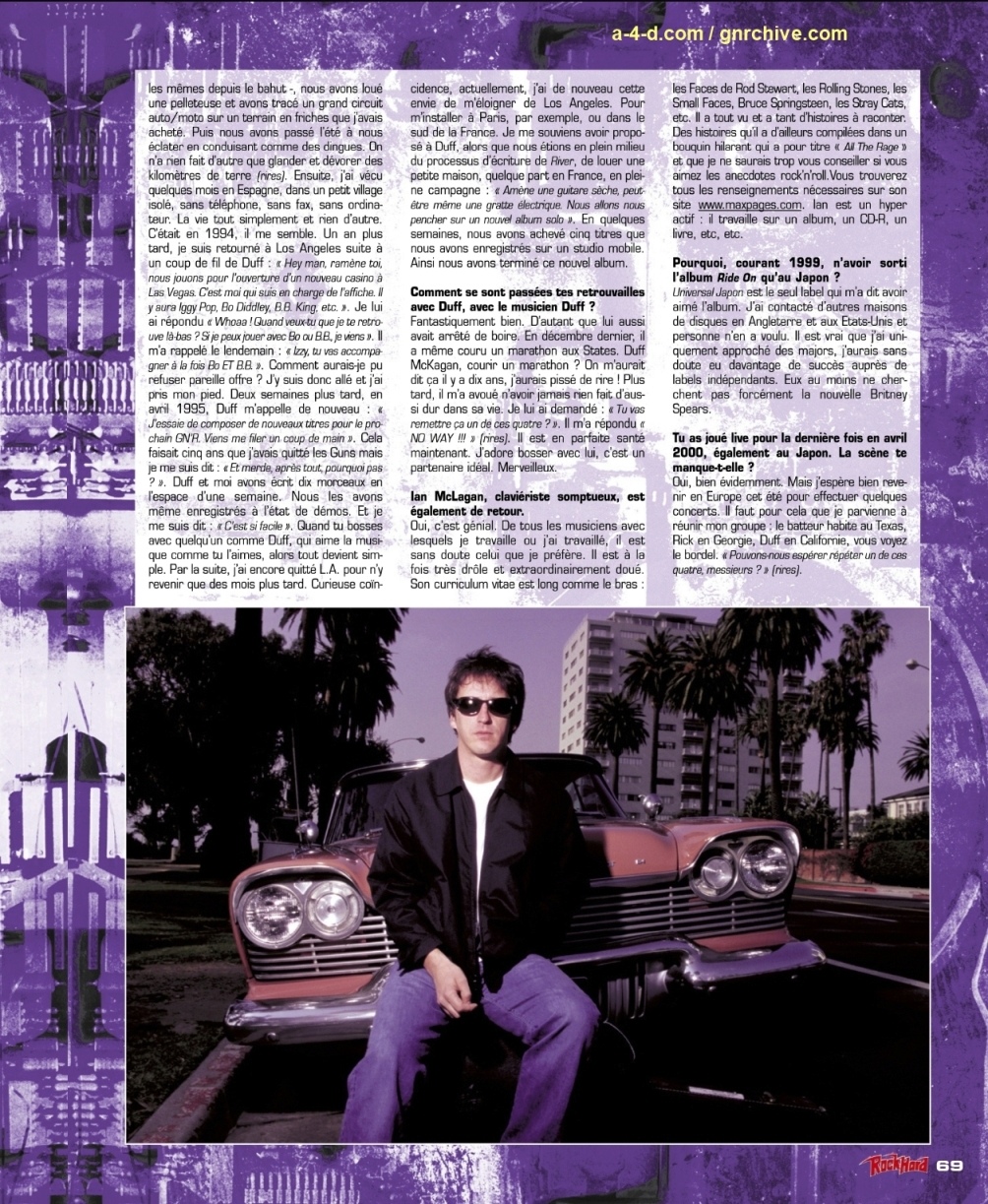 My translation:
-------------------
Izzy Stradlin
Izzy Livin'
Words: Philippe Lageat
Photo: Marc Villalonga
Interview conducted in Paris on April 23, 2001
As long as he lives, Izzy Stradlin will be followed by the legend of Guns N' Roses, the most dangerous band in the world, in which he was the rhythm guitarist until 1992. However, in all his life, Izzy Stradlin, a living dead more than ten years ago, now resurrected from the world of junkies, responds with serenity and a hint of pride to questions by journalists and other fans. Why? Because Izzy (whose bank account is, without doubt, loaded) has nothing to be concerned about anymore and now takes pride in being a free man who lives life in full and travels the world in search of wisdom. And, from time to time, he reconnects with his friend and former Guns N' Roses bassist, Duff McKagan, to record another rock 'n' roll album like his last one, River. No fuss - just for the fun of it. Izzy has it all figured out.  
Rock Hard: Physically, you look in perfect form. How did you manage to deal with your return to sobriety?
Izzy Stradlin: That didn't happen without difficulty. But I had to get clean. Without that, it was either prison or death. I've lost friends because of drugs. They were unable to stop fucking around. They ended up dying from overdoses. I soon decided to quit Guns N' Roses. I had the feeling that we were running around in circles, that we didn't know where we were going. It wasn't fun anymore. So I chose survival. I'd either continue touring with those drug addicts and opt for a not so healthy lifestyle or I'd decide to find my own path and regain control. I made my choice.
Were you equally worried about the health of other Guns N' Roses members?
Yes, of course. Honestly, if someone had told me one morning that Slash, Duff, Steve or Axl had died, I wouldn't have been surprised. After all, it was one of the realities of the world we were living in. Luckily, it never happened. My quitting the band and, at the same time, going back to sobriety contributed a great deal in making me what I am today: a happy, accomplished and healthy musician. It was so easy for me to record River. I really enjoy it and had a lot of fun.
Did you feel relieved the day after your departure from Guns N' Roses?
Yes, as if all the weight of the world was taken off my shoulders. A huge sense of relief. On the very day of my departure, I took my van, attached my bike to it, and drove to Texas. And then to Florida. The basic tourist trip. I had chills. So yeah, I felt relieved, lightweight.
You quickly put together a new project, the Ju Ju Hounds, with ex-Georgia Satellites guitarist Rick Richards – who is still with you today. How did you meet him?
I'd always been the ultimate fan of the Georgia Satellites, my favorite band of all times. One day with Guns N' Roses, when we were opening for I-don't-remember-who in Georgia, I run into Rick backstage. "Hey Slash, look who's over there, it's my idol, Rick Richards!" I didn't believe my eyes. I knew what the guy looked like thanks to the pictures on the sleeves of his records, but I'd never met him before. I went to tell him how big a fan I was and we had a long talk. Fast forward to 1991, I quit Guns. Six months go by and I feel the desire, the need to play again. I make a phone call to a buddy of mine in Los Angeles, Jimmy, who gives me Rick's number. Needless to say that I called him right away. We meet again, we jam and quickly realize that the feeling is there. So the only thing that remains is to find a drummer, which we do without delay, and here I am again being a guitarist in a rock band. We record fast and go out on tour right after. I'm alive again… Rock 'n' roll is instinctive music. When I think back to the last albums I recorded with Guns, Use Your Illusion I and II, pfff… we stayed locked in the studio for an eternity. That eventually got me completely fed up. For me, recording an album is a simple process. I write the tracks and then go into the studio where we play them without asking too many questions, and that's it. It took us less than two months to put the Ju Ju Hounds record together. We started in Los Angeles, but we were forced to finish it in Chicago because of the riots that had erupted in the City of Angels. The mixing was done in Copenhagen. And I had a wonderful time. The fun was definitely back.
Why did it take you such a long time to release a second album?
We had toured a lot with the Ju Ju's, almost a year-and-a-half altogether, and when we took a break, I started realizing what I had accomplished with Guns: "We've sold a shitload of records, we've made lots of cash. When I think of my situation ten years ago, when I was starving and didn't live off my music yet, I say to myself that I've now earned the right to enjoy life." Suddenly I wanted to laugh, to have some fun. So I called my buddies – always the same ones since high school. We rented a track excavator and traced out a big auto/moto racetrack on a fallow field that I'd bought. Then we spent the summer driving like crazy and having a blast. We did nothing other than fool around and eat up the miles (laughs). Then I lived in Spain for a few months, in a small, isolated village without phone, without fax, without a computer. Plain life and nothing else. That was in 1994, I think. A year later, I went back to Los Angeles after I'd got a phone call from Duff: "Hey man, get over here, we're playing for the opening of a new casino in Las Vegas. I'm in charge of the bill; it will be Iggy Pop, Bo Diddley, B.B. King, etc." I replied, "Whoaa! When do you want me to join you over there? If I can play with Bo or B.B., I'm coming." He called me the next day: "Izzy, you're going to play with both Bo and B.B." How could I refuse such an offer? So I went there and had the time of my life. Two weeks later, in April 1995, Duff calls again: "I'm trying to write new songs for the next GN'R record. Come lend me a hand." It'd been five years since I'd left Guns, but I told myself, "Well shit, after all, why not?" Duff and I wrote ten songs in one week, and also made demos of them. And I thought, "It's so easy." When you work with someone like Duff, who loves music in the same way you do, everything becomes simple. After that, I left L.A. once again and didn't return until months later. Curious coincidence: I currently have the same urge to get away from Los Angeles and go live in Paris, for example, or in southern France. I remember, when we were in middle of the process of writing River, I suggested to Duff that we rented a small house somewhere in France, in the countryside. "Bring an acoustic guitar, maybe also an electric one. We'll focus on a new solo album." In a few weeks, we completed five songs that we recorded in a mobile studio, and in that way, we finished this new album.
How has your reunion with Duff – Duff, the musician – worked out?
Fantastically well, especially since he, too, quit drinking. Last December he even ran a marathon in the States. Duff McKagan, running a marathon? If you had told me that ten years ago, I'd have laughed my ass off! He later admitted to me that it was the hardest thing he'd ever done in his life. I asked him, "Will you do it again sometime?" and he said, "NO WAY!!!" (laughs). He's in perfect health now. I love working with him, he's an ideal partner, amazing.
Ian McLagan, a magnificent keyboard player, is also back.
Yeah, it's great. Of all the musicians I'm working or have worked with he's undoubtedly the one I prefer the most. He's very funny and extraordinarily talented at the same time. His resume is endless: Rod Stewart's The Faces, The Rolling Stones, The Small Faces, Bruce Springsteen, Stray Cats, etc. He's seen it all and has so many stories to tell. Actually, he has compiled them in a hilarious book titled "All The Rage," which I highly recommend if you like rock 'n' roll anecdotes. You'll find all the necessary information on his site,
www.maxpages.com.
Ian is a hyperactive guy; he's working on an album, on a CD-R, on a book, etc.
Why, in 1999, the Ride On album was released only in Japan?
Universal Japan was the only label who told me that they liked the album. I had contacted other record companies in England and the U.S. and none wanted to release it. It's true that I only reached out to major labels. I would have definitely had more success with independent labels. At least they are not necessarily looking for the next Britney Spears.
The last time you played live was in April 2000, also in Japan. Do you miss the stage?
Yes, obviously. But I hope to come back to Europe this summer and play some shows. I'll have to manage to get my band together for that. The drummer lives in Texas, Rick lives in Georgia, Duff in California. See, it's a mess. "Can we hope that we'll be able to rehearse sometime, gentlemen?" (laughs)

Blackstar

ADMIN




Posts

: 12210


Plectra

: 80075


Reputation

: 97


Join date

: 2018-03-17



---
Permissions in this forum:
You
cannot
reply to topics in this forum