Mostly L.A. Guns stuff with a short mention of Slash and Izzy. Translated by yours truly.
Nowadays you reside in both Los Angeles and Århus in Denmark. How often do you drink Gammeldansk?
- I actually don't drink that much alcohol, says guitarist Tracii Guns. I may have had some around Christmas last year. Funny thing is, my neighbor in LA sometimes offers me one, but I haven't had it in Århus yet. Additionally, I get drunk after half a beer here, it's so much stronger than American beer.
I really love Denmark, in the US it's all about who has an expensive Ferrari. People are more responsible with their money here, and they make it last.
Speaking of money, what'd you do with your very first big royalty check?
- I got 12 000 dollars when I was 22 and instantly bought a Mustang from 1965.
LA Guns is releasing the new album "Checkered Past". How has your and Phil Lewis' relationship changed through the years?
- You can almost compare it to Gene Simmons and Paul Stanley. Phil and I have always been close, even behind the scenes during our bad years. Since we reunited there's been no bullshit in the band at all.
Does the album reflect the band's past?
- Yes, I think so. We've had our fair share of public disagreements but as you get older, you see things more clearly.
When'd you see your old friend Izzy Stradlin last?
- Ten years ago at a party celebrating Guns N' Roses in LA. Slash and Izzy were gonna jam with a band, but dropped out. I met Slash backstage, and he told me Izzy was outside the door. I checked and there he was.
LA Guns' third album "Hollywood Vampires" turned 30 earlier this year. What can you tell us about that record?
- It was different from the previous two. We started recording with Rick Rubin and George Drakoulias, but they got fired. Later we worked with Eddie Kramer and then he got fired. Then it was Michael James Jackson, who had done Kiss' "Creatures of the Night" and I wanted that drum sound.
I wanted to write more in the style of our hit "The Ballad of Jayne", which I actually didn't want on our second album "Cocked & Reloaded" because I thought that album was strong enough without that particular song. I wanted to have a more sophisticated approach. We had fun during the recording of "Hollywood Vampires" and I had five studios up and running at once. We spent lots of fucking money and ate an incredible amount of lasagne.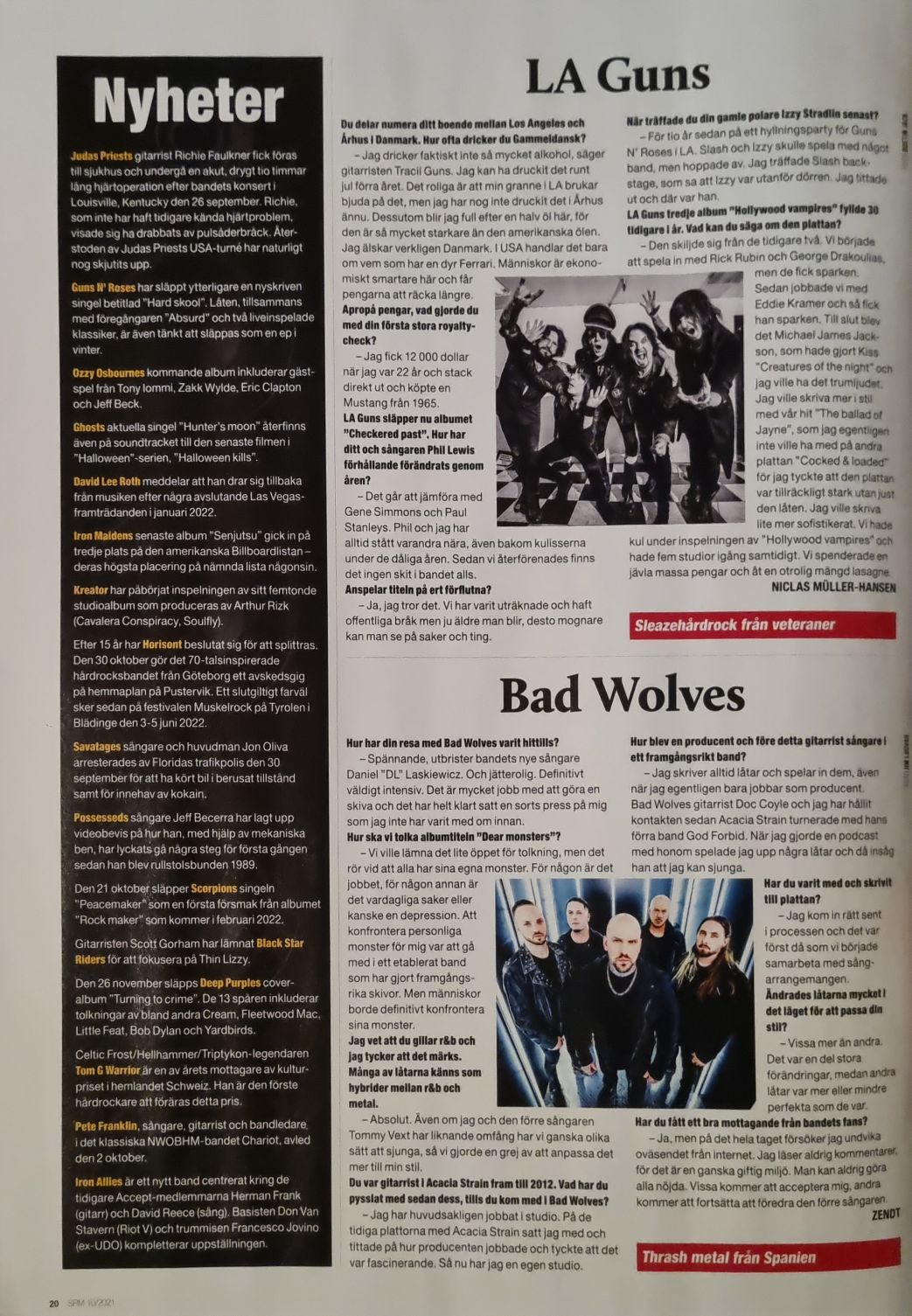 Shackler

&nbsp





Posts

: 127


Plectra

: 2398


Reputation

: 9


Join date

: 2019-06-20



---
Permissions in this forum:
You
cannot
reply to topics in this forum