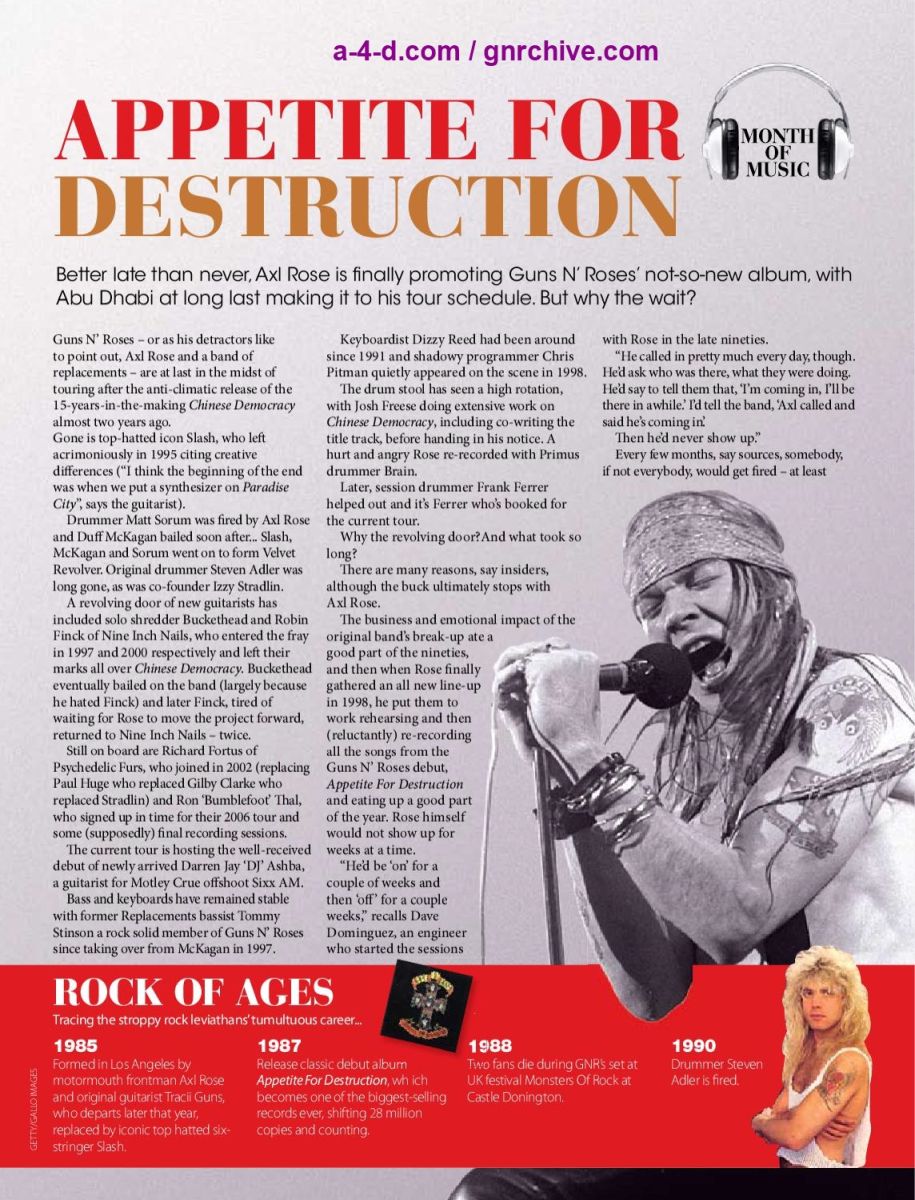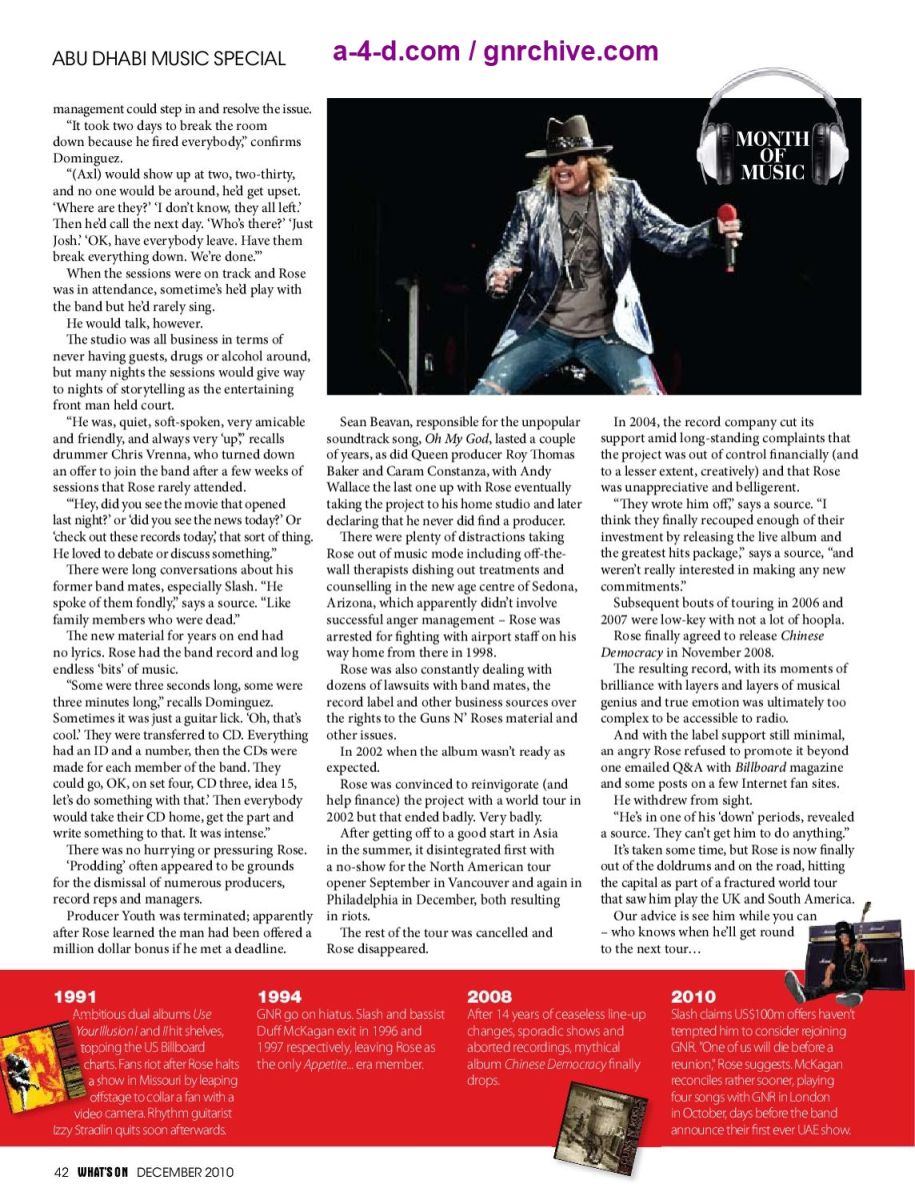 APPETITE FOR DESTRUCTION
Better late than never, Axl Rose is finally promoting Guns N' Roses' not-so-new album, with Abu Dhabi at long last making it to his tour schedule. But why the wait?
Guns N' Roses - or as his detractors like to point out, Axl Rose and a band of replacements - are at last in the midst of touring after the anti-climatic release of the 15-years-in-the-making Chinese Democracy almost two years ago.
Gone is top-hatted icon Slash, who left acrimoniously in 1995 citing creative differences ("I think the beginning of the end
was when we put a synthesizer on Paradise City", says the guitarist). Drummer Matt Sorum was fired by Axl Rose and Duff McKagan bailed soon after... Slash, McKagan and Sorum went on to form Velvet Revolver. Original drummer Steven Adler was long gone, as was co-founder Izzy Stradlin.
A revolving door of new guitarists has included solo shredder Buckethead and Robin Finck of Nine Inch Nails, who entered the fray in 1997 and 2000 respectively and left their marks all over Chinese Democracy. Buckethead eventually bailed on the band (largely because he hated Finck) and later Finck, tired of waiting for Rose to move the project forward, returned to Nine Inch Nails - twice.
Still on board are Richard Fortus of Psychedelic Furs, who joined in 2002 (replacing Paul Huge who replaced Gilby Clarke who replaced Stradlin) and Ron 'Bumblefoot Thal, who signed up in time for their 2006 tour and some (supposedly) final recording sessions. The current tour is hosting the well-received debut of newly arrived Darren Jay 'DJ' Ashba, a guitarist for Motley Crue offshoot Sixx AM.
Bass and keyboards have remained stable with former Replacements bassist Tommy Stinson, a rock solid member of Guns N' Roses since taking over from McKagan in 1997. Keyboardist Dizzy Reed had been around since 1991 and shadowy programmer Chris Pitman quietly appeared on the scene in 1998.
The drum stool has seen a high rotation, with Josh Freese doing extensive work on Chinese Democracy, including co-writing the title track, before handing in his notice. A hurt and angry Rose re-recorded with Primus drummer Brain. Later, session drummer Frank Ferrer helped out and it's Ferrer who's booked for the current tour.
Why the revolving door? And what took so long? There are many reasons, say insiders, although the buck ultimately stops with Axl Rose.
The business and emotional impact of the original band's break-up ate a good part of the nineties, and then when Rose finally gathered an all new line-up in 1998, he put them to work rehearsing and then (reluctantly) re-recording all the songs from the Guns N' Roses debut, Appetite For Destruction and eating up a good part of the year. Rose himself would not show up for weeks at a time.
"He'd be 'on' for a couple of weeks and then 'off' for a couple weeks," recalls Dave Dominguez, an engineer who started the sessions with Rose in the late nineties. "He called in pretty much every day, though. He'd ask who was there, what they were doing. He'd say to tell them that, 'I'm coming in, I'll be there in awhile.' I'd tell the band, 'Axl called and said he's coming in'. Then he'd never show up."
Every few months, say sources, somebody, if not everybody, would get fired - at least management could step in and resolve the issue.
"It took two days to break the room down because he fired everybody," confirms Dominguez. "(Axl) would show up at two, two-thirty, and no one would be around, he'd get upset. 'Where are they?' 'I don't know, they all left.' Then he'd call the next day. 'Who's there?' 'Just Josh.' 'OK, have everybody leave. Have them break everything down. We're done.'"
When the sessions were on track and Rose was in attendance, sometimes he'd play with the band but he'd rarely sing. He would talk, however. The studio was all business in terms of never having guests, drugs or alcohol around, but many nights the sessions would give way to nights of storytelling as the entertaining front man held court.
"He was, quiet, soft-spoken, very amicable and friendly, and always very 'up'" recalls drummer Chris Vrenna, who turned down an offer to join the band after a few weeks of sessions that Rose rarely attended. '"Hey, did you see the movie that opened last night?' or 'did you see the news today?' Or 'check out these records today,' that sort of thing. He loved to debate or discuss something."
There were long conversations about his former band mates, especially Slash. "He spoke of them fondly," says a source. "Like family members who were dead."
The new material for years on end had no lyrics. Rose had the band record and log endless 'bits' of music.
"Some were three seconds long, some were three minutes long," recalls Dominguez. Sometimes it was just a guitar lick. 'Oh, that's cool.' They were transferred to CD. Everything had an ID and a number, then the CDs were made for each member of the band. They could go, OK, on set four, CD three, idea 15, let's do something with that.' Then everybody would take their CD home, get the part and write something to that. It was intense."
There was no hurrying or pressuring Rose. 'Prodding' often appeared to be grounds for the dismissal of numerous producers, record reps and managers.
Producer Youth was terminated; apparently after Rose learned the man had been offered a million dollar bonus if he met a deadline. Sean Beavan, responsible for the unpopular soundtrack song, Oh My God, lasted a couple of years, as did Queen producer Roy Thomas Baker and Caram Constanza, with Andy Wallace the last one up with Rose eventually taking the project to his home studio and later declaring that he never did find a producer.
There were plenty of distractions taking Rose out of music mode including off-the-wall therapists dishing out treatments and counselling in the new age centre of Sedona, Arizona, which apparently didn't involve successful anger management - Rose was arrested for fighting with airport staff on his way home from there in 1998.
Rose was also constantly dealing with dozens of lawsuits with band mates, the record label and other business sources over the rights to the Guns N' Roses material and other issues.
In 2002 when the album wasn't ready as expected, Rose was convinced to reinvigorate (and help finance) the project with a world tour in 2002 but that ended badly. Very badly. After getting off to a good start in Asia in the summer, it disintegrated first with a no-show for the North American tour opener September in Vancouver and again in Philadelphia in December, both resulting in riots. The rest of the tour was cancelled and Rose disappeared.
In 2004, the record company cut its support amid long-standing complaints that the project was out of control financially (and to a lesser extent, creatively) and that Rose was unappreciative and belligerent. "They wrote him off?' says a source. "I think they finally recouped enough of their investment by releasing the live album and the greatest hits package," says a source, "and weren't really interested in making any new commitments."
Subsequent bouts of touring in 2006 and 2007 were low-key with not a lot of hoopla.
Rose finally agreed to release Chinese Democracy in November 2008. The resulting record, with its moments of brilliance with layers and layers of musical genius and true emotion was ultimately too complex to be accessible to radio. And with the label support still minimal, an angry Rose refused to promote it beyond one emailed Q&A with Billboard magazine and some posts on a few Internet fan sites. He withdrew from sight. "He's in one of his 'down' periods, revealed a source. They can't get him to do anything."
It's taken some time, but Rose is now finally out of the doldrums and on the road, hitting the capital as part of a fractured world tour that saw him play the UK and South America.
Our advice is see him while you can - who knows when he'll get round to the next tour...

Blackstar

ADMIN




Posts

: 9564


Plectra

: 65440


Reputation

: 97


Join date

: 2018-03-17



---
Permissions in this forum:
You
cannot
reply to topics in this forum