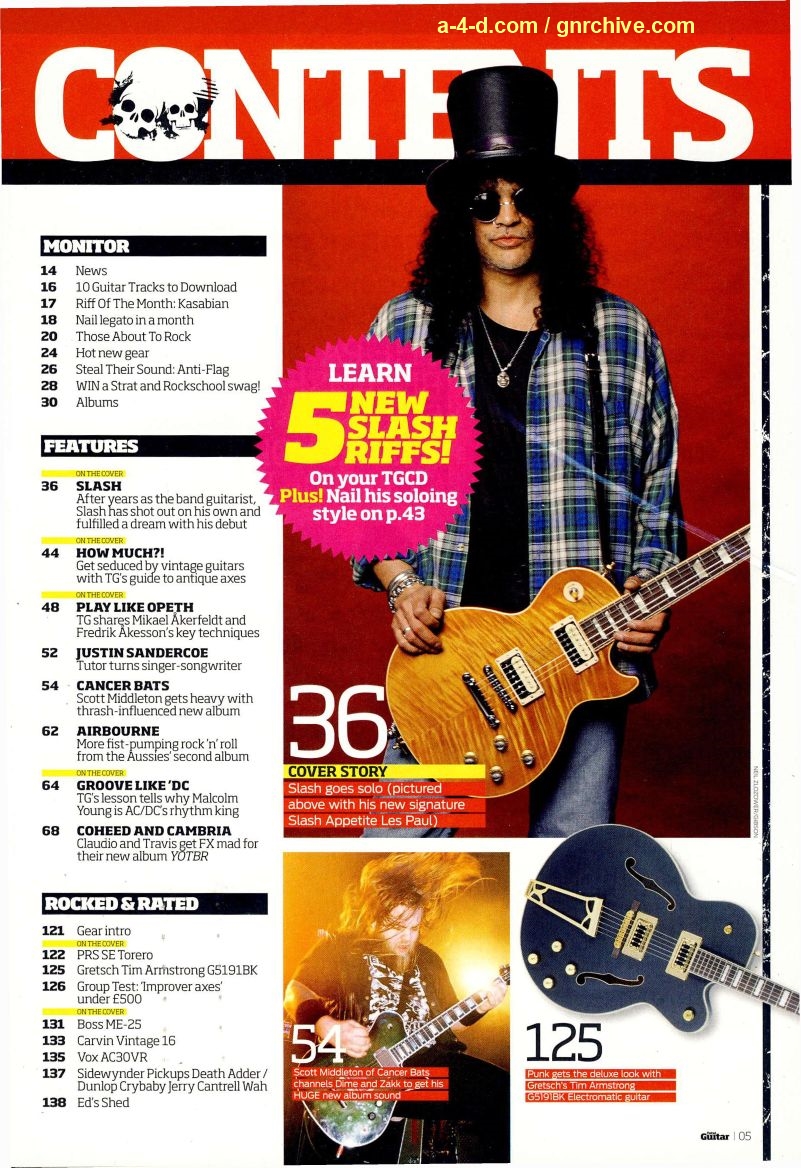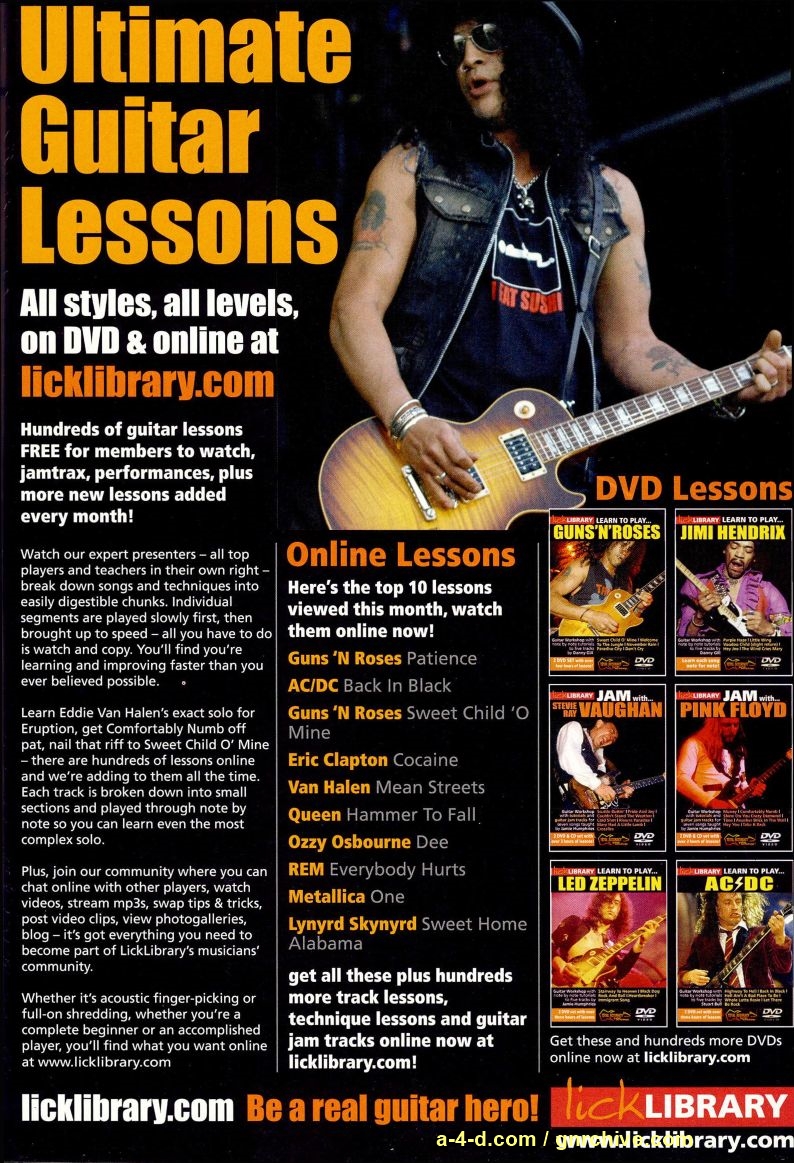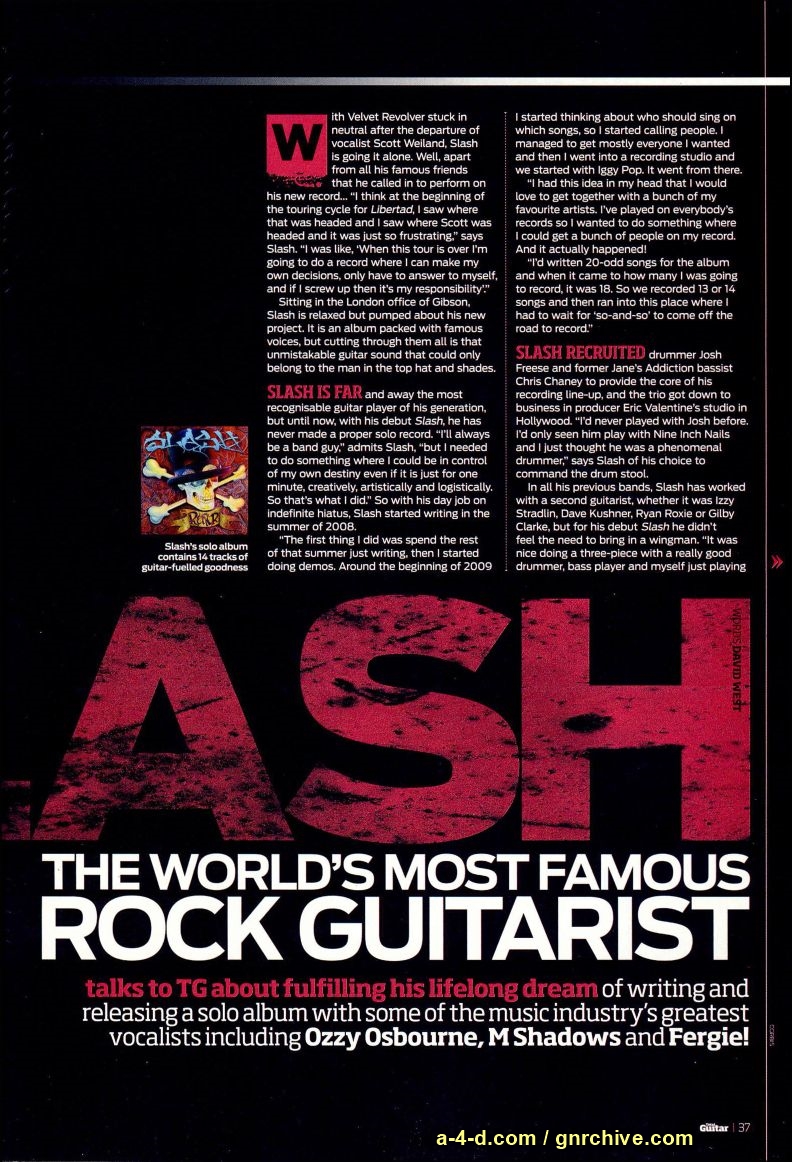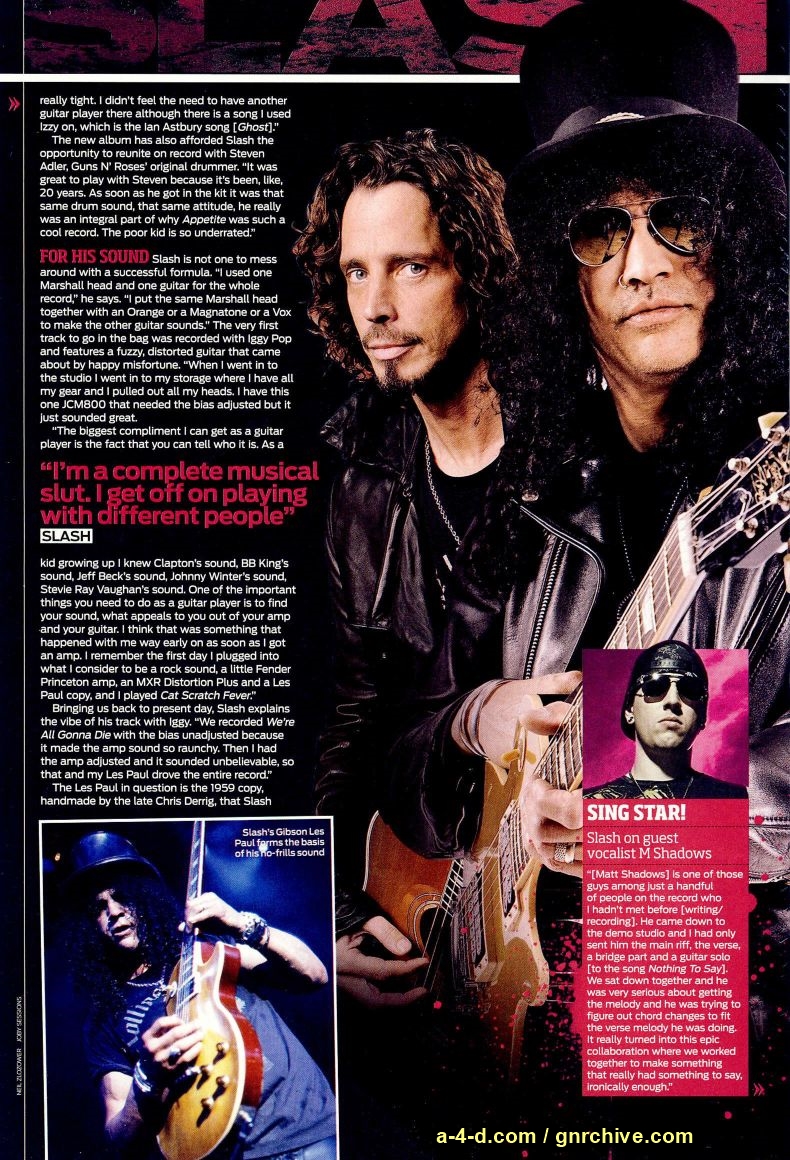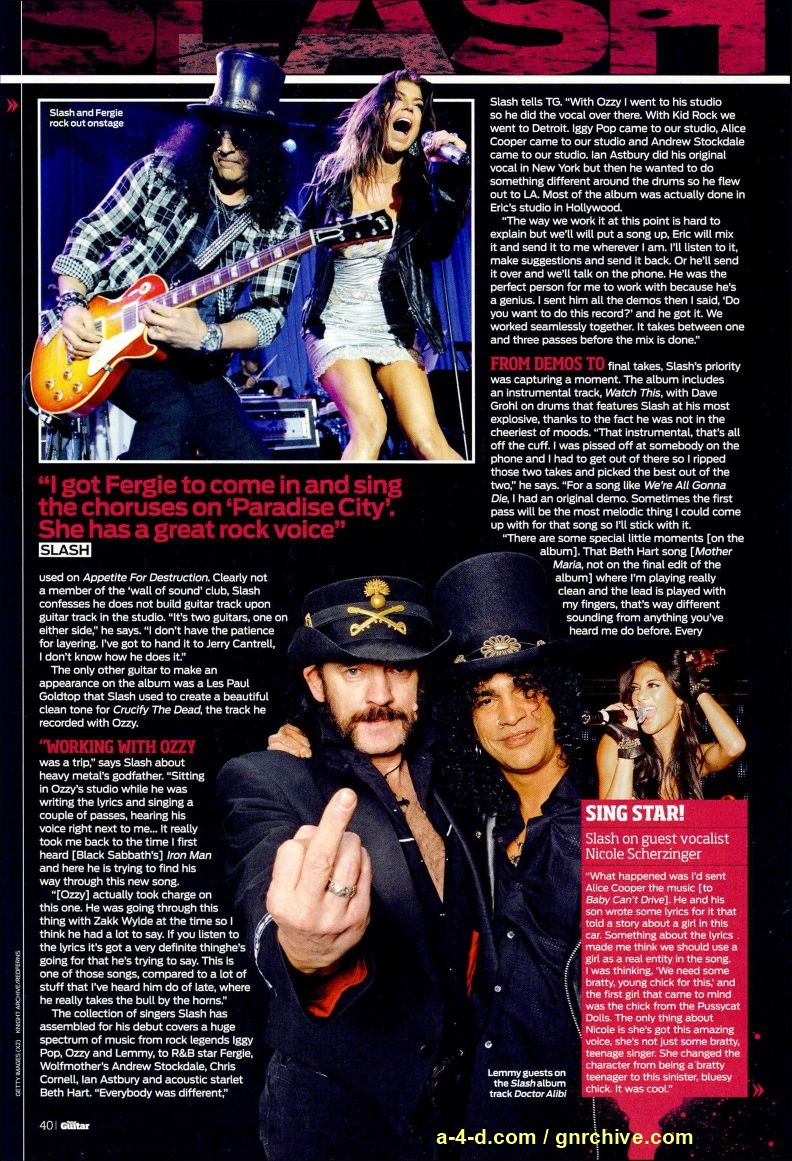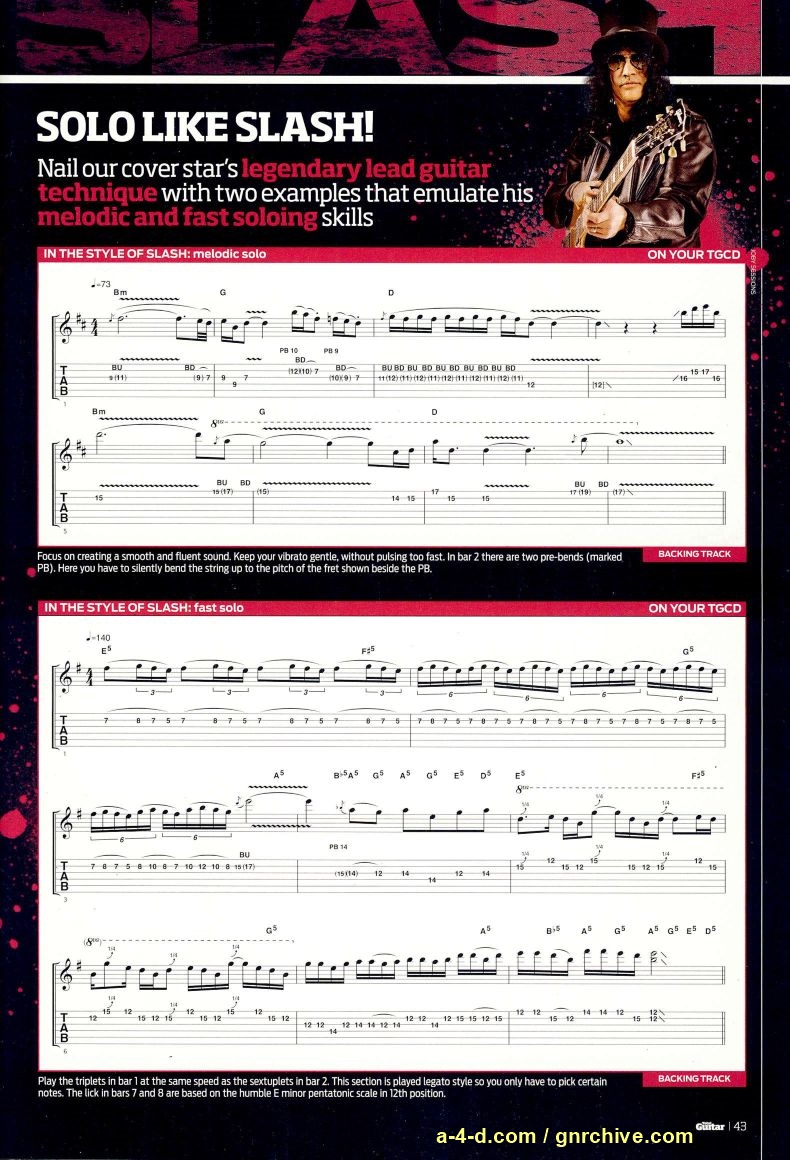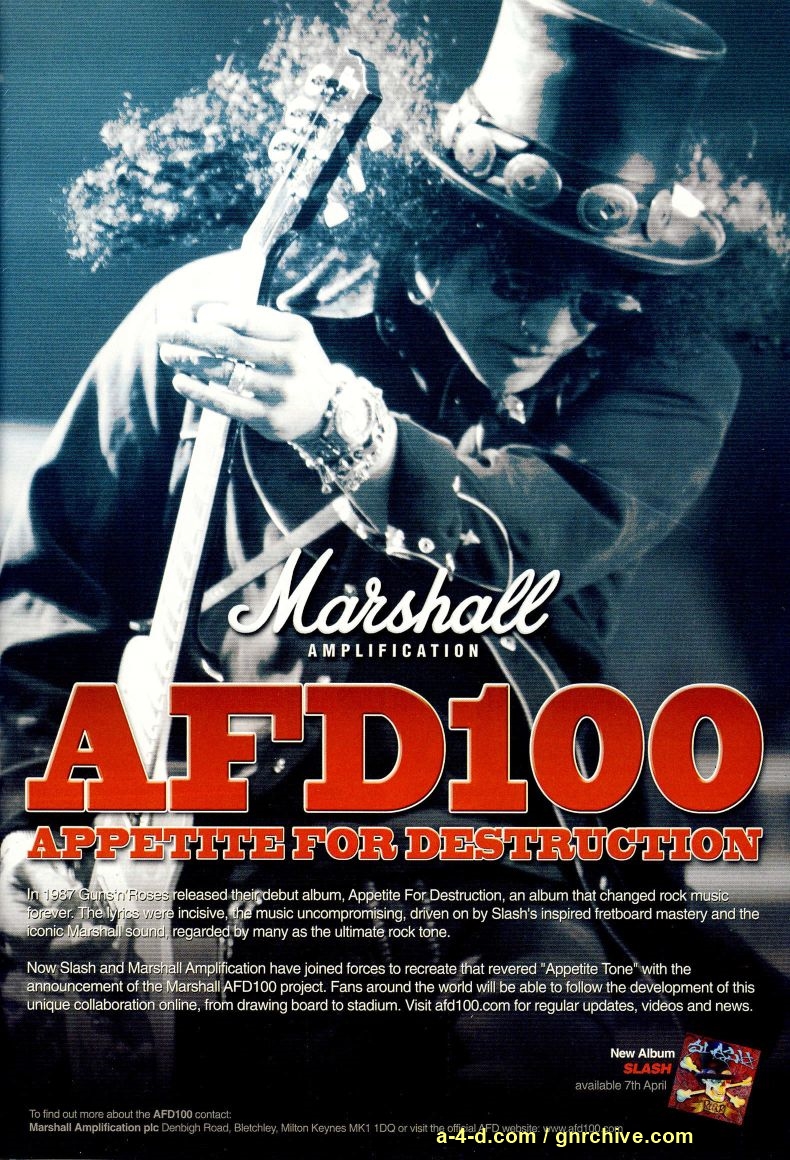 SLASH
THE WORLD'S MOST FAMOUS ROCK GUITARIST
talks to TG about fulfilling his lifelong dream of writing and releasing a solo album with some of the music industry's greatest vocalists including Ozzy Osbourne, M Shadows and Fergie!
With Velvet Revolver stuck in neutral after the departure of vocalist Scott Weiland, Slash is going it alone. Well, apart from all his famous friends that he called in to perform on his new record... "I think at the beginning of the touring cycle for Libertad, I saw where that was headed and I saw where Scott was headed and it was just so frustrating," says Slash. "I was like, 'When this tour is over I'm going to do a record where I can make my own decisions, only have to answer to myself, and if I screw up then it's my responsibility'."
Sitting in the London office of Gibson, Slash is relaxed but pumped about his new project. It is an album packed with famous voices, but cutting through them all is that unmistakable guitar sound that could only belong to the man in the top hat and shades.
SLASH IS FAR and away the most recognisable guitar player of his generation, but until now, with his debut Slash, he has never made a proper solo record. "I'll always be a band guy," admits Slash, "but I needed to do something where I could be in control of my own destiny even if it is just for one minute, creatively, artistically and logistically. So that's what I did." So with his day job on indefinite hiatus, Slash started writing in the summer of 2008.
"The first thing I did was spend the rest of that summer just writing, then I started doing demos. Around the beginning of 2009 I started thinking about who should sing on which songs, so I started calling people. I managed to get mostly everyone I wanted and then I went into a recording studio and we started with Iggy Pop. It went from there.
"I had this idea in my head that I would love to get together with a bunch of my favourite artists. I've played on everybody's records so I wanted to do something where I could get a bunch of people on my record. And it actually happened!
"I'd written 20-odd songs for the album and when it came to how many I was going to record, it was 18. So we recorded 13 or 14 songs and then ran into this place where I had to wait for 'so-and-so' to come off the road to record."
SLASH RECRUITED drummer Josh Freese and former Jane's Addiction bassist Chris Chaney to provide the core of his recording line-up, and the trio got down to business in producer Eric Valentine's studio in Hollywood. "I'd never played with Josh before. I'd only seen him play with Nine Inch Nails and I just thought he was a phenomenal drummer," says Slash of his choice to command the drum stool.
In all his previous bands, Slash has worked with a second guitarist, whether it was Izzy Stradlin, Dave Kushner, Ryan Roxie or Gilby Clarke, but for his debut Slash he didn't feel the need to bring in a wingman. "It was nice doing a three-piece with a really good drummer, bass player and myself just playing really tight. I didn't feel the need to have another guitar player there although there is a song I used Izzy on, which is the Ian Astbury song [Ghost]."
The new album has also afforded Slash the opportunity to reunite on record with Steven Adler, Guns N' Roses' original drummer. "It was great to play with Steven because it's been, like, 20 years. As soon as he got in the kit it was that same drum sound, that same attitude, he really was an integral part of why Appetite was such a cool record. The poor kid is so underrated.'
FOR HIS SOUND Slash is not one to mess around with a successful formula. "I used one Marshall head and one guitar for the whole record," he says. "I put the same Marshall head together with an Orange or a Magnatone or a Vox to make the other guitar sounds." The very first track to go in the bag was recorded with Iggy Pop and features a fuzzy, distorted guitar that came about by happy misfortune. "When I went in to the studio I went in to my storage where I have all my gear and I pulled out all my heads. I have this one JCM800 that needed the bias adjusted but it just sounded great.
"The biggest compliment I can get as a guitar player is the fact that you can tell who it is. As a kid growing up I knew Clapton's sound, BB King's sound, Jeff Beck's sound, Johnny Winter's sound, Stevie Ray Vaughan's sound. One of the important things you need to do as a guitar player is to find your sound, what appeals to you out of your amp and your guitar. I think that was something that happened with me way early on as soon as I got an amp. I remember the first day I plugged into what I consider to be a rock sound, a little Fender Princeton amp, an MXR Distortion Plus and a Les Paul copy, and I played Cat Scratch Fever."
Bringing us back to present day, Slash explains the vibe of his track with Iggy. "We recorded We're All Gonna Die with the bias unadjusted because it made the amp sound so raunchy. Then I had the amp adjusted and it sounded unbelievable, so that and my Les Paul drove the entire record."
The Les Paul in question is the 1959 copy, handmade by the late Chris Derrig, that Slash used on Appetite For Destruction. Clearly not a member of the 'wall of sound' club, Slash confesses he does not build guitar track upon guitar track in the studio. "It's two guitars, one on either side," he says. "I don't have the patience for layering. I've got to hand it to Jerry Cantrell, I don't know how he does it."
The only other guitar to make an appearance on the album was a Les Paul Goldtop that Slash used to create a beautiful clean tone for Crucify The Dead, the track he recorded with Ozzy.
"WORKING WITH OZZY was a trip," says Slash about heavy metal's godfather. "Sitting in Ozzy's studio while he was writing the lyrics and singing a couple of passes, hearing his voice right next to me... It really took me back to the time I first heard [Black Sabbath's] Iron Man and here he is trying to find his way through this new song.
"[Ozzy] actually took charge on this one. He was going through this thing with Zakk Wylde at the time so I think he had a lot to say. If you listen to the lyrics it's got a very definite thing he's going for that he's trying to say. This is one of those songs, compared to a lot of stuff that I've heard him do of late, where he really takes the bull by the horns."
The collection of singers Slash has assembled for his debut covers a huge spectrum of music from rock legends Iggy Pop, Ozzy and Lemmy, to R&B star Fergie, Wolfmother's Andrew Stockdale, Chris Cornell, Ian Astbury and acoustic starlet Beth Hart. "Everybody was different," Slash tells TG. "With Ozzy I went to his studio so he did the vocal over there. With Kid Rock we went to Detroit. Iggy Pop came to our studio, Alice Cooper came to our studio and Andrew Stockdale came to our studio. Ian Astbury did his original vocal in New York but then he wanted to do something different around the drums so he flew out to LA. Most of the album was actually done in Eric's studio in Hollywood.
"The way we work it at this point is hard to explain but we'll will put a song up, Eric will mix it and send it to me wherever I am. I'll listen to it, make suggestions and send it back. Or he'll send it over and we'll talk on the phone. He was the perfect person for me to work with because he's a genius. I sent him all the demos then I said, 'Do you want to do this record?' and he got it. We worked seamlessly together. It takes between one and three passes before the mix is done."
FROM DEMOS TO final takes, Slash's priority was capturing a moment. The album includes an instrumental track, Watch This, with Dave Grohl on drums that features Slash at his most explosive, thanks to the fact he was not in the cheeriest of moods. "That instrumental, that's all off the cuff. I was pissed off at somebody on the phone and I had to get out of there so I ripped those two takes and picked the best out of the two," he says. "For a song like We're All Gonna Die, I had an original demo. Sometimes the first pass will be the most melodic thing I could come up with for that song so I'll stick with it.
"There are some special little moments [on the album]. That Beth Hart song [Mother Maria, not on the final edit of the album] where I'm playing really clean and the lead is played with my fingers, that's way different sounding from anything you've heard me do before. Every song has its own personality. I like to feel like I managed to capture what that tune is about.
"The acoustic track [Saint Is A Sinner Too] is with a guy named Rocco DeLuca, who I was turned onto when someone played me his music. He's got this amazing voice but I'd never worked with him before so I sought him out. When you hear the song, it's completely different to anything you've heard me do but it's really cool."
'"PARADISE CITY' IS not going on the [standard edition] record," says Slash of the Guns song he's been playing with Cypress Hill for years (however, it will be on the Classic Rock Slashpack edition). "It's so cool the way that they sing it, but then I had Fergie come and do the choruses, she has a great rock voice. I've always wanted to record that version the way I do it with those guys and there you have it. It's funny - everyone loves Appetite and it was a big record. I remember when we first recorded it and I wasn't sure if it was good... I listen to it now and it's got this naive stiffness to it but it's really cool. Given the amount of experience from then to now it's something I'll never to able to duplicate but, at the same time, at this point I can do so much other sh** as a player that I never could do back then. I've seen growth over the years; that's all I can ask for."
Slash plans to hit the road to promote the record with his new touring band, which includes Alter Bridge vocalist Myles Kennedy. In the meantime, he has put his songwriting on the backburner to devote his full attention to Slash. "Right now I'm on hiatus from songwriting until this [album's touring and promotion cycle] is done, but as a lead guitar player I've been playing my ass off lately because I've been really into my guitar. I've been finding new ground lead-wise by going out and jamming. Being in the studio can be a little confining for a guitarist, so I've been breaking out and playing live gigs with whomever. It's liberating.
"I'M A MUSICIAN. I need to be playing. I'm a complete slut when it comes to music," confesses Slash in closing. "I get off on playing with different people. It's what I do. In some way, shape or form I have to be doing music."
SING STAR!
Slash on guest vocalist Μ Shadows
"[Matt Shadows] is one of those guys among just a handful of people on the record who I hadn't met before [writing/
recording]. He came down to the demo studio and I had only sent him the main riff, the verse, a bridge part and a guitar solo [to the song Nothing To Say]. We sat down together and he was very serious about getting the melody and he was trying to figure out chord changes to fit the verse melody he was doing. It really turned into this epic collaboration where we worked together to make something that really had something to say, ironically enough."
Slash on guest vocalist Nicole Scherzinger
"What happened was I'd sent Alice Cooper the music [to Baby Can't Drive]. He and his son wrote some lyrics for it that told a story about a girt in this car. Something about the lyrics made me think we should use a girl as a real entity in the song. I was thinking, 'We need some bratty, young chick for this,' and the first girl that came to mind was the chick from the Pussycat Dolls. The only thing about Nicole is she's got this amazing voice, she's not just some bratty, teenage singer. She changed the character from being a bratty teenager to this sinister, bluesy chick. It was cool."
Slash on guest vocalist Kid Rock
"Kid Rock is cool but I didn't know him that well until now. He's very serious about what he does and he takes his music very seriously. He has a great ear and a great work ethic. I went to Michigan to write that song with him at his studio. The professionalism that exudes from that guy in a working situation is unparalleled. We wrote the song over there and then I came back to LA and got my drummer Josh and bassist Chris together and we re-tracked the song and sped it up. but it didn't work with Kid Rock's vocals so we slowed it back down and it worked perfectly."
*
AFD100
APPETITE FOR DESTRUCTION
In 1987 Guns N' Roses released their debut album, Appetite For Destruction, an album that changed rock music forever. The lyrics were incisive, the music uncompromising, driven on by Slash's inspired fretboard mastery and the iconic Marshall sound, regarded by many as the ultimate rock tone.
Now Slash and Marshall Amplification have joined forces to recreate that revered "Appetite Tone" with the announcement of the Marshall AFD100 project. Fans around the world will be able to follow the development of this unique collaboration online, from drawing board to stadium. Visit afd100.com for regular updates, videos and news.

Blackstar

ADMIN




Posts

: 12244


Plectra

: 80304


Reputation

: 97


Join date

: 2018-03-17



---
Permissions in this forum:
You
cannot
reply to topics in this forum