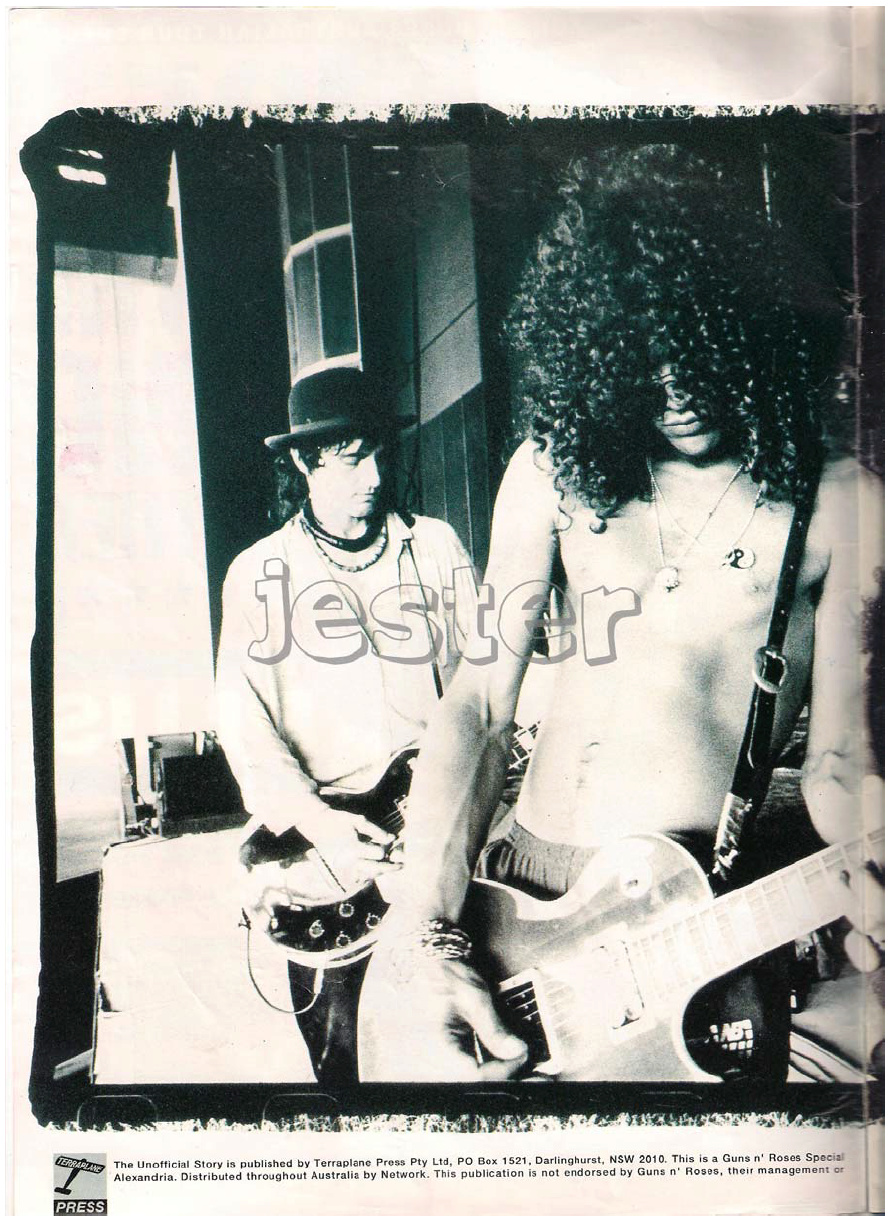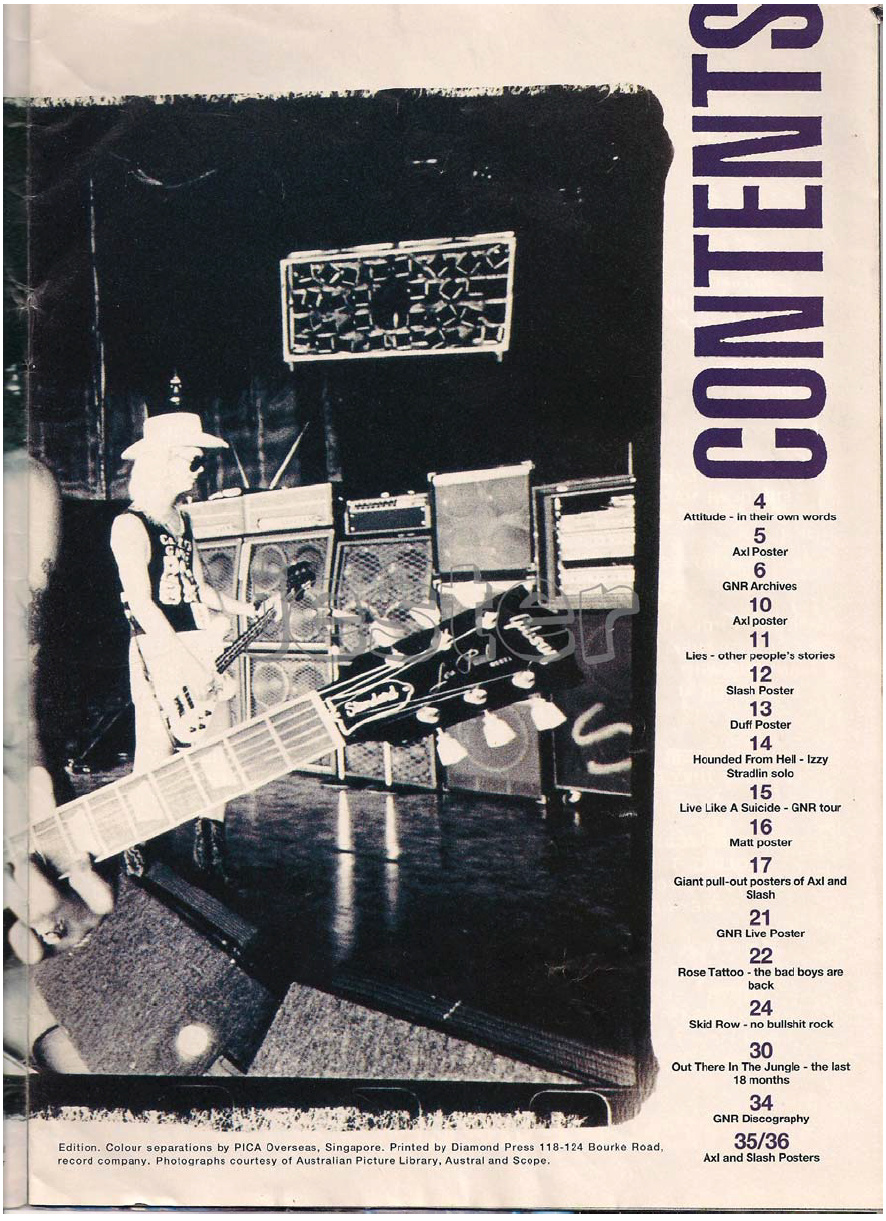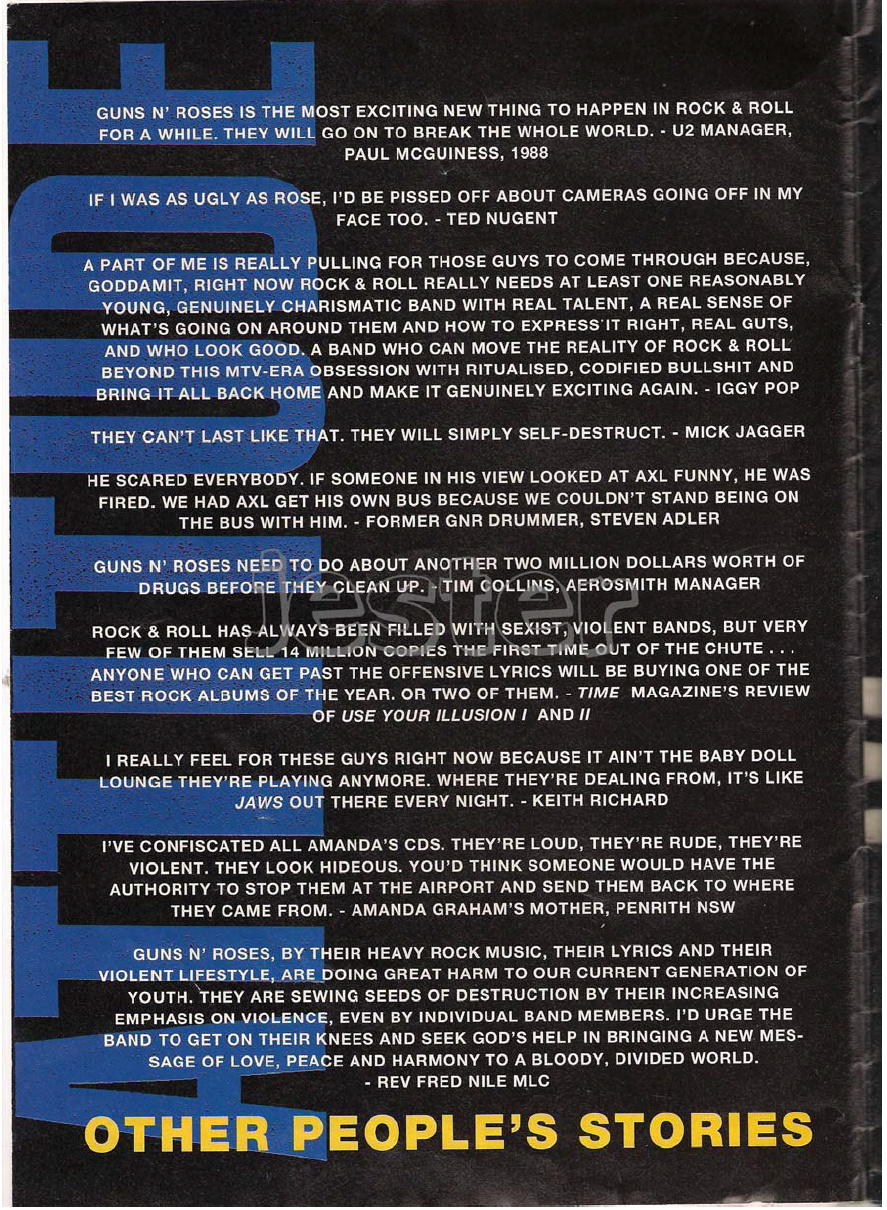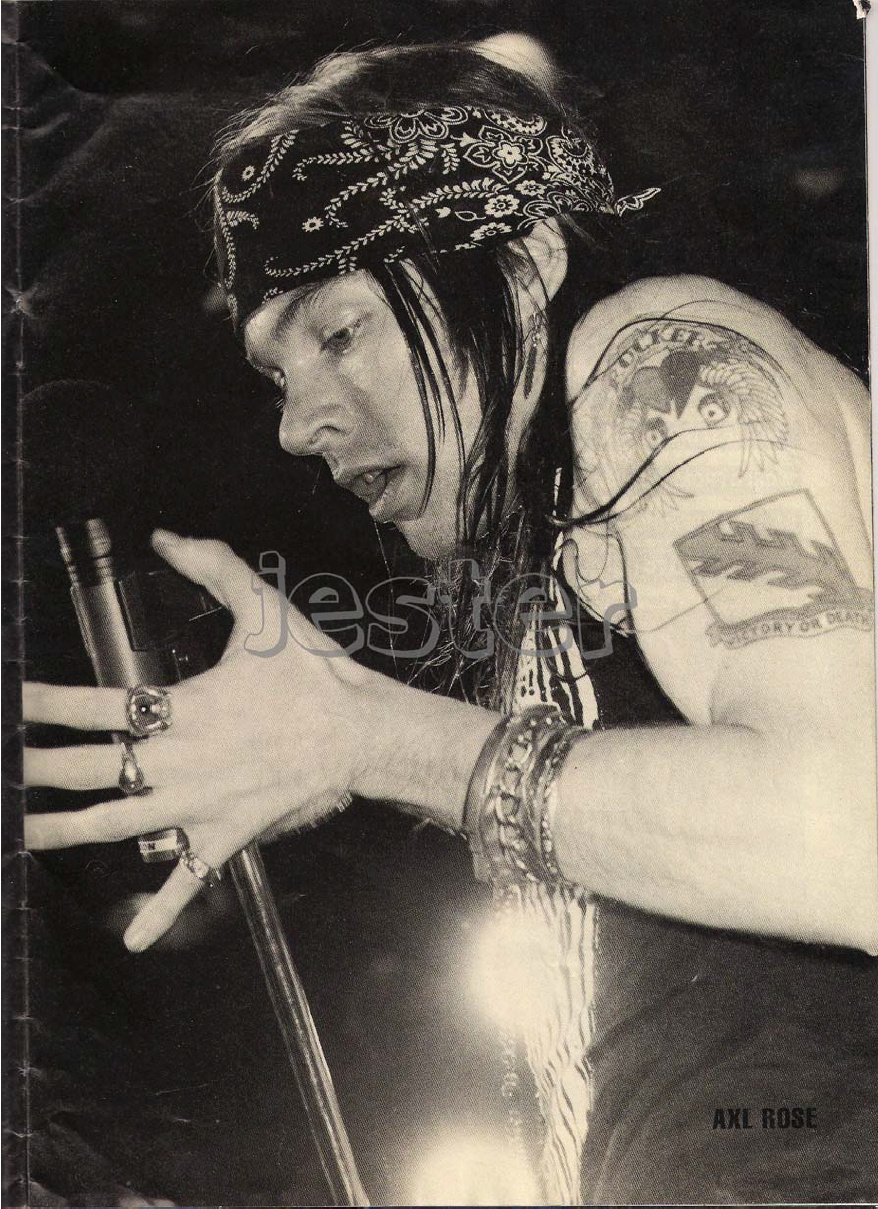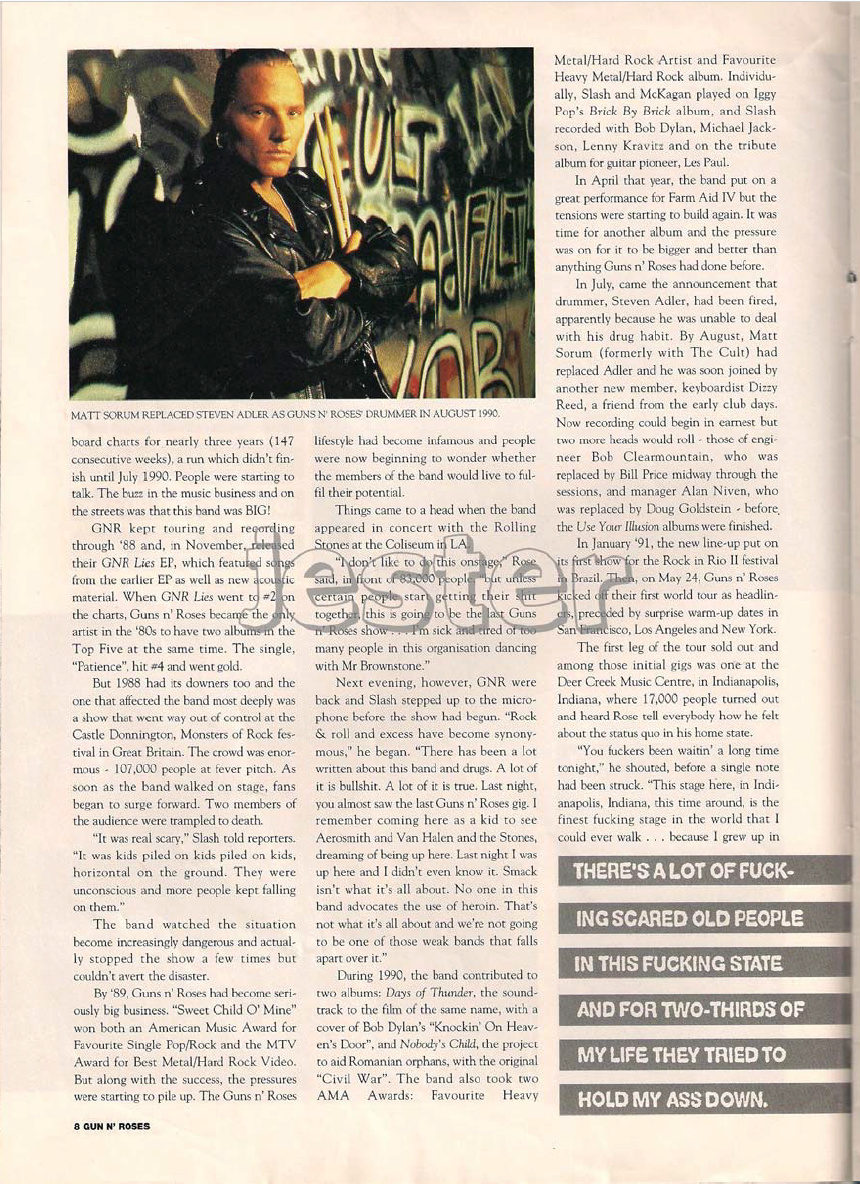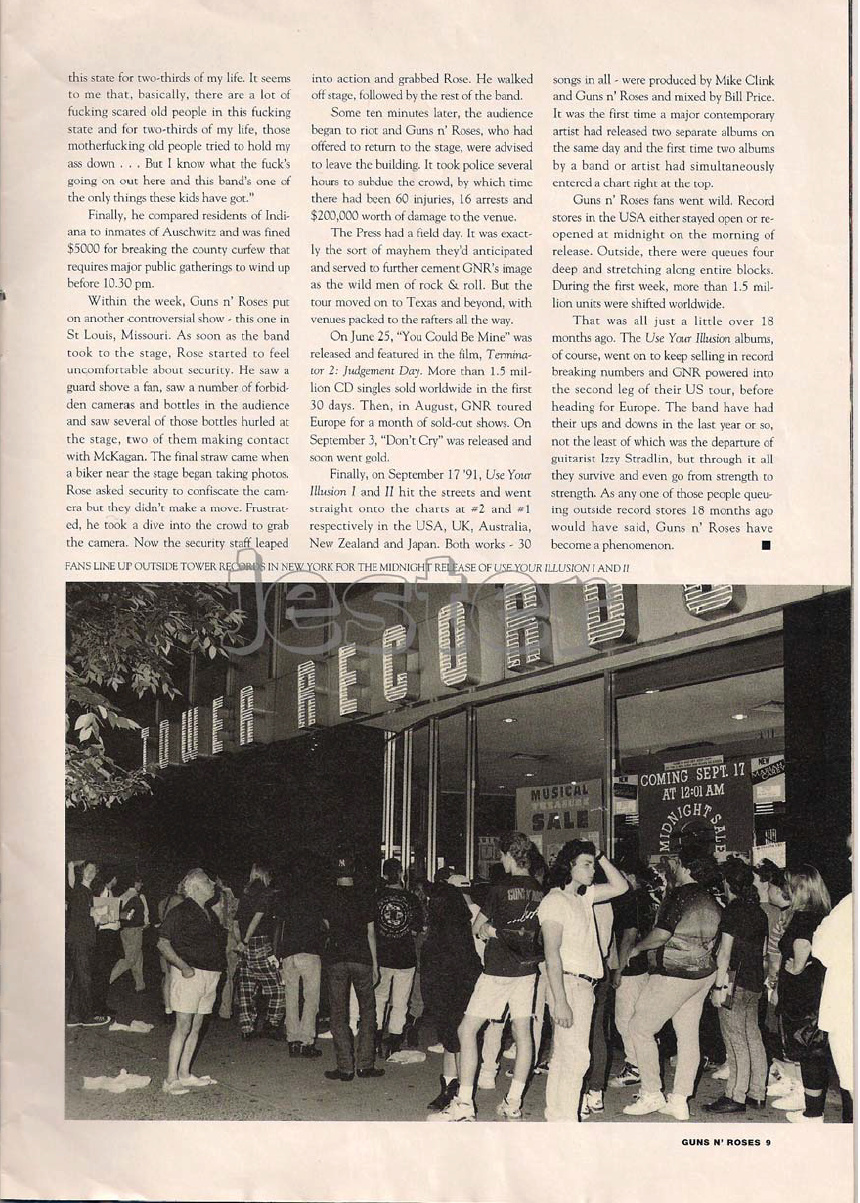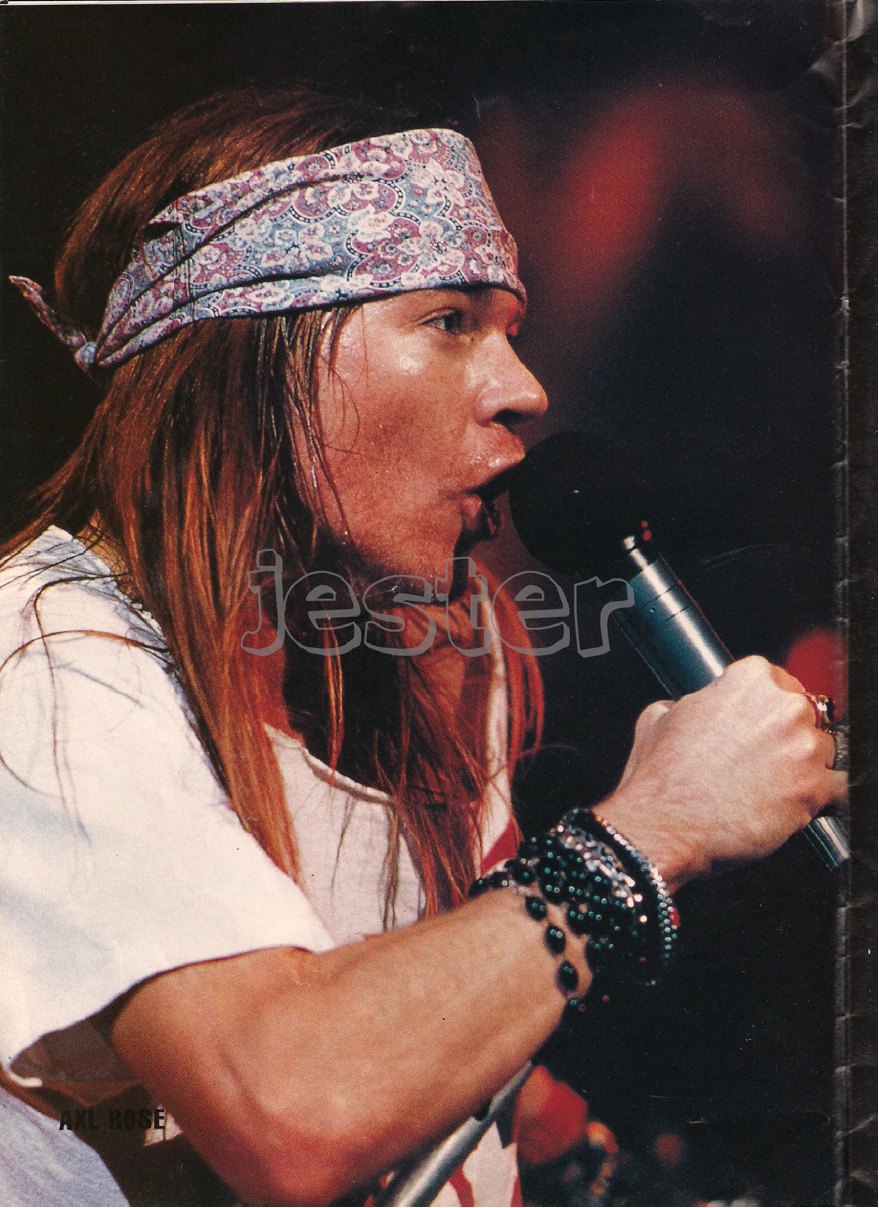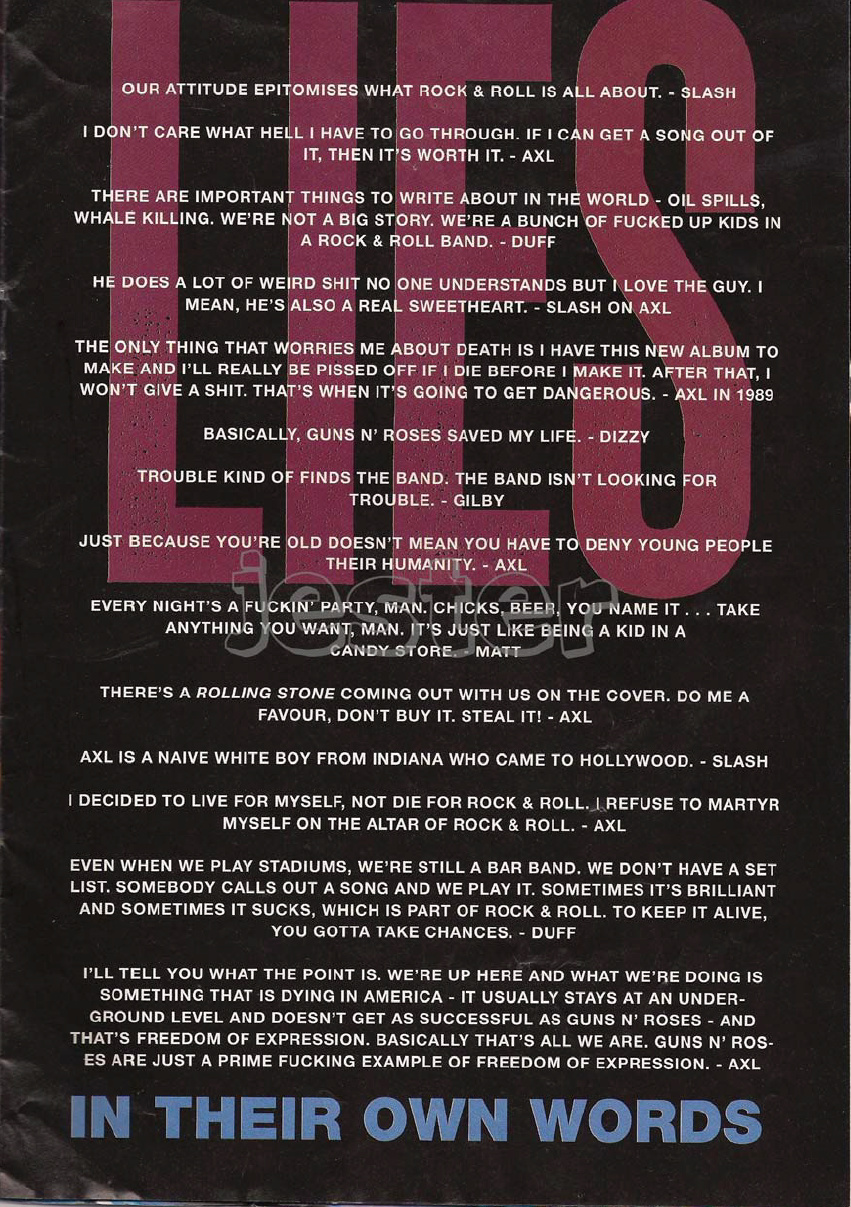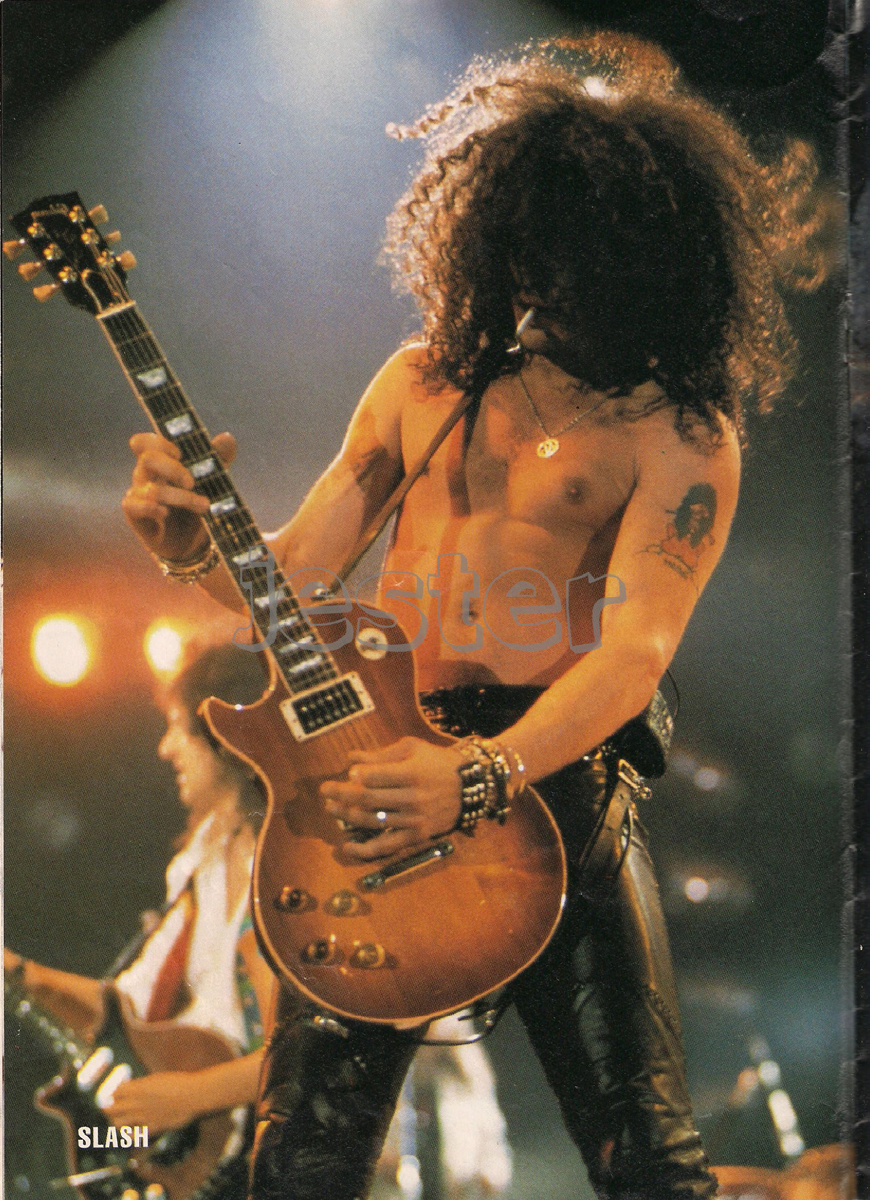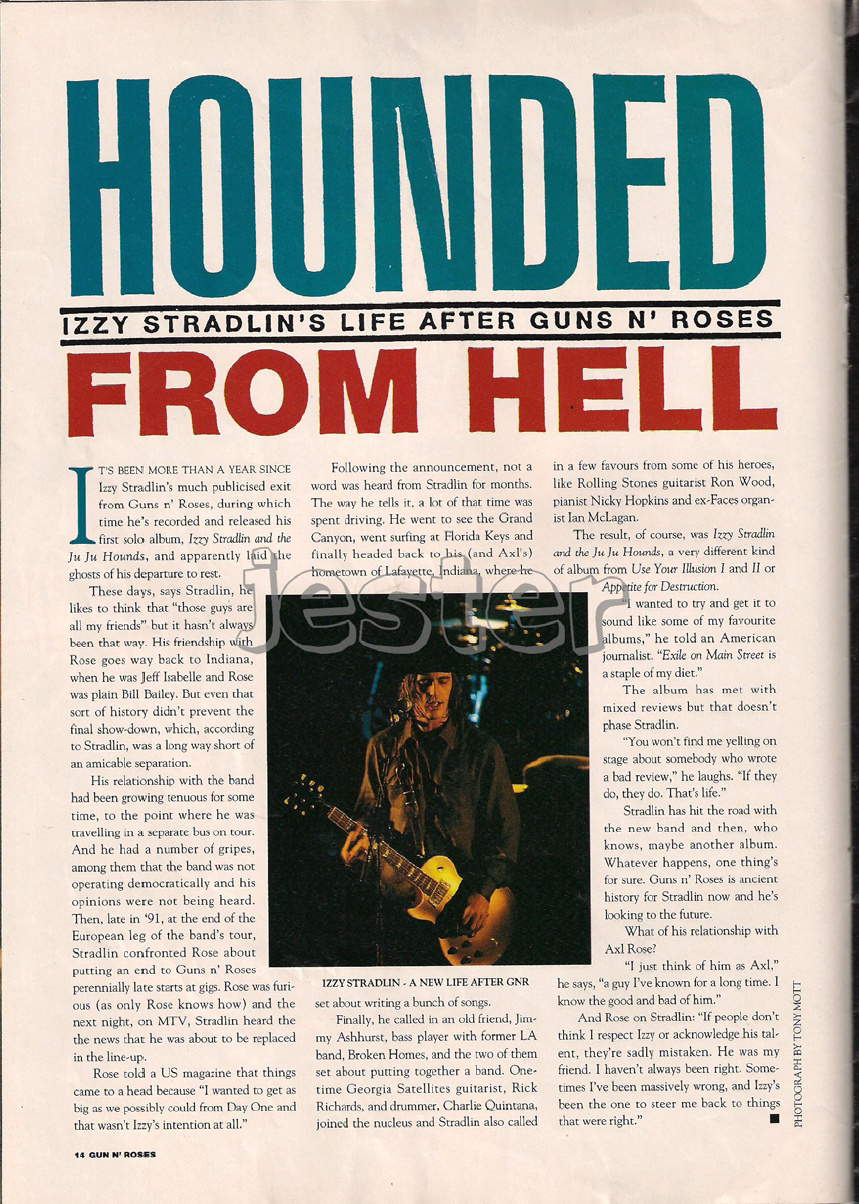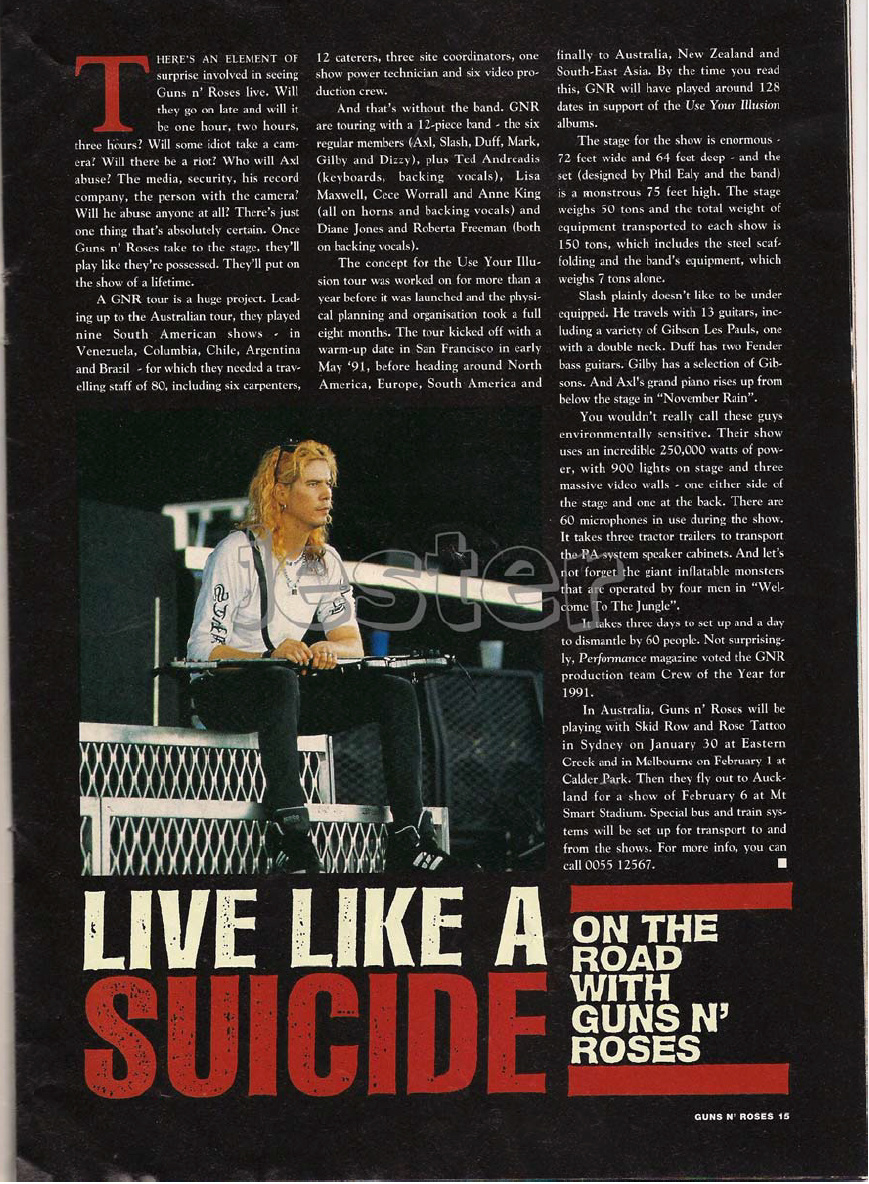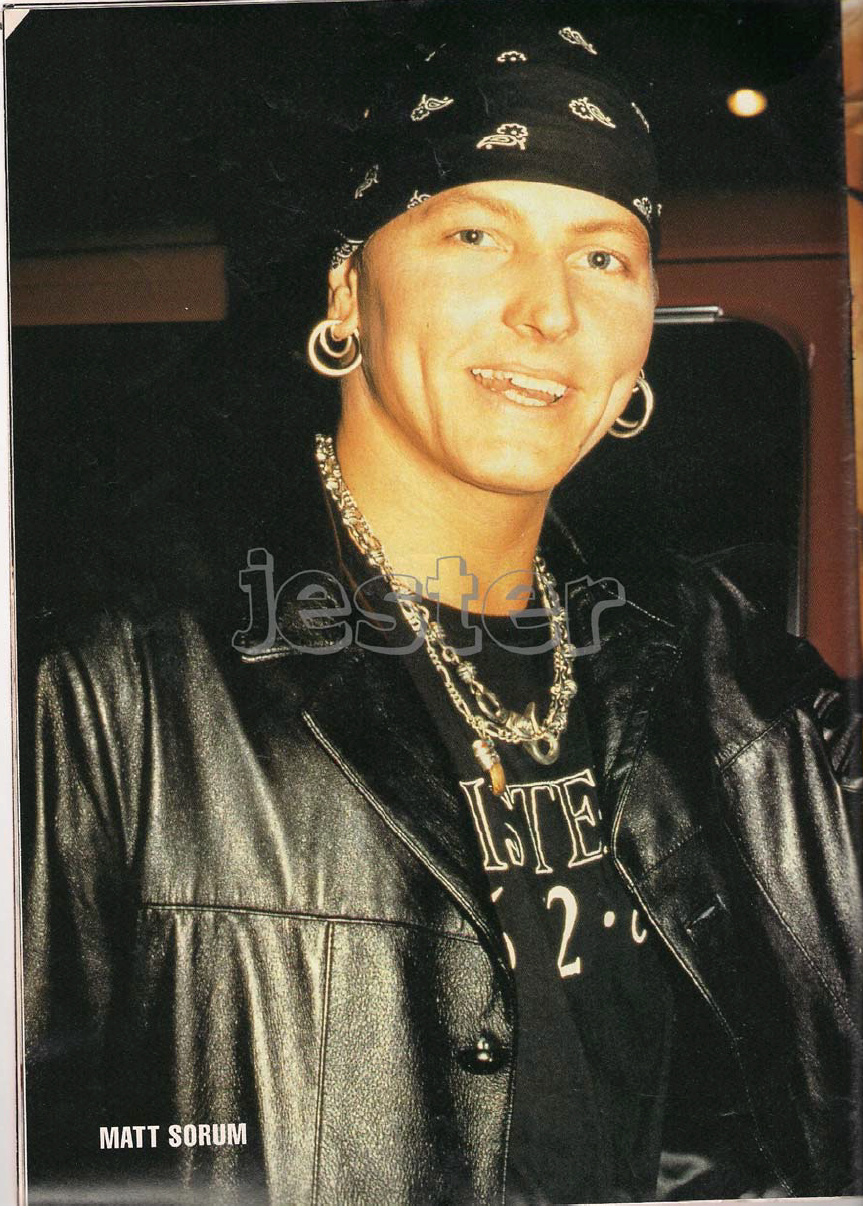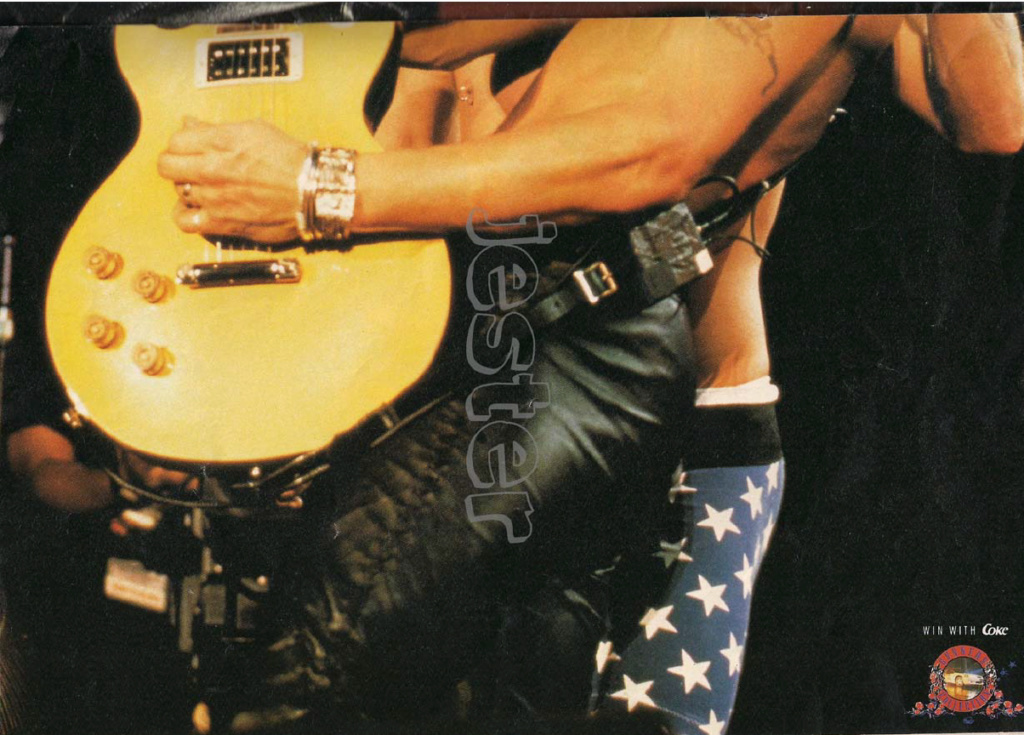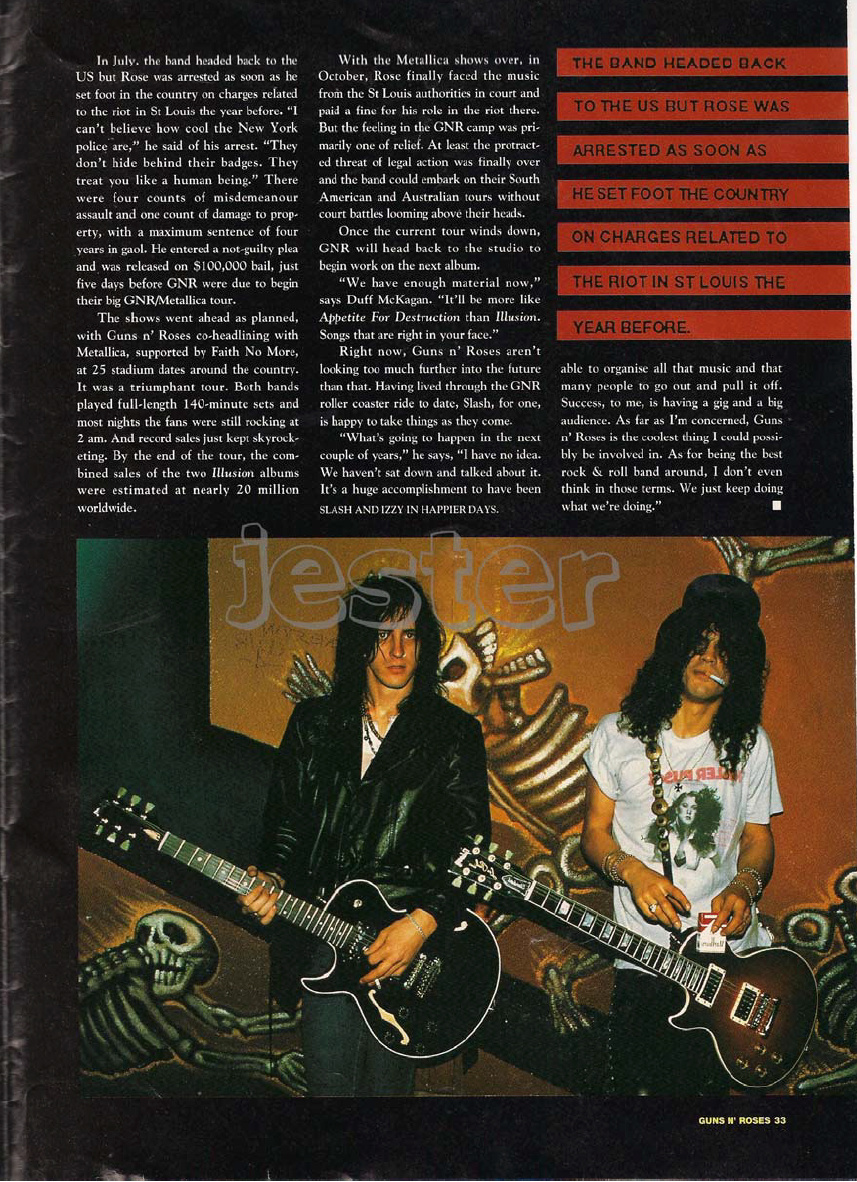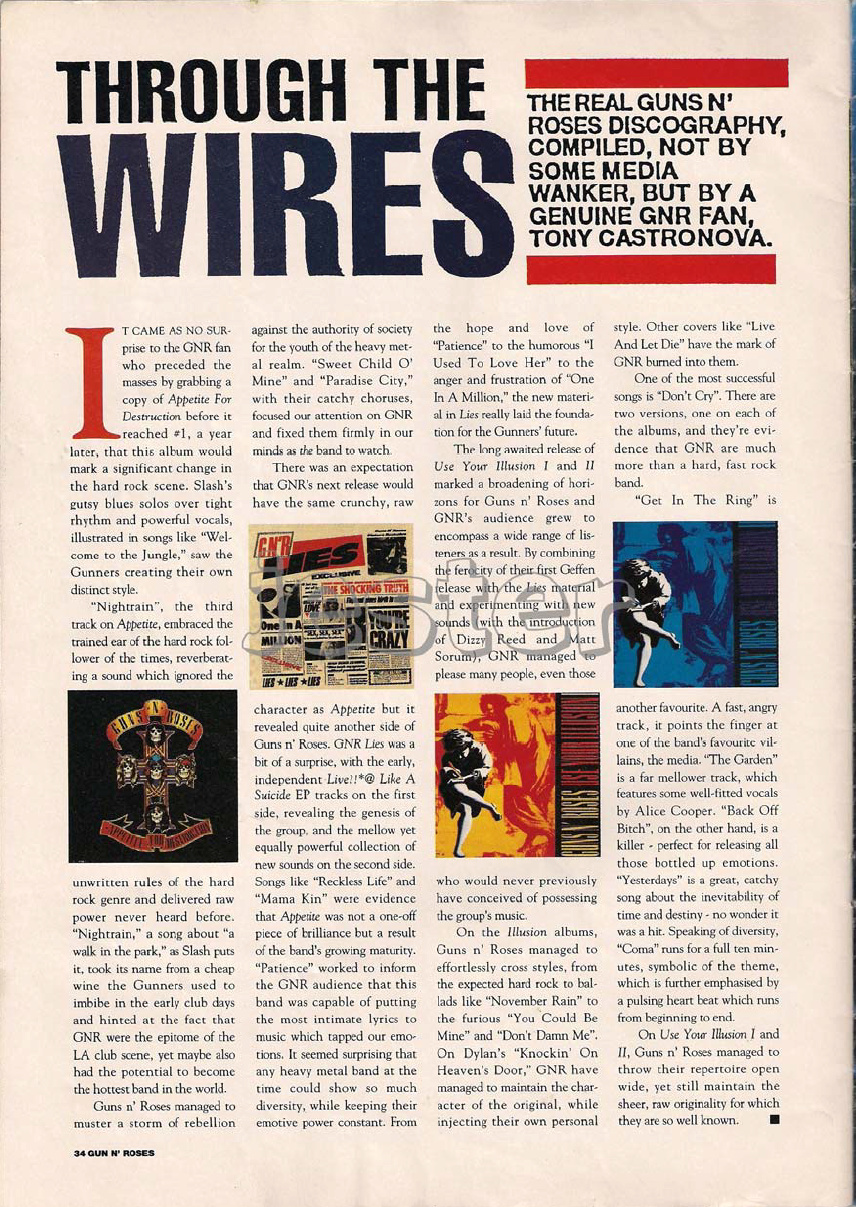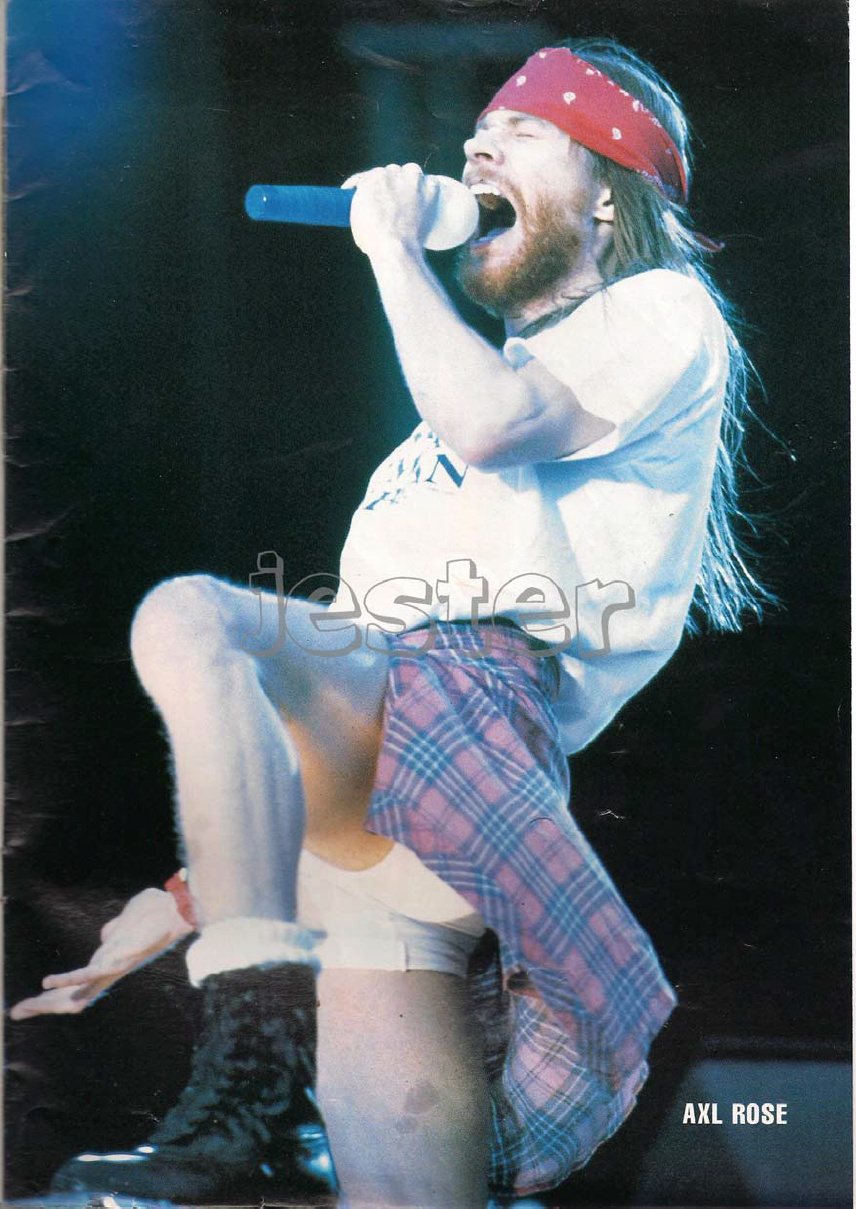 Transcript:
IT WAS IN 1985 THAT GUNS N' ROSES emerged out of the ashes of two Californian bands, Hollywood Guns and LA Rose. In just eight years, they've become one of the biggest and most controversial rock 'n' roll names in the world. Back in those early days, the line-up was singer W. Axl Rose, lead guitarist Slash, rhythm guitarist Izzy Stradlin, bassist Duff McKagan and drummer Steven Adler, originally coming to the band from Indiana, Seattle via England, Hollywood and Los Angeles respectively.
McKagan met Slash through an ad in a music paper and Slash and Adler were old mates from a band called Road Crew. Those three came together in Hollywood Rose. Meanwhile, Stradlin and Rose had known each other since their school days in Lafayette, Indiana. When Rose eventually met Slash, the connection was made that would change each of their lives, as well as the face of contemporary rock & roll. They were five hard living young musicians, with a fierce independence, a deep distrust of authority and a passion for rock & roll. It wasn't long before they were taking the LA club circuit by storm.
June 6, 1985, is the date that Guns n' Roses officially came together and, within a week, they played their first gig. There followed 12 months of hard times but it was just a year after they first performed that Guns n' Roses were snapped up by Geffen Records and by the end of '86 they'd released their four-song EP, Live?!•@ Like A Suicide, on their own Uzi Suicide label.
Then came six months of recording their first album and in July '87, Appetite for Destruction was released. There followed ten months of touring with The Cult, Motley Crue, Alice Cooper, Iron Maiden and Aerosmith, during which the album broke into the US Top 100 and then shot to
#1
, where it remained for five weeks.
Three singles from Appetite also went Top Ten: "Sweet Child 0' Mine" was certified gold and reached
#1
(GNR is only the fourth hard rock group ever to have a chart-topping single); "Paradise City" hit
#5
; and 'Welcome To The Jungle" made it to a
#7
slot. Meanwhile, the band scored the 1988 MTV Award for Best New Artist with their "Welcome ..." video.
1987 was a huge year for Guns n Roses and Appetite For Destruction succeeded beyond anyone's expectations. Worldwide, it's shifted more than 17 million units. It as the best selling album on label and it stayed in the Billboard charts for nearly three years (147 consecutive weeks), a run which didn't finish until July 1990. People were starting to talk. The buzz in the music business and on the streets was that this band was BIG!
GNR kept touring and recording through '88 and, in November, their GN'R Lies EP, which featured songs the earlier EP as well as new acoustic material. When GN'R Lies went to
#2
on the charts, Guns n' Roses became the only artist in the '80s to have two albums in the Top Five at the same time. The single, "Patience". hit
#4
and went gold.
But 1988 had its downers too and the one that affected the band most deeply was a show that went way out of control at the Castle Donnington, Monsters of Rock festival in Great Britain. The crowd was enormous - 107,000 people at fever pitch. As soon as the band walked on stage, fans began to surge forward. Two members of the audience were trampled to death.
"It was real scary," Slash told reporters. "Is was kids piled on kids piled on kids, horizontal on the ground. They were unconscious and more people kept falling on them."
The band watched the situation become increasingly dangerous and actually stopped the show a few times but couldn't avert the disaster.
By '89, Guns n' Roses had become seriously big business. "Sweet Child 0' Mine" won both an American Music Award for Favourite Single Pop/Rock and the MTV Award for Best Metal/Hard Rock Video. But along with the success, the pressures were starting to pile up. The Guns n' Roses lifestyle had become infamous and people were now beginning to wonder whether the members of the band would live to fulfil their potential.
Things came to a head when the band appeared in concert with the Rolling Stones at the Coliseum in LA.
"I don't like to do this onstage," Rose said, in front of 83,000 people, "but unless certain people start getting their shit together, this is going to be the last Guns N' Roses show...I am sick and tired of too many people in this organisation dancing with Mr Brownstone."
Next evening, however, GNR were back and Slash stepped up to the microphone before the ahoy had begun. "Rock & roll and excess have become synonymous," he began. "There has been a lot written about this band and drugs. A lot of it is bullshit. A lot of it is true. Last night, you almost saw the last Guns n' Roses gig. I remember coming here as a kid to see Aerosmith and Van Haden and the Stones, dreaming of being up here. Last night I was up here and I didn't even know it. Smack isn't what it's all about. No one in this band advocates the use of heroin. That's not what it's all about and we're not going to be one of those weak bands that falls apart over it."
During 1990, the band contributed to two albums: Days of Thunder, the sound-track to the film of the same name, with a cover of Bob Dylan's "Knockin On Heaven's Door", and Nobody's Child, the project to aid Romanian orphans, with the original "Civil War". The band also took two AMA Awards: Favourite Heavy Metal/Hard Rock Artist and Favourite Heavy Metal/Hard Rock album. Individually, Slash and McKagan played on Iggy Pop's Brick By Brick album, and Slash recorded with Bob Dylan, Michael Jackson, Lenny Kravitz and on the tribute album for guitar pioneer, Les Paul.
In April that year, the band put on a great performance for Farm Aid IV but the tensions were starting to build again. It was time for another album and the pressure was on for it to he bigger and better than anything Guns n' Roses had done before.
In July, came the announcement that drummer, Steven Adler, had been fired, apparently because he was unable to deal with his drug habit. By August, Matt Sorum (formerly with The Cult) had replaced Adler and he was soon joined by another new member. keyboardist Dizzy Reed, a friend from the early club days. Now recording could begin in earnest but two more heads would roll - those of engineer Bob Clearmountain, who was replaced by Bill Price midway through the sessions, and manager Alan Niven, who was replaced by Doug Goldstein - before the Use Your Illusion albums were finished.
In January '91, the new line-up put on its first show for the Rock in Rio II festival in Brazil. Then, on May 24, Guns N' Roses kicked off their fire world our as headliners, preceded by surprise warm-up dates in San Francisco, Los Angeles and New York.
The first leg of the tour sold out and among those initial gigs was one at the Deer Creek Music Centre, in Indianapolis, Indiana, where 17,000 people turned out and heard Rose tell everybody how he felt about the status quo in his home state.
"You fuckers been waitin' a long time tonight," he shouted, before a single note had been snuck. "This stage here, in Indianapolis, Indiana, this time around, is the finest fucking stage in the world that I could ever walk ... became I grew up in this state for two-thirds of my life. It seems to me that, basically, there are a lot of fucking scared old people in this fucking state and for two-thirds of my life, those motherfucking old people tried to hold my ass down . . . But I know what the fuck's going on out here and this band's one of the only things these kids have got"
Finally, he compared residents of Indiana to inmates of Auschwitz and was fined $3000 for breaking the county curfew that requires major public gatherings to wind up before 10.30 pm.
Within the week, Guns n' Roses put on another controversial show - this one in St. Louis, Missouri. As soon as the band took to the stage, Rose started to feel uncomfortable about security. He saw a guard shove a fan, saw a number of forbidden cameras and bottles in the audience and saw several of those bottles hurled at the stage, two of them making contact with McKagan. The final straw came when a biker near the stage began taking photos. Rose asked security to confiscate the camera but they didn't make a move. Frustrated, he took a dive into the crowd to grab the camera. Now the security staff leaped into action and grabbed Rose. He walked off stage, followed by the rest of the band. Some ten minutes later, the audience began to riot and Guns n' Roses, who had offered to return to the stage, were advised to leave the building. It took police several hours to subdue the crowd, by which time there had been 60 injuries, 16 arrests and $200,000 worth of damage to the venue.
The Press had a field day. It was exactly the sort of mayhem they'd anticipated and served to further cement GNR's image as the wild men of rock & roll. But the tour moved on to Texas and beyond, with venues packed to the rafters all the way. On June 25, "You Could Be Mine" was released and featured in the film, Terminator 2: Judgement Day. More than 1.5 million CD singles sold worldwide in the first 30 days. Then, in August, GNR toured Europe for a month of sold-out shows. On September 3, "Don't Cry" was released and soon went gold.
Finally, on September 17 '91, Use Your Illusion I and II hit the streets and went straight onto the charts as
#2
and
#1
respectively in the USA, UK, Australia, New Zealand and Japan. Both works - 30 songs in all - were produced by Mike Clink and Guns n' Roses and mixed by Bill Price. It was the first time a major contemporary artist had released two separate albums on the same day and the first time two albums by a band or artist had simultaneously entered a chart tight at the top.
Guns n' Roses fans went wild. Record stores in the USA either stayed open or re-opened at midnight on the morning of release. Outside, there were queues four deep and stretching along entire blocks. During the first week, more than 1.5 million units were shifted worldwide.
That was all just a little over 18 months ago. The Use Your Illusion albums, of course, went on to keep selling in record breaking numbers and GNR powered into the second leg of their US tour, before heading for Europe. The band have had their ups and downs in the last year or so, not the least of which was the departure of guitarist Izzy Stradlin, but through it all they survive and even go from strength to strength. As any one of those people queuing outside record stores 15 months ago would have said, Guns n' Roses have become a phenomenon.
HOUNDED FROM HELL
Izzy Stradlin's life after Guns N' Roses
IT'S BEEN MORE THAN A YEAR SINCE Izzy Stradlin's much publicised exit from Guns n' Roses, during which time he's recorded and released his first solo album, Izzy Stradlin and the ju Ju Hounds, and apparently laid the ghosts of his departure to rest.
These days, says Stradlin, he likes to think that "those guys are all my friends" but it hasn't always been that way. His friendship with Rose goes way back to Indiana, when he was Jeff Isabelle and Rose was plain Bill Bailey. But even that sort of history didn't prevent the final show-down, which, according to Stradlin, was a long way short of an amicable separation.
His relationship with the band had been growing tenuous for some time, to the point where he was travelling in a separate bus on tour. And he had a number of gripes, among them that the band was not operating democratically and his opinions were not being heard. Then, late in '91, at the end of the European leg of the band's tour, Stradlin confronted Rose about putting an end to Guns n' Roses perennially late starts at gigs. Rose was furious (as only Rose knows how) and the next night, on MTV, Stradlin heard the the news that he was about to be replaced in the line-up.
Rose told a US magazine that things came to a head because "I wanted to get as big as we possibly could from Day One and that wasn't Izzy's intention at all."
Following the announcement, not a word was heard from Stradlin for months. The way he tells it, a lot of that time was spent driving. He went to see the Grand Canyon, went surfing at Florida Keys and finally headed back to his (and Axl's) hometown of Lafayette, Indiana, where he set about writing a bunch of songs.
Finally, he called in an old friend, Jimmy Ashhurst, bass player with former LA band, Broken Homes, and the two of them set about putting together a band. One-time Georgia Satellites guitarist, Rick Richards, and drummer, Charlie Quintana, joined the nucleus and Stradlin also called in a few favours from some of his heroes, like Rolling Stones guitarist Ron Wood, pianist Nicky Hopkins and ex-Facts organist Ian McLagan.
The result, of course, was lzzy Stradlin and the Ju Ju Hounds, a very different kind of album from Use Your Illusion I and II or Appetite for Destruction.
"I  wanted to try and get it to sound like some of my favourite albums," he told an American journalist. "Exile on Main Street is a staple of my diet."
The album has met with mixed reviews but that doesn't phase Stradlin.
"You won't find me yelling on stage about somebody who wrote a bad review," he laughs. "If they do, they do. That's life."
Stradlin has hit the road with the new band and then, who knows, maybe another album. Whatever happens, one thing's for sure. Guns n' Roses is ancient history for Stradlin now and he's looking to the future.
What of his relationship with Axl Rose?
"I just think of him as Axl," he says, "a guy I've known for a long time. I know the good and bad of him."
And Rose on Stradlin: "If people don's think I respect lzzy or acknowledge his talent, they're sadly mistaken. He was my friend. I haven't always been right. Sometimes I've been massively wrong, and lzzy's been the one to steer me back to things that were right."
LIVE LIKE A SUICIDE
On the road with Guns N' Roses.
THERE'S AN ELEMENT OF surprise involved in seeing Guns n' Roses live. Will they go on late and will it be one hour, two hour, three hears? Will some idiot take a camera? Will there be a riot? Who will Axl abuse? The media, security, his record company, the person with the camera? Will he abuse anyone at all? There's just one thing that's absolutely certain. Once Guns n' Roses take to the stage, they'll play like they're possessed. They'll put on the show of a lifetime.
A GNR tour is a huge project. Leading up to the Australian tour, they played nine South American shows - in Venezuela, Columbia, Chile, Argentina and Brazil - for which they needed a travelling staff of 80, including six carpenters, 12 caterers, three site coordinators, one show power technician and six video production crew.
And that's without the band. GNR are touring with a 12-piece band - the six regular members (Axl, Slash, Duff, Mark, Gilby and Dizzy), plus Ted Andreadis (keyboards, backing vocals), Lisa Maxwell, Cece Worrall and Anne King (all on horns and backing vocals) and Diane Jones and Roberta Freeman (both on backing vocals).
The concept for the Use Your Illusion tour was worked on for more than a year before it was launched and the physical planning and organisation took a full eight months. The tour kicked off with a warm-up date in San Francisco in early May '91, before heading around North America, Europe, South America and finally to Australia, New Zealand and South-East Asia. By the time you read this, GNR will have played around 128 dates in support of the Use Your Illusion albums.
The stage for the show is enormous - 72 feet wide and 64 feet deep - and the set (designed by Phil Ealy and the band) is a monstrous 75 feet high. The stage weighs 50 tons and the total weight of equipment transported to each show is 150 tons, which includes the steel scaffolding and the band's equipment, which weighs 7 tons alone.
Slash plainly doesn't like to be under equipped. Hs travels with 13 guitars, including a variety of Gibson Les Pauls, one with a double neck. Duff has two Fender bass guitars. Gilby has a selection of Gibsons. And Axl's grand piano rises up from below the stage in "November Rain".
You wouldn't really call these guys environmentally sensitive. Their show uses an incredible 250,000 watts of power, with 900 lights on stage and three massive video walls - one either side of the stage and one at the back. There are 60 microphones in use during the show. It takes three tractor trailers to transport the speaker cabinets. And let's not forget the giant inflatable monsters that are operated by four men in "Welcome to The Jungle".
It takes three days to set up and a day to dismantle by 60 people. Not surprisingly, Performance magazine voted the GNR production team Crew of the Year for 1991.
In Australia, Guns n' Roses will be playing with Skid Row and Rose Tattoo in Sydney on January 30 at Eastern Creek and in Melbourne on February 1 at Calder Park. Then they fly out to Auckland for a show of February 6 at Mt Smart Stadium. Special bus and train systems will be set up for transport to and from the shows. For more info, you can call 0055 12567.
OUT THERE IN THE JUNGLE
18 months in the life of Guns N' Roses
IT'S DECEMBER 1991, GUNS N' Roses are playing in South America before crossing the Pacific for their Australian tour. The toughest, most devil-may-care, most controversial band since the Sex Pistols has had a hell of an 18 months and back stage, in a steamy South American band room, seems as good a place as any to run through it, see what 1992 has brought them, where 1993 might lead.
It was November '91. The Use Your Illusion albums had been out two months and were still selling like there was no tomorrow. The second leg of the US tour was about to get underway, and touring is like lifeblood to these guys. In short, things were looking real good. Then, in a shock move, lazy Stradlin left the hand.
The story goes that, having given up both drugs and drinking, Stradlin found himself increasingly estranged from the rest of the band. Towards the end, he'd started travelling in a separate bus en tour and Rose had taken to calling him "Mr Invisible". The man who was once arrested for pissing in the kitchen of a commercial airliner had cleaned up his act and was doing his darndest to lead as close as he could get to a normal life.
Stradlin was replaced by Gilby Clarke, formerly of the band Kill For Thrills. When GNR was developing in its early days, Clarke was in bands that played many of the same gritty Hollywood clubs. To get the job with GNR, he had to learn 50 songs in just two weeks. "I was up day and night," he said. "It was pretty hairy." But worth it. "To me, Guns n' Roses is the biggest band in the world," he told The Washington Times. "It's almost like the pot of gold at the end of the rainbow. It's like. I've paid my dues for ten years. That they chose me, of all the guitar players in the world - I'm pretty excited about it. It's kind of like verification of what I was doing. Maybe I was on the right track."
As well as recruiting a new guitarist, GNR added a horn section, backing vocalists and Ted Andreadis, a sequencer/harmonica player for live work.
"That all came up around the same time," said Slash. "I was trying to audition some musicians to make songs like 'November Rain' sound a little bit more like they do on record. Axl had really gotten into that idea too and I had the job of finding people to simulate it. I didn't want anything corny, like guys in tuxedos, so I got some chicks to do it."
On December 3, supported by a performance video, "Live and Let Die" was released as the third single from the Illusion albums and on December 5, the second US leg of the Guns N' Roses tour was launched and ran through to February 1, '92. It was followed by a to of Japan, plus shows in Mexico City and a couple of US markets.
The tour rolled on, playing to full houses.
In the midst of all this, came Rose's battle with his inner demons and the problems that had resulted from his childhood in a violent and dysfunctional family. During therapy, Rose uncovered the memory of his kidnapping and sexual abuse by his biological father and began to work through his anger towards his step-father, who had beaten him violently and raped his sister.
Throughout '92, Rose started to speak more openly about his past, perhaps in an effort to explain his recent attitudes and behaviour. "I reached a point," he told one American papex. "where I was basically dead and still breathing. I didn't have enough energy to leave my bedroom and crawl to the kitchen to get something to eat. I had to find out why I felt like I was dead."
"I blacked out most of my childhood," he told another reporter. "And my family did everything they could, thinking they were doing what was right, to bury it all."
These days, Rose believes strongly that what his family did was not right and that honesty is always the best policy when dealing with kids. Sometimes he wears a t-shirt on stage that says, "Tell Your Kids The Truth" and, not long ago, he visited a centre for kids affected by child abuse to share his story and encourage kids on the road to healing.
Axl was also being harassed by the authorities in St Louis, who claimed ha was responsible for a riot at a concert there. Then, just before they left for Europe, GNR had to cancel shows in Detroit after Axl was threatened with arrest there over the St Louis incident.
On April 20, Guns n' Roses appeared at The Freddie Mercury Tribute: Concert For AIDS Awareness at Wembley Stadium. London. The show was broadcast live via satellite around the world, pulling in the largest audience for a music concert in history. Yet even this event wasn't trouble-free. London's gay community turned out in full force to demonstrate their opposition to the lyrics of Guns N' Roses' controversial song, "One In A Million".
The lyrics, which make reference to "niggers" and "faggots", had long enraged both gay and black activists around the world and GNR's appearance in London at, of all things, an AIDS benefit was a perfect opportunity for them to give vent to their anger.
Rose, for his part, claims the lyrics were neither intended to incite homophobia or racism, though he admits that he's learned a good deal and some of his atti-tudes have changed since the time those words were first penned.
In May, the band headed off on a return European tour, logging up 19 shows, including a television event broadcast worldwide from the Hippodrome de Vincenness in Paris on June 6. Following that European stint, the three GNR albums and EP were all charting in Norway and Germany (where more than a million Illusion albums have been sold). Led by the single, "Knockin' On Heaven's Door", GNR were entrenched in the upper reaches of the charts in England, Austria, Belgium, Denmark, Finland, Greece, Holland, Ireland, Sweden, Switzerland and Hong Kong. In the UK, royalties from the single, "Knockin' On Heaven's Door" have been pledged to organisations fighting AIDS.
On June 16, 'November Rain" was released as a single in the USA, supported by an epic concept video which scored
#1
most requested on MTV's Top 20 Countdown. At the 1992 MTV Awards, the band received the prestigious Vanguard Award and "November Rain" won Best 'Cinematography. The single was certified gold by the end of the first week of the next leg of GNR's world tour.
In July, the band headed back to the US but Rose was arrested as soon as he set foot in the country on charges related to the riot in St Louis the year before. "I can't believe how cool the New York police are,' he said of his arrest. "They don't hide behind their badges. They treat you like a human being." There were four counts of misdemeanour assault and one count of damage to property, with a maximum sentence of four years in gaol. He entered a not-guilty plea and was released on $100,000 bail, just five days before GNR were due to begin their big GNR/Metallica tour.
The shows went ahead as planned, with Guns n' Roses co-headlining with Metallica, supported by Faith No More, at 25 stadium dates around the country. It was a triumphant tour. Both bands played full-length 140-minute sets and most nights the fans were still rocking at 2 am. And record sales just kept skyrocketing. By the end of the tour, the combined sales of the two Illusion albums were estimated at nearly 20 million worldwide.
With the Metallica shows over, in October, Rose finally faced the music from the St Louis authorities in court and paid a fine for his role in the riot there. But the feeling in the GNR camp was primarily one of relief. At last the protracted threat of legal action was finally over and the band could embark on their South American and Australian tours without court battles looming above their heads.
Once the current tour winds down, GNR will head back to the studio to begin work on the next album. "We have enough material now," says Duff McKagan. "It'll be more like Appetite For Destruction than Illusion. Songs that are right in your face."
Right now, Guns n' Roses aren't looking too much further into the future than that. Having lived through the GNR roller coaster ride to date, Slash, for one, is happy to take things as they come.
"What's going to happen in the next couple of years," he says, "I have no idea. We haven't sat down and talked about it. It's a huge accomplishment to have been able to organise all that music and that many people to go out and pull it off. Success, to me, is having a gig and a big audience. As far as I'm concerned, Guns n. Roses is the coolest thing I could possibly be involved in. As for being the last rock & roll band around, I don't even think in those terms. We just keep doing what mere doing."

Soulmonster

Band Lawyer







Posts

: 15355


Plectra

: 74813


Reputation

: 831


Join date

: 2010-07-06



---
Permissions in this forum:
You
cannot
reply to topics in this forum