Guns N' Roses N' The FBI
L.A. man busted for posting nine tracks from 'Chinese Democracy'
AUGUST 27--A Los Angeles man who allegedly posted nine pirated tracks from 'Chinese Democracy,' the long-overdue album from Guns N' Roses, was arrested today by FBI agents and charged with violating federal copyright laws.
According to investigators, Kevin Cogill, 27, first posted the songs to his web site in June and, after being contacted by a lawyer for the band, claimed that traffic to his site was so large that it caused his server to crash. According to an affidavit filed in U.S. District Court in Los Angeles, Cogill claimed that he had deleted the songs from his server and from his personal computer. An excerpt from the affidavit can be found here.
When confronted by federal agents, Cogill, who uses the name 'Skwerl' online, admitted posting the songs on his web site, antiquiet.com. He uploaded the songs from a computer at the online ad sales company where he works. If convicted of the felony count, Cogill faces up to five years in prison. (5 pages)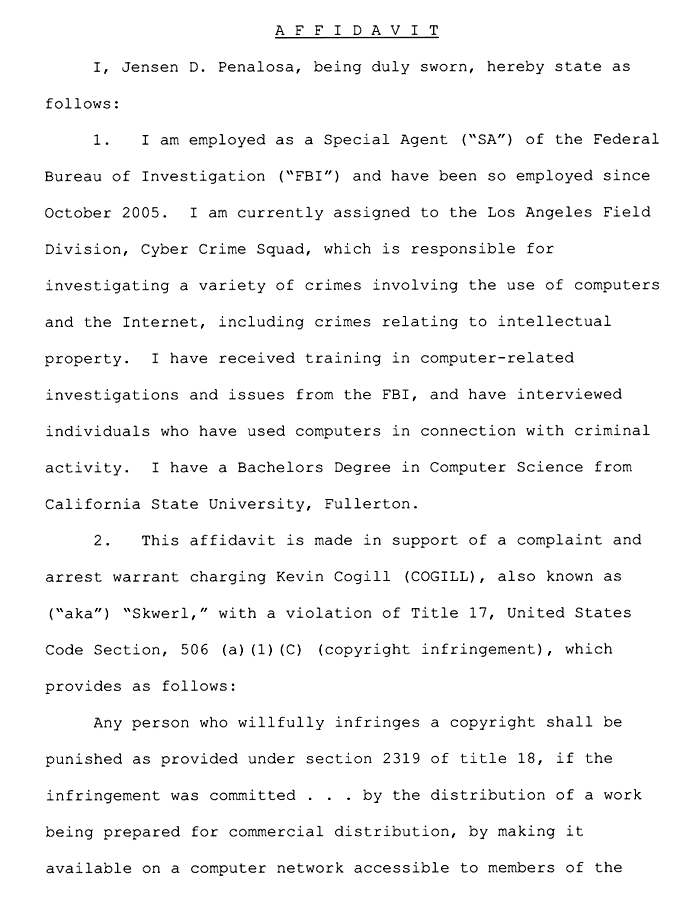 http://www.thesmokinggun.com/documents/crime/guns-n-roses-n-fbi

Blackstar

ADMIN




Posts

: 11758


Plectra

: 77529


Reputation

: 96


Join date

: 2018-03-17



Wired, August 28, 2008:
-------------------------------
FBI: Uploader Confesses to Pre-releasing Guns N' Roses Tracks
The California man arrested Wednesday for allegedly uploading pre-released Gun N' Roses songs to his blog has provided a "typed, signed confession" to the FBI, according to court records unveiled Thursday.
What's more, the investigation into to the Culver City man began last month after the Recording Industry Association of America tipped off the authorities, wrote Jensen Penalosa, an FBI agent in a filing in Los Angeles federal court made available Thursday.
Kevin Cogill, aka Skwerl, uploaded the nine songs on June 18, according to the affidavit, which was the basis for Cogill's arrest at his apartment. A day after the uploading, according to the affidavit, (.pdf) an RIAA investigator alerted the FBI, Penalosa said.
"Cogill provided a typed, signed confession which stated that he had posted the unreleased Guns N' Roses songs to the internet on his web site
www.antiquiet.com,"
Penalosa wrote.
Cogill did not return e-mail or telephone messages seeking comment.
Cogill is charged with one count of violating Title 17, United States Code Section, 506 (a) (1) (C). The copyright infringement charge is related pre-released material, "distribution of a work being prepared for commercial distribution by making it available on a computer network accessible to members of the public."
The charge is a "felony punishable by imprisonment for not more than three years or, if the offense was committed for commercial advantage or private financial gain, for not more than five years."
According to court records, the antiquiet music-review site crashed because there were so many hits.The affidavit also says the nine recordings have been removed from the site, which does not appear to be operational at this time.
https://www.wired.com/2008/08/fbi-uploader-co/

Blackstar

ADMIN




Posts

: 11758


Plectra

: 77529


Reputation

: 96


Join date

: 2018-03-17



NME, August 28, 2008:
--------------------------------
Blogger arrested for leaking Guns N' Roses tracks
FBI take Kevin Cogill into custody
The blogger suspected of leaking tracks from Guns N Roses' forthcoming album 'Chinese Democracy' was arrested in Los Angeles today (August 27).
FBI agents took 27-year-old Kevin Cogill into custody on suspicion of violating federal copyright laws. He later appeared in court, where his bail was set at $10,000.
Cogill admitted to posting nine unreleased Guns N Roses songs on his website in June, according to an arrest affidavit, reports the Associated Press.
He has been ordered to return to court for a preliminary hearing on the matter set for September 17. Prosecutors claim that the leak may have caused "significant" financial losses for the band.
Guns N Roses have not yet issued a statement on the matter.
--By our Los Angeles staff.
https://web.archive.org/web/20080903085430/http://www.nme.com/news/guns-n-roses/39333

Blackstar

ADMIN




Posts

: 11758


Plectra

: 77529


Reputation

: 96


Join date

: 2018-03-17



---
Permissions in this forum:
You
cannot
reply to topics in this forum