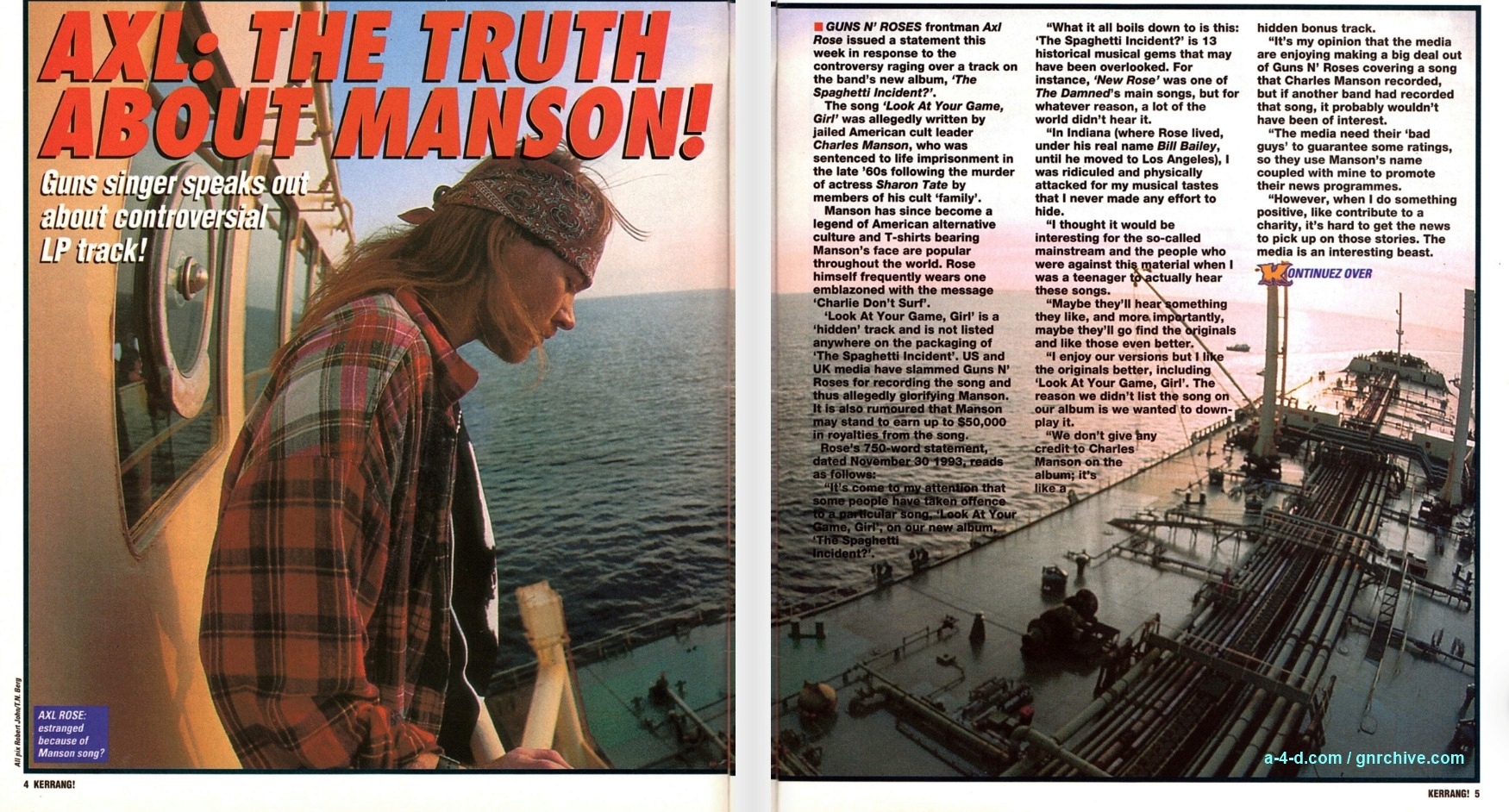 AXL: THE TRUTH ABOUT MANSON!
Guns singer speaks out about controversial LP track!
GUNS N' ROSES
frontman
Axl Rose
issued a statement this week in response to the controversy raging over a track on the band's new album,
'The Spaghetti Incident?'.
The song '
Look
At Your Game, Girl'
was allegedly written by jailed American cult leader
Charles Manson,
who was sentenced to life imprisonment in the late '60s following the murder of actress
Sharon Tate
by members of his cult 'family'. 
Manson has since become a legend of American alternative culture and T-shirts bearing Manson's face are popular throughout the world. Rose himself frequently wears one emblazoned with the message 'Charlie Don't Surf'. 
'Look At Your Game, Girl' is a 'hidden' track and is not listed anywhere on the packaging of 'The Spaghetti Incident'. US and UK media have slammed Guns N' Roses for recording the song and thus allegedly glorifying Manson. It ιs also rumoured that Manson may stand to earn up to $50,000 in royalties from the song. 
Rose's 750-word statement, dated November 30 1993, reads as follows:         
"It's come to my attention that some people have taken offence to a particular song, 'Look At Your -Game, Girl', on our new album, 'The Spaghetti Incident?'. 
"What it all boils down to is this: 'The Spaghetti Incident?' is 13 historical musical gems that may have been overlooked. For instance,
'New Rose'
was one of
The Damned's
main songs, but for whatever reason, a lot of the world didn't hear it. 
"In Indiana (where Rose lived, under his real name
Bill Bailey,
until he moved to Los Angeles), I was ridiculed and physically attacked for my musical tastes that I never made any effort to hide. 
"I thought it would be interesting for the so-called mainstream and the people who were against this material when I was a teenager to actually hear these songs. 
"Maybe they'll hear something they like, and more importantly, maybe they'll go find the originals and like those even better. 
"I enjoy our versions but I like the originals better, including 'Look At Your Game, Girl'. The reason we didn't list the song on our album is we wanted to down­play it. 
"We don't give any credit to Charles Manson on the album; it's like a hidden bonus track. 
"It's my opinion that the media are enjoying making a big deal out of Guns N' Roses covering a song that Charles Manson recorded, but if another band had recorded that song, it probably wouldn't have been of interest. 
"The media need their 'bad guys' to guarantee some ratings, so they use Manson's name coupled with mine to promote their news programmes. 
"However, when I do something positive, like contribute to a charity, it's hard to get the news to pick up on those stories. The media is an interesting beast. 
"Why did I choose to cover that particular song? 
"Oddly enough, one of the things we do up at my house is have 'name that artist' contests, where we play obscure songs and everybody tries to name the artist. 
"My brother
Stuart
found 'Look At Your Game, Girl' at a large record chain and, needless to say, he won that round. 
"Personally, I liked the lyrics and the melody of the song. Hearing it shocked me, and I thought there might be other people who would like to hear it. 
"I liked the words because, to me, it's about a woman who has thrown things away. She thinks she's gaining love, but basically she's gaining sadness. It was very fitting for a personal situation I happened to be in. 
"The song talks about how the girl is insane and playing a mad game. I felt that it was ironic that such a song was recorded by Charles Manson, someone who should know the inner intricacies help protect madness. 
"Manson is a dark part of American culture and history. He's the subject of fear and fascination through books, movies and the interviews he's done. Most people hadn't heard anything Charles Manson recorded. 
"A lot of people can say I wear a 'Charlie Don't Surf' T-shirt for shock value, but I've worn that shirt for the past year on tour, all over the world. 
"Yes, I was trying to make a statement. I wore the T-shirt because a lot of people enjoy playing me as the bad guy and the crazy. Sorry, I'm not that guy. I'm nothing like him. That's what I'm saying. 
"There's a real difference in morals, values and ethics between Manson and myself, and that is 'Thou shalt not kill", which I don't. 
"I'm by no means a Manson expert or anything, but the things he's done are something I don't believe in. He's a sick individual. 
"Look at Manson and then look at me. We're not the same. Plus, I like the black humour of the 'Charlie Don't Surf' line for the movie
'Apocalypse Now'.
"I think people think I'm crazy because I believe in telling the truth. I'll admit sometimes I don't do
a
perfect job of it, but my efforts are true. 
"It Is my understanding that the song was written by
Dennis Wilson.
To what extent Charles Manson is involved in the publishing, I'm not aware. 
"However, I am donating all my personal profits from having that song on our album to a charity; an environmental group to help protect wildlife and our oceans. 
"In our video for
'Estranged',
which will be the last video for the
'Use Your Illusion'
albums, we used dolphins, and this is my way of giving something back to the dolphin, which is endangered and threatened with extinction. 
"Unfortunately, I Don't Surf either." 
Geffen Records President
Ed Rosenblatt
adds the following: 
"Although we are rightfully sensitive to issues of censorship, we regret more sensitivity wasn't exercised in addressing the bonus track on the new Guns N' Roses album beyond its lyrical content. 
"It is certainly not our intent to desire to glorify or enrich anyone who commits heinous and violent crimes. We are looking into what might be done to mitigate this situation, and plan to provide support for the
Doris Tate Crime Victims Bureau
which advocates anti-crime legislation and offers counselling for crime victims and their families.'' 
'The Spaghetti Incident?' entered the UK charts last week at Number One. Guns N' Roses follow-up this success with the release of a new single, 'Estranged', replete with lavish nine-minute video, some time in the New Year. 
The video was shot in the States and features footage of the band performing in Sunset Strip, the whole of which Is reported to have been closed to the public during filming. 
The video also includes an underwater sequence where Axl swims with a group of dolphins, and ends with a shot of the singer sat next to a dolphin which is wearing his shirt!

Blackstar

ADMIN




Posts

: 10247


Plectra

: 69465


Reputation

: 96


Join date

: 2018-03-17



Nothing new, basically just the press releases from Axl and Geffen.

Blackstar

ADMIN




Posts

: 10247


Plectra

: 69465


Reputation

: 96


Join date

: 2018-03-17



---
Permissions in this forum:
You
cannot
reply to topics in this forum