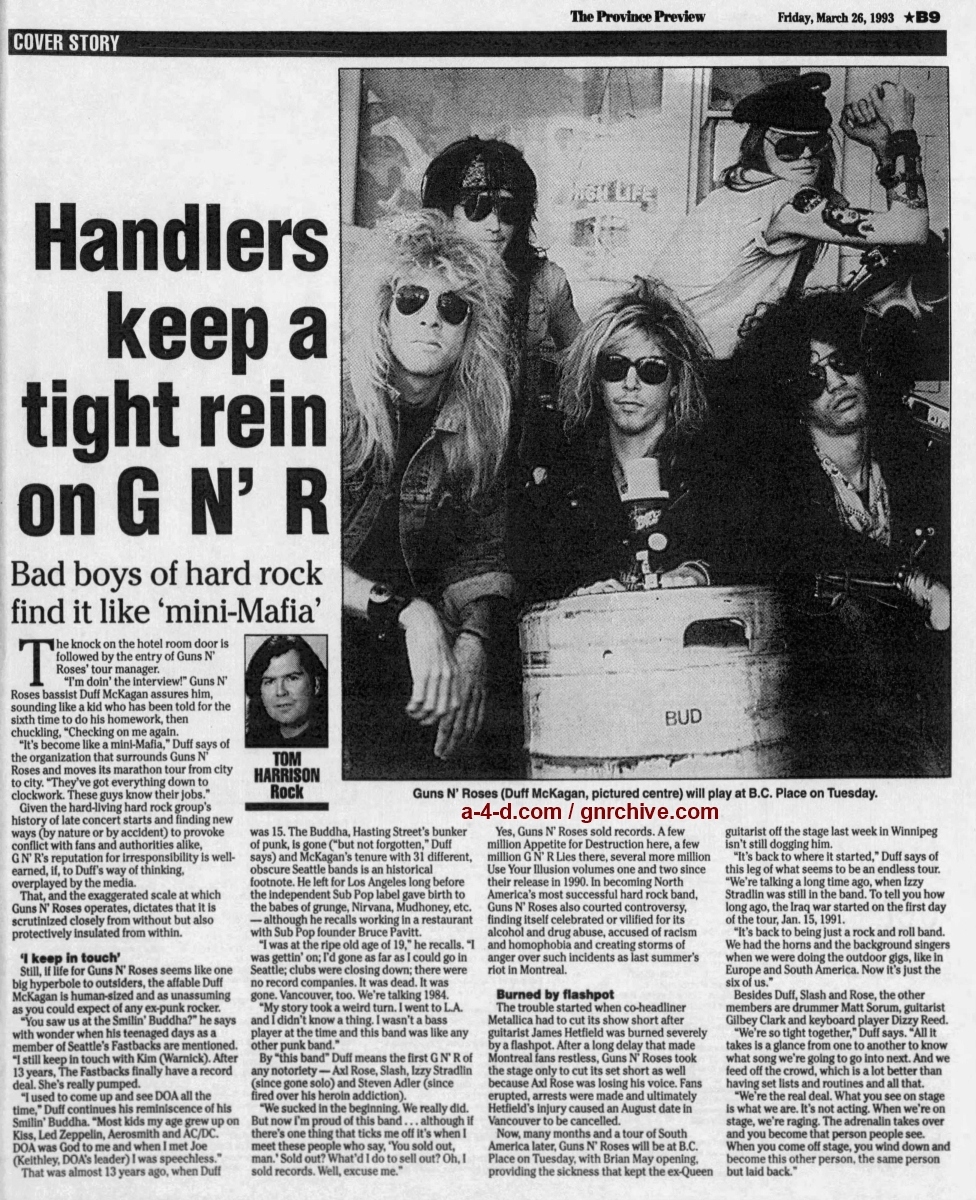 Handlers keep a tight rein on GN'R
Bad boys of hard rock find it like 'mini-Mafia'
By TOM HARRISON
The knock on the hotel room door is followed by the entry of Guns N' Roses' tour manager. 
"I'm doin' the Interview!" Guns N' Roses bassist Duff McKagan assures him, sounding like a kid who has been told for the sixth time to do his homework, then chuckling, "Checking on me again. 
"It's become like a mini-Mafia," Duff says of the organization that surrounds Guns N' Roses and moves its marathon tour from city to city. "They've got everything down to clockwork. These guys know their jobs." 
Given the hard-living hard rock group's history of late concert starts and finding new ways (by nature or by accident) to provoke conflict with fans and authorities alike, G N' R's reputation for irresponsibility is well- earned, If, to Duff's way of thinking, overplayed by the media. 
That, and the exaggerated scale at which Guns N' Roses operates, dictates that it is scrutinized closely from without but also protectively insulated from within. 
'I keep in touch'
Still, if life for Guns N' Roses seems like one big hyperbole to outsiders, the affable Duff McKagan is human-sized and as unassuming as you could expect of any ex-punk rocker. 
"You saw us at the Smilin' Buddha?" he says with wonder when his teenaged days as a member of Seattle's Fastbacks are mentioned. "I still keep in touch with Kim (Warnick). After 13 years. The Fastbacks finally have a record deal. She's really pumped. 
"I used to come up and see DOA all the time," Duff continues his reminiscence of his Smilin' Buddha. "Most kids my age grew up on Kiss, Led Zeppelin. Aerosmith and AC/DC. DOA was God to me and when I met Joe (Keithley, DOA's leader) I was speechless.' 
That was almost 13 years ago. when Duff was 15. The Buddha, Hasting Street's bunker of punk, is gone ("but not forgotten," Duff says) and McKagan's tenure with 31 different, obscure Seattle bands is an historical footnote. He left for Los Angeles long before the Independent Sub Pop label gave birth to the babes of grunge, Nirvana, Mudhoney, etc. — although he recalls working in a restaurant with Sub Pop founder Bruce Pavitt. 
"I was at the ripe old age of 19," he recalls. "I was gettin' on; I'd gone as far as I could go in Seattle; clubs were closing down; there were no record companies. It was dead. It was gone. Vancouver, too. We're talking 1984. 
"My story took a weird turn. I went to LA. and I didn't know a thing. I wasn't a bass player at the time and this band was like any other punk band." 
By "this band" Duff means the first G N' R of any notoriety — Axl Rose, Slash, Izzy Stradlin (since gone solo) and Steven Adler (since fired over his heroin addiction). 
"We sucked in the beginning. We really did. But now I'm proud of this band... although if there's one thing that ticks me off it's when I meet these people who say, 'You sold out, man.' Sold out? What'd I do to sell out? Oh, I sold records. Well, excuse me." 
Yes, Guns N' Roses sold records. A few million Appetite for Destruction here, a few million G N' R Lies there, several more million Use Your Illusion volumes one and two since their release in 1990. In becoming North America's most successful hard rock band, Guns N' Roses also courted controversy, finding itself celebrated or vilified for its alcohol and drug abuse, accused of racism and homophobia and creating storms of anger over such incidents as last summer's riot in Montreal. 
Burned by flashpot
The trouble started when co-headliner Metallica had to cut its show short after guitarist James Hetfield was burned severely by a flashpot. After a long delay that made Montreal fans restless. Guns N' Roses took the stage only to cut its set short as well because Axl Rose was losing his voice. Fans erupted, arrests were made and ultimately Hetfield's injury caused an August date in Vancouver to be cancelled. 
Now, many months and a tour of South America later, Guns N' Roses will be at B.C. Place on Tuesday, with Brian May opening, providing the sickness that kept the ex-Queen guitarist off the stage last week in Winnipeg isn't still dogging him. 
"It's back to where it started," Duff says of this leg of what seems to be an endless tour. "We're talking a long time ago, when Izzy Stradlin was still in the band. To tell you how long ago, the Iraq war started on the first day of the tour, Jan. 15, 1991. 
"It's back to being just a rock and roll band. We had the horns and the background singers when we were doing the outdoor gigs, like in Europe and South America. Now it's just the six of us." 
Besides Duff, Slash and Rose, the other members are drummer Matt Sorum, guitarist Gilbey Clark and keyboard player Dizzy Reed. 
"We're so tight together," Duff says. "All It takes Is a glance from one to another to know what song we're going to go into next. And we feed off the crowd, which is a lot better than having set lists and routines and all that. 
"We're the real deal. What you see on stage is what we are. It's not acting. When we're on stage, we're raging. The adrenalin takes over and you become that person people see. When you come off stage, you wind down and become this other person, the same person but laid back."

Blackstar

ADMIN




Posts

: 9575


Plectra

: 65520


Reputation

: 97


Join date

: 2018-03-17



---
Permissions in this forum:
You
cannot
reply to topics in this forum