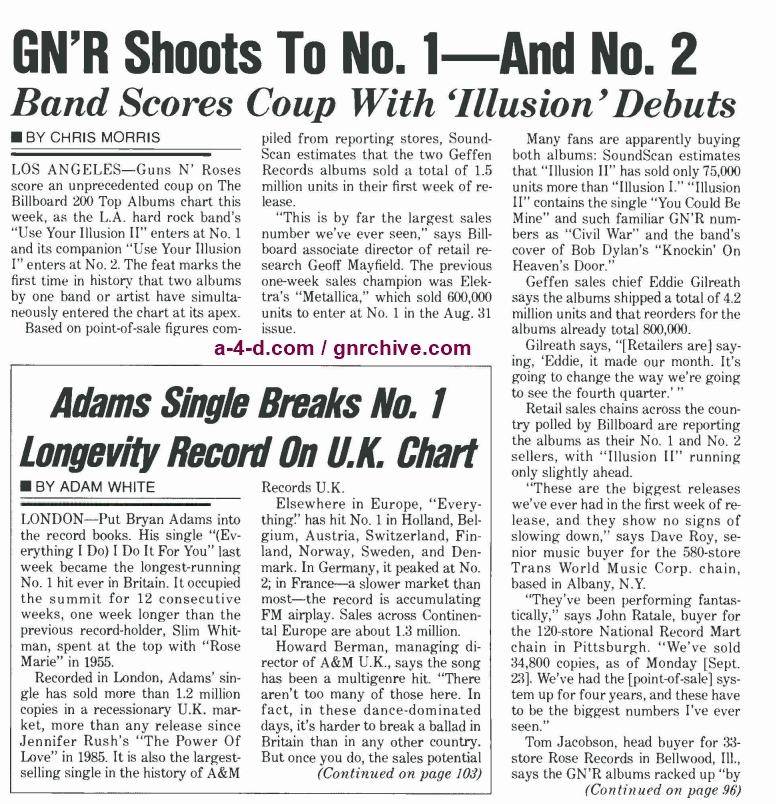 Rumors Persist: Izzy Or Isn't He Leaving GN'R?
■ BY CHRIS MORRIS
LOS ANGELES—Even as Guns N' Roses tallied massive sales with their new albums, rumors that Izzy Stradlin, the band's rhythm guitarist and a principal songwriter, would be leaving the group swelled within the indus­try. Sources believe that David Navarro of Jane's Addiction is a possible replacement. 
While both Geffen Records and a representative of GN'R's man­agement denied that any changes were afoot, a spokesperson for Jane's Addiction says that lead guitarist Navarro has been ap­proached by the band to fill an as-yet-unspecified role. 
Sources indicate that Stradlin, a founding member of GN'R, is hesitant to undertake the rigors of a long tour, which is likely to last close to two years, and that friction between the guitarist and the rest of the group was appar­ent during GN'R's recent Euro­pean tour. Stradlin travels in his own tour bus, apart from the rest of the band. 
Stradlin did not show up at the shoot for GN'R's current single, "Don't Cry," filmed atop a down­town L.A. skyscraper two weeks ago. He also did not appear in the video for "You Could Be Mine." 
The beginning of the next leg of Guns N' Roses' U.S. tour, orig­inally set for mid-October, has been pushed back to Oct. 30; some sources believe that the dates were rearranged because of Stradlin's tenuous status as a touring member of the band. 
Geffen's official comment on the rumors took the form of a one-sentence statement: "Izzy Stradlin is not quitting the band, and David Navarro has not been asked to join the band." 
A representative of Big FD Entertainment, which manages GN'R, says, "Izzy hasn't left the band yet. David Navarro has not been asked to join the band yet. The band personnel has not been changed . . . Right now, Izzy's still in the band."  
The Big FD spokesman says Stradlin was "on vacation" dur­ing both video shoots, and that the tour dates were rearranged "more for logistical reasons than anything else. [The band is] beat, and they don't want to start the next leg too soon." 
However, the Jane's Addiction representative says GN'R has had discussions with Navarro, al­though it remains unclear if he has been asked to join the band as a touring member or a full-time participant. 
"There has been contact made with David, and there has been no decision," the spokesperson says. "Exactly what the offer is, is not known. We don't know what Guns N' Roses is offering, and we don't know if David is interested." 
Jane's Addiction played the last date of its American tour Sept. 26. Lead singer Perry Farrell has been quoted extensively to the ef­fect that this would be the group's final tour before disbanding.
***
GN'R Shoots To No. 1—And No. 2
Band Scores Coup With 'Illusion' Debuts
■ BY CHRIS MORRIS
LOS ANGELES—Guns N' Roses score an unprecedented coup on The Billboard 200 Top Albums chart this week, as the L.A. hard rock band's "Use Your Illusion II" enters at No. 1 and its companion "Use Your Illusion I" enters at No. 2. The feat marks the first time in history that two albums by one band or artist have simulta­neously entered the chart at its apex.
Based on point-of-sale figures compiled from reporting stores, Sound- Scan estimates that the two Geffen Records albums sold a total of 1.5 million units in their first week of re­lease.
"This is by far the largest sales number we've ever seen," says Bill­board associate director of retail re­search Geoff Mayfield. The previous one-week sales champion was Elek­tra's "Metallica," which sold 600,000 units to enter at No. 1 in the Aug. 31 issue.
Many fans are apparently buying both albums: SoundScan estimates that "Illusion 11" has sold only 75,000 units more than "Illusion 1." "Illusion II" contains the single "You Could Be Mine" and such familiar GN'R num­bers as "Civil War" and the band's cover of Bob Dylan's "Knockin' On Heaven's Door."
Geffen sales chief Eddie Gilreath says the albums shipped a total of 4.2 million units and that reorders for the albums already total 800,000.
Gilreath says, "[Retailers are] say­ing, 'Eddie, it made our month. It's going to change the way we're going to see the fourth quarter.'"
Retail sales chains across the coun­try polled by Billboard are reporting the albums as their No. 1 and No. 2 sellers, with "Illusion II" running only slightly ahead.
"These are the biggest releases we've ever had in the first week of re­lease, and they show no signs of slowing down," says Dave Roy, se­nior music buyer for the 580-store Trans World Music Corp. chain, based in Albany, N.Y.
"They've been performing fantas­tically," says John Ratale, buyer for the 120-store National Record Mart chain in Pittsburgh. "We've sold 34,800 copies, as of Monday [Sept. 23]. We've had the [point-of-sale] sys­tem up for four years, and these have to be the biggest numbers I've ever seen."
Tom Jacobson, head buyer for 33- store Rose Records in Bellwood, Ill., says the GN'R albums racked up "by far the biggest first-week sales I've seen on any record."
"We've probably sold in excess of 80,000 units so far," says Lew Gar­rett, VP of purchasing for the 300- store Camelot Music chain in North Canton, Ohio.
Tracy Donihoo, director of the pur­chasing department at Dallas-based Sound Warehouse, says the albums sold 15,000 units on the release day.
A number of retailers report that the Guns N' Roses albums blew out of the box at midnight sales held Sept. 17, the day of release.
"I think we went through 23,000 units that night chainwide," says Bob Delanoy, VP of retail operations for 65-store Tower Records in Sacramen­to, Calif.
Ratale says he visited a National Record Mart outlet in the Oakland section of Pittsburgh, one of six in the chain that reopened at midnight. "I got there at 11:30, and they closed their doors at 2. The line was around the block, which was something."
Some retailers believe that, after a flat year, the Guns N' Roses albums are finally pulling people back into re­tail stores.
"You keep reinforcing the buyer to go back into the store," Ratale says. "They're getting people interested again. They're quality records, too— there's no buyer's remorse."
"It's really helped our business for the week," Jacobson says. "It's be­ginning to feel a lot like Christmas."
Garrett says, "When we opened at midnight, we sold probably another 1,000 units of the new Ozzy Os­bourne, which went on sale the same day. We definitely had some add-on sales."
Some retailers remain skeptical about the pull-through ability of the GN'R albums. Donihoo says, "These are not the records that are going to make Christmas, but they could do it in combination with other superstar product."
Others remain convinced that the albums will be steady sellers, as the band's singles receive top 40 radio ex­posure.
"I think they're remarkable al­bums, and I think they'll be signifi­cant projects for us for two years," Garrett says.
GUNS AROUND THE GLOBE
The Guns N' Roses sales phenome­non is not restricted to the U.S. Mel Posner, who heads up Geffen's inter­national operations, says the records shipped a total of 3.7 million units outside of America.
Posner reports that the "Illusion" albums entered at No. 1 and No. 2 in the U.K., Australia, New Zealand, and on Japan's international chart, and that the albums entered the charts together in the top five in Swe­den, Germany, Austria, Norway, Spain, and Switzerland.
"Most of the territories on the day of release were achieving their nine­-month [sales] projections," Posner says.

Blackstar

ADMIN




Posts

: 9575


Plectra

: 65519


Reputation

: 97


Join date

: 2018-03-17



---
Permissions in this forum:
You
cannot
reply to topics in this forum