AXL ROSE TO APPEAR ON SEBASTIAN BACH'S NEW ALBUM, 'ANGEL DOWN'
By Axl Rose
Bas asked me to sing on his new record, "Angel Down," and I agreed and came down to his studio where he played me the tracks. I really liked the title/opening track, "Angel Down," but I didn't feel that it would be right to be on that one, although, of course, it would've been cool because it's a great rip-your-head-off track!!
Since this session was rather a more fun atmosphere, the tracks I sang on kind of showed themselves and were also done out of curiosity on the part of Bas, myself, and his producer, Roy Z, just to see if my involvement brought something that worked for the tracks.
Bas really wanted me on "Bitchslap," and I got to try my own ideas on it. We're not saying much about the second track, as it may be taken a bit further, and when Bas played the third track, "Stuck Inside," he suggested a kind of call-and-answer part. They allowed me the freedom to write my own words and melodies, and although it's only a couple of lines, it really felt great. The song has such a mean riff, and Bas' guys were so supportive in so many ways on tour and fun to hang with, that it was great to be a part of something of theirs and I think it really came out strong.
For me, the three songs together are a good package. They are all different, with different approaches and styles from each other and from material I have on the upcoming Guns N' Roses record. For me, the timing couldn't be better and I'm quite surprised to be on one song, let alone three!!!
Bas really knew where he saw my involvement on his album and had different options in mind. He knew what seemed obvious, what would be fun, what would work for his album and what he felt I would like. I really liked the energy of the tracks and since I'm rarely asked to do anything I'd actually enjoy or be glad to be a part of, I'm more than grateful for the opportunity and hope the fans get a kick out of it as well.
https://web.archive.org/web/20071002081227/http://web.gunsnroses.com/news/article.jsp?ymd=20070820&content_id=a1&vkey=news&fext=.jsp

Blackstar

ADMIN




Posts

: 9344


Plectra

: 63744


Reputation

: 97


Join date

: 2018-03-17



On the same day (August 20) Blabbermouth posted an interview with Sebastian Bach:
--------------------------------------------------------------------------------------------------
Exclusive: Sebastian Bach's New Album To Feature Guest Appearance By Axl Rose
Former Skid Row frontman Sebastian Bach is set to release "Angel Down" on November 20, his first solo album in eight years. The 14-song "Angel Down" was produced by Roy Z (Bruce Dickinson, Halford, Judas Priest), and was recorded in July and August 2006 at Sound City studios in Hollywood, CA. The CD will be released via a joint venture between Merovingian Music, Ltd. (MRV) and Bach's Get Off My Bach Productions, and distributed worldwide through Caroline/EMI Music Group.
BLABBERMOUTH.NET was granted an opportunity to conduct an exclusive interview with Bach this past Friday (August 17) about his upcoming CD and his collaboration with Guns N' Roses frontman Axl Rose on two of the album's cuts — first single "(Love Is) A Bitchslap" and a cover of Aerosmith's "Back in the Saddle". The following is a transcript of that conversation:
Q: I understand that you recently did some work in the studio with Axl Rose on one of your new songs [Note: Before the interview being conducted, BLABBERMOUTH.NET was informed that Axl had only recorded a guest appearance on "(Love Is) A Bitchslap"]. Is that still being worked on right now or are you already done with all the recordings?
Sebastian: It's already done, dude. It's in the can.
Q: Wasn't the single already submitted to radio a couple of weeks ago?
Sebastian: That's an early version. I wasn't finished [with] the record, but the roughs that I did [are] really amazing. [Laughs]
The CD that I made that got me the record with Jason Flom [former A&R rep at Atlantic Records, now Chairman and CEO of Capitol Music Group] and Jack Ponti [CEO of Merovingian Music, Ltd. (MRV)] is a really good CD, but it wasn't finished. The one song, "(Love Is) A Bitchslap", premiered in the "Trailer Park Boys" in Canada, but then they did put it out to radio, but it wasn't completed. That's one version of the song that's at radio now that still kicks ass, but we've worked on it even harder.
Basically, the collaboration with me and Axl started when he asked me last December to sing on… I was at his house and he was playing me the new "Chinese Democracy" album — actually, there's more than one; there's, like, four — but he was playing a song called "Sorry", which is a very heavy, grinding kind of riff and we were partying and stuff and I started singing a high harmony on the chorus of this song and he flipped out, and he goes, "That sounds great." He goes, "I want you to sing that on the record." So in January, I went to Electric Lady [studios in New York City], and I sang the chorus of this song "Sorry", and it came out really, really amazing. So now that I'm finishing my record, just for the fun of it, when I got to L.A., I just texted Axl, I go, "Hey, dude, when are you gonna come and sing on my record?" I was just joking. [Laughs] I didn't think he would do that. But he never ceases to amaze me. And his response was, "When? Where? What time? Where is the studio? What time do you want me there?" I was, like, "You've gotta be fucking kidding me." I go, "Pinch me, I'm dreaming." So he came down on Tuesday night, I think, or Wednesday, and he sang… He sings two songs on the record. I don't wanna say which songs, really — I don't know if I should or not — but he sings two songs.
Q: Well, I was told that he's on "(Love Is) A Bitchslap".
Sebastian: Oh, you were already told that? OK, well, that's' one. [Laughs] He sings on that, yes, and it's unbelievable — his voice is like a razor; it just really cuts, and it's an amazing thing for me. It's kind of like a duet — he's not just in the background, it's more of a prominent sound. And there's another song that he sings on, too. [But] I'll leave that to your imagination. But he's in fact on two songs on the record.
It's kind of like… I have this one BOB DYLAN record called "Nashville Skyline" where Johnny Cash sings a lot on the record with Bob Dylan. I know it's not Blabbermouth territory, but it's a really good album and it's an amazing thing. I've always wondered how it would be [having] two singers in the band, like The Allman Brothers have two drummers. Me and Axl going back and forth, and he takes a line and I then I take a line and then we do harmonies, it's really cool to hear. It's really an amazing thing for my record. To have him come in and do that, it's mind-blowing. And there's actually another song that he wants to sing on called "Stuck Inside" that he loves, and I'm gonna get him a CD of that, so he might be on three [songs], but right now he's on two. And I am the luckiest guy in the world, for him to come and put his voice on my record. And then I asked him yesterday, "Can I talk about this and everything?" And he was like, "Yes." He goes, "Tell everybody, tell the whole fucking world." I'm like, "Cool. OK." [Laughs]
Q: Did he actually choose the songs [to sing on] then?
Sebastian: Yes. Absolutely. He came into the studio, I played him my whole record, and he chose "Bitchslap" and there's another song. I don't wanna give it all away quite yet 'cause the album is not out 'till November 20.
Q: It's not the Aerosmith cover, is it?
Sebastian: Who told you this?
Q: No one told me but it seemed kind of like an obvious choice, perhaps.
Sebastian: What Aerosmith cover? What are you talking about?
Q: Isn't "Back in the Saddle" on the record?
Sebastian [apparently unaware that a press release had been issued that morning containing details of his new CD]: Who told you..? Can I just ask you who told you this?
Q: There was a press release that was put out this morning with some of this information. It didn't include any information about Axl, but it included a lot of the details about the record, including most of the songtitles and information about, like, songwriting credits and things like that. So I was aware of the fact that the Aerosmith cover was on there. So is that the other song [that Axl sings on]? [Laughs]
Sebastian: I'm not gonna say… [Changing subject] Yesterday I shot the TV show "L.A. Ink" and Kat Von D tattooed my new album cover on my arm, which you'll see on TV. And then that's an amazing thing, too. The album cover was done by my dad.
Q: Is that the artwork that was being sold as a T-shirt — like, a bunch of guys carrying what looks like a painting — is that the one?
Sebastian: That is the image, yup. Of course, on an album cover it's gonna look a lot more detailed and covers are different than on a T-shirt. We just did the whole sold-out Australia/New Zealand tour, and I want people to start getting into the new record and I did look at that as the prefect time to debut that image.
You know, one thing I always loved about Iron Maiden is that all their albums have Eddie on it and it's really a unifying kind of look. When you get a Maiden album it's like all the Maiden albums are like one body of work because of the artwork, really — that has a lot to do with it. And when my father, David Bierk, did the "Slave to the Grind" cover [from Skid Row], I really wanted to carry that on, and now that he's no longer with us, it takes an even heavier meaning to me. So the album is called "Angel Down" and my dad did this cover called "David Watching" — he painted it back in 1990, [and] it's a statue of David looking down on a painting of a Jesus and nobody's paying attention to Jesus in the content of this painting. And the thing is, a lot of the lyrics of the record have to do with the war, and to me, we've perverted what religion is about. To kill each other over religion is completely the opposite message of what Jesus was trying to say, which was "Love each other." Any parent with a soldier who lost his life [in the war], they're obviously angels. And the thing is, my dad's painting is "David Watching" but his name was [also] David. So it's really that that's the title of the painting 'cause he can't be here anymore but he's on the album cover and he is watching. And that's really, really heavy. And it does have the same feel as the "Slave to the Grind" cover. And I'm not gonna say I will always use his art, but I probably will. [Laughs] I like the unified look of album covers — you know, kind of, what the music's gonna sound like when you see the cover. And this album is definitely a heavy rock album with some straight-up rock tunes, some ballads and I'm very, very proud of it.
Q: A lot of people that regularly visit Blabbermouth will probably remember that a lot of the recording for your new album was actually done back in July and August of last year at Sound City in Los Angeles. How much recording have you done since then and how different is the new record in its current form to what you completed back then?
Sebastian: That's a good question. Basically, we had a window of opportunity last July when we were touring with GUNS N' ROSES all over the world. We booked the studio with Roy Z and Sound City before we got the Guns N' Roses tour and we actually had to not do some shows with Guns because we had the studio booked — which is insane [laughs] — but I was determined to get to work on my record. So we went in, but we ran out of time — we had to go right back. Like, we flew, literally, from Vienna, Austria [where we played the] Novarock festival. We went on at noon, we split after Guns was over, went right to the airport, went right to L.A., and we were in the studio, like, the next day. And then we spent three weeks recording — or two and a half weeks — and then we flew straight back to England to play with Guns N' Roses. So we just literally ran out of time, and if you really wanna know what I've been doing in the last week or two… I'm obsessed with killer drums. We recorded all the music last July or June, or whatever it was, but we didn't have time to implement triggered drum sounds. Bobby Jarzombek is one of the greatest drummers — if not THE greatest — in the world, and he deserves a drum sound that is the best. And the natural sound of the drums is old-school. That's what's on the radio — "Bitchslap", it's without triggered drums. What I've been doing the last week or so out here with Roy is adding the most insane, motherfucking kick and snare in the history of drums. [Laughs] That's the one thing we didn't have time to do. And when you're adding triggered drums, it takes a little bit of time. My favorite drum sound in the last five years is "Supremacy" from Hatebreed and also the album they did before that, "Rise of Brutality". I also love Hellyeah — I love Vinnie Paul's drum sound. This is not a Hatebreed record or a Pantera record by any means, but sonically it has that bad-ass, fucking kick-your-fucking-ass sound, which I love, and I was obsessed with giving Bobby the greatest drum sound, 'cause he deserves it. His drumming on this record is… You're just gonna have to hear it. It's like so amazing. This guy has really got his due… He's up there with fucking Neil Peart, Tommy Lee, fucking Alex [Van Halen]… Bobby is up there with those guys, man, and the world's gonna know it when they hear this fucking album.
Q: Yeah, I've always thought he was an amazing drummer. He played with Spastik Ink, which is completely insane stuff.
Sebastian: Yeah. Riot, Fates Warning… He played with Fates Warning. He played with Fates Warning [at a recent festival in Europe] with no rehearsal. I'm like, "How do you do that with no rehearsal?" [laughs] But even the intricate stuff he does… What I like even more than that about Bobby is when he plays, like, behind the beat the cool, street, sleazy attitude. That's the stuff you can't teach people. You can't teach someone how to be cool — you're either cool or you're not. Bobby, his whole vibe playing the drums, he's so cool, man. [laughs] He's a pro. So that's, really, what we've been doing — we've been giving him the most incredible drum sound in the history of the planet.
Q: Besides working on the production side of things, are there any songs on the album that were actually recorded from scratch after the sessions from last year?
Sebastian: No. Everything was recorded then… well, except for Axl Rose. We did a couple of vocal touch-ups here and there. 'Cause I've really come to know that the sound of my clean voice is something special, actually, and sometimes I have a tendency to overdo my vocals where if I just lay back a little bit, it gives you this clean, soaring vibe in my voice, which I've always known about, and really, when I concentrate on it, the results are really great-sounding vocals. I do the dirty a lot too, but when I really concentrate on picking where and when to go clean and dirty, it comes out fuckin'… I can't believe it's me. [Laughs]
Q: So is "(Love Is) A Bitchslap" still the first single? I mean, is that the song that's gonna go to radio officially?
Sebastian: I think so. It's a really good vibe. Everybody loves the lyrics, It goes, "Rolling down the avenue, I've got my fist in the air, checking out of the rat race, and I really don't care." People fucking dig that. It's just a good-time rock, party song.
Q: And it's got sort of an old-school Guns N' Roses feel to it, so I can see Axl sounding really good on it.
Sebastian: Well, wait 'till you hear him, man. Wait 'till you hear it with real drums too. [Laughs]
Q: I know there was a song that you originally put out on that DVD — "Forever Wild", I think it was called — "Always & Never the Same", which was a demo version of song that was supposed to be on this record, but I guess it isn't. Or is it?
Sebastian: No, it's not on the record. That was a different band. I had some guys I was playing with from Memphis for a while.
The thing about me is, I've got a lot of energy and I'm always recording ideas. I mean, I have Damnocracy [Bach's band with Ted Nugent, Jason Bonham, Scott Ian and Even Seinfeld that was featured in VH1's "SuperGroup"] stuff you've never heard. I'm always recording stuff — I love it, it's fun. Anybody that saw "SuperGroup" knows that I've got programs in my laptops and blah blah blah… and it's something I do for me. There's a lot of songs from that period — some are pretty good and some are not so good. But that's the discovery. Part of my process as a musician is I have to listen as much as I record. I'll record, but then I'll live with music for a while. And basically, that stuff just wasn't heavy enough. [Laughs] My whole goal in life is to leave a body of work, and I'm very proud of everything I've done so far — mostly everything. I'm not interested in doing three CDs, five CDs, six CDs, I really wanna do, like, 20 fucking CDs, and this is what is the beautiful thing about the deal that I have with MRV and EMI, [and that's that] this allows me to be in control, and I'm gonna make a lot of music. Believe it or not, I've already got stuff going for the next album, because now that I own my own label and EMI is putting it out, and they're fucking over the moon — they can't believe this shit. [Laughs] They can't believe. I call them up, I go, "We've got a guest vocalist record." They're like, "What?" [Laughs] Anybody that's been waiting for Axl Rose to sing, when you put a CD in your iPod with Axl, November 20 I will give you one. It just goes to show that there's people in this business that aren't just motivated by business. For him to do that is an outrageous thing of friendship and… for once, I'm at a loss for words. [Laughs] I really can't believe that I get to have him on a record. As a rock fan… you know, I'm a fan of his voice, big time. And he's coming in like a razorblade on this shit — screaming, dude. [Laughs]
Q: I understand there's a song on the new album called "Falling Into You" that you co-wrote with Desmond Child (Bon Jovi, Aerosmith, Scorpions, Ricky Martin). Some people might see that as an odd choice considering that you mentioned earlier you wanted to get heavier on this new album and Desmond is traditionally known for writing big radio hits.
Sebastian: You haven't heard the song, number one. And number two, he's never written a song with me [before]. [Laughs] It does not sound like Paul Stanley "Live to Win", if that's what you're asking. [Laughs] It sounds nothing like that. [Laughs] I don't go in for the real, super-syrupy… I mean, I'm trying to follow up "18 and Life" and "In a Darkened Room" — this what I'm trying to follow.
The Desmond song was a weird thing. That was written a looooong time ago. Jason Flom again, he's always looking out for me. He called me, like, five years ago and said, "I want you to write a song with Desmond Child." And I go, "Fine." And so he flew me down there to Desmond's house and we wrote one song, and this is the song. And I actually worked on it after I wrote it with Desmond with Paul Crook [former Bach guitarist]. And me and Paul recorded the first version in New Jersey. But that song has a long history. It's a very beautiful melody and it's a good song, but it's not like… It doesn't really sound like anything he's done before, that's what I'll say.
Q: How did the collaboration with Roy Z come out? He kind of has a reputation for being able to write quickly and in a lot of different styles.
Sebastian: Well, the collaboration with Roy Z was 100 percent from Bobby Jarzombek. Bobby was in my band, and he goes, "Hey, man, you've gotta hook up with Z." We were looking for somebody to work with and I thought of Michael Wagener and I thought of Andy Wallace, and I thought of these people, but I love the album "Resurrection" [by Halford] and "Angel of Retribution" [by Judas Priest], and I've always loved Roy's work. Bobby said, "You've gotta meet with Roy." So one night we all went to the Rainbow [in Hollywood] — me, Bobby and Roy — and Roy was like, "I've gotta write songs. We've gotta make sure this is perfect and everything." I go, "Well, you haven't heard what I've done yet." And he goes, "Well, yeah, I know." He had all these plans before he heard the demos that we recorded. He was looking at, like, he had to come in and write and everything. I go like, "Just come to your truck and listen to the fucking demos first before you say anything." [Laughs] And we went into his truck and I put it on and the first song was "Angel Down" and it blew his fucking head off — his jaw hit the floor. He was like, "Oh my god." We drove around Hollywood in that truck cranking all the demos and Roy said, "I know what to do with this. This is great." But we were missing one kind of flavor, which was straight-up rock. Like the two songs I wrote with Steve DiGiorgio [bass] are obviously metal, Metal Mike [guitar] has two songs on the record that are metal. [Laughs]
Q: "American Metalhead" is one of them, right?
Sebastian: Yeah, it is. That's an anthem, dude. It's fucking outrageous. It's straight from my heart. That's like the "Youth Gone Wild" of today for me. I am an American metalhead. And every time we play that live — it doesn't matter if nobody's heard it — it's an anthem, and I'm all about anthems. But the one kind of sound that we didn't have, which Roy listened to everything we had, and he goes, "What does this album need?" And he brought in a couple of songs that are more straight-up rock and sleazy kind of fucking attitude, street rock, which I kind of forgot about. [Laughs] And that, actually, is the most fun kind of stuff on the record — it's just fun. That's what rock and roll should always be.
Q: He also co-wrote that song "By Your Side", which is more like a ballad-y type of thing. It's sort of reminiscent of the Skid Row ballads.
Sebastian: Yeah, it is. I didn't plan on just doing one Skid Row ballad — I plan on doing, like of them. [Laughs] I never planned on, "OK, well, here's one album. OK, thanks, we're done now. Thank you. We're just joking."
Q: One criticism that I'm sure you've heard many times before is that it's been 11 years or so since the last Skid Row album came out and you've only put out so many original songs during that time period.
Sebastian: Well, let's go through it here. I put out "Bring 'Em Bach Alive", which had five brand new songs on it, and the only recorded live versions of "18 and Life", "Youth Gone Life", "Monkey Business" and "Slave to the Grind" — the only versions that you can, live, of those, and five brand new studio songs. I did that record when my old band was called Ozone Monday. I didn't call my-fucking-self something else and deny my whole musical past, I actually recorded an album of it. Then I followed that up with The Last Hard Men, which was all original — it wasn't that good, but it was all original, and it had some good songs on there. Then I did the "Forever Wild" DVD, which had some original songs on it, which was something that was a totally thing, which was a concert at the Whisky. Then I did Frameshift, which I co-wrote a bunch of songs on — seven songs. You can go through back all the drama on that [referring to well-publicized feud with the project's creator over songwriting credits — Ed.], the fact is I did co-write seven songs on that, and anybody that puts on a Frameshift record… C'mon, let's get serious — if you wanna compare that to what my old band [Skid Row] puts out now, how can you even compare it? It's a joke. I mean, one is challenging and intelligent, and one's not. [Laughs] Let's really look at it. I've actually put out a lot of stuff. The whole thing is, when you're trying to forge a career as a solo artist after you've been in this big band for all this time, it's not an easy thing to do. So it's like, that coupled with the Internet, it was a very challenging thing to get a deal — like, sign a record deal — when record companies are all going out of business. They don't wanna put out CDs; they wanna put out MP3s and broadcast onto your cell phone and all this. It's not an easy time to sign a major record deal, and this is what Jason Flom has given me. And the reason I got the record deal is because of the songs that I recorded with my own money — I mean, I paid for that. Spitfire kicked in at the beginning but then they didn't give us what they promised us and I had to pay for it myself. But it was the smartest fucking thing I ever did. Sometimes you've gotta believe in yourself and support your own career when nobody else will. But then if you believe in something that is good, it'll work itself out, and that's really what's happened here — I believed in my band and my music and my songs and I paid for most of this myself — and now Jason Flom and Jack Ponti wanna put it out to the world, and I've got Axl coming in and helping me on it, and Rick Sales [manager], and it's just all worked out for me. The model that I look at is like Ozzy Osbourne when he was out of Black Sabbath — that's very similar to my situation. If Sharon didn't come in and help him out, who knows what he would have been doing? I mean, I'm a singer and I've been singing since I was 17, professionally, in heavy metal bands, and I've never had to be a businessman. I'm not like the Gene Simmons kind of personality, I'm more like the Ace Frehley kind of personality. [Laughs] I don't care about numbers and all this — I just wanna make my music as kick-ass as I can, and then I need businessmen to help me get it out to the public. And also, after 10 years with Doc McGhee [former manager] and those other guys, Frameshift, I didn't trust anybody after that. I had people who wanted to help me — like Kid Rock's manager was talking to me for a while in the late '90s and some other people — and I didn't trust anybody. I was like, "No, I'm not ever going through that again." And I came to the realization that I can't do that all on my own — I can't. I can't get a CD into the proper rack at the front of the store. I can't deal with T-shirt percentages at Madison Square Garden and shit like this. That's not me.
Q: That's part of the reason I wanted to ask you about this. Because a lot of people that are not involved in the music industry don't understand a lot of the behind-the-scenes stuff that goes on — not just with labels and management, but also in band situations. It's not easy to find the right musicians to play with.
Sebastian: That's right. Like a guy like Bobby is really quite irreplaceable. And Metal Mike and Johnny [guitar]. And you have to have chemistry. You have to have people that aren't too busy. Like, I loved working with Steve DiGiorgio, it was amazing, but he has a thousand bands. It would be like, "Hey, we're going out with Guns N' Roses." And he's like, "Well, I'm playing in Mexico with Sadus." And I go, "Well, you're not in the band then." [laughs] I'm like, "Dude, if you're gonna spread yourself that thin…" I need guys that are always there for me. 'Cause I don't look to change bandmembers. But if you're too busy, I'll fucking get somebody else. [Laughs]
Q: How did the Aerosmith cover come about and why did you decide to cover that song?
Sebastian: That was Roy Z's idea. I came into this project with no intentions of doing any covers, because I did a bunch of tribute records in the mid-'90s and I've definitely gotten that out my system. But Roy goes, "Dude, you're BACK! This is a statement of, like, you're back, 'here's my new record.'" When you hire a producer, that's for an outside perspective, even though you might think I think I am — I know I'm not always right. So I didn't wanna do it, and then he explained it to me lyrically how cool it is to come out and say, "I'm baaack!" And then he said, "Plus, your name, dude. You're 'Bach.' It's 'back'." So I was, like, "OK." And then we cut the track and it's so killer — it's so bad-ass. It just came out really, really on fire — that's the word. And then Axl comes in, and it's me and him screaming those screams at the fucking top of our range. [laughs] If you're into screams, this is a good album for you. This is definitely a singers album, let me put it to you that way. If you're into that, I'm giving it to you, big-time.
Q: There was mention of new reality show in the press release, but that might have been what you mentioned earlier — "L.A. Ink". No?
Sebastian: No. There's a whole new show that I'm not allowed to tell you what it is yet, but it's insane. [Laughs]
Q: Is VH1 involved?
Sebastian: No. Different channel. Bigger channel. [Laughs] You'll know soon. It's just unbelievable; it's crazy.
Q: So it's not a oneoff, it's a series?
Sebastian: No, it's a series. Another fucking TV series for me.
Q: So are you actually acting in it?
Sebastian: No.
Q: So it's more like a reality show?
Sebastian: I wouldn't call it a reality show, but there are elements of that.
https://blabbermouth.net/news/exclusive-sebastian-bach-s-new-album-to-feature-guest-appearance-by-axl-rose/

Blackstar

ADMIN




Posts

: 9344


Plectra

: 63744


Reputation

: 97


Join date

: 2018-03-17



Another interview with Sebastian Bach; 93.3 WMMR Philadelphia (via Blabbermouth, November 2, 2007):
-------------------------------------------------------------------------------------------------------------------------------
Q: You have a new record coming out, "Angel Down", November 20. We've been waiting for songs from Axl Rose for about 15 years, and all of a sudden, you get him to sing on your record. How did that work, did you text him, did you call him?
Sebastian: "We've done about 80 shows with Guns N' Roses all over the world. At Christmas we did three nights at Universal Ampitheater in Hollywood... Axl had a Christmas party, we were playing pool. He played 'Chinese Democracy', a song called 'Sorry' came on and I started singing a harmony over top of the chorus. Axl loved that and booked studio time at Electric Lady in New York the next week, and I sang on 'Chinese Democracy'. So then, I was being silly and texted Axl, 'When are you going to sing on my record?' and he texted back, just one word, 'When' ... He sang three songs on my record."
Q: What do you think is the biggest misconception people have about Axl Rose?
Sebastian: "They think that 'Chinese Democracy' is never coming out... that is
#1
misconception, 'cause I've heard it... like, it exists. To me I think it has a lot more to do with the business side of it. I've heard four albums' worth of material that's incredible. So when people go 'Is it ever coming out?', I go 'Yeah! And you're gonna feel stupid when it does.'"
Q: He's a very down-to-earth kinda person.
Sebastian: "I wouldn't call him down to earth. He's lived a life none of us could ever imagine, because of the level of success he has achieved. Guns N' Roses is bigger than rock. They're not a metal or rock band, they're like the Stones, or Led Zeppelin, or the Beatles, to a lot of people. He can't go out on the street and walk around. Like, when I was in London, England, I went to Hyde Park, played frisbee with the road crew — he can't do stuff like that. And that must really suck... Paparazzi's always there. It's just a different life... and I've watched millions of people that were in a room with the man, and they don't say what they think — they try to figure out what he wants them to say to make him like them and then they'll say that. I've seen people get so flipped out, but when he's in the room with them, he can't get a straight answer out of them. He's not like a human, he's like a demigod walking around."
Q: He does have a bad reputation in town — December 8th 2002, it was a no-show.
Sebastian: "Go do an interview with him there. I wasn't on that tour... I don't know what to say. I read all the time about Paul Stanley cancelling shows — nobody goes 'Paul Stanley, man, what's up?!'… I just did a whole GN'R tour, 80 shows... they cancelled one show, out of 80 shows. That's not unheard of..."
Q: I always stick up for the lineup when people go "It's not the true GN'R..."
Sebastian: "It's not... but then what's better... Slash and Duff doing Stone Temple Pilots songs? I'd rather hear Axl sing 'Welcome To The Jungle' with Tommy Stinson on bass... I love Duff McKagan, but he's busy." (Laughs)
Q: You had a great line about Brain at the Hammerstein... "Where was this guy when you hired Matt Sorum??"
Sebastian: "To me, Brain is one of the best drummers I've ever seen in my life. I love drummers that kinda play behind beat, with that cool, sleazy groove like John Bonham, Joey Kramer, or Steven Adler on 'Appetite', and to me, Brain plays with that swagger and cool factor. And I watched this guy with GUNS, and I couldn't believe how incredible he was. Then I bought the new Tom Waits record, and I look at the credits... Drums: Brain. I go... this guy! Tom Waits, Primus, GN'R — he's amazing."
https://archive.blabbermouth.net/news/sebastian-bach-axl-rose-has-lived-a-life-none-of-us-could-ever-imagine/

Blackstar

ADMIN




Posts

: 9344


Plectra

: 63744


Reputation

: 97


Join date

: 2018-03-17



And another Sebastian Bach interview; Rock Confidential, November 17, 2007:
--------------------------------------------------------------------------------------------
[...]
Fans got an early taste of the album [Angel Down] with "(Love Is A) Bitchslap"…
Bach: Yeah! I was watching LA Ink with Kat Von D. the other day and dude, when fucking "Bitchslap" came on the TV it sounded so good! It sounded KILLER! I'm a freak about sound, dude! I listened to so much music that influenced me for this record. Production-wise I listened to old Steely Dan. Nobody get scared! My album doesn't sound like that! I'm talking about the vocals, the harmonies, the drum sounds - I'm into really good production, dude. Roy Z produced it and he did an incredible job and Tom Baker at Precision Mastering totally fucking nailed it. We mastered it three times and the one I chose is real ballsy and bass heavy. I just fucking feel good when I listen to it!
I've partied with the CD and I just did Celebrity Rap Superstar. These guys party like rock stars! They drink all day and they smoke blunts all day - all of 'em! After the show we would go back to my suite and crank Angel Down and all these 6′5″ rapper motherfuckers were freaking out! We listened to it nine times in a row in the piece of shit radio in the hotel. Bizarre from D12 was picking out parts to sample. "Stuck Inside" was their favorite one because of the heavy bass.
We can't forget Axl Rose! I'm tripping over my words because I'm so excited! Axl sings lead on three of the songs and people have to be fucking excited about that! I know I am!
You guys are like partners in crime. You went out on the road together, you got him in the studio. I guess you have a good time with Axl.
I spent a better part of a year on the road with him getting fucking crazy! Axl is like a one man Led Zeppelin. You wanna talk about partying 'til 2PM the next afternoon and showing people how it's done! This motherfucker is like Jack Nicholson on the microphone. I don't even know what the fuck that means! We had Avenged Sevenfold out with us and they're a great band. We were in Europe. We'd do a show at the arena and Axl would go on around midnight. Then he'd go and rent out a club starting at like 5AM every fucking day! I don't know how he found those places! I was like, "Where the fuck are we going to go at 5AM in Prague, Czechoslovakia?" Sure enough he gets a club as the sun is coming up and our busses roll in. We stumble up these stairs as the sun is shining in and he says, "Time to start the party!" I can't even begin to describe that tour. The Avenged Sevenfold guys did their best, bless their hearts. They're a little younger than us! The drummer was the last one standing in that band and he's a fucking alcoholic! He reminded me a lot of Duff McKagan from the Use Your Illusion tour. The way he walked, talked and the way he slurred every other word. I love the guy!
[...]

Speaking of playing live, do you have any tour plans for Angel Down?
I was very spoiled in the last year playing sold out arenas with Axl and Guns N' Roses. I always hold out for things that I really believe in. I'm really holding out for a gigantic package tour. I don't know with who and I don't know when. I'm sure I'll do some dates around the release but I'd prefer playing arenas to clubs. That's all I've gotta tell ya. I like the big stage. I'm a big dude with a big fucking voice. When I'm on a tiny stage, I'm so tall I feel like a caged, savage animal!
Sebastian, thanks for catching up with us. What would you like to say to your fans?
I've been working on Angel Down since 2000. I'm very proud of it and I know the whole world has been waiting over 15 years for the return of Axl Rose and I'm so happy to give you his voice on three songs on this record. You wanted it, you got it! It's gonna be a rockin' Christmas. On November 20, it's time to fuckin' rock with Sebastian Bach and Rock Confidential!
https://web.archive.org/web/20071217155843/http://rockconfidential.com:80/magazine/interviews/exclusive-interview-with-sebastian-bach

Blackstar

ADMIN




Posts

: 9344


Plectra

: 63744


Reputation

: 97


Join date

: 2018-03-17



Sebastian Bach, The Albany Times Union, September 20, 2007:
-------------------------------------------------------------------------------
So (expletive deleted) busy
Sebastian Bach is promoting his 'Angel Down' CD just before its release and Edgefest gig
By GREG HAYMES, Staff writer
"The album is finished, and it (expletive deleted) rocks, let me tell ya. It's just awesome. The songs are (same expletive deleted) great, and I can't wait for you to hear it."
Former Skid Row singer Sebastian Bach is on the phone raving about his upcoming solo album, "Angel Down," his first since his solo debut in 1999 with "Bring 'Em Bach Alive."
But Bach -- who rolls into the Altamont Fairgrounds on Saturday as the headbanging headliner for the daylong Edgefest -- isn't just raving about his own work. He's also raving about a special guest who appears on the album. Of course, it's not just any special guest -- it's Guns 'N Roses frontman Axl Rose.
"I can't (same one as above deleted) believe it. I just can't (again) believe that Axl (ditto) Rose is singing on my record. Not just one song, either. He's singing on three songs, dude. He's the best. He's just the best.
"The thing about Axl is that he's a (and again) genius. I've heard 'Chinese Democracy' " -- the long overdue Guns 'N Roses comeback album -- "and it rocks, dude. In fact, I sing on one of the songs, 'Sorry.' He's so prolific, dude, that he's recorded enough material for at least three albums, and it's all (encore) awesome. It has the rawness and the power of 'Appetite For Destruction,' but it also has the grandiosity of 'November Rain.' It's just (if he keeps saying it, we'll keep deleting it) awesome."
https://web.archive.org/web/20071014223417/http://timesunion.com/AspStories/story.asp?storyID=623466&category=ARTS&newsdate=9/20/2007

Blackstar

ADMIN




Posts

: 9344


Plectra

: 63744


Reputation

: 97


Join date

: 2018-03-17



Sebastian Bach, Artisan News Service (via Blabbermouth, October 26, 2007):
-------------------------------------------------------------------------------------------
Bach: I just texted Axl at LAX just walking around baggage claim and I go, 'Hey, when are you going to sing on my record?' Like some snot-nosed kid, totally joking around. Then one word comes on my phone, 'When?' I go 'Get the...' I just remember stopping dead in my tracks and going 'No, no he's not going to sing on my album, there's no way. And I go 'We're in the studio Monday, 1 till 5 in the morning' and he goes ' What's the address?' He doesn't let me down, man, and he doesn't mess around. He's very direct and he's very intense and he doesn't say anything he doesn't mean.
I'm so happy with the record and to have him on it as well is just mind-blowing. I could not thank him enough. He's helped me more than anybody else in rock, he's helped me. With touring and back in Skid Row, we opened the Use Your Illusion Tour and that's the way he is. He just helps out. He helps me out.
https://archive.blabbermouth.net/news/sebastian-bach-axl-is-very-direct-and-he-doesn-t-say-anything-he-doesn-t-mean/

Blackstar

ADMIN




Posts

: 9344


Plectra

: 63744


Reputation

: 97


Join date

: 2018-03-17



Rolling Stone's Rock & Roll Daily, September 26, 2007:
---------------------------------------------
Proof Axl Rose Does Go to the Studio: Photo With Sebastian Bach
Remember when Rock Daily told you about Axl Rose's Johnny Cash/Bob Dylan-like collaboration with Sebastian Bach on the Celebrity Rap Superstar's first solo album since 1999, Angel Down (out November 20th)? [...]
Now Bach has kindly provided us with photographic evidence of the pairing — yes, real-live proof that Axl Rose still knows how to find his way to a recording studio.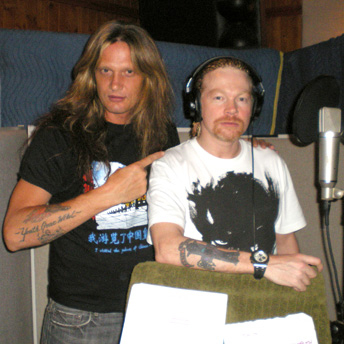 https://web.archive.org/web/20071028103539/http://www.rollingstone.com/rockdaily/index.php/2007/09/26/proof-axl-rose-does-go-to-the-studio-photo-with-sebastian-bach/

Blackstar

ADMIN




Posts

: 9344


Plectra

: 63744


Reputation

: 97


Join date

: 2018-03-17



---
Permissions in this forum:
You
cannot
reply to topics in this forum