As published in the 1994 Hard Force GN'R special issue (hors-serie). Big thanks to @gnr* for scanning all 100 pages (!) of the issue and posting them here:
https://www.a-4-d.com/t4986-1994-01-dd-hard-force-france-hors-serie-gn-r-issue
--------------------------------------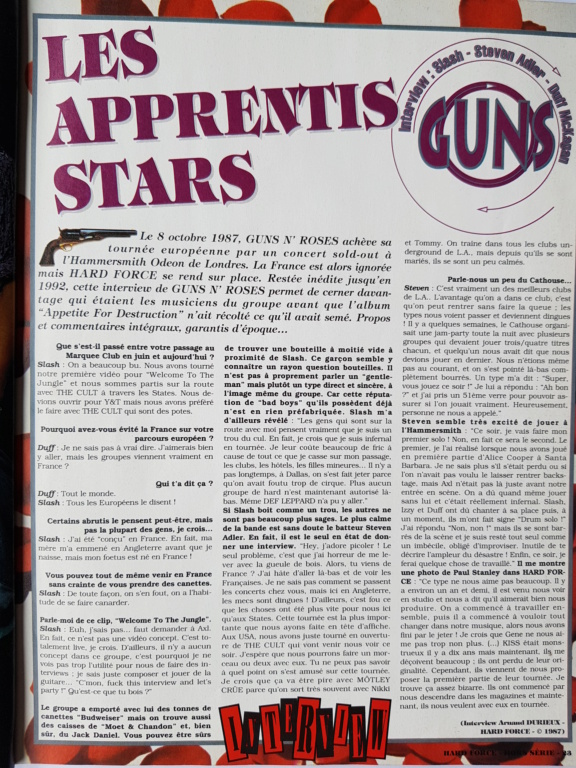 Translation:
----------------
THE WOULD-BE STARS
Interview: Slash - Steven Adler - Duff McKagan
Interview: Arnaud Duriex – Hard Force - :copyright: 1987
On October 8, 1987, Guns N' Roses concluded their European tour with a sold-out concert at the Hammersmith Odeon in London. France was ignored then, but Hard Force went on site. This interview with Guns N' Roses, unpublished until 1992, helps shed more light on the band members' personalities before the album "Appetite For Destruction" reaped what it had sown. Unabridged talk and comments, straight from the past...
What happened between your shows at the Marquee Club in June and today?
Slash: We drank a lot. We shot our first video for "Welcome To The Jungle" and went on the road in the States with The Cult. We were supposed to open for Y&T but we preferred to do it with The Cult who are friends.
Why did you avoid France on your European tour?
Duff: I don't really know. I'd love to go there, but do bands actually come to France?
Who told you that?
Duff: Everybody.
Slash: All Europeans say it!
Some morons may think so, but not most people, I believe...
Slash: I was "conceived" in France. In fact, my mother took me to England before I was born, but my fetus was born in France!
You can still come to France without fear of having beer cans thrown at you.
Slash: We don't care anyway; we're used to ducking down.
Tell me about this video, "Welcome To The Jungle".
Slash: Uh, I don't know... you have to ask Axl. Actually, it's not a concept video. It's totally live, I think. Besides, there is no concept in this band, that's why I don't see much usefulness in us doing interviews; I just know how to write songs and play guitar... "C'mon, fuck this interview and let's party! What do you wanna drink?"
The band have brought tons of Budweiser cans along, but there are also cases of Moet & Chandon and, of course, Jack Daniel's. You can be confident that you'll find a half-empty bottle near Slash. This kid seems to be very familiar with bottles. He is not, strictly speaking, a "gentleman", but rather a straightforward and candid fella, a true reflection of the band; because the "bad boy" reputation that they already have is by no means prefabricated. As Slash revealed to me:
"The people who are on the road with me really think I'm an asshole. Actually, I think I'm hell on tour. I cost them a lot of money because of all the damage I do wherever I go; clubs, hotels, underage girls... Not long ago, in Dallas, we got kicked out because we fucked up too much. Now hard rock bands have been banned from playing there. Even Def Leppard couldn't go."
While Slash drinks like a fish, the others aren't much more sober. The calmest member of the band is, undoubtedly, drummer Steven Adler. In fact, he is the only one in condition to give an interview:
"Hey, I love drinking! The only problem is that I hate waking up with a hangover. So, are you from France? I can't wait to go there and see the French girls. I don't know how things are at the shows in your country, but here in England people are crazy! Besides, it's crazy that things have been faster for us here than in the States. This tour is the biggest we've done headlining. We just toured in the States opening for the Cult. They're coming to see us tonight and I hope that we'll do a song or two with them. You can't imagine how much fun we had on this tour. I think it will be worse with Motley Crue, because we go out very often with Nikki and Tommy. We hang out in all the underground clubs in L.A., but since they got married, they've calmed down a bit."
Tell us a bit about the Cathouse...
Steven: It's really one of the best clubs in L.A.. The advantage we have in this club is that we can get in without waiting in line; people see us go by and go crazy! A few weeks ago, the Cathouse organized an all-night jam party with many bands who were going to play three of four songs each, and someone told us that we were supposed to play last. We weren't even aware, and we showed up there completely drunk. Some guy told me, "Great, you're playing tonight!" I said, "Oh yeah?" and I ordered my 51st drink to make sure that we were really playing. Thankfully, nobody called us."
Steven seems very excited to be playing at Hammersmith: 
"Tonight I'm going to do my first solo! No, actually, it'll be the second. I did the first when we opened for Alice Cooper in Santa Barbara. I don't know if Axl got lost or if he wasn't let in backstage, but he wasn't there when we went out on stage. So we had to play without him and it was real hell. Slash, Izzy and Duff had to sing in his place. Then, at one point, they motioned at me, "Drum solo!" I said, "No, no!" But they left the stage and I was there all alone like an idiot, so I had to improvise. Needless to describe how much of a disaster it was! At least tonight I'm gonna do something I've worked on."
He shows me a photo of Paul Stanley in Hard Force: 
"This guy doesn't like us much. About a year and a half ago, he came to see us in the studio and said that he would like to produce us. We started working together, then he started to want to change everything in our music, so we ended up throwing him out! I don't think Gene likes us too much either (...) Kiss was monstrous ten years ago but now I'm very disappointed by them; They've lost some of their originality. Yet, they just asked us to open for them on their tour. I think that's pretty weird. First they bash us in the magazines and now they want us to go out on tour with them.

Blackstar

ADMIN




Posts

: 11774


Plectra

: 77608


Reputation

: 97


Join date

: 2018-03-17



---
Permissions in this forum:
You
cannot
reply to topics in this forum