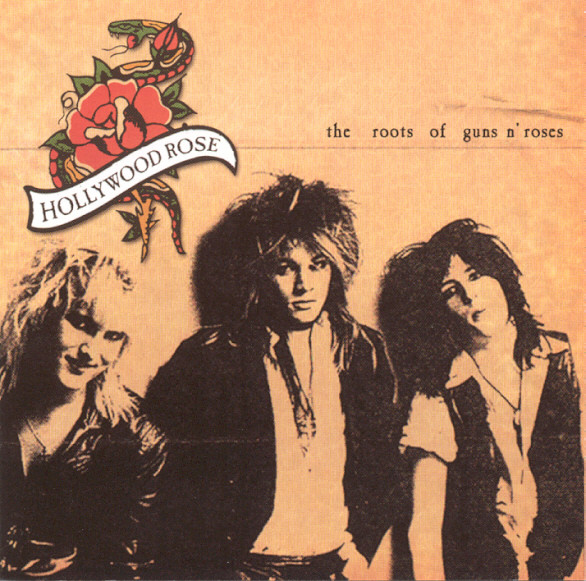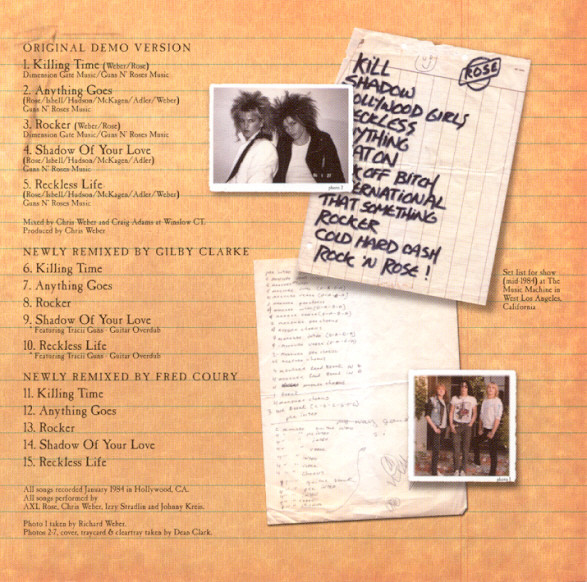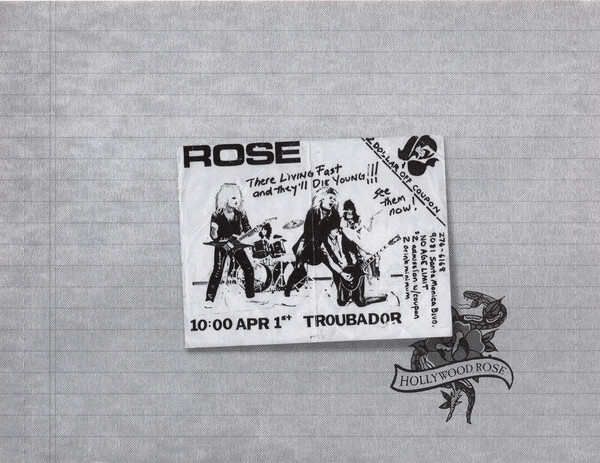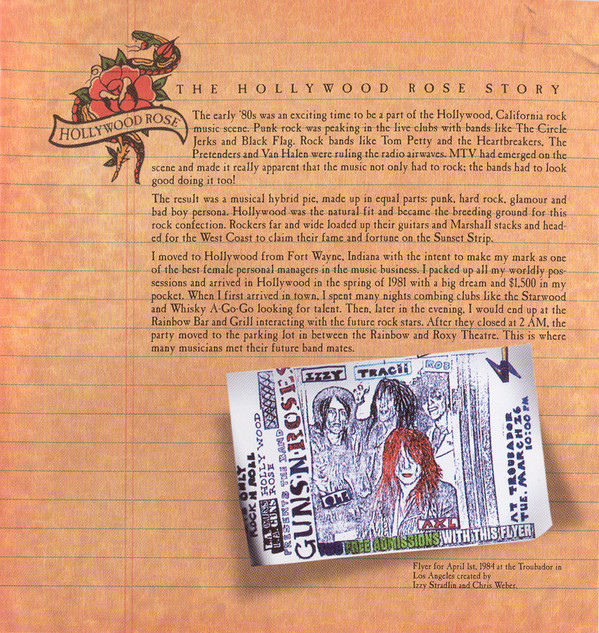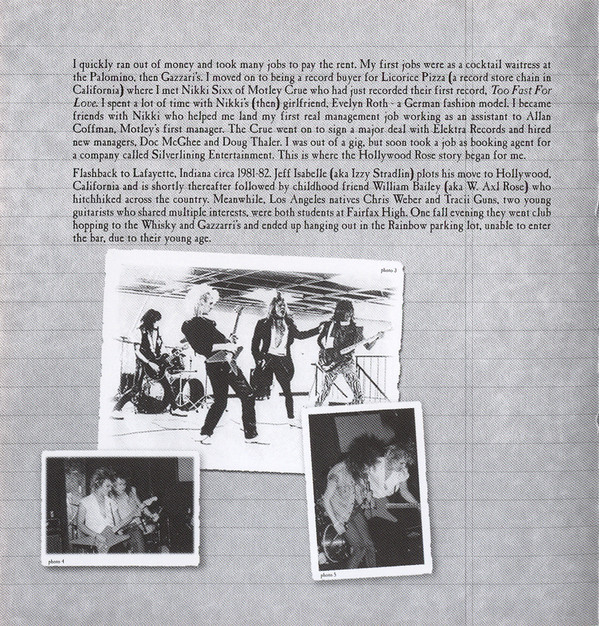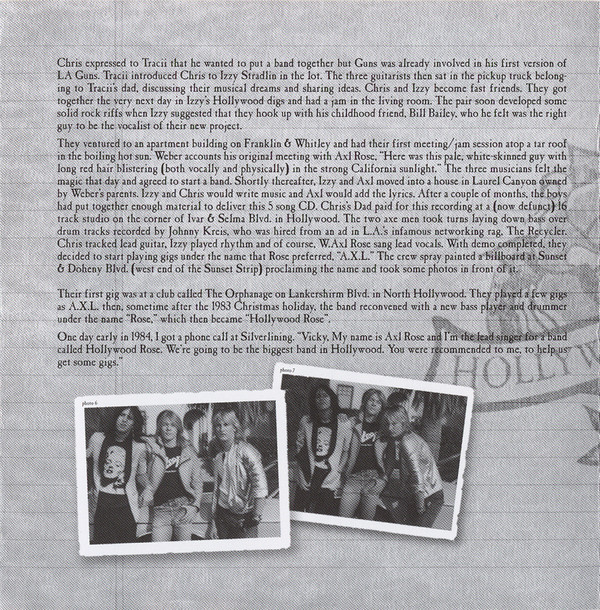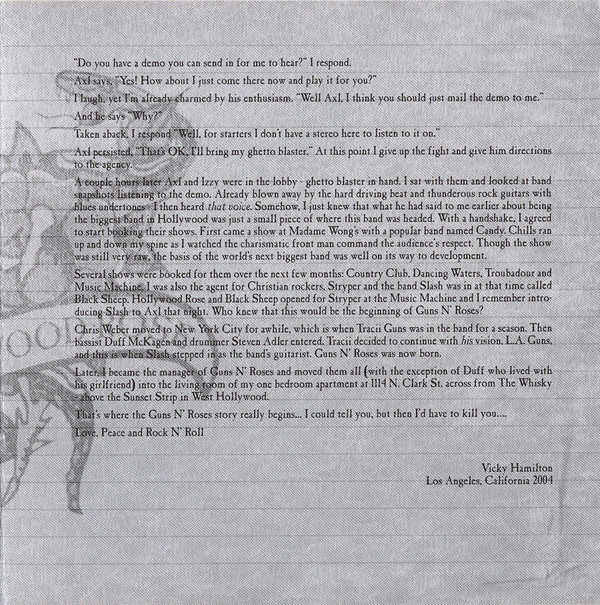 The Hollywood Rose Story
The early '80s was an exciting time to be part of the Hollywood. California rock music scene. Punk rock was peaking in the live clubs with bands like The Circle Jerks and Black Flag. Rock bands like Tom Petty and the Heartbreakers, The Pretenders and Van Halen were ruling the radio airwaves. MTV had emerged on the scene and made it really apparent that the music not only had to rock; the bands had to look good doing it too!
The result was a musical hybrid pie, made up in equal parts: punk, hard rock, glamour and bad boy persona. Hollywood was the natural fit and became the breeding ground for this rock confection. Rockers far and wide loaded up their guitars and Marshall stacks and headed for the West Coast to claim their fame and fortune on the Sunset Strip.
I moved to Hollywood from Fort Wayne, Indiana with the intent to make my mark as one of the best female personal managers in the music business. I packed up all my worldly possessions and arrived in Hollywood in the spring of 1981 with a big dream and $1,500 in my pocket. When I first arrived in town. I spent many nights combing clubs like the Starwood and Whisky A-Go-Go looking for talent. Then, later in the evening, I would end up at the Rainbow Bar and Grill interacting with the future rock stars. After they closed at 2 AM. the party moved to the parking lot in between the Rainbow and Roxy Theatre. This is where many musicians met their future band mates.
I quickly ran out of money and took many jobs to pay the rent. My first jobs were as a cocktail waitress at the Palomino, then Gazzaris. I moved on to being a record buyer for Licorice Pizza (a record store chain in California) where I met Nikki Sixx of Motley Crue who had just recorded their first record, Too Fast For Love. I spent a lot of time with Nikki's (then) girlfriend, Evelyn Roth - a German fashion model. I became friends with Nikki who helped me land my first real management job working as an assistant to Allan Coffman, Motley's first manager. The Crue went on to sign a major deal with Elektra Records and hired new managers, Doc McGhee and Doug Thaler. I was out of a gig. hut soon took a job as booking agent for a company called Silverlining Entertainment.
This is where the Hollywood Rose story began for me.
Flashback to Lafayette. Indiana circa 1981-82. Jeff Isabelle (aka Izzy Stradlin) plots his move to Hollywood, California and is shortly thereafter followed by childhood friend William Bailey (aka W. Axl Rose) who hitchhiked across the country. Meanwhile, Los Angeles natives Chris Weber and Tracii Guns, two young guitarists who shared multiple interests, were both students at Fairfax High. One fall evening they went club hopping to the Whisky and Gazzarri's and ended up hanging out in the Rainbow parking lot, unable to enter the bar. due to their young age.
Chris expressed to Tracii that he wanted to put a hand together but Guns was already involved in his first version of LA Guns. Tracii introduced Chris to Izzy Stradlin in the lot. The three guitarists then sat in the pic-kup truck belonging to Tracii's dad discussing their musical dreams and sharing ideas.
Chris and Izzy become fast friends. They got together the very next day in Izzy's Hollywood digs and had a jam in the living room. The pair soon developed some solid rock riffs when Izzy suggested that they hook up with his childhood friend, Bill Bailey, who he felt was the right guy to be the vocalist of their new project.
They ventured to an apartment building on Franklin & Whitley and had their first nieeting/jam session atop a tar roof in the boiling hot sun. Weber accounts his original meeting with Axl Rose, "Here was this pale, white skinned guy with long red hair blistering (both vocally and physically) in the strong California sunlight." The three musicians felt the magic that day and agreed to start a band. Shortly thereafter, Izzy and Axl moved into a house in Laurel Canyon owned by Weber's parents. Izzy and Chris would write music and Axl would add the lyrics. After a couple of months, the boys had put together enough material to deliver this 5 song CD. Chris's Dad paid for this recording at a (now defunct) 16 track studio on the corner of Ivar & Selma Blvd. in Hollywood. The two axe men took turns laying down bass over drum tracks recorded by Johnny Kreis, who was hired from an ad in LA's infamous networking rag, The Recycler. Chris tracked lead guitar, Izzy played rhythm and of course, W. Axl Rose sang lead vocals. With demo completed, they decided to start playing gigs under the name that Rose preferred, "A.X.L.'' The crew spray painted a billboard at Sunset & Doheny Blvd. (west end of the Sunset Strip) proclaiming the name and took some photos in front of it.
Their first gig was at a club called The Orphanage on Lankershirm Blvd. in North Hollywood. They played a few gigs as A.X.L., then, sometime after the 1983 Christmas holiday, the band reconvened with a new bass player and drummer under the name "Rose," which then became "Hollywood Rose".
One day early in 1984, I got a phone call at Silver-lining. "Vicky, My name is Axl Rose and I'm the lead singer for a band called Hollywood Rose. We're going to be the biggest band in Hollywood. You were recommended to me, to help us get some gigs."
"Do you have a demo you can send in for me to hear?" I respond.
Axl says, "Yes! How about I just come there now and play it for you?"
I laugh, yet I'm already charmed by his enthusiasm. "Well Axl, I think you should just mail the demo to me."
And he says "Why?"
Taken aback,
I respond "Well, for starters  I don't have a stereo here to listen to it on."
Axl persisted, "That's OK, I'll bring my ghetto blaster." At this point I give up the fight and give him directions to the agency.
A couple hours later Axl and Izzy were in the lobby - ghetto blaster in hand. I sat with them and looked at band snapshots listening to the demo. Already blown away by the hard driving beat and thunderous rock guitars with blues undertones - I then heard that voice. Somehow, I just knew that what he had said to me earlier about being the biggest band in Hollywood was just a small piece of where this band was headed. With a handshake, I agreed to start booking their shows. First came a show at Madame Wong's with a popular band named Gandy. Chills ran up and down my spine as I watched the charismatic front man command the audience's respect. Though the show was still very raw, the basis of the world's next biggest band was well on its way to development.
Several shows were booked for them over the next few months: Country Club, Dancing Waters, Troubadour and Music Machine. I was also the agent for Christian rockers. Stryper and the band Slash was in at that time called Black Sheep. Hollywood Rose and Black Sheep opened for Stryper at the Music Machine and I remember introducing Slash to Axl that night. Who knew that this would be the beginning of Guns N' Roses?
Chris Weber moved to New York City for awhile, which is when Tracii Guns was in the band for a season. Then bassist Duff McKagen and drummer Steven Adler entered. Tracii decided to continue with his vision, L.A. Guns, and this is when Slash stepped in as the band's guitarist. Guns N' Roses was now born.
Later, I became the manager of Guns N' Roses and moved them all (with the exception of Duff who lived with his girlfriend) into the living room of my one bedroom apartment at 1114 N. Clark St. across from The Whisky above the Sunset Strip in West Hollywood.
That's where the Guns N' Roses story really begins... I could tell you, but then I'd have to kill you....
Love, Peace and Rock N'Roll
Vicky Hamilton
Los Angeles, California 2004

Blackstar

ADMIN




Posts

: 9559


Plectra

: 65406


Reputation

: 97


Join date

: 2018-03-17



---
Permissions in this forum:
You
cannot
reply to topics in this forum