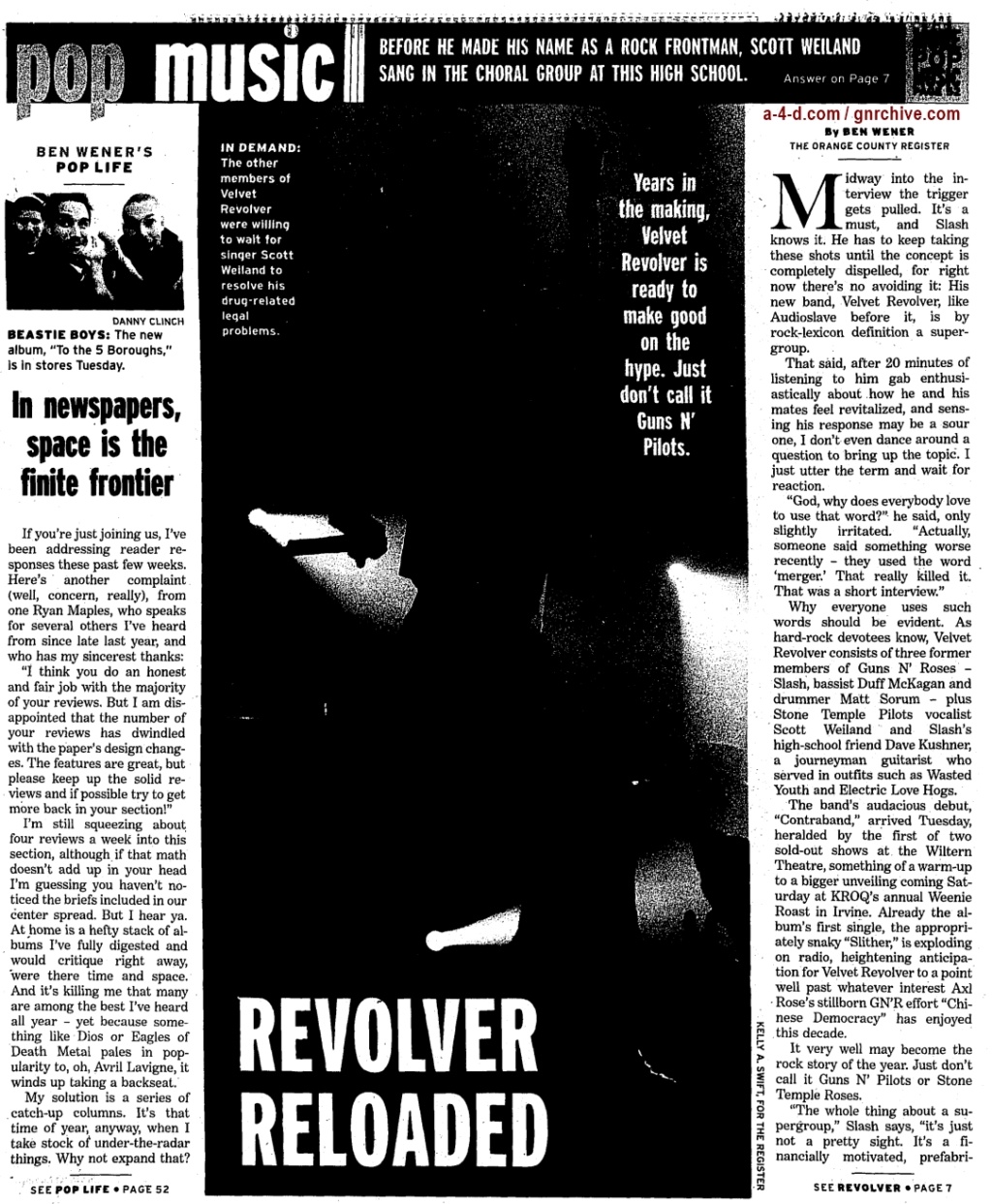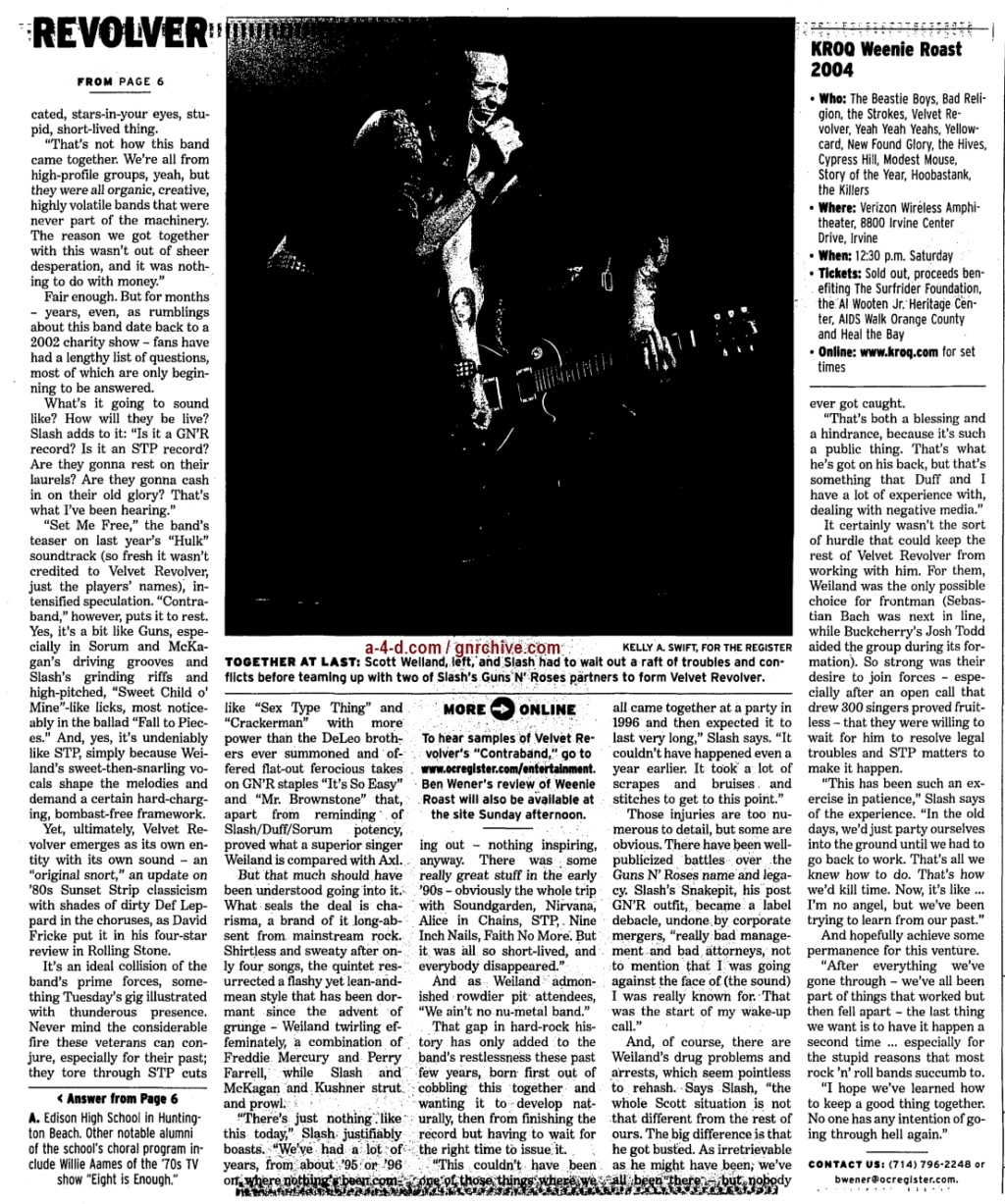 Revolver Reloaded
Years in the making, Velvet Revolver ready to make good on hype
By Ben Wener
The Orange County Register
Midway into the interview the trigger gets pulled. It's a must, and Slash knows it. He has to keep taking these shots until the concept is completely dispelled, for right now there's no avoiding it: His new band, Velvet Revolver, like Audioslave before it, is by rock-lexicon definition a supergroup.
That said, after 20 minutes of listening to him gab enthusiastically about how he and his mates feel revitalized, and sensing his response may be a sour one, I don't even dance around a question to bring up the topic. I just utter the term and wait for reaction.
"God, why does everybody love to use that word?" he said, only slightly irritated. "Actually, someone said something worse recently -- they used the word 'merger.' That really killed it. That was a short interview."
Why everyone uses such words should be evident. As hard-rock devotees know, Velvet Revolver consists of three former members of Guns N' Roses -- Slash, bassist Duff McKagan and drummer Matt Sorum -- plus Stone Temple Pilots vocalist Scott Weiland and Slash's high-school friend Dave Kushner, a journeyman guitarist who served in outfits such as Wasted Youth and Electric Love Hogs.
The band's audacious debut, "Contraband," arrived Tuesday, heralded by the first of two sold-out shows at the Wiltern Theatre, something of a warm-up to a bigger unveiling coming Saturday at KEOQ's annual Weenie Roast in Irvine. Already the album's first single, the appropriately snaky "Slither," is exploding on radio, heightening anticipation for Velvet Revolver to a point well past whatever interest Axl Rose's stillborn GN'R effort "Chinese Democracy" has enjoyed this decade.
It very well may become the rock story of the year. Just don't call it Guns N' Pilots or Stone Temple Roses.
"The whole thing about a supergroup," Slash says, "it's just not a pretty sight. It's a financially motivated, prefabricated, stars-in-your eyes, stupid, short-lived thing.
"That's not how this band came together. We're all from high-profile groups, yeah, but they were all organic, creative, highly volatile bands that were never part of the machinery. The reason we got together with this wasn't out of sheer desperation, and it was nothing to do with money."
Fair enough. But for months - years, even, as rumblings about this band date back to a 2002 charity show - fans have had a lengthy list of questions, most of which are only beginning to be answered.
What's it going to sound like? How will they be live? Slash adds to it: "Is it a GN'R record? Is it an STP record? Are they gonna rest on their laurels? Are they gonna cash in on their old glory? That's what I've been hearing."
"Set Me Free," the band's teaser on last year's "Hulk" soundtrack (so fresh it wasn't credited to Velvet Revolver, just the players' names), intensified speculation. "Contraband," however, puts it to rest. Yes, it's a bit like Guns, especially in Sorum and McKagan's driving grooves and Slash's grinding riffs and high-pitched, "Sweet Child o' Mine"-like licks, most noticeably in the ballad "Fall to Pieces." And, yes, it's undeniably like STP, simply because Weiland's sweet-then-snarling vocals shape the melodies and demand a certain hard-charging, bombast-free framework.
Yet, ultimately, Velvet Revolver emerges as its own entity with its own sound -- an "original snort," an update on '80s Sunset Strip classicism with shades of dirty Def Leppard in the choruses, as David Fricke put it in his four-star review in Rolling Stone.
It's an ideal collision of the band's prime forces, something Tuesday's gig illustrated with thunderous presence. Never mind the considerable fire these veterans can conjure, especially for their past; they tore through STP cuts like "Sex Type Thing" and "Crackerman" with more power than the DeLeo brothers ever summoned and offered flat-out ferocious takes on GN'R staples "It's So Easy" and "Mr. Brownstone" that, apart from reminding of Slash/Duff/Sorum potency, proved what a superior singer Weiland is compared with Axl.
But that much should have been understood going into it. What seals the deal is charisma, a brand of it long-absent from mainstream rock. Shirtless and sweaty after only four songs, the quintet resurrected a flashy yet lean-and-mean style that has been dormant since the advent of grunge - Weiland twirling effeminately, a combination of Freddie Mercury and Perry Farrell, while Slash and McKagan and Kushner strut and prowl.
"There's just nothing like this today," Slash justifiably boasts. "We've had a lot of years, from about '95 or '96 on, where nothing's been coming out - nothing inspiring, anyway. There was some really great stuff in the early '90s - obviously the whole trip with Soundgarden, Nirvana, Alice in Chains, STP, Nine Inch Nails, Faith No More. But it was all so short-lived, and everybody disappeared."
And as Weiland admonished rowdier pit attendees, "We ain't no nu-metal band."
That gap in hard-rock history has only added to the band's restlessness these past few years, born first out of cobbling this together and wanting it to develop naturally, then from finishing the record but having to wait for the right time to issue it.
"This couldn't have been one of those things where we all came together at a party in 1996 and then expected it to last very long," Slash says. "It couldn't have happened even a year earlier. It took a lot of scrapes and bruises and stitches to get to this point."
Those injuries are too numerous to detail, but some are obvious. There have been well- publicized battles over the Guns N' Roses name and legacy. Slash's Snakepit, his post GN'R outfit, became a label debacle, undone by corporate mergers, "really bad management and bad attorneys, not to mention that I was going against the face of (the sound) I was really known for. That was the start of my wake-up call."
And, of course, there are Weiland's drug problems and arrests, which seem pointless to rehash. Says Slash, "the whole Scott situation is not that different from the rest of ours. The big difference is that he got busted. As irretrievable as he might have been, we've all been there - but nobody ever got caught.
"That's both a blessing and a hindrance, because it's such a public thing. That's what he's got on his back, but that's something that Duff and I have a lot of experience with, dealing with negative media."
It certainly wasn't the sort of hurdle that could keep the rest of Velvet Revolver from working with him. For them, Weiland was the only possible choice for frontman (Sebastian Bach was next in line, while Buckcherry's Josh Todd aided the group during its formation). So strong was their desire to join forces - especially after an open call that drew 300 singers proved fruitless - that they were willing to wait for him to resolve legal troubles and STP matters to make it happen.
"This has been such an exercise in patience," Slash says of the experience. "In the old days, we'd just party ourselves into the ground until we had to go back to work. That's all we knew how to do. That's how we'd kill time. Now, it's like ... I'm no angel, but we've been trying to learn from our past."
And hopefully achieve some permanence for this venture.
"After everything we've gone through -- we've all been part of things that worked but then fell apart - the last thing we want is to have it happen a second time ... especially for the stupid reasons that most rock 'n' roll bands succumb to.
"I hope we've learned how to keep a good thing together. No one has any intention of going through hell again."

Blackstar

ADMIN




Posts

: 10418


Plectra

: 70333


Reputation

: 96


Join date

: 2018-03-17



---
Permissions in this forum:
You
cannot
reply to topics in this forum