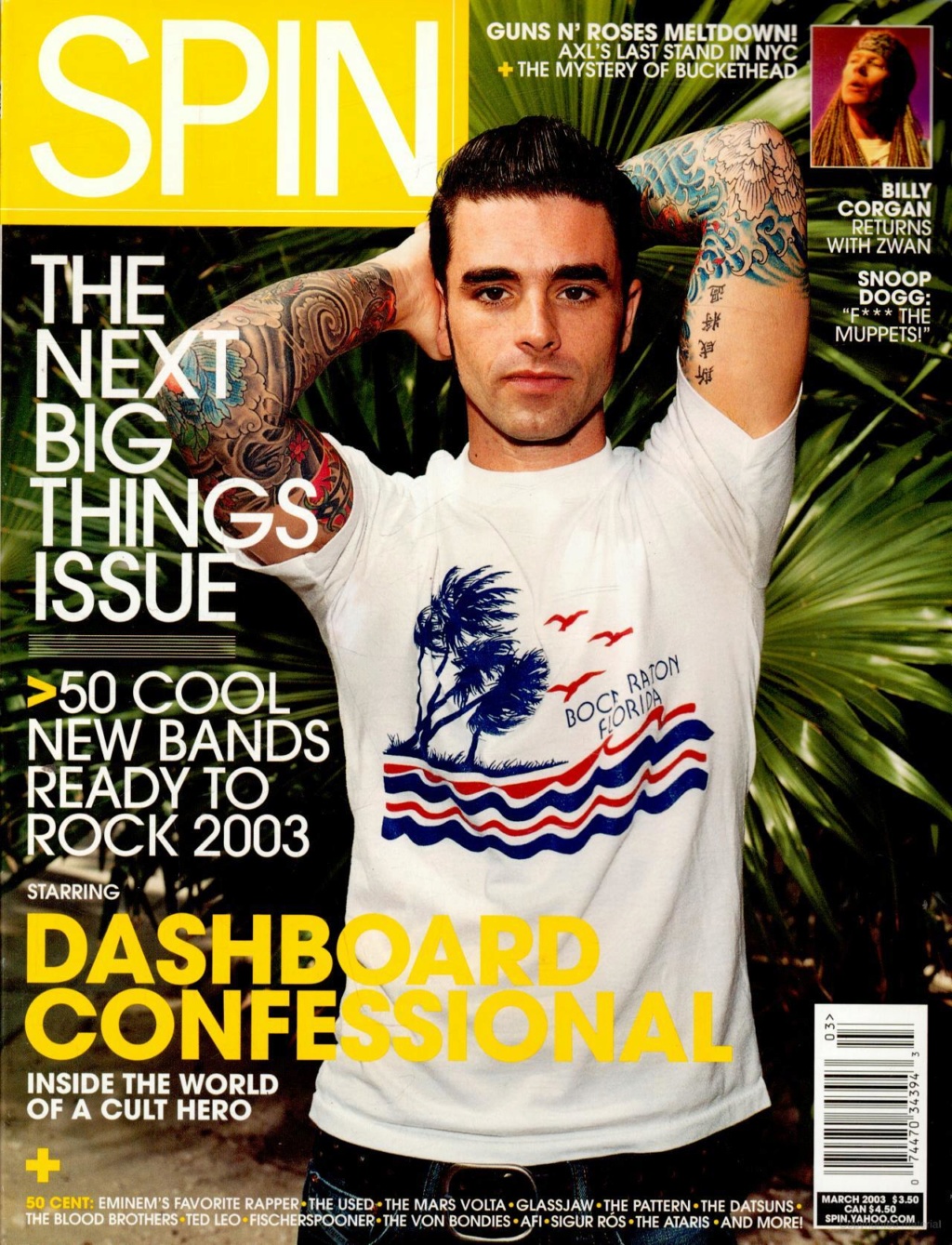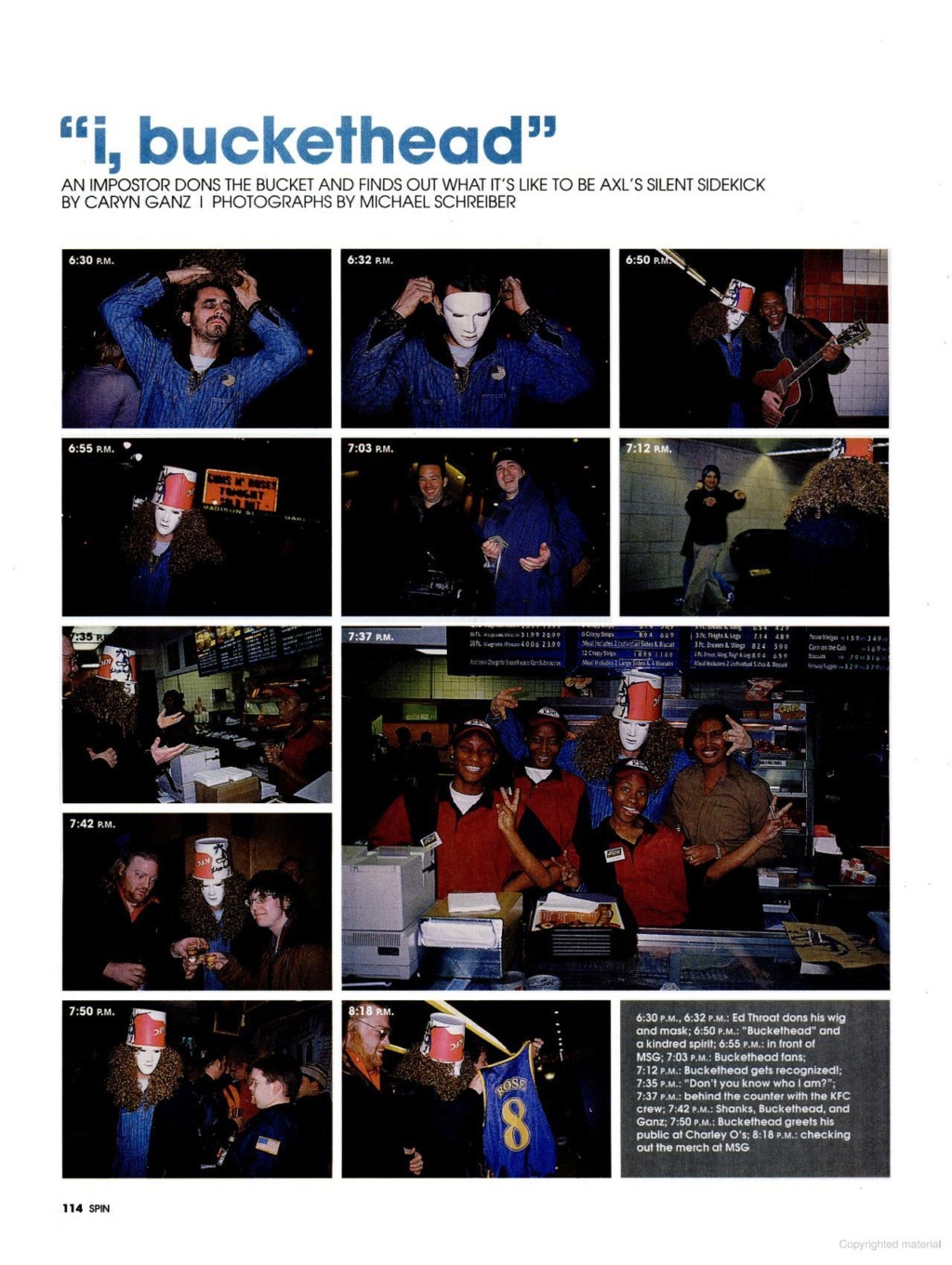 Ever Get the Feeling You've (Not) Been Cheated?
For one night at New York City's Madison Square Garden, the reconstituted Guns N' Roses didn't suck--they rocked. They rocked extremely hard. And then they were no more
BY CHUCK CLOSTERMAN
THERE WAS A SENSE THAT THE ENTIRE EXISTENCE of Guns N' Roses—a tenuous entity if ever there was one—hung in the balance on December 5, 2002. It was the day of New York City's first major snowstorm of the season, and the evening of GN'R's sold-out performance at Madison Square Garden. And 10 p.m. was make-or-break time for the winter of Axl Rose's discontent.
For most of last year, the elaborately braided Midwestern madman had an appetite for miscalculation: His MTV performance last August was suspect; the subsequent Guns tour sketchy (there was a riot after a no-show in Vancouver, and there were half-empty arenas across the Midwest). Plus, there's still no glimpse of
Chinese Democracy
, arguably the only album in rock history to be postponed for more than eight years. This was it, pretty much: If the New York show tanked, the very idea of blues-based, boogie-ballad, big-hair booze rock was going to be as dead as the diplodocus.
And Axl seemed to realize this.
And Axl seemed to understand that it was finally time to be a band
for real
.
And for the first time since... well, since forever, Guns N' Roses went onstage early and played real fucking rock music for two fucking hours (19 songs, three of them new). Against seemingly unfathomable odds, the reinvented Guns N' Roses were remarkably awesome.
What's so surprising about the 2002 GN'R assault is that they're less bloated than the lineup that packed arenas on the
Use Your Illusion
tours during the early '90s. "November Rain" still runs in the neighborhood of 12 minutes, but it no longer seems masturbatory; "Patience" is still melodramatic, but that melodrama feels anthemic (and even a tad nostalgic). Instead of just being about attitude and reckless abandon and finding drugs, this neo-Guns is focused on the art of arena-size rock. What always made Rose so interesting was that he overtly strove to be hyper-epic, and that's the one thing about him that hasn't changed: On "Madagascar" (a new song), the band flirts with Zeppelin's "Kashmir" (sonically and sort of geographically): "The Blues" is like Side One of
Houses of the Holy
performed by mid-period Stevie Wonder; the track "Chinese Democracy" is akin to quasi-political White Zombie. If this ridiculous album ever comes out, I'm going to buy it three times.
Certainly, there is something flummoxing about hearing old Guns music reproduced by seven random strangers who had no part in its creation; and it's weird to hear a sober Tommy Stinson (ex-Replace-ments) sing Duff McKagan's harmonies on "It's So Easy" and to watch Robin Finck (still in Nine Inch Nails) shred the opening chords of "Sweet Child O' Mine" on a Les Paul that looks
exactly
like the one Slash used to play on MTV. But they do replicate everything perfectly—maybe too perfectly. The new star of the band is indisputably Buckethead, the avant-garde metallectual who wears a Kentucky Fried Chicken container on his dome and whose enigmatic guitar solos deploy almost every genre of geek culture:
Star Wars
, nunchakus (!), "robot dancing," prog rock, bluegrass (!!!), and action figures (which he tossed into the crowd).
What any of this really means remains unclear, particularly since promoter Clear Channel canceled the tour after Rose failed to show up for the next stop in Philadelphia (causing yet another crowd riot). Perhaps that glam-rock diplodocus is dead, and considering Axl's inherent insanity (he delivered two ad hominem attacks against
New York Times
critic Jon Pareles for something written in 1991), it's hard to imagine Guns N' Roses ever becoming the relevant, important force they were back when George W. Bush's dad was dropping smart bombs on Baghdad. But GN'R at MSG did prove one thing: Axl Rose never needed a face full of Botox or Vernon Reid's hair or five years in the deserts of Sedona. He just needed to try.
***
AXL'S LAST STAND
Minutes after GN'R's show at MSG ended, naysayers claimed the performance was probably too good to be true. They were correct. No more than 24 hours after the last strains of "Paradise City," Guns N' Roses ended their tour. According to the Associated Press, Clear Channel pulled the plug—but it's unclear why. Speculation focuses on disappointing ticket sales: though GN'R sold out the Garden, they played to half-empty arenas in places like Tacoma (attendance was 6,688) and Fargo, North Dakota (6,575). However, rumormongers have spent more time speculating on Axl Rose's fragile mental condition (he reportedly brought a psychiatrist on tour to convince him to go onstage every night) and his eccentricity (one story claimed he skipped the Philly show to watch the Knicks play).
C.K.
***
BIG PRIMPIN'
SMOKIN' IN THE GIRLS' ROOM
The real heavy-metal show at Guns N' Roses' December concert at MSG wasn't taking place onstage, but in the women's rest room near Gate 72. The female Axl Rose fan couldn't be defined physically (short, tall; young, old; real boobs, fake boobs), but she was more than likely intoxicated (by the spirit of rock, of course).
Spin
braved the smell and the fury for two hours to capture the night's most personal and telling moments.
JENNY WILLIAMS
■ "They should have vending machines that sell Tums here... for all the pregnant people."—Visibly expecting teen in striped sweater fixing her ponytail
■ "I can't believe it. Some asshole just puked all over me. But I totally had him kicked out (of his seat) for it."—Girl drenched in fresh vomit
■ FUN WITH MATH:
Woman 1: "I spent two hours on a train, with just three hours of sleep, and I'm here with a man ten years younger than me."
Woman 2: "Oh yeah? I spent $200 on drugs and alcohol and because of DJ Grandmaster Fuck God or whatever, I lost my buzz in 45 minutes."
■ Bathroom attendant to girl puffing on a cigarette: "You know there's no smoking in here, right?"
(Girl inhales and blows smoke at attendant)
"Yeah."
■ A well-groomed woman in her late 30s unbuckles her pants as she wobbles into the rest room with the aid of a friend. She stops at one of the sinks: "Bleeeeech!"
(Friend holds back the sick woman's hair and then leaves her alone, slumped against a wall, until a paramedic finally removes her)
■ A woman emerges from a stall, sporting a conservative green sweater, a Fendi purse, and a KFC bucket on her head.
■ "The last time I saw Guns N' Roses, the band came onstage three hours late. Let's hope they've changed!''—A Lili Taylor type who looked like she hadn't combed or cut her hair since the release of
Use Your Illusion
■ "Who's excited to be here? Who?
Come on!
I want to
feel it
!"
(Toilet flushes)
—Overly enthusiastic girl to crowded bathroom
***
"I, Buckethead"
AN IMPOSTOR DONS THE BUCKET AND FINDS OUT WHAT IT'S LIKE TO BE AXL'S SILENT SIDEKICK
BY CARYN GANZ
PHOTOGRAPHS BY MICHAEL SCHREIBER
THERE IS NO DENYING THAT BUCKETHEAD IS AN enigma. To capitalize on the guitarist's mystique and see how much trouble a doppelganger can cause in crowds of diehard Guns N' Roses fans,
Spin
sent its own Buckethead look-alike to Madison Square Garden last December. Dressed in mechanics' coveralls, wig, mask, and the requisite KFC bucket, Brooklyn artist Travis "Ed Throat" Millard and his "bodyguard," Shanks, ventured on a journey that took them from the snowy streets of Manhattan to a Kentucky Fried Chicken and a filthy men's room. "The ladies are down with the bucket," Throat says. "I got a lot of boobs pressed up against me at the bar"
CARYN GANZ
6:30 p.m.:
Ed Throat suits up as Buckethead in a restaurant. He knocks over beer bottles as he fluffs his wig, prompting a few angry glances. We head out onto the street, and moments later Buckethead falls prey to a giant puddle, winding up calf-deep In freezing slush. He remains stoic.
6:45 p.m.:
Buckethead's bucket falls off into the snow. Shanks retrieves it. Judging by the number of times this happens over the course of the night, we determine that the real Buckethead's bucket must be attached to his head somehow.
6:50 p.m.:
Buckethead pulls out his MetroCard and enters the subway station, where he befriends a street performer strumming "Stand by Me." Our hero is confused by the lack of electrifying mega-fast guitar arpeggios. On the train, he turns to two older gentlemen and asks, "Is this the way to Madison Square Garden?" They calmly offer precise directions. Buckethead then asks, "Can you get any drugs there?" (stony silence)
6:55 p.m.:
We arrive at Madison Square Garden. Outside, a few people greet us with hearty "Hey, Buckethead!" yells. A scalper offers Buckethead tickets to the show.
6:57 p.m.:
A second scalper approaches Buckethead. Shanks rebuffs him: "Why would he need tickets? He's Buckethead!"
7:03 p.m.:
Two middle-aged men with a half-dead boom box blaring GN'R approach Buckethead and offer him a homemade laminated luggage tag with Buckethead's picture inside It. "Buckethead rocks," says one of them, identifying himself as Buckethead Ken. "We steal all his music off the Web. The guy's unbelievable. He's got faster licks than Eddie Van Halen." Says the other man: "Why go into the show now, when Buckethead's out here?"
7:12 p.m.:
Two kids stare at Buckethead and ask Shanks, "Why'd he do all that freaky shit with his hair?"
7:30 p.m.:
Someone yells, "You fucking freak!" in our general direction. Shanks looks horrified at the notion of having to do some actual bodyguarding.
7:33 p.m.:
Buckethead is very cold. We venture into Penn Station. Passing crowds chant "Buckethead!" Two awestruck kids wearing GN'R T-shirts stop to talk to Buckethead, who slips into diva mode and turns away.
7:35 p.m.:
Shanks spies a KFC and suggests Buckethead stop in to pay homage to the home of the bucket. Buckethead dutifully waits in line, then requests a smaller bucket. The counter girl replies, "The only thing we have is boxes. You can have a drink cup." Buckethead starts to explain that it's vital he have a bucket, not a box, then gives up and expresses interest in hopping the counter for a photo. The manager asks, "Are you famous?"
7:42 p.m.:
We move from KFC to Charley O's, a bar jammed with pre-show drinkers. Turns out drunks adore Buckethead. "Is that him?" one guy asks his friend. "Would you walk around with that on your head if you didn't have to?" his friend says.
7:50 p.m.:
Buckethead needs to take a leak; Shanks goes along for protection. There's a tong line and no preferential treatment for a rock star. He finally enters a stall. One guy in line loudly proclaims, "I'm not going in there. I don't know if that's a guy or a girl under there." Buckethead emerges, and for the first time, his wall of silence is shattered—by urine. Buckethead reports: "We kind of ran into a problem in the stall. I looked down to see what was going on, and the bucket slid off my head and fell into the toilet. But I thought, 'What the hell, it's not my real hair,' so I shook it off and put it back on."
8:18 p.m.:
We return to MSG and breeze through security (Buckethead is merely wanded). Buckethead examines a $60 Axl Rose basketball Jersey at the merchandise table.
8:20 p.m.:
Somebody offers Buckethead $5 for the bucket on his head. He declines, perhaps out of human decency, since the bucket is still drenched in pee.
8:23 p.m.:
Buckethead approaches the will-call window and asks If there are any tickets for "Buckethead." There aren't. Shanks steps in: "I think he's on a list. Oh, he needs I.D." Buckethead rams his bucket against the window, slumps over drunkenly, then slaps his Buckethead luggage tag against the glass. The clerk is unmoved.
8:30 p.m.:
The Buckethead experiment comes to an end after a photographer from Guns N' Roses' management company snaps a picture of us. Following his final photo op, Ed Throat mournfully removes his bucket and returns to a world where rock is not made by robots, and chickens live in fear.
***
THE REAL BUCKETHEAD
WHO'S THE MAN BEHIND THE MASK?
■ NAME: Brian Carroll
■ AGE: 33
■ FORMER BAND: Before replacing Slash, the avant-garde guitar god played on more than 100 albums, including solo projects. Faith No More's Mike Patton once said that Buckethead's first band, the metal-funk combo Deli Creeps, were "so good they made me want to puke."
■ WHY HE WEARS A KFC BUCKET: In 1989, inspired by watching Halloween 4, Carroll bought the closest thing he could find to a "Michael Myers" mask. He put it on and ate some deli chicken from a bucket. It wasn't long before the bucket was on his head. He walked to the mirror, saw his image, and said, simply, "Buckethead."
■ HOW HE HOOKED UP WITH AXL: In 1999, Axl invited Buckethead to a Christmas party at his house. There, Axl gave him a present—a rare Leatherface doll that Buckethead wanted for Christmas but that none of his family or friends had been able to find. Buckethead considered this to be fate.
■ FIVE THINGS YOU DIDN'T KNOW ABOUT BUCKETHEAD:
1. He stands about seven feet tall, including the bucket.
2. During the recording of
Chinese Democracy
, Buckethead insisted that a chicken coop be built in the studio, complete with live chickens.
3. He has been to Disneyland more than 500 times and wants to be buried there— but not all in one piece. Nuggets are to be dispersed evenly throughout It's a Small World, the Haunted Mansion, and the Pirates of the Caribbean.
4. His other hobbies include taxidermy and break-dancing (robot-style).
5. He prefers not to speak during interviews, even when he does them over the phone. "Herbie," his hand puppet, speaks for him.
VICTORIA DeSILVERIO

Blackstar

ADMIN




Posts

: 11774


Plectra

: 77608


Reputation

: 97


Join date

: 2018-03-17



Gotta love Chuck Klosterman.

Soulmonster

Band Lawyer







Posts

: 15355


Plectra

: 74818


Reputation

: 831


Join date

: 2010-07-06



---
Permissions in this forum:
You
cannot
reply to topics in this forum