The main article is entirely compiled from these:
https://www.a-4-d.com/t3072-1999-07-dd-spin-just-a-little-patience
https://www.a-4-d.com/t4591-2000-05-11-rolling-stone-axl-rose-the-lost-years
--------------------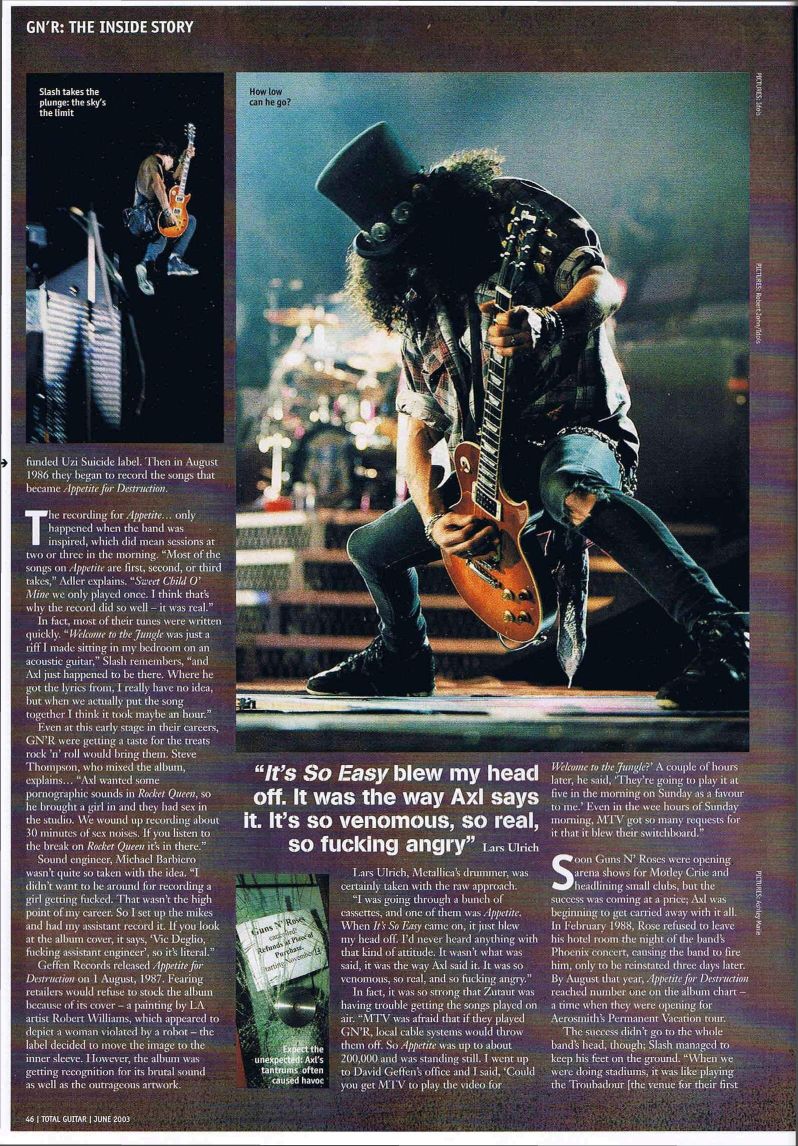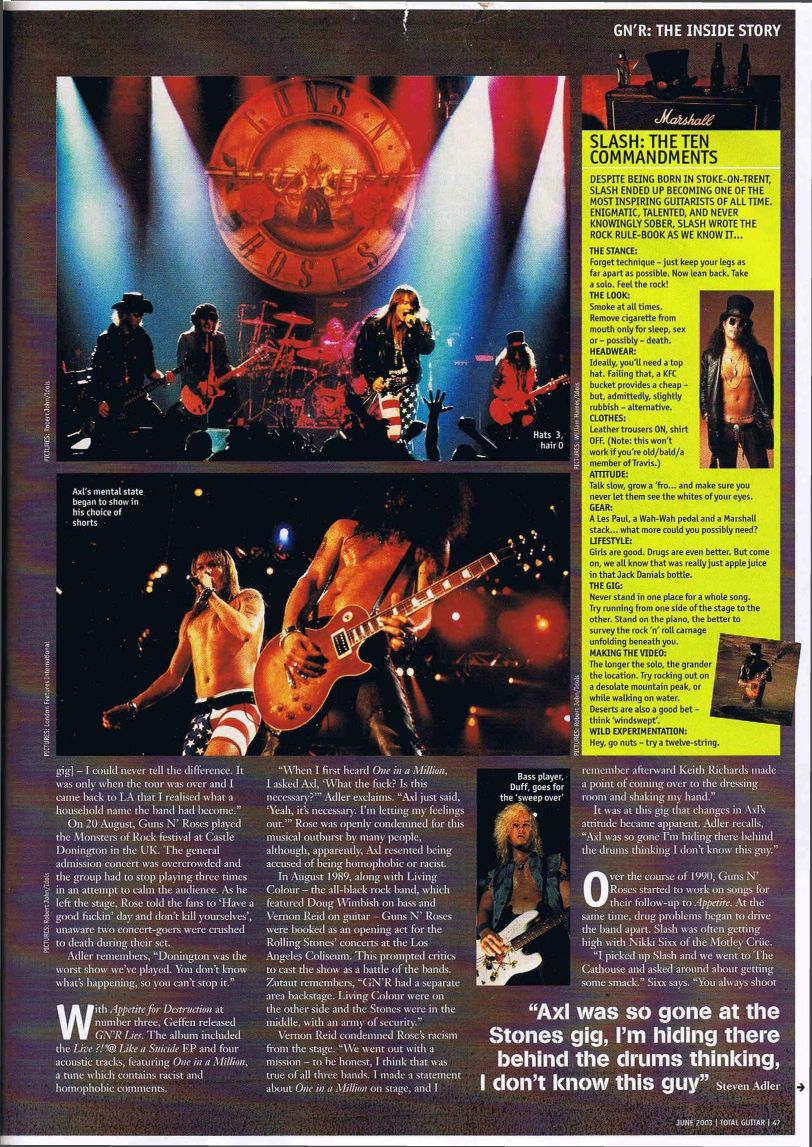 GUNS N' ROSES
GN'R: THE INSIDE STORY
GUNS N' ROSES SHOT TO FAME WITH APPETITE FOR DESTRUCTION. LITTLE DID THEY KNOW THE TITLE WAS SO APPROPRIATE. HANG ON TO YOUR HAT FOR THE INSIDE STORY ON ROCK'S WILD BOYS
WORDS: MARC SPITZ/PETE WILKINSON PICTURES: REDFERNS
Whatever happened to the ultimate rock 'n' roll band? For a few years, Guns N' Roses were the most successful band in music. Then someone hit the self-destruct button. Where did it all go wrong?
Although band frontman, Axl Rose, has kept a low profile since 1994, Guns N' Roses' debut record,
Appetite for Destruction
(1987) marches on. The second-biggest-selling debut album in rock history (15 million copies at last count), 13 years later Appetite... still sells a remarkable 6,000 units per week. Guns N' Roses caught a feeling in 1987, a raw vibe of anger and authenticity, somewhere between metal and punk, which still appeals to rock-music fans today. GN'R were the epitome of all things rock — sex, drugs and rock 'n' roll were just appetisers!
The band was born in the land of dreams: Hollywood. Back in 1982, Axl Rose and Tracii Guns were living together, and decided to create a band called Hollywood Rose, which would play the songs they'd begun to co write.
"We first pulled in Izzy [Stradlin]. Then Steven Adler was the next guy in the band - he had great hair. Duff was in some weird Top 40 band, but Izzy was like, 'This guy's got short hair, but he's into the New York Dolls and stuff like that.' He had a Johnny Thunders T-shirt on, and we thought this guy's perfect." And so the first incarnation of GN'R was formed.
At the time, Steven Adler was in a band with Saul Hudson (nicknamed Slash), named Road Crew, when a flyer for Hollywood Rose caught their eye.
"We thought the guys looked cool and that we oughta check them out," Adler explains, "so we went to their gig. We knew if we got together with them, we'd have the hottest band around.
"The next day, I bumped into Axl and we got talking. We rented a studio and were jamming on this song called
Reckless Life
when Axl grabbed the microphone and started running up the walls, screaming like I've never heard in my life. I knew this was gonna be it."
So Adler joined Hollywood Rose. "Then we came up with the name Guns N' Roses," Guns recalls. "It was like, 'I'm Tracii Guns and you're Axl Rose.'"
Even in these early days the guys were getting into the trouble that would spawn classic rock tunes. Their first song was
Welcome To The Jungle
, which summed up their lives. Unfortunately, because of their raw look, few clubs wanted to book them, so instead they played strip clubs. A regular fondly remembers, "Girls wanted Axl because they could see his butt when he played with his chaps on."
GN'R eventually rented a rehearsal studio to concentrate on their music, but it wasn't the most hospitable of places.
"It was disgusting. There was no toilet, no nothing, hut who cared?" Adler recalls. "We were doing what we wanted. We had women, and we were playing rock 'n' roll.'
Then, in 1985, the first of the battles began - Guns was sacked from the band.
"I just wanted to get away for a week or something, and I recall Axl or Izzy calling me and leaving a message - 'We got rehearsal this week'. I just ignored it. I didn't hear anything for a couple of days and then finally the whip came down -'Slash is going to play guitar because you haven't come to rehearsal.'"
And so, ironically, the formidable lineup was complete - without the Gun.
That same year, the guys recruited LA booking agent Vicky Hamilton as their manager, who managed to secure them bigger gigs and better equipment. Adler recollects, "Vicky was very sweet, very motherly. We were pretty much living in her house, having sex with strippers on the roof. We destroyed it!"
But they were on the road to becoming successful: record labels were coming to their gigs, and taking notice of them. Tom Zutaut, A&R man for the Geffen label -a company GN'R would remain with -remembers the first time he saw them.
"I went to see them at the Troubadour, and there were a lot of A&R people. So I left after two songs - I didn't need to see any more to know they were going to be the biggest band in the world. On my way out I said [to one of the other A&R people], 'they suck - I'm going home,' knowing full well I was going to sign them to Geffen come hell or high water." Sure enough, the label secured the band, launching their careers.
In order to build a buzz within the scene, Guns N' Roses recorded the EP
Live ?!*
Like a Suicide
for their Geffen funded Uzi Suicide label. Then in August 1986 they began to record the songs that became
Appetite for Destruction
.
The recording for
Appetite
... only happened when the band was inspired, which did mean sessions at two or three in the morning. "Most of the songs on
Appetite
are first, second, or third takes," Adler explains. "
Sweet Child O' Mine
we only played once. I think that's why the record did so well - it was real."
In fact, most of their tunes were written quickly. "
Welcome to the Jungle
was just a riff I made sitting in my bedroom on an acoustic guitar," Slash remembers, "and Axl just happened to be there. Where he got the lyrics from, I really have no idea, but when we actually put the song together I think it took maybe an hour."
Even at this early stage in their careers, GN'R were getting a taste for the treats rock 'n' roll would bring them. Steve Thompson, who mixed the album, explains... "Axl wanted some pornographic sounds in
Rocket Queen
, so he brought a girl in and they had sex in the studio. We wound up recording about 30 minutes of sex noises. If you listen to the break on
Rocket Queen
it's in there."
Sound engineer, Michael Barbiero wasn't quite so taken with the idea. "I didn't want to he around for recording a girl getting fucked. That wasn't the high point of my career. So I set up the mikes and had my assistant record it. If you look at the album cover, it says, 'Vic Deglio, fucking -assistant engineer', so it's literal."
Geffen Records released
Appetite for Destruction
on 1 August, 1987. Fearing retailers would refuse to stock the album because of its cover - a painting by LA artist Robert Williams, which appeared to depict a woman violated by a robot - the label decided to move the image to the inner sleeve. However, the album was getting recognition for its brutal sound as well as the outrageous artwork.
Lars Ulrich, Metallica's drummer, was certainly taken with the raw approach.
"I was going through a bunch of cassettes, and one of them was
Appetite
. When
It's So Easy
came on, it just blew my head off. I'd never heard anything with that kind of attitude. It wasn't what was said, it was the way Axl said it. It was so venomous, so real, and so fucking angry."
In fact, it was so strong that Zutaut was having trouble getting the songs played on air. "MTV was afraid that if they played GN'R, local cable systems would throw them off. So
Appetite
was up to about 200,000 and was standing still. I went up to David Geffen's office and I said, 'Could you get MTV to play the video for
Welcome to the Jungle
?' A couple of hours later, he said, 'They're going to play it at five in the morning on Sunday as a favour to me.' Even in the wee hours of Sunday morning, MTV got so many requests for it that it blew their switchboard."
Soon Guns N' Roses were opening arena shows for Motley Crüe and headlining small clubs, but the success was coming at a price; Axl was beginning to get carried away with it all. In February 1988, Rose refused to leave his hotel room the night of the band's Phoenix concert, causing the band to fire him, only to be reinstated three days later. By August that year,
Appetite for Destruction
reached number one on the album chart -a time when they were opening for Aerosmith's Permanent Vacation tour.
The success didn't go to the whole band's head, though; Slash managed to keep his feet on the ground. "When we were doing stadiums, it was like playing the Troubadour [the venue for their first gig] - I could never tell the difference. It was only when the tour was over and I came back to LA that I realised what a household name the band had become." On 20 August, Guns N' Roses played the Monsters of Rock festival at Castle Donington in the UK. The general admission concert was overcrowded and the group had to stop playing three times in an attempt to calm the audience. As he left the stage, Rose told the fans to 'Have a good fuckin' day and don't kill yourselves', unaware two concert-goers were crushed to death during their set.
Adler remembers, "Donington was the worst show we've played. You don't know what's happening, so you can't stop it."
With
Appetite for Destruction
at number three, Geffen released
GN'R Lies
. The album included the
Live ?!*@ Like a Suicide
E.P and four acoustic tracks, featuring
One in a Million
, a tune which contains racist and homophobic comments.
"When I first heard
One in a Million
, I asked Axl, What the fuck? Is this necessary?"' Adler exclaims. "Axl just said, 'Yeah, it's necessary. I'm letting my feelings out.'" Rose was openly condemned for this musical outburst by many people, although, apparently, Axl resented being accused of being homophobic or racist.
In August 1989, along with Living Colour - the all-black rock band, which featured Doug Wimbish on bass and Vernon Reid on guitar - Guns N' Roses were booked as an opening act for the Rolling Stones' concerts at the Los Angeles Coliseum. This prompted critics to cast the show as a battle of the bands. Zutaut remembers, "GN'R had a separate area backstage. Living Colour were on the other side and the Stones were in the middle, with an army of security."
Vernon Reid condemned Rose's racism from the stage. "We went out with a mission - to he honest, I think that was true of all three bands. I made a statement about
One in a Million
on stage, and I remember afterward Keith Richards made a point of coming over to the dressing room and shaking my hand."
It was at this gig that changes in Axl's attitude became apparent. Adler recalls, "Axl was so gone I'm hiding there behind the drums thinking I don't know this guy."
Over the course of 1990, Guns N' Roses started to work on songs for their follow-up to
Appetite
. At the same time, drug problems began to drive the hand apart. Slash was often getting high with Nikki Sixx of the Motley Crüe.
"I picked up Slash and we went to The Cathouse and asked around about getting some smack," Sixx says. "You always shoot yourself up - you never let anyone else shoot you up - but I was so drunk at the time I said to the drug dealer, 'Go ahead and fix me'. I turned blue instantly."
It was down to Adler and Slash to sort him out. In fact, Adler saved Nikki's life.
"I dragged him into the shower and put cold water on him. I had a broken arm and I was slapping him in the face with my cast. Then, I finally got Slash's stupid girlfriend to call the paramedics. Nikki called me the next day and said, 'Dude, what happened? My face is killing me."' Adler also had a drugs problem - he'd often show up at the studio high. This led the band to fire him.
"They said the reason they threw me out was because of drugs, but I thought that was the pot calling the kettle black. I was doing [drugs] with them. It hurt more than anything. They were my family."
In January 1991, the band introduced new drummer Matt Sorum and keyboard player Dizzy Reed before they continued work on
Use Your Illusion
-a project planned to be two companion albums.
"The recording process for
Use Your Illusion I
and
II
was hard," Slash explains. "It took so much to get us together to write the new songs or to rehash old ones. But once we'd gotten over that hurdle, we went into the studio and recorded 30 songs."
Although, as Sorum realises, " There had been a four-year gap since
Appetite
.
Lies
was put out just to keep things going, so we could have released anything and people would have bought it."
November Rain
would become one of the bands signature runes. "
November Rain
was a song that was being kicked around on piano and acoustic guitar when we were doing pre-production for
Appetite
," Slash recalls. "When we first wrote it, I think it was about 15 minutes long."
Alice Cooper guest starred on
Use Your Illusion I
. "I sang on
The Garden
. When you're in the studio one-on-one with Axl, he's really amazing - the guy can really sing. I did my bit maybe three times, but Axl was a real perfectionist - almost to the point where you want to say, 'at some point, Axl, it's gotta be good enough.'"
At this time, it seemed Axl, Slash and Duff would always be together, they were inseparable. Money was everywhere. Guns N' Roses grossed $57.9 million out of the gate, in the four years from 1988 to 1992. Overhead was enormous - expensive video shoots, first-class everything on the road, all the clichéd rock star excess - but a $57.9 million gross in such a short time for a relatively new band was almost unheard of in rock 'n' roll history. But the band used this money wisely - well, it meant they defined for the rest of the music genre what living the rock life was all about.
"We'd spend $100,000 a night on parties," Sorum recalls. "For two and a half years, there was something every night. One time we had a Greek night. There were four greased-up, muscle-bound guys who carried in a roast pig. I was so pissed off - I love pigs!
"We also had limos on-call 24 hours and burgers at the Trump Tower that cost $35. The first night we played the Giants Stadium, there was one pinball machine and a few bottles of booze backstage. Axl came in and said, 'This isn't the Rolling Stones!' So the next night there's a full casino, tons of lobster, and champagne was flowing everywhere."
But it wasn't all a bed of roses. "If anything, the lifestyle became more of a hindrance," Slash says, "because we were a pretty volatile band that hadn't grown up much, [and we were] given all these opportunities to take advantage of the lavish surroundings and chicks."
When Faith No More were opening for GN'R, Roddy Bottum recalls it was a little weird. "Their scene was all about excess, excess, excess. Actually, there were more strippers than road crew. We weren't into that type of male bonding."
Expecting the Use Your Illusion albums to be ready for release by summer, Guns N' Roses began their Get in the Ring Tour in May 1991. On the eve of the tour, Axl told the rest of the band the only way he would play was if they'd give him ownership of the name. If they cancelled the tour, it would means millions of dollars of lost revenue, so the band capitulated. It was as simple as that - the name was his. Before, both Axl and Slash had controlled most of the band's affairs, but now Axl had total control. And he was going to use it to full effect.
Rob Affuso of Skid Row, a band that used to open for GN'R, says, "You always wondered if Axl was going to show up on stage. Sometimes the tour manager would run out and say, 'we can't find Axl - keep playing.' In fact, it became a commonplace thing. But we did start to think what's going on with this guy?"
After numerous delays caused by arguments over the final mix,
Use Your Illusion I
and
II
were released at the end of September. GN'R debuted in the top two spots on the Billboard album chart. But frustrated by Rose's increasingly erratic-behaviour, Stradlin announced that he would no longer tour with the band. Stepping into his shoes was Gilby Clarke. "I had known the guys through the early years. So when I heard Izzy was leaving,
I threw my hat in the ring."
In 1992, despite objections from gay rights groups, Guns N' Roses participated in a Wembley Stadium tribute to late Queen singer Freddie Mercury, one of Rose's childhood heroes.
"Actually, that concert was the best experience I ever had in the band," Clarke remembers. "Axl was awesome - he really respected Freddie Mercury. We went on stage on time, we played great together, and everybody got along. I thought it was a very moving performance."
In the middle of 1992, the hand went on stadium tour with Metallica. It was at this time that Axl decided he needed his own dressing room, and became particular about the set up on stage; if it wasn't perfect, he'd refuse to perform. Ulrich testifies, "Axl's so pure or set in his own ways that if he can't go out and deliver 110 per cent, he'd rather not deliver."
In fact, Axl was clashing with many people. The band were already feuding with Motley Crüe and Poison when Rose traded insults with Kurt Cobain and wife Courtney Love backstage at the 1993 MTV Video Music Awards.
Zutaut recalls, "Courtney said something rude to Axl and it got ugly. Guns N' Roses were the ultimate rock stars and Nirvana were the ultimate anti-rock stars. It was particularly painful to Axl, because he loved Nirvana's music."
In May 1993, after two and a half years on the road, Guns N' Roses ended their Illusion tour. In December, Geffen Records released
The Spaghetti Incident?
, an album of punk rock covers the band had recorded during the
Illusion
sessions and on the road. Rose returned to the studio a year later, and began experimenting with the GN'R sound, updating it, alienating Clarke and Slash, who then both recorded solo albums.
Sorum recalls: "I had produced [techno songstress] Poe and there were drum loops in the songs, and Axl wanted that kind of stuff. But Slash is a rock guitarist. He doesn't want to do techno-industrial."
"I just wanted to play guitar in a loud version of the Rolling Stones," Clarke exclaims. "But Axl wanted to change the direction of the band, and I didn't fit in. So I was the first one dumped."
There was most definitely a clash of attitudes. "Axl had a vision that GN'R should change and Slash had an attitude that Guns N' Roses was Guns N' Fucking Roses and that's who they were," Zutaut realises, "I don't think they could get over their breakdown in communication."
In 1996, Slash walked away. Duff hung on until the end of 1997, then quit in disgust. Duff reached a point where he couldn't take any more. He said, 'I don't need this in my life. This is too insane. This is rock. It's supposed to be fun.'
Slash is still angry about giving up the rights to the GN'R name: "Axl's whole visionary style, as far as his input in Guns N' Roses, is completely different from mine. I just like to play guitar, write a good riff, go out there and play, as opposed to presenting an image."
In fact, the relationship between Axl and Slash, remains deeply fractured, although the guitarist has never quite closed the door on getting back together.
"Once the
Slash's Snakepit
record was finished, the Guns N'Roses hiatus was extended even longer, so I decided to take my thing on the road, and that was that.
"There's really not much to say apart from that. I'm not a person to quit anything, but it got to a point where being in the band was a miserable experience and I had to leave. I don't want to say that I don't miss working with Axl. I just miss working with him under the circumstances that I would consider to be the optimum." And so the band broke up.
The last track the classic line-up released was a cover of the Rolling Stones'
Sympathy for the Devil
for the
Interview with a Vampire
soundtrack, with Paul Tobias replacing Gilby Clarke on guitar.
Various versions of Guns N' Roses continue to rehearse at The Complex. Over the course of 1996 and 1997, Rose briefly added guitarist Zakk Wylde, drum programmer Chris Vrenna, and former Pearl Jam drummer Dave Abruzzese to the band.
Axl even called upon the production services of Moby for a while. The producer muses: "Being the most successful rock star on the planet for a few years really took a psychological toll, and I think he invested a lot in his marriage and his friendships with the people in the band, and those things fell apart."
Whether Axl's emotional and legal troubles contributed to the demise of the original Guns N' Roses line-up is open to interpretation. There is little dispute, however, about one thing they did cause: a massive delay in finishing
Chinese Democracy
, which is now, in reality, an Axl Rose solo project.
This album has been seven years, a roomful of studio musicians and a rumoured $6million-worth (£4million) of Interscope/Geffen's money in the making. Axl brought in a showroom full of guitars and effects. It's still not finished and probably won't be any time soon.
People who have heard the new music say it sounds fantastic. "The tracks reminded me of the best moments of 1970s Pink Floyd or later stuff by Led Zeppelin," says Jim Barber, a former Geffen A&R executive
With
Chinese Democracy
confirmed as the title of the new Offspring album, and Slash, Izzy and Duff recording together, Axl has everything to prove. If the new GN'R record becomes a spectacular hit, the six-year delay in making it and the millions spent on it won't matter. Axl will have proved his doubters wrong. If it doesn't, he'll just have to live on the memories of his earlier success.
"Things got really bad," Sorum remembers. "We grew up listening to great bands like Led Zeppelin and the Stones. Guns N' Roses made that kind of music and the lifestyle we wanted went with it - rock music, drugs, and women. You see these bands now on VHI-1. It's all 'waah, waah, whine, whine.' But it wasn't 'waah.' It was a blast!"
***
SLASH:THE TEN COMMANDMENTS
DESPITE BEING BORN IN STOKE-ON-TRENT, SLASH ENDED UP BECOMING ONE OF THE MOST INSPIRING GUITARISTS OF ALL TIME. ENIGMATIC, TALENTED, AND NEVER KNOWINGLY SOBER, SLASH WROTE THE ROCK RULE-BOOK AS WE KNOW IT...
THE STANCE:
Forget technique - just keep your legs as far apart as possible. Now lean back. Take a solo. Feel the rock!
THE LOOK:
Smoke at all times. Remove cigarette from mouth only for sleep, sex or - possibly - death.
HEADWEAR:
Ideally, you'll need a top hat. Failing that, a KFC bucket provides a cheap - but, admittedly, slightly rubbish - alternative.
CLOTHES:
Leather trousers ON, shirt OFF. (Note: this won't work if you're old/bald/a member of Travis.)
ATTITUDE:
Talk slow, grow a 'fro... and make sure you never let them see the whites of your eyes.
GEAR:
A Les Paul, a Wah-Wah pedal and a Marshall stack... what more could you possibly need?
LIFESTYLE:
Girls are good. Drugs are even better. But come on, we all know that was really just apple juice in that Jack Daniels bottle.
THE GIG:
Never stand in one place for a whole song. Try running from one side of the stage to the other. Stand on the piano, the better to survey the rock 'n' roll carnage unfolding beneath you.
MAKING THE VIDEO:
The longer the solo, the grander the location. Try rocking out on a desolate mountain peak, or while walking on water. Deserts are also a good bet -think 'windswept'.
WILD EXPERIMENTATION:
Hey, go nuts - try a twelve-string.
***
THE HIRED GUNS
SLASH WASN'T THE FIRST GN'R GUNSLINGER, AND HE CERTAINLY WASN'T THE LAST...
TRACII GUNS
WHO IS HE? A bighaired LA scenester, and also co founder of Guns N' Roses.
GLORY DAYS: Tracii was the band's original lead guitarist and claims to have written many of the riffs that were later made famous by Slash. He was kicked out in 1985.
TRACII ON AXL: "He's a schmuck and he'll always be a schmuck. End of story.''
IZZY STRADLIN
WHO IS HE? Known as being the 'quiet one,' despite once being arrested for pissing down the aisle of a crowded aeroplane.
GLORY DAYS: Played rhythm guitar in the original, classic lineup. He left in 1991 after Axl forced him to accept a pay cut.
IZZY ON AXL: ''Axl always wants to do stuff his way, at his pace, in his time."
GILBY CLARKE
WHO IS HE? 80s glam rock also-ran. Left LA band, Candy, to replace Stradlin in GN'R.
GLORY DAYS: Toured with the band from 1992 to 1994. After one pomp-rock ballad too many, Gilby politely suggested that the band might rock out a bit more... so Axl sacked him.
GILBY ON AXL: "I don't really talk to the man much any more."
BRIAN MAY
WHO IS HE? The fright-haired, 80s Queen legend. He wrote some tunes you might just recognise...
GLORY DAYS: Played on early sessions for
Chinese Democracy
with Mr Rose. Who knows, we might even get to hear some of the stuff he did one day!
BRIAN ON AXL: "He's not always easy [to work with]. He's utterly meticulous."
ZAKK WYLDE
WHO IS HE? Beer-swilling New Jersey axe-for-hire. Plays for Ozzy Osbourne as well as fronting his own project, which is called Black Label Society.
GLORY DAYS: Zakk jammed with the band in 1995. He'd barely tuned up when he got his marching orders.
ZAKK ON AXL: "I saw Axl not so long ago... and I said, 'Get the fuck out of here.'"
PAUL HUGE
WHO IS HE? His surname is apparently pronounced 'hoogee'. Childhood friend of Axl. Also, named the 'Yoko Ono of Guns N' Roses' by Matt Sorum.
GLORY DAYS: Replaced Gilby Clarke in 1994. Slash couldn't stand him, and promptly quit. Huge, meanwhile, managed to cling on until last year.
PAUL ON AXL: "We're still friends."
ROBIN FINCK
WHO IS HE? Nine Inch Nails guitarist, poached by Axl on the strength of his cutting edge, industrial sound.
GLORY DAYS: Replaced Slash as lead guitarist between 1997 and 1999. Still occasionally turns up for live gigs.
ROBIN ON AXL: "I doubt very much that record will come out any time soon."
DAVE NAVARRO
WHO IS HE? Formerly of Jane's Addiction and Red Hot Chili Peppers fame, the man's an exceptional guitarist.
GLORY DAYS: Played a solo on Oh My God (from the End of Days soundtrack) back in 1999. One afternoon with Axl was quite enough for Dave.
DAVE ON AXL: "It just never worked out."
BUCKETHEAD
WHO IS HE? A mystery wrapped in an enigma topped off with a KFC bucket. What more could you ask for! He used to be in avant-funk oddballs, Praxis, and once auditioned for the Chilis.
GLORY DAYS: Joined in 2000 and is still there. How long will he last?
BUCKETHEAD ON AXL: "..."
***
WHO THE **** IS BUCKETHEAD?
WHO'S BEHIND THE MASK? TG ASSESSES THOSE CHATROOM RUMOURS
1
"It's really Steve Vai." But of course! The lightning-speed fretwork is a dead giveaway. Odds 20/1
2
"It's really Paul Gilbert." The man's been at a loose end since Mr Big broke up - in fact, could probably do with the work. Odds 50/1
3
"It's really Slash." Have you ever seen the two of them together at the same time? Think about it... Odds 25,000/1
4
"It's just some session guy with a bucket on his head." Come on, you're just being silly now. Odds 2/1

Blackstar

ADMIN




Posts

: 9582


Plectra

: 65559


Reputation

: 97


Join date

: 2018-03-17



The side article about the guitarists was outdated. It also contains what seems to be a fabricated short quote from Paul Huge/Tobias and a probably out of context quote from Zakk Wylde.

All in all I think it's a useless and unreliable feature, but I posted it just to have it in the database since the scans were available.

Blackstar

ADMIN




Posts

: 9582


Plectra

: 65559


Reputation

: 97


Join date

: 2018-03-17



I just read through it and when I came to Paul and his quote on Axl I went WTF? All other quotes seem to come from other sources, so unless Total Guitar managed to actually get an exclusive quote from Paul on Axl, and failed to get anything else out of the man, it is fabricated as you say. I call fake.

Soulmonster

Stage manager







Posts

: 14766


Plectra

: 72601


Reputation

: 827


Join date

: 2010-07-06



---
Permissions in this forum:
You
cannot
reply to topics in this forum