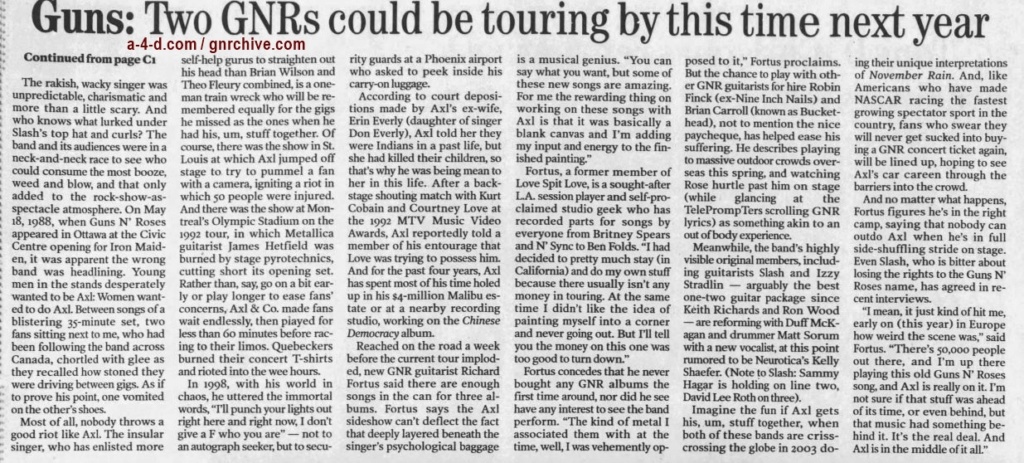 Transcript:
---------------
The sad tale that is (was) Guns N' Roses
The latest tour has collapsed, and Axl Rose continues his erratic ways, writes Greg Barr.
It's difficult to say exactly how Axl Rose will be remembered. Fans of the troubled, enigmatic rock singer, who narrowly missed a chance to see him perform in November and December when concerts in Vancouver and Philadelphia were cancelled at the last second, might lump him in with Sasquatch or the Loch Ness Monster and swap sighting stories in their twilight years.
"Yep, son, we had just finished tossing a metal barricade through a window just outside the stadium and started to head home. Went to Starbucks, and saw this skinny blond kid with a bandana sipping what appeared to be a non-fat, decaf latte, no foam. Dam sure it was Axl. Told me to go f— myself, too."
"Gee, dad, no foam, you say?"
Axl's legacy, in the wake of the flummoxed North American leg of the Chinese Democracy World Tour, which after band no-shows and cancelled dates was finally called off last week, is already being shaped by Web chat rooms abuzz with public opinion.
"They've decided to screw me and millions of other fans over. Axl Rose can go disappear for 10,000 more years for all I care," writes Nolan, 20. "On your next tour, when you are playing to 100 people in clubs in the middle of nowhere, I might show up and tell you just how much you let me down," adds Vinnie, 21.
Welcome, all, to Guns N' Roses' dysfunctional jungle.
This kind of chaos has been business as usual for 40-year-old Axl, who has had the weighty ball and chain of rock star infamy strapped to his ankle for more than 17 years since the group's original lineup was formed.
During the group's peak of popularity in 1991-92 — just as Nirvana came along and rewrote the rules — Guns N' F-ing Roses was the most raunchy rock act out there, thanks mainly to Axl and swarthy guitarist Slash.
They were also rich, taking in $60 million U.S. between 1988-92.
The rakish, wacky singer was unpredictable, charismatic and more than a little scary. And who knows what lurked under Slash's top hat and curls? The band and its audiences were in a neck-and-neck race to see who could consume the most booze, weed and blow, and that only added to the rock-show-as-spectacle atmosphere. On May 18,1988, when Guns N' Roses appeared in Ottawa at the Civic Centre opening for Iron Maiden, it was apparent the wrong band was headlining. Young men in the stands desperately wanted to be Axl: Women wanted to do Axl. Between songs of a blistering 35-minute set, two fans sitting next to me, who had been following the band across Canada, chortled with glee as they recalled how stoned they were driving between gigs. As if to prove his point, one vomited on the other's shoes.
Most of all, nobody throws a good riot like Axl. The insular singer, who has enlisted more self-help gurus to straighten out his head than Brian Wilson and Theo Fleury combined, is a one-man train wreck who will be remembered equally for the gigs he missed as the ones when he had his, um, stuff together. Of course, there was the show in St. Louis at which Axl jumped off stage to try to pummel a fan with a camera, igniting a riot in which 50 people were injured. And there was the show at Montreal's Olympic Stadium on the 1992 tour, in which Metallica guitarist James Hetfield was burned by stage pyrotechnics, cutting short its opening set. Rather than, say, go on a bit early or play longer to ease fans' concerns, Axl & Co. made fans wait endlessly, then piayed for less than 60 minutes before racing to their limos. Quebeckers burned their concert T-shirts and rioted into the wee hours.
In 1998, with his world in chaos, he uttered the immortal words, "I'll punch your lights out right here and right now, I don't give a F who you are" — not to an autograph seeker, but to security guards at a Phoenix airport who asked to peek inside his carry-on luggage.
According to court depositions made by Axl's ex-wife, Erin Everly (daughter of singer Don Everly), Axl told her they were Indians in a past life, but she had killed their children, so that's why he was being mean to her in this life. After a back-stage shouting match with Kurt Cobain and Courtney Love at the 1992 MTV Music Video Awards, Axl reportedly told a member of his entourage that Love was trying to possess him. And for the past four years, Axl has spent most of his time holed up in his $4-million Malibu estate or at a nearby recording studio, working on the
Chinese Democracy
album.
Reached on the road a week before the current tour imploded, new GNR guitarist Richard Fortus said there are enough songs in the can for three albums. Fortus says the Axl sideshow can't deflect the fact that deeply layered beneath the singer's psychological baggage is a musical genius. "You can say what you want, but some of these new songs are amazing. For me the rewarding thing on working on these songs with Axl is that it was basically a blank canvas and I'm adding my input and energy to the finished painting."
Fortus, a former member of Love Spit Love, is a sought-after L.A. session player and self-pro-claimed studio geek who has recorded parts for songs by everyone from Britney Spears and N' Sync to Ben Folds. "I had decided to pretty much stay (in California) and do my own stuff because there usually isn't any money in touring. At the same time I didn't like the idea of painting myself into a corner and never going out. But I'll tell you the money on this one was too good to turn down."
Fortus concedes that he never bought any GNR albums the first time around, nor did he see have any interest to see the band perform. "The kind of metal I associated them with at the time, well, I was vehemently opposed to it," Fortus proclaims. But the chance to play with other GNR guitarists for hire Robin Finck (ex-Nine Inch Nails) and Brian Carroll (known as Buckethead), not to mention the nice paycheque, has helped ease his suffering. He describes playing to massive outdoor crowds overseas this spring, and watching Rose hurtle past him on stage (while glancing at the TelePrompTers scrolling GNR lyrics) as something akin to an out of body experience.
Meanwhile, the band's highly visible original members, including guitarists Slash and Izzy Stradlin — arguably the best one-two guitar package since Keith Richards and Ron Wood — are reforming with Duff McKagan and drummer Matt Sorum with a new vocalist, at this point rumored to be Neurotica's Kelly Shaefer. (Note to Slash: Sammy Hagar is holding on line two, David Lee Roth on three).
Imagine the fun if Axl gets his, um, stuff together, when both of these bands are crisscrossing the globe in 2003 doing their unique interpretations of November Rain. And, like Americans who have made NASCAR racing the fastest growing spectator sport in the country, fans who swear they will never get sucked into buying a GNR concert ticket again, will be lined up, hoping to see Axl's car careen through the barriers into the crowd.
And no matter what happens, Fortus figures he's in the right camp, saying that nobody can outdo Axl when he's in full side-shuffling stride on stage. Even Slash, who is bitter about losing the rights to the Guns N' Roses name, has agreed in recent interviews.
"I mean, it just kind of hit me, early on (this year) in Europe how weird the scene was," said Fortus. "There's 50,000 people out there, and I'm up there playing this old Guns N' Roses song, and Axl is really on it. I'm not sure if that stuff was ahead of its time, or even behind, but that music had something behind it. It's the real deal. And Axl is in the middle of it all."

Blackstar

ADMIN




Posts

: 10619


Plectra

: 71347


Reputation

: 96


Join date

: 2018-03-17




Blackstar

ADMIN




Posts

: 10619


Plectra

: 71347


Reputation

: 96


Join date

: 2018-03-17



---
Permissions in this forum:
You
cannot
reply to topics in this forum