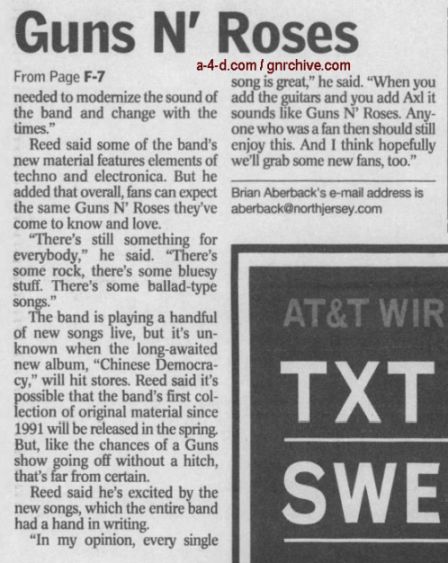 Transcript:
-------------
Yes, it's the same Axl Rose, but most of the Guns are new
By BRIAN ABERBACK
STAFF WRITER
Axl Rose hasn't wasted any time reviving his reputation as rock's most unpredictable bad boy.
The kickoff show of Guns N' Roses first tour in nearly a decade was canceled early last month when the mercurial frontman wasn't even in the building when the doors were scheduled to be opened at 6:30 p.m. That led frustrated fans to riot, leaving Vancouver's GM Place with $100,000 in damages.
The incident recalled similar situations a decade earlier, when Rose sparked riots in St. Louis and Montreal by walking offstage and cutting shows short
"The Vancouver show was not typical," said keyboardist Dizzy Reed, explaining that Rose was in transit to the arena when the plug was pulled. "It was entirely based on a decision by the manager of that building who panicked and without much discussion decided to shut the show down."
Speaking by phone before a concert two weeks ago in Auburn Hills, Mich., Reed said the tour had since gone smoothly. However, later that night, for reasons known only to himself, Rose took an early show exit Fortunately, there was no riot It's anybody's guess what will happen when the band performs Thursday at a sold-out Madison Square Garden.
Same old Axl? Yes.
Same old Guns N' Roses? Not by a long shot.
Unless you've been following the Guns camp closely during its nine-year hiatus, Rose's temperamental behavior, and the group's classic songs, are the only things you'll recognize about the 2002 version of the band that ruled rock in the late Eighties and early Nineties.
For starters, don't expect to see Slash. The ultra-cool lead guitarist with the incredible chops said sayonara to Guns in 1996, when he and Rose couldn't sort out their musical and personal differences. Bassist Duff McKagan, who with Slash and Rose was an original member, exited in 1997.
Guitarist Gilby Clarke and drummer Matt Sorum are gone, too, making Reed the only player from the band's heyday to have stuck it out with bandleader Rose.
Reed, who joined Guns N' Roses in 1990, admitted it was sometimes maddening waiting for Rose to return to the stage. A notorious perfectionist, Rose spent much of the past decade writing new material in his Hollywood Hills home.
"There's no question it was frustrating," said Reed, 39. "Sometimes it was a little beyond frustrating. [But] I believe in what we have. I believe in what we've built up and I want to see it work." The new Guns cast, assembled over the past five years, is a diverse bunch. Taking Slash's space is avant-garde guitar virtuoso Buckethead, who wears an inverted Kentucky Fried Chicken bucket as a hat and a white, featureless mask. He's rarely seen in public without either.
Guitarist Robin Finck played with techno-industrial group Nine Inch Nails. Guns expanded its sound by adding a third guitarist, former Psychedelic Furs six-stringer Richard Fortus.
Former Primus Drummer Brian "Brain" Mantia has a fusion background similar to Bucket-head's. Bassist Tommy Stinson is best known for his work in the influential Eighties pop-punk group The Replacements, and Chris Pitman, formerly of The Replicants, is the second keyboardist-sound effects man.
It's a far cry from the original band of hungry rockers that clawed its way through the Los Angeles club scene, but Reed said the new Guns is an improved Guns.
"Everyone comes from a different place, but when we get together it all seems to work," he said. "I think there's a little more depth to the sound and what we're doing."
Buckethead has the most unenviable task of the new players. Slash, along with Rose, was the most popular member of the original Guns N' Roses. His riffs and solos, along with Rose's wail, defined classics like "Welcome to the Jungle," "Sweet Child O' Mine," and Paradise City." Those songs propelled the band's 1987 debut, "Appetite for Destruction," to sales of nearly 20 million.
Reed said Buckethead has the tools and stage presence to be successful. "He's added so much rhythm and creativity to the sound," Reed said. "It's not about replacing Slash. It's about presenting you with these great, new guitar players."
Besides growing personality clashes, Reed said the old lineup's dismantling was the result of Rose's desire to take Guns' blues-based hard rock sound to new places.
"I think some people wanted to kind of stay in the same spot musically and just take that road wherever that was going, which probably was down," Reed said. "I think that we needed to go where we are now. We needed to diversify, we needed to modernize the sound of the band and change with the times."
Reed said some of the band's new material features elements of techno and electronica. But he added that overall, fans can expect the same Guns N' Roses they've come to know and love.
"There's still something for everybody," he said. "There's some rock, there's some bluesy stuff. There's some ballad-type songs."
The band is playing a handful of new songs live, but it's unknown when the long-awaited new album, "Chinese Democracy," will hit stores. Reed said it's possible that the band's first collection of original material since 1991 will be released in the spring. But, like the chances of a Guns show going off without a hitch, that's far from certain.
Reed said he's excited by the new songs, which the entire band had a hand in writing.
"In my opinion, every single song is great," he said. "When you add the guitars and you add Axl it sounds like Guns N' Roses. Anyone who was a fan then should still enjoy this. And I think hopefully we'll grab some new fans, too."

Blackstar

ADMIN




Posts

: 12215


Plectra

: 80121


Reputation

: 97


Join date

: 2018-03-17



---
Permissions in this forum:
You
cannot
reply to topics in this forum