Guns N' Roses Tour Update
(12/10/02, 6 p.m. ET) -- The Guns N' Roses tour is down, but apparently not completely out. The promoters, Clear Channel, still would not acknowledge that the tour is finished. A publicist for the band admitted the tour is in limbo, with some dates still on and others off.
The show scheduled for Wednesday (December 11) at Greenville, South Carolina's BI-LO Center was canceled mid-afternoon on Tuesday (December 10), but the band claimed that it was pulled by Clear Channel, not the group.
Six other dates on the itinerary are definitely canceled--Greenville on Wednesday (December 11); Albuquerque, New Mexico on December 21; Phoenix on December 22; Las Vegas on December 28; Sacramento, California on December 30; and San Jose, California on December 31.
After the tour situation is sorted out, GN'R is presumably free to concentrate on finally finishing its new album, Chinese Democracy. A spokesperson for the band told LAUNCH the band needs to put a few finishing touches on the album and that it will be out in spring 2003. It's GN'R's first studio album since 1993 and its first set of new material since 1991. The collection has been in the works for more than four years. Chinese Democracy has gone through several producers, including Sean Bevan, Roy Thomas Baker, and Youth.
GN'R bassist Tommy Stinson, formerly of the Replacements, acknowledges that the process has been frustrating at times, but that GN'R leader Axl Rose has reassured him that Chinese Democracy will eventually be released. "I had doubts at certain points, and the thing that kept me going every time is that I would talk to Axl about this and that, his ideas about what we're doing and what we're gonna do and stuff like that. And every time, I just kinda had to stop and go, 'You know, he really, he's a smart f--kin' guy, knows exactly what he wants to get.' How to get there is another issue, but he knows what he wants, how he wants it to be. And every time I had a doubt, I would talk to him about stuff, and (would) totally be back in it. I mean, I never at one point thought, 'Oh, I'm gonna quit.'"
-- Darren Davis, New York and Gary Graff, Detroit
https://web.archive.org/web/20030901145320/http://launch.yahoo.com/read/news.asp?contentID=211574

Blackstar

ADMIN




Posts

: 11728


Plectra

: 77359


Reputation

: 96


Join date

: 2018-03-17



Article about the cancellations in Los Angeles Times, December 11, 2002:

Guns N' Roses axes more shows
The uncertain saga of the Guns N' Roses tour took another twist Tuesday as six upcoming shows were canceled, including stops in San Jose, Sacramento and tonight's scheduled performance in Greenville, S.C.
A spokesman for Clear Channel, the promoter for the tour, said there was no new information about other dates and pointed out that tickets remain on sale for two Southern California stops, Jan. 3 at the Forum in Inglewood and Dec. 27 at the San Diego Sports Arena.
Still, there is reason to doubt that Axl Rose and company will appear on stage tonight or anytime soon. The band has missed three shows in the last five days, including a last-minute cancellation in Philadelphia on Friday that inspired unruly fans to throw seats and bottles on stage. MTV has reported that the tour is off, and Cky, an opening act on the tour, posted a message on its Web site saying the same thing.
On Tuesday, the entire tour itinerary was pulled from the Web site of Pollstar, the concert industry trade publication. "We took it down because, personally, I think the whole tour is history," said Gary Bongiovanni, editor in chief of Pollstar. "I think the lawyers are taking care of the details now and soon they will announce it."
— G.B.

Blackstar

ADMIN




Posts

: 11728


Plectra

: 77359


Reputation

: 96


Join date

: 2018-03-17



Another related article in Fort Worth Star Telegram, Dec. 11, 2002: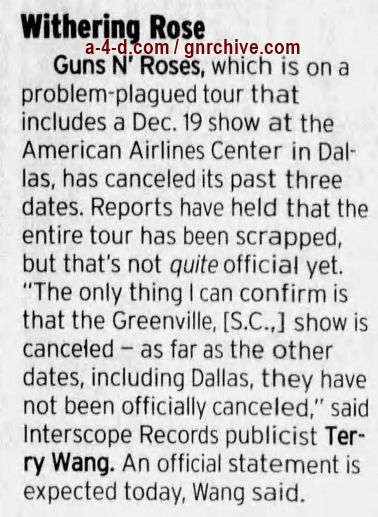 Withering Rose

Guns N' Roses, which is on a problem-plagued tour that includes a Dec. 19 show at the American Airlines Center in Dallas, has canceled its past three dates. Reports have held that the entire tour has been scrapped, but that's not quite official yet. "The only thing I can confirm is that the Greenville, [S.C.,] show is canceled - as far as the other dates, including Dallas, they have not been officially canceled," said Interscope Records publicist Terry Wang. An official statement is expected today, Wang said.

Blackstar

ADMIN




Posts

: 11728


Plectra

: 77359


Reputation

: 96


Join date

: 2018-03-17



---
Permissions in this forum:
You
cannot
reply to topics in this forum