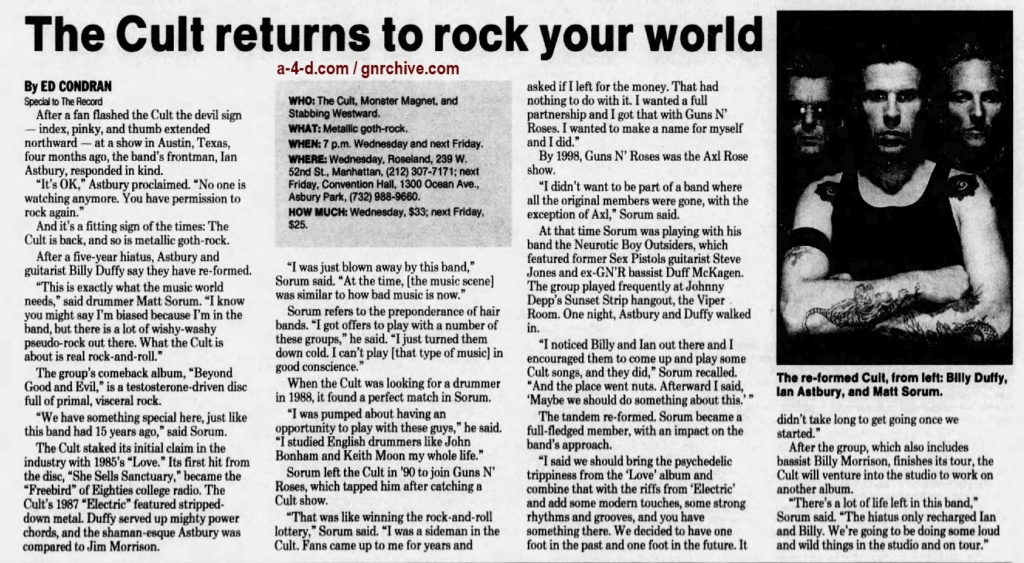 Transcript:
---------------
The Cult returns to rock your world
By ED CONDRAN
Special to The Record
After a fan flashed the Cult the devil sign — index, pinky, and thumb extended northward — at a show in Austin, Texas, four months ago, the band's frontman, lan Astbury, responded in kind.
"It's OK," Astbury proclaimed. "No one is watching anymore. You have permission to rock again."
And it's a fitting sign of the times: The Cult is back, and so is metallic goth-rock.
After a five-year hiatus, Astbury and guitarist Billy Duffy say they have reformed.
"This is exactly what the music world needs," said drummer Matt Sorum. "I know you might say I'm biased because I'm in the band, but there is a lot of wishy-washy pseudo-rock out there. What the Cult is about is real rock-and-roll."
The group's comeback album, "Beyond Good and Evil," is a testosterone-driven disc full of primal, visceral rock.
"We have something special here, just like this band had 15 years ago," said Sorum.
The Cult staked its initial claim in the industry with 1985's "Love." Its first hit from the disc, "She Sells Sanctuary," became the "Freebird" of Eighties college radio. The Cult's 1987 "Electric" featured stripped-down metal. Duffy served up mighty power chords, and the shaman-esque Astbury was compared to Jim Morrison.
"I was just blown away by this band," Sorum said. "At the time, [the music scene] was similar to how bad music is now."
Sorum refers to the preponderance of hair bands. "I got offers to play with a number of these groups," he said. "I just turned them down cold. I can't play [that type of music] in good conscience."
When the Cult was looking for a drummer in 1988, it found a perfect match in Sorum.
"I was pumped about having an opportunity to play with these guys," he said. "I studied English drummers like John Bonham and Keith Moon my whole life."
Sorum left the Cult in '90 to join Guns N' Roses, which tapped him after catching a Cult show.
"That was like winning the rock-and-roll lottery," Sorum said. "I was a sideman in the Cult. Fans came up to me for years and asked if I left for the money. That had nothing to do with it. I wanted a full partnership and I got that with Guns N' Roses. I wanted to make a name for myself and I did."
By 1998, Guns N' Roses was the Axl Rose show.
"I didn't want to be part of a band where all the original members were gone, with the exception of Axl," Sorum said.
At that time Sorum was playing with his band the Neurotic Boy Outsiders, which featured former Sex Pistols guitarist Steve Jones and ex-GN'R bassist Duff McKagen. The group played frequently at Johnny Depp's Sunset Strip hangout, the Viper Room. One night, Astbury and Duffy walked in.
"I noticed Billy and Ian out there and I encouraged them to come up and play some Cult songs, and they did," Sorum recalled. "And the place went nuts. Afterward I said, 'Maybe we should do something about this.'"
The tandem reformed. Sorum became a full-fledged member, with an impact on the band's approach.
"I said we should bring the psychedelic trippiness from the 'Love' album and combine that with the riffs from 'Electric' and add some modern touches, some strong rhythms and grooves, and you have something there. We decided to have one foot in the past and one foot in the future. It didn't take long to get going once we started."
After the group, which also includes bassist Billy Morrison, finishes its tour, the Cult will venture into the studio to work on another album.
"There's a lot of life left in this band," Sorum said. "The hiatus only recharged Ian and Billy. We're going to be doing some loud and wild things in the studio and on tour."

Blackstar

ADMIN




Posts

: 9344


Plectra

: 63744


Reputation

: 97


Join date

: 2018-03-17



---
Permissions in this forum:
You
cannot
reply to topics in this forum