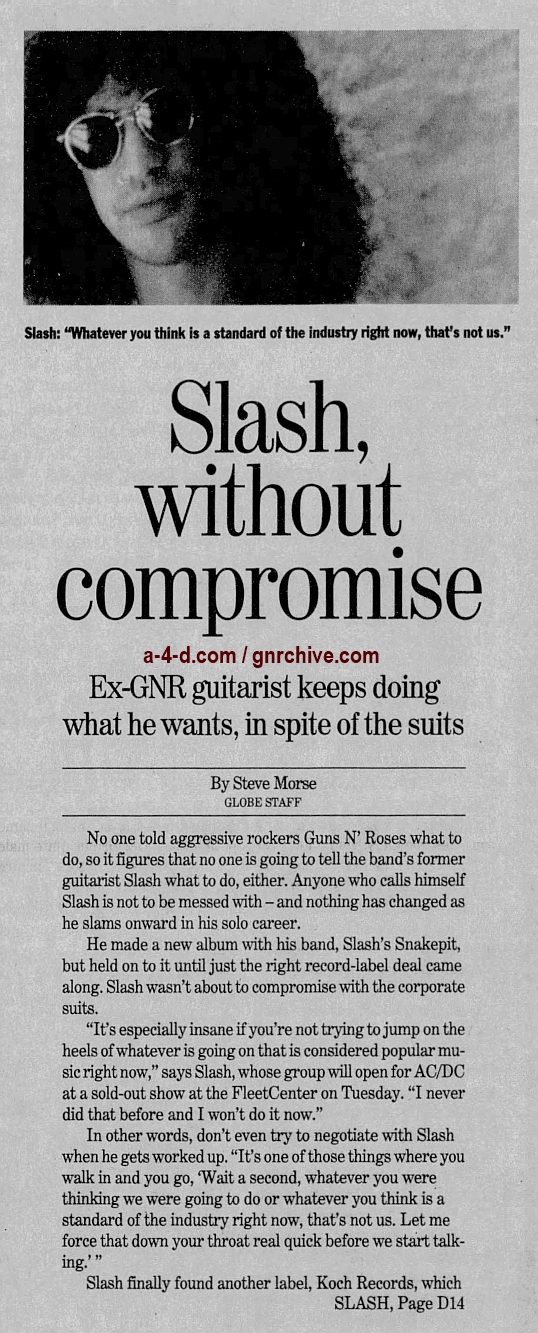 Transcript:
----------------
Slash, without compromise
Ex-GNR guitarist keeps doing what he wants, in spite of the suits
By Steve Morse
GLOBE STAFF
No one told aggressive rockers Guns N' Roses what to do, so it figures that no one is going to tell the band's former guitarist Slash what to do, either. Anyone who calls himself Slash is not to be messed with - and nothing has changed as he slams onward in his solo career.
He made a new album with his band, Slash's Snakepit, but held on to it until just the right record-label deal came along. Slash wasn't about to compromise with the corporate suits.
"It's especially insane if you're not trying to jump on the heels of whatever is going on that is considered popular music right now," says Slash, whose group will open for AC/DC at a sold-out show at the FleetCenter on Tuesday. "I never did that before and I won't do it now."
In other words, don't even try to negotiate with Slash when he gets worked up. "It's one of those things where you walk in and you go, 'Wait a second, whatever you were thinking we were going to do or whatever you think is a standard of the industry right now, that's not us. Let me force that down your throat real quick before we start talking.'"
Slash finally found another label, Koch Records, which will release the next Snakepit disc, "Ain't Life Grand" (featuring new singer Rod Jackson), in October. It's a hard-hitting, old-school met-al-rock album filled with Slash's in-your-face riffs and wanderlust lyrics like "gonna be comin' home, but maybe not tonight."
Now' that it's done, he's not soliciting "feedback" from the label. "The only real interaction that you have with the powers that be at the record company is like, 'OK, here's the tape, this is what we did.' Then I don't necessarily want to hear anything after that. I don't want to hear too much opinionated sort of record-company brouhaha going around the office. You know, as to what is selling, what is popular right this second, and everything that goes with that."
Slash's cocksure attitude has helped influence a new generation of hard-rock musicians for whom Guns was the prototype. But while Slash takes a tough stance with record companies, he can't always relate to the anger he hears in some of the younger bands today.
"If you actually listen to Guns play, or Snakepit play, it's like really loud and in your face, but as a person, I'm sort of like, 'Well, I don't have any real issues, man, so let's not dwell on anything. Let's not take things too seriously. We're not pissed off at the world compared to [some other bands] today."
As for some of the angry new' bands, Slash says, "They're not old enough to have that hard of a life. They need to hang out with Keith Richards a little."
Slash has done just that (Guns N' Roses had played some show's with the Rolling Stones), but sadly, one person he's not hanging out with anymore is Guns singer Axel
[sic]
Rose. Hence, Guns as we knew them are no more. Slash has talked to other Guns members such as Izzy Stradlin and Duff McKagan, but Axel is history.
"I just haven't talked to Axel. I think the split-up between [us] was a little more bitter. But it wasn't so much personal as it was a disassociation from what I thought he was doing and consequently what it was that I wanted to do. So we just parted ways and I haven't talked to him since.
"But as far as the Guns records themselves, I can't exaggerate enough how proud I am of the fact that I was a part of Guns and of all the material we released," says Slash. That explains why, when a live Guns N' Roses record (made years ago) came out not long ago, Slash still helped in the mixing process.
"Even though I wasn't in the band anymore, I was there for the mixing, just to make sure it was as honest a representation of GNR live as I thought it should be."
Don't dwell too long on Guns questions, however, or you might get the same treatment as one of those overzealous record executives who tell him what to do. "It's like, 'Don't talk [badly] about Guns or about Axel or about any of that stuff, because that's where I come from," he adds.
OK, fair enough, so let's talk about the new Snakepit, formed after Slash auditioned - can you believe? - nearly 200 singers. He finally found new singer Jackson after bassist Johnny Blackout heard him playing at the Roxy in Los Angeles with a little-known band called Shady Tree.
"I said to Johnny, 'Have him come down and we'll jam.' And we just instantly clicked when he did. And it's funny because we have similar Hollywood backgrounds. We had hung out in the same places and lived in the same places. So I was like, 'How come I haven't met you before?' We have mutual friends and all kinds of stuff. And we've been together ever since.
"I can't wait to go out and start these shows, because [Jackson] is a real dynamic character in person, and especially onstage. He has that great live quality where, as soon as you get into a room where there's a couple of people in it, he goes up one notch higher. His whole singing approach gets more enthusiastic, which is one of the great things about a live rock 'n' roll band in the first place."
As for the upcoming tour with AC/DC, Slash says, "I'm a huge fan, though I had never met them. But they're one of the all-time greatest guitar-rock bands, so I'm really proud to be on the tour. It's very cool, though I think we're all a little bit nervous about it"
Slash nervous? Just don't tell that to a record executive, because he probably won't believe you.

Blackstar

ADMIN




Posts

: 9568


Plectra

: 65464


Reputation

: 97


Join date

: 2018-03-17



---
Permissions in this forum:
You
cannot
reply to topics in this forum