Axl Rose Comes Out of Hiding to Sing Stones Covers
Reclusive GNR frontman joins former bandmate Gilby Clarke onstage in West Hollywood
In a surprise gesture that may foreshadow his long overdue return to the public stage -- perhaps someday even with a new Guns n' Roses album in tow -- Axl Rose jumped out of hiding and onto a West Hollywood club stage Thursday night to sing in public for the first time in seven years.
The scene of Rose's unexpected return was at former Stray Cats drummer Slim Jim Phantom's Cat Club on Sunset Blvd., where one-time Guns n' Roses guitarist Gilby Clarke was performing (along with Phantom) with their new band the Starfuckers. Rose joined Clarke for two Rolling Stones covers, "Wild Horses" and "Dead Flowers" (the later which he last sang with Clarke on the guitarist's 1994 solo album, Pawnshop Guitars).
"I guess he ran into some friends of mine at the Roger Waters show at Universal Amphitheater, and they told him that we were playing down there and he came by," Clarke later explained to Rolling Stone. "Maybe he just wanted to have some fun."
Clarke said he hadn't spoken to the singer in years, but that he never bore Rose any ill will, even when he sued GNR four years ago for continuing to use his likeness after he left the band in 1994. "When everything went down, him and I never got into any arguments, any fights or anything," Clarke said, noting that they originally parted company six years ago simply due to musical differences. "It's kind of strange 'cause like I never quit. I never got fired. People always put you up like everybody hates each other, but . . . we never got in a fight."
Although Clarke said there was no discussion of him collaborating with Rose again, he noted that the singer was in a great mood . . . and "very, very excited about his new record and the new [GNR] band."
RICHARD SKANSE and AUSTIN SCAGGS
----------------
Source:
http://www.heretodaygonetohell.com/news/shownews.php?newsid=263

Blackstar

ADMIN




Posts

: 9414


Plectra

: 64296


Reputation

: 97


Join date

: 2018-03-17



Short related article in The Province, June 27, 2000: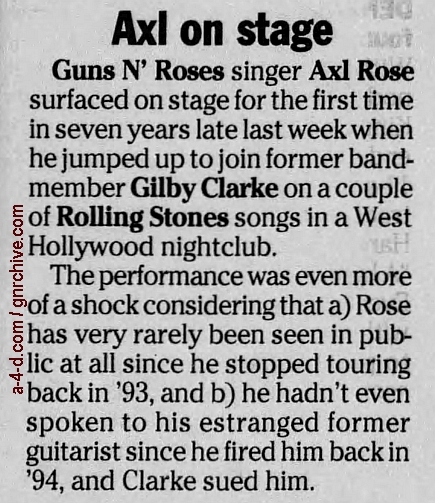 Axl on stage

Guns N' Roses singer Axl Rose surfaced on stage for the first time in seven years late last week when he jumped up to join former band-member Gilby Clarke on a couple of Rolling Stones songs in a West Hollywood nightclub.

The performance was even more of a shock considering that a) Rose has very rarely been seen in public at all since he stopped touring back in '93, and b) he hadn't even spoken to his estranged former guitarist since he fired him back in '94, and Clarke sued him.

Blackstar

ADMIN




Posts

: 9414


Plectra

: 64296


Reputation

: 97


Join date

: 2018-03-17



---
Permissions in this forum:
You
cannot
reply to topics in this forum