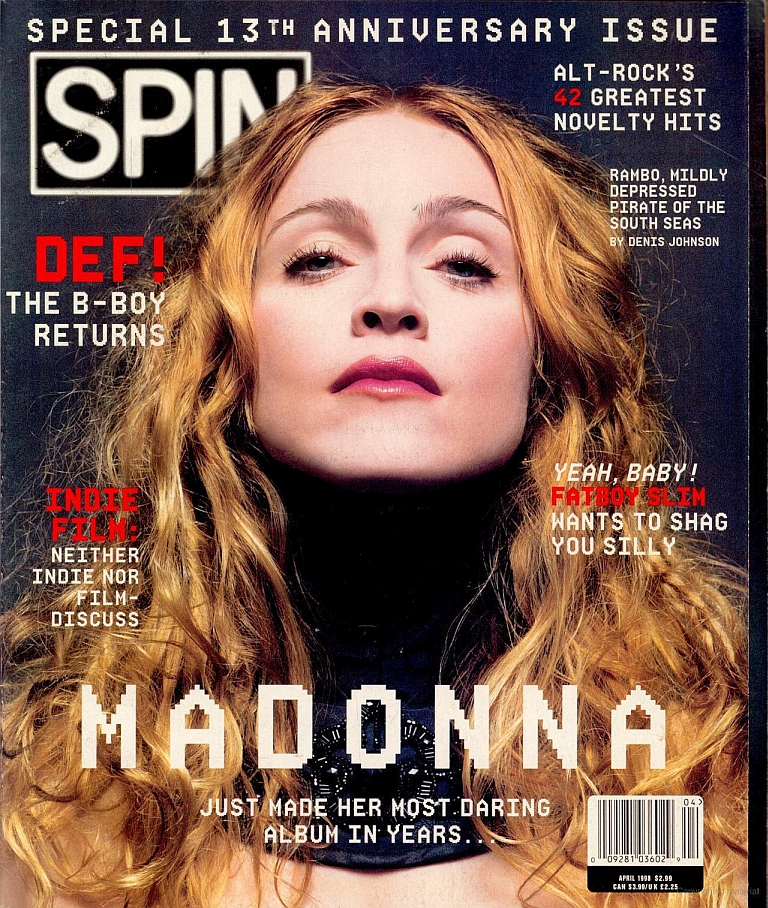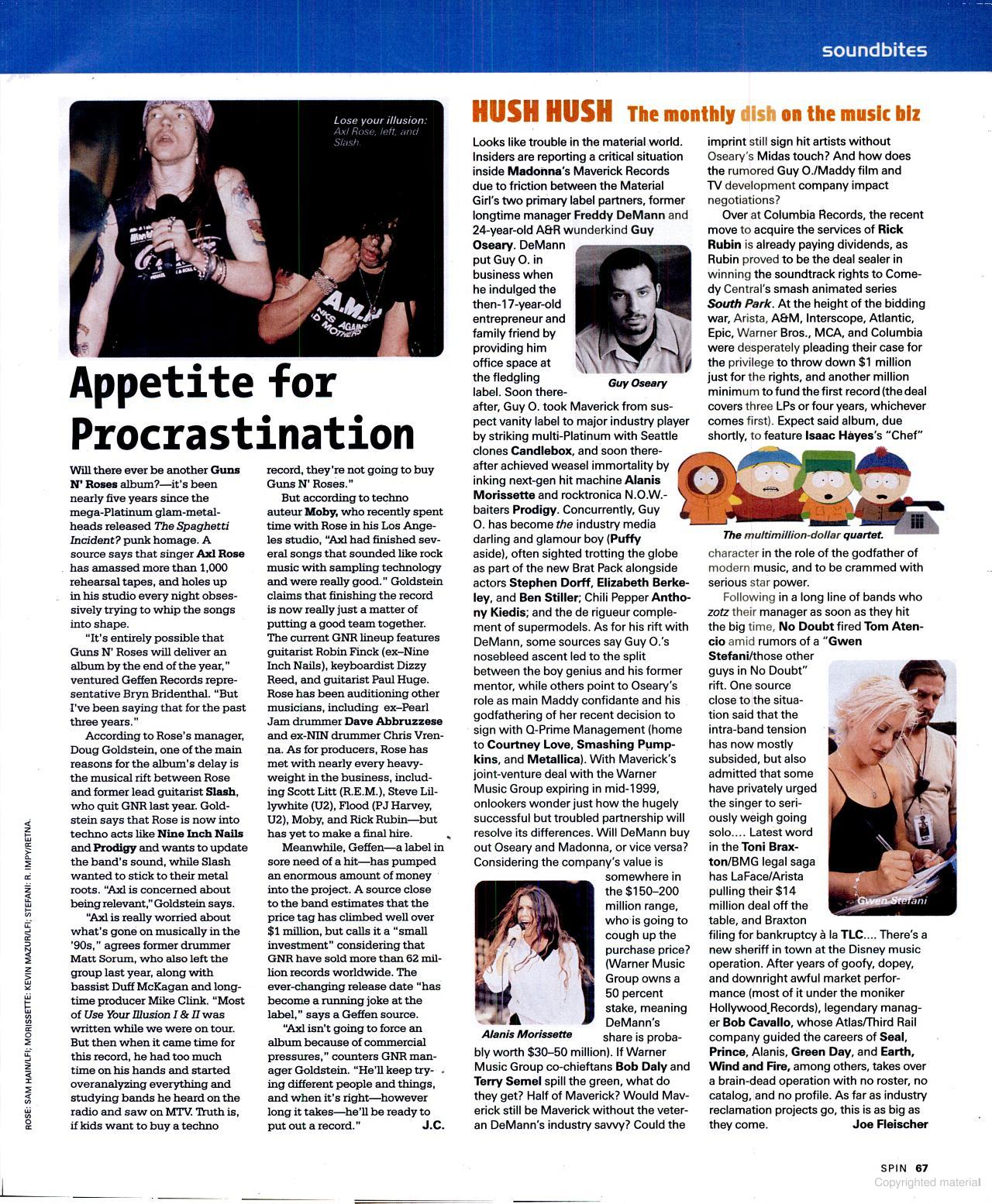 Transcript:
-----------------
Appetite for Procrastination
Will there ever be another Guns N' Roses album?—it's been nearly five years since the mega-Platinum glam-metal-heads released The Spaghetti Incident? punk homage. A source says that singer Axl Rose has amassed more than 1,000 rehearsal tapes, and holes up in his studio every night obsessively trying to whip the songs into shape.
"It's entirely possible that Guns N' Roses will deliver an album by the end of the year," ventured Geffen Records representative Bryn Bridenthal. "But I've been saying that for the past three years."
According to Rose's manager, Doug Goldstein, one of the main reasons for the album's delay is the musical rift between Rose and former lead guitarist Slash, who quit GNR last year. Goldstein says that Rose is now into techno acts like Nine Inch Nails and Prodigy and wants to update the band's sound, while Slash wanted to stick to their metal roots. "Axl is concerned about being relevant," Goldstein says.
"Axl is really worried about what's gone on musically in the '90s," agrees former drummer Matt Sorum, who also left the group last year, along with bassist Duff McKagan and longtime producer Mike Clink. "Most of Use Your Illusion I & II was written while we were on tour. But then when it came time for this record, he had too much time on his hands and started overanalyzing everything and studying bands he heard on the radio and saw on MTV. Truth is, if kids want to buy a techno record, they're not going to buy Guns N' Roses."
But according to techno auteur Moby, who recently spent time with Rose in his Los Angeles studio, "Axl had finished several songs that sounded like rock music with sampling technology and were really good." Goldstein claims that finishing the record is now really just a matter of putting a good team together. The current GNR lineup features guitarist Robin Finck (ex-Nine Inch Nails), keyboardist Dizzy Reed, and guitarist Paul Huge. Rose has been auditioning other musicians, including ex-Pearl Jam drummer Dave Abbruzzese and ex-NIN drummer Chris Vren-na. As for producers, Rose has met with nearly every heavyweight in the business, including Scott Litt (R.E.M.), Steve Lillywhite (U2), Flood (PJ Harvey, U2), Moby, and Rick Rubin—but has yet to make a final hire.
Meanwhile, Geffen—a label in sore need of a hit—has pumped an enormous amount of money into the project. A source close to the band estimates that the price tag has climbed well over $1 million, but calls it a "small investment" considering that GNR have sold more than 62 million records worldwide. The ever-changing release date "has become a running joke at the label," says a Geffen source.
"Axl isn't going to force an album because of commercial pressures," counters GNR manager Goldstein. "He'll keep trying different people and things, and when it's right—however long it takes—he'll be ready to put out a record."
J.C.

Blackstar

ADMIN




Posts

: 10621


Plectra

: 71357


Reputation

: 96


Join date

: 2018-03-17



---
Permissions in this forum:
You
cannot
reply to topics in this forum