FORMER GUNS N' ROSES DRUMMER JAILED ON BATTERY CHARGES

MTV NEWS STAFF
09/24/1998

Former Guns 'N Roses drummer Steven Adler was sentenced to 150 days in jail on Thursday for attacking two women in separate domestic violence incidents, which also violates his probation from a 1997 conviction in another domestic violence case.

He pled no contest to two counts of battery in a dating relationship and admitted the probation violation in West Los Angeles Municipal Court. Adler was also sentenced to three years of summary probation, with the conditions of undergoing a year of domestic violence counseling and a ban on using illegal drugs. Additionally, a protective order was issued by Commissioner Joseph S. Biderman in respect to both victims. Adler is required to turn himself in to the court at 1:45 p.m. on October 29 to begin serving his sentence or show proof that he's turned himself into a city jail.

The two incidents in question occurred on January 27 and on June 7, respectively. The first erupted from a verbal argument spawned between Adler and a 43-year-old woman in his North Hollywood apartment over his alleged drug use. The victim was allegedly thrown against walls and furniture during the attack. She called 911 for assistance, however, Adler had already left the premises and couldn't be located at the time.

He was eventually found in the spring, living in a condominium in Century City, California, where he was taken into custody on an arrest warrant regarding a probation violation. He was then booked and released after posting bail.

The warrant had been issued in August of 1997 for failing to appear in court for a February of 1997 domestic violence case, which involved the woman he was living with at the time. In the 1997 case, Adler pled no contest to disturbing the peace and was sentenced to four days in jail. He was also placed on three years of summary probation, with a condition of attending 52 Alcoholics Anonymous meetings.

In the spring arrest, Adler was charged with this probation violation as well as for the January incident. While he was awaiting his trial, he allegedly attacked another woman at his condominium on June 7. Adler allegedly pushed the 35-year-old woman's head into a wall and threw her clothes off a balcony during a dispute over money.

http://www.mtv.com/news/1429798/former-guns-n-roses-drummer-jailed-on-battery-charges/

Blackstar

ADMIN




Posts

: 4751


Plectra

: 32600


Reputation

: 93


Join date

: 2018-03-17



Related articles:
UPI, September 24, 1998:
Rock band drummer sentenced in attacks

A member of the rock group Guns n' Roses has pleaded no contest to charges that he attacked two women he was dating, and was sentenced to 150 days in jail by a Los Angeles court. Prosecutors say 33-year-old drummer Steven Adler was also found in violation of his probation from a 1997 conviction in a domestic violence case.

Adler was also placed on three years summary probation and ordered to undergo a year of domestic counseling and to stay away from illegal drugs and his alleged victims. He will begin serving his jail time Oct. 29. The charges grew out of two incidents, the first of which occurred Jan. 27 at 4 a.m. when an argument between Adler and a 43-year-old woman at his Los Angeles apartment escalated into a physical altercation. Adler allegedly grabbed the woman and threw her against walls and furniture, causing bruises on her arms and legs. The woman told police the argument started when she confronted Adler about his drug use. While Adler was awaiting trial on the charges in the January incident, he allegedly attacked another woman at his Century City condominium, and threw her clothing off the balcony. Prosecutors say the June 7 attack, in which the 35-year-old victim sustained scratches and a cut on her forehead, was sparked by an argument over money. Adler was on probation for a 1997 domestic violence incident involved an attack on a woman during an argument at the apartment they shared. The woman called police after Adler allegedly pinched her on the chest. ---
The Associated Press/Stevens Point Journal, September 25, 1998: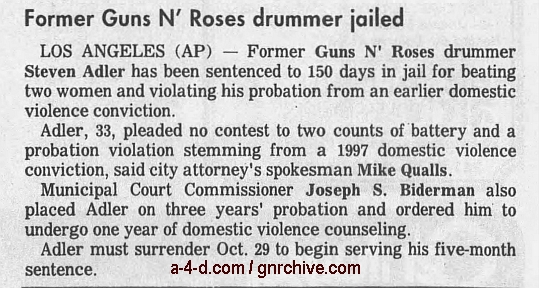 Transcript:
---------------
Former Guns N' Roses drummer jailed
LOS ANGELES (AP) — Former Guns N' Roses drummer Steven Adler has been sentenced to 150 days in jail for beating two women and violating his probation from an earlier domestic violence conviction.
Adler, 33, pleaded no contest to two counts of battery and a probation violation stemming from a 1997 domestic violence conviction, said city attorney's spokesman Mike Qualls.
Municipal Court Commissioner Joseph S. Biderman also placed Adler on three years' probation and ordered him to undergo one year of domestic violence counseling.
Adler must surrender Oct. 29 to begin serving his five-month sentence.

Blackstar

ADMIN




Posts

: 4751


Plectra

: 32600


Reputation

: 93


Join date

: 2018-03-17



---
Permissions in this forum:
You
cannot
reply to topics in this forum