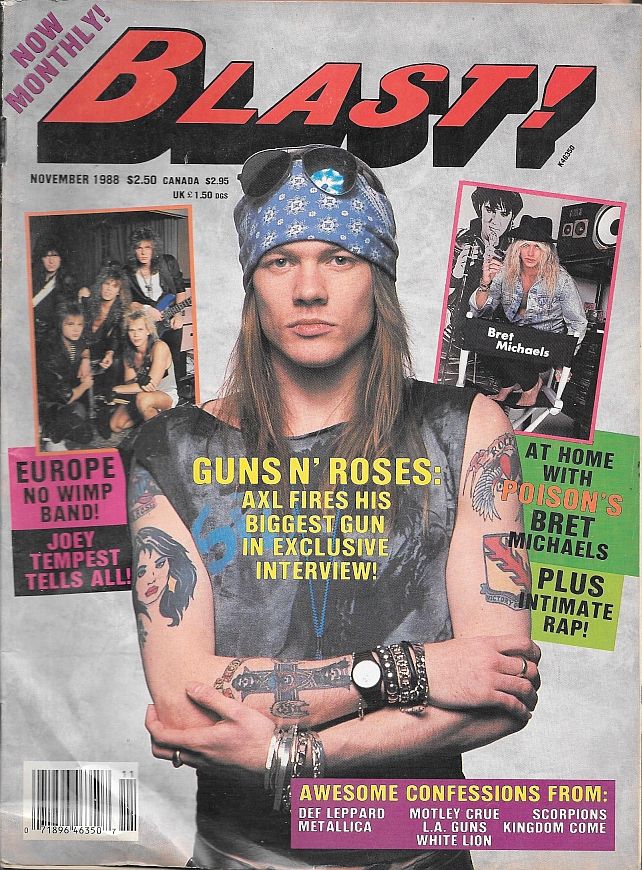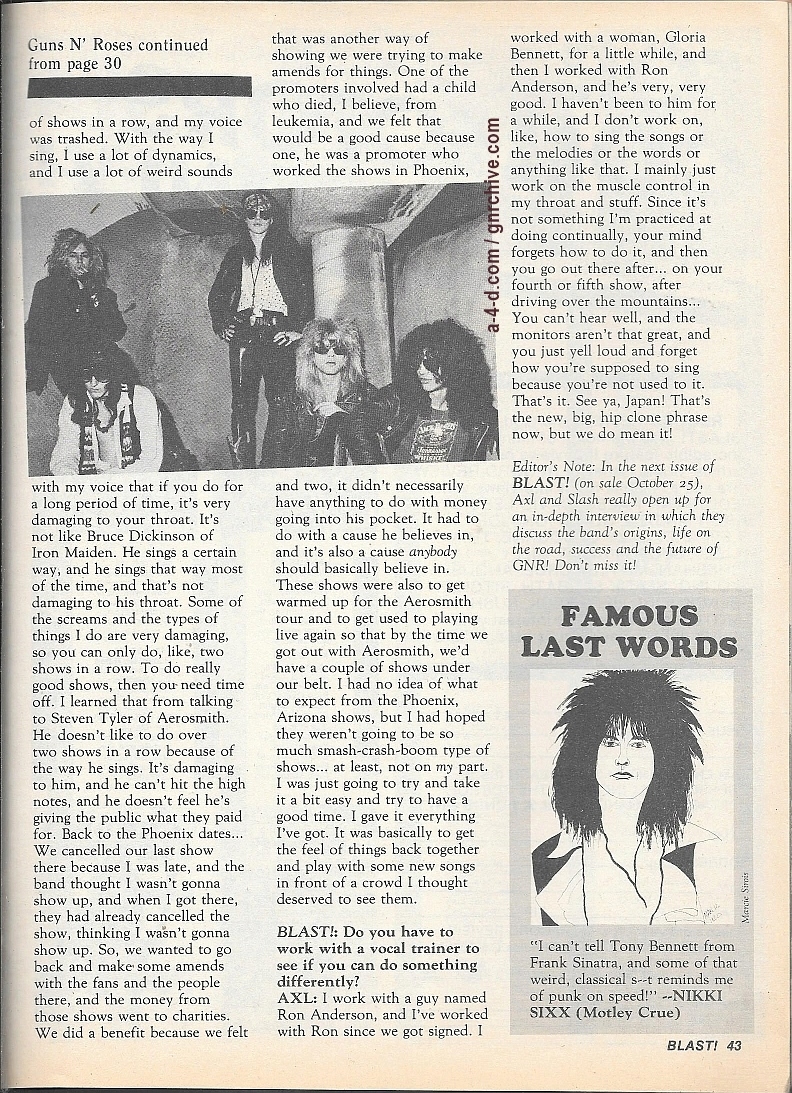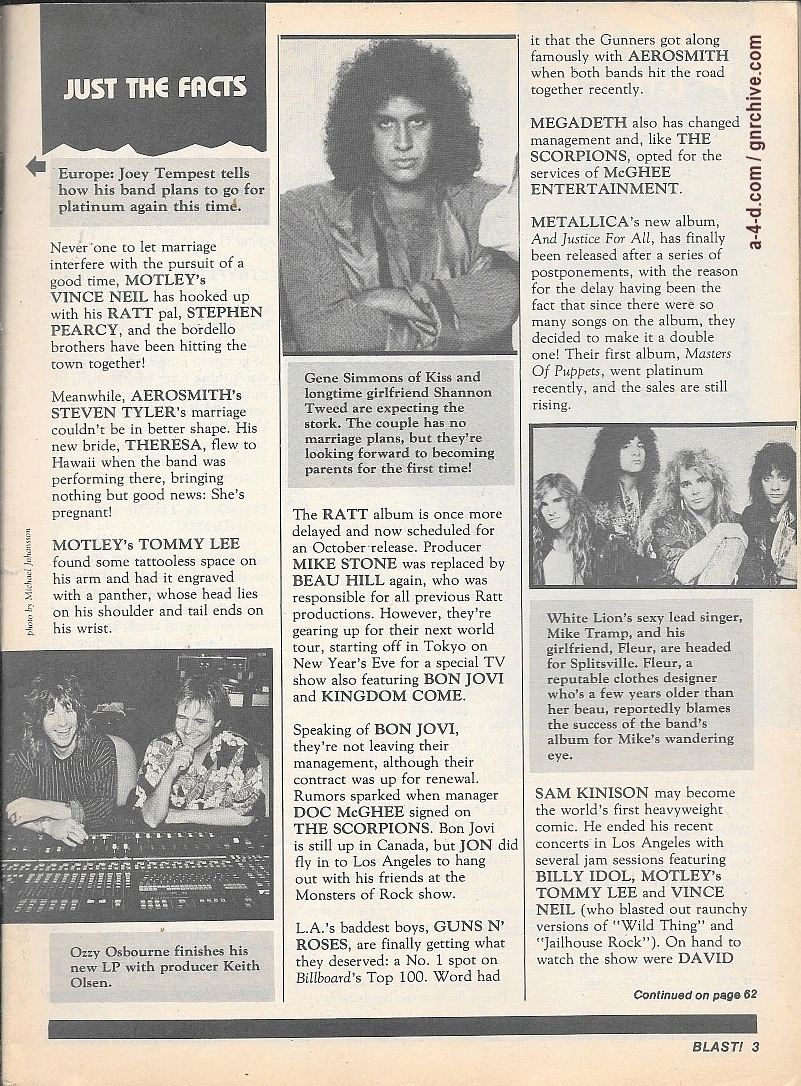 Transcript:
----------------
AXL ROSE Explains How He Has Guns N' Roses By the Throat!
EXCLUSIVE
By Arlett VereeckeBLAST!: Could you give us a brief explanation of what happened with your voice and why Guns N' Roses had to cancel the Iron Maiden tour and, subsequently, the Japanese tour?
AXL:
Well, basically, driving over the mountains over and over again to get to the last five shows we did with Iron Maiden caused my ears to clog up in such a way that I couldn't hear that well, so I would yell twice as loud and overstrained my vocals on the tour. Plus, getting back to the West Coast shows, there were more GNR fans, and it was real hectic and a lot more fun, so we were yelling twice as loud. We were slamming onstage, and, basically, I overused my throat, and the doctor told me if I didn't take some time off, there was a good chance I'd never sing again! I went to four different specialists, and I was told I needed surgery immediately. I went to the top specialist in the world, who treats severe throat problems like I had - a guy named Hans Von Laiden, and he said I didn't need surgery, but what I
did
need was a lot of vocal rest and then proper training to bring the voice back. So, rather than take a risk of coming to Japan and not being able to give a good show or only being able to give, like, half a show and not guarantee that we'd be able to make all of the dates we promised, we thought it best to postpone and do the shows at a later time when we could give the people exactly what they pay for.  
We never cancel a show just because we don't want to play the particular show. That's not the reason. I believe that when the people pay the money to see a show, they should get exactly what they paid for and everything they came to see, and unless we can do that, we don't want to play any given show. Now the Japanese tour is planned tentatively for December because we really do want to come to Japan. It's a major, lifetime goal, and we're doing anything we can do to get there. We toured with Aerosmith for two months from July 15 to September 15. We also did a couple of odds-and-ends shows here and there in-between those, and we'll be going into the studio to work on the new record. We'll be going into pre- production, and then, maybe right before we record, we'll be coming over to play Japan. We should also be re-releasing the
Live Like A Suicide
EP and releasing the new GNR EP,
Lies, Sex, Drugs and Violence: The Shocking Truth,
hopefully around December or January. That's what's happening. 
BLAST!: You said you did a couple of warm-up shows (in Arizona). Was that to get ready for the Aerosmith tour or just because you had to cancel dates there before?
AXL:
With Phoenix, it was both. There were a lot of things that had to do with Phoenix... When we played there with The Cult, they cancelled the Phoenix dates. We were to play in a really small place, and we'd already done a certain amount of shows in a row, and my voice was trashed. With the way I sing, I use a lot of dynamics, and I use a lot of weird sounds with my voice that if you do for a long period of time, it's very damaging to your throat. It's not like Bruce Dickinson of Iron Maiden. He sings a certain way, and he sings that way most of the time, and that's not damaging to his throat. Some of the screams and the types of things I do are very damaging, so you can only do, like, two shows in a row. To do really good shows, then you need time off. I learned that from talking to Steven Tyler of Aerosmith. He doesn't like to do over two shows in a row because of the way he sings. It's damaging to him, and he can't hit the high notes, and he doesn't feel he's giving the public what they paid for.  
Back to the Phoenix dates... We cancelled our last show there because I was late, and the band thought I wasn't gonna show up, and when I got there, they had already cancelled the show, thinking I wasn't gonna show up. So, we wanted to go back and make some amends with the fans and the people there, and the money from those shows went to charities. We did a benefit because we felt that was another way of showing we were trying to make amends for things. One of the promoters involved had a child who died, I believe, from leukemia, and we felt that would be a good cause because one, he was a promoter who worked the shows in Phoenix, and two, it didn't necessarily have anything to do with money going into his pocket. It had to do with a cause he believes in, and it's also a cause
anybody
should basically believe in. These shows were also to get warmed up for the Aerosmith tour and to get used to playing live again so that by the time we got out with Aerosmith, we'd have a couple of shows under our belt. I had no idea of what to expect from the Phoenix, Arizona shows, but I had hoped they weren't going to be so much smash-crash-boom type of shows... at least, not on
my
part. I was just going to try and take it a bit easy and try to have a good time. I gave it everything I've got. It was basically to get the feel of things back together and play with some new songs in front of a crowd I thought deserved to see them. 
BLAST!: Do you have to work with a vocal trainer to see if you can do something differently?
AXL:
I work with a guy named Ron Anderson, and I've worked with Ron since we got signed. I worked with a woman, Gloria Bennett, for a little while, and then I worked with Ron Anderson, and he's very, very good. I haven't been to him for a while, and I don't work on, like, how to sing the songs or the melodies or the words or anything like that. I mainly just work on the muscle control in my throat and stuff. Since it's not something I'm practiced at doing continually, your mind forgets how to do it, and then you go out there after... on your fourth or fifth show, after driving over the mountains... You can't hear well, and the monitors aren't that great, and you just yell loud and forget how you're supposed to sing because you're not used to it. That's it. See ya, Japan! That's the new, big, hip clone phrase now, but we do mean it! 
Editor's Note: In the next issue of BLAST! (on sale October
25), A
xl and Slash really open up for an in-depth interview in which they discuss the band's origins, life on the road, success and the future of GNR! Don't miss it!
***
JUST THE FACTS
L.A.'s baddest boys, GUNS N' ROSES, are finally getting what they deserved: a No. 1 spot on
Billboard
's Top 100. Word had it that the Gunners got along famously with AEROSMITH when both bands hit the road together recently.

Blackstar

ADMIN




Posts

: 9142


Plectra

: 62261


Reputation

: 97


Join date

: 2018-03-17



It seems this interview was conducted basically for the Japanese press.

Blackstar

ADMIN




Posts

: 9142


Plectra

: 62261


Reputation

: 97


Join date

: 2018-03-17



---
Permissions in this forum:
You
cannot
reply to topics in this forum