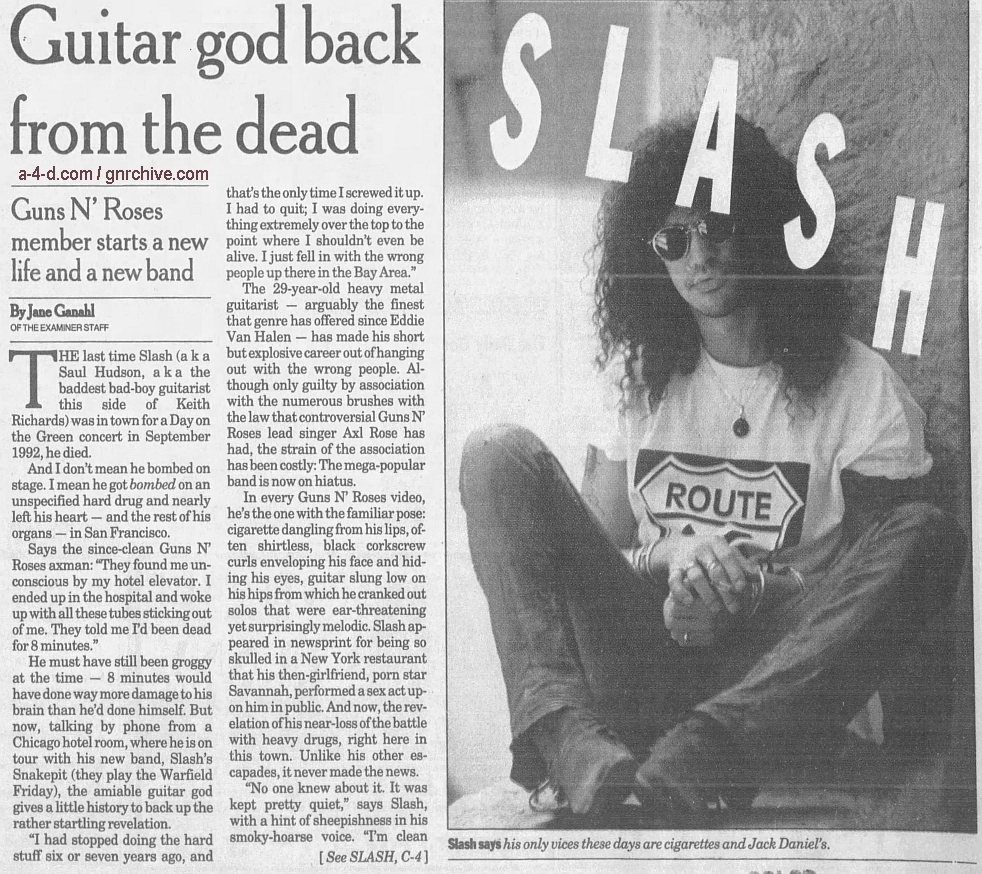 Transcript:
---------------
Guitar god back from the dead
Guns N' Roses member starts a new life and a new band
By Jane Ganahl
OF THE EXAMINER STAFF
THE last time Slash (aka Saul Hudson, aka the baddest bad-boy guitarist this side of Keith Richards) was in town for a Day on the Green concert in September 1992, he died.
And I don't mean he bombed on stage. I mean he got bombed on an unspecified hard drug and nearly left his heart — and the rest of his organs — in San Francisco.
Says the since-clean Guns N' Roses axman: "They found me unconscious by my hotel elevator. I ended up in the hospital and woke up with all these tubes sticking out of me. They told me I'd been dead for 8 minutes."
He must have still been groggy at the time — 8 minutes would have done way more damage to his brain than he'd done himself. But now, talking by phone from a Chicago hotel room, where he is on tour with his new band, Slash's Snakepit (they play the Warfield Friday), the amiable guitar god gives a little history to back up the rather startling revelation.
"I had stopped doing the hard stuff six or seven years ago, and that's the only time I screwed it up. I had to quit; I was doing everything extremely over the top to the point where I shouldn't even be alive. I just fell in with the wrong people up there in the Bay Area."
The 29-year-old heavy metal guitarist — arguably the finest that genre has offered since Eddie Van Halen — has made his short but explosive career out of hanging out with the wrong people. Although only guilty by association with the numerous brushes with the law that controversial Guns N' Roses lead singer Axl Rose has had, the strain of the association has been costly: The mega-popular band is now on hiatus.
In every Guns N' Roses video, he's the one with the familiar pose: cigarette dangling from his lips, often shirtless, black corkscrew curls enveloping his face and hiding his eyes, guitar slung low on his hips from which he cranked out solos that were ear-threatening yet surprisingly melodic. Slash appeared in newsprint for being so skulled in a New York restaurant that his then-girlfriend, porn star Savannah, performed a sex act upon him in public. And now, the revelation of his near-loss of the battle with heavy drugs, right here in this town. Unlike his other escapades, it never made the news.
"No one knew about it. It was kept pretty quiet," says Slash, with a hint of sheepishness in his smoky-hoarse voice. "I'm clean now, although I still have a few vices: cigarettes and my Jack Daniel's."
The title of his new album, "It's Five O'Clock Somewhere," owes something to his affinity for the Tennessee sour mash bourbon. He says he was in the L.A. airport on his way to a Guns concert gig in England when he asked the bartender for a "Jack and Coke," even though it was only 10 a.m.
"And the bartender goes, 'Well, it's 5 o'clock somewhere!' I thought that was brilliant," he says now. "It doesn't have to do with alcohol necessarily. It just means there's light at the end of the tunnel somewhere."
He seems to have found a respite of sorts from the crazy life he was living, with his new band and its accompanying creative freedom. Music lore has it that Guns N' Roses was tightly reined by control freak Axl Rose.
But he clearly dislikes having to talk about the rift, and diminishes it by calling the Snakepit a "side gig" rather than a new permanent arrangement. "I'm talking to you to shed some light on what Snake-pit's about but that's not a pain in my ass. Dealing with the Guns N' Roses thing is. Like pulling f—ing teeth out. What's going on with us? I really don't know."
He brightens when talking about the new band, which consists of singer Eric Dover of Jellyfish, bassist James Lomenzo and drummer Brian Tichy of Ozzy Osbourne's band, Pride and Glory, and former Guns guitarist Gilby Clarke. Current Guns drummer Matt Sorum had recorded the Snakepit album with Slash, but did not go on the road with the band. "I had to get a different drummer because it would pretty much cement the bad feelings between Axl and me to take the Guns drummer."
They are taking their time on the tour, traversing the states and playing much smaller venues than the stadiums Guns filled up during its heyday.
"This is our 18th gig, and it's been so much f—ing fun. It's a whole different trip than what Guns was doing. I hate to sound like one of those pathetic guys who whines about what he f—-ing misses, but after two years of huge stadiums and the complicated nature of the business, it's great to be playing smaller venues."
He says he's willing to take less money these days to have more fun. "I'm not making very much but I'm happy and making enough for cigarettes. I get free tennis shoes from Converse, I have six pairs of jeans, and I bum T-shirts off people. But materially I don't need much."
It's a good thing; in the 1994 Northridge quake he lost almost everything when his house was nearly destroyed. "We had just finished the Snakepit album that day. After it felt like Godzilla picked up and shook the house, the only things that were left were the things I really cared about: my wife, my cats, my snakes and the new tape."
That's right, he said "wife." Bad boy Slash has finally settled down.
"Renee happens to be very unique. I mean, I'm the worst candidate for marriage, right? In fact, she knew who I was, but had no interest or desire to even meet me because of my reputation. I finally met her, though, and I followed her in my car and pumped her gas for her. Then I took her to lunch, and then to dinner. I sent her flowers and we've been together ever since."
Slash says his own guitar heroes include John McLaughlin, Eric Clapton, Jeff Beck, Jimmy Page, and not surprisingly, Mick Taylor and Keith Richards of the Rolling Stones. "We toured with the Stones for three weeks. If you ever see pictures of G&R and the Stones together, I wasn't in them. Why? I was very humbled by the Stones."
What are Slash's goals for the future? "I don't know, just really being into Snakepit and into making another record. I also really have to go back and focus on Guns at some point. I'm 29, going to be 30 this summer. I remember in the old days, when I was 18, the concept of making it to be 25 was hard to imagine. I guess I'm doing pretty good."

Blackstar

ADMIN




Posts

: 12236


Plectra

: 80262


Reputation

: 97


Join date

: 2018-03-17



---
Permissions in this forum:
You
cannot
reply to topics in this forum