Transcript:
----------------

Axl: I've never done anything like this before, so this will be kind of simple put together.

I've never really understood what the Rock and Roll Hall of Fame was about, but tonight I'm getting an education, and I'm thankful for that. I've always considered the Rock and Roll Hall of Fame kind of in my record collection, on my radio or now on MTV; but, more importantly, in our hearts and minds. The Rock and Roll Hall of Fame honors the musicians who make the music, that not only becomes the soundtrack to our lives, but it actually helps us get through each day of our life.

And for myself, as well as many others, no one has been there more for inspiration than Elton John.  Also when we talk of great rock duos, like Jimmy Page and Robert Plant, John and Paul, Mick and Keith, I like to think of Elton John and Bernie Taupin.

Also tonight I think that Elton should be honored for his great work and contribution in the fight against AIDS; and also his bravery in exposing all the triumphs and tragedies of his personal life, and the knowledge of these things helps ourselves get through things every day.

When I first heard "Bennie and the Jets," I knew at that time that I had to be a performer. So now a man, who in ways is responsible for more things than he ever planned on (laughs): Elton John.

----------------

Video from backstage:


Last edited by Blackstar on Fri Jul 26, 2019 7:50 pm; edited 1 time in total

Blackstar

ADMIN




Posts

: 3133


Plectra

: 21400


Reputation

: 91


Join date

: 2018-03-17



Article about the event, Hartford Courant, January 21, 1994: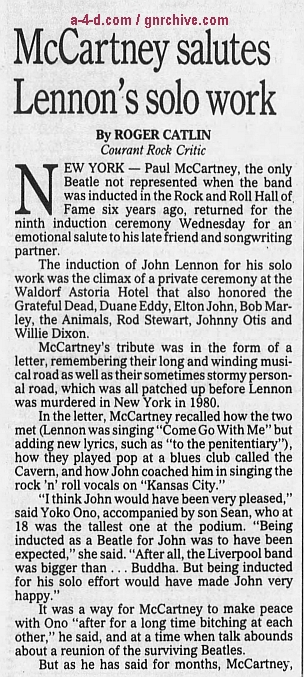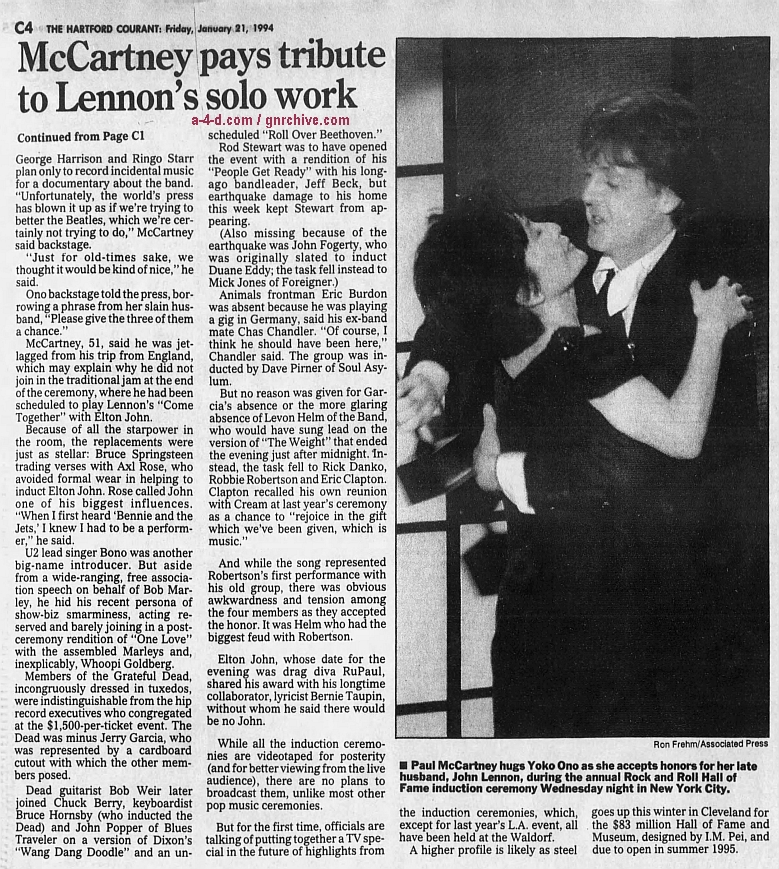 Transcript (excerpts):
---------------------------
[...]
McCartney, 51, said he was jet-lagged from his trip from England, which may explain why he did not join in the traditional jam at the end of the ceremony, where he had been scheduled to play Lennon's "Come Together" with Elton John.
Because of all the starpower in the room, the replacements were just as stellar: Bruce Springsteen trading verses with Axl Rose, who avoided formal wear in helping to induct Elton John. Rose called John one of his biggest influences. "When I first heard 'Bennie and the Jets,' I knew I had to be a performer," he said.
[...]
Elton John, whose date for the evening was drag diva RuPaul, shared his award with his longtime collaborator, lyricist Bernie Taupin, without whom he said there would be no John.

Blackstar

ADMIN




Posts

: 3133


Plectra

: 21400


Reputation

: 91


Join date

: 2018-03-17




---
Permissions in this forum:
You
cannot
reply to topics in this forum