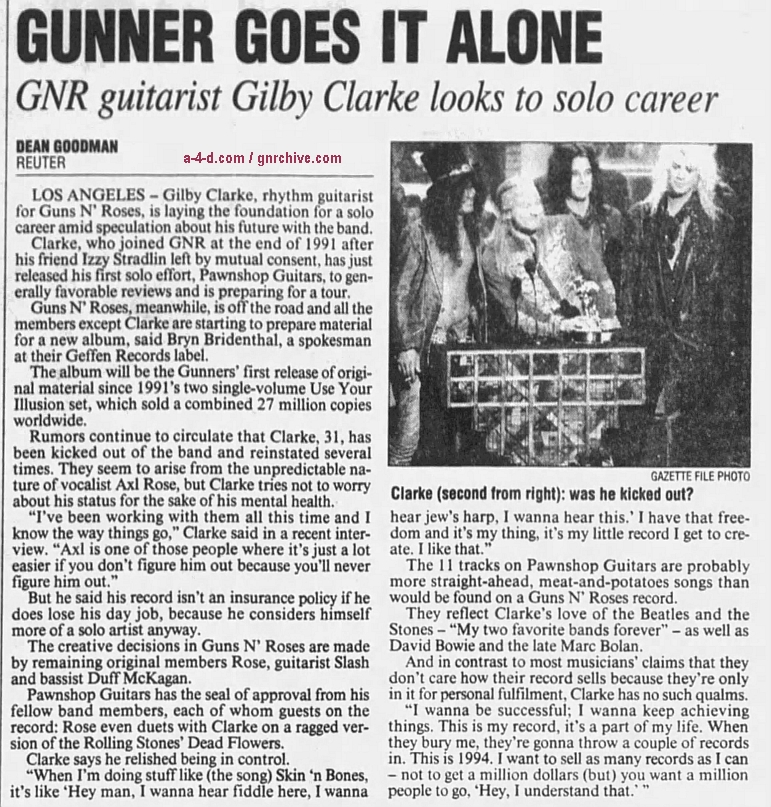 Transcript:
----------------
GUNNER GOES IT ALONE
GNR guitarist Gilby Clarke looks to solo career
DEAN GOODMAN
REUTER
LOS ANGELES - Gilby Clarke, rhythm guitarist for Guns N' Roses, is laying the foundation for a solo career amid speculation about his future with the band.
Clarke, who joined GNR at the end of 1991 after his friend Izzy Stradlin left by mutual consent, has just released his first solo effort, Pawnshop Guitars, to generally favorable reviews and is preparing for a tour.
Guns N' Roses, meanwhile, is off the road and all the members except Clarke are starting to prepare material for a new album, said Bryn Bridenthal, a spokesman at their Geffen Records label.
The album will be the Gunners' first release of original material since 1991's two single-volume Use Your Illusion set, which sold a combined 27 million copies worldwide.
Rumors continue to circulate that Clarke. 31, has been kicked out of the band and reinstated several times. They seem to arise from the unpredictable nature of vocalist Axl Rose, but Clarke tries not to worry about his status for the sake of his mental health.
"I've been working with them all this time and I know the way things go," Clarke said in a recent interview. "Axl is one of those people where it's just a lot easier if you don't figure him out because you'll never figure him out."
But he said his record isn't an insurance policy if he does lose his day job, because he considers himself more of a solo artist anyway.
The creative decisions in Guns N' Roses are made by remaining original members Rose, guitarist Slash and bassist Duff McKagan.
Pawnshop Guitars has the seal of approval from his fellow band members, each of whom guests on the record: Rose even duets with Clarke on a ragged version of the Rolling Stones' Dead Flowers.
Clarke says he relished being in control.
"When I'm doing stuff like (the song) Skin 'n Bones, it's like 'Hey man, I wanna hear fiddle here, I wanna
hear jew's harp. I wanna hear this.' I have that freedom and it's my thing, it's my little record I get to create. I like that."
The 11 tracks on Pawnshop Guitars are probably more straight-ahead, meat-and-potatoes songs than would be found on a Guns N' Roses record.
They reflect Clarke's love of the Beatles and the Stones - "My two favorite bands forever" - as well as David Bowie and the late Marc Bolan.
And in contrast to most musicians' claims that they don't care how their record sells because they're only in it for personal fulfilment. Clarke has no such qualms.
"I wanna be successful: I wanna keep achieving things. This is my record, it's a part of my life. When they bury me, they're gonna throw a couple of records in. This is 1994. I want to sell as many records as I can - not to get a million dollars (but) you want a million people to go. 'Hey, I understand that.'"

Blackstar

ADMIN




Posts

: 9414


Plectra

: 64297


Reputation

: 97


Join date

: 2018-03-17



---
Permissions in this forum:
You
cannot
reply to topics in this forum