Transcript:
----------------
Ex-Wife Sues Axl Rose, Alleges Years of Abuse
Axl Rose's ex-wife sued the lead singer of the rock group Guns N' Roses in Los Angeles on Monday for assault and battery, sexual battery, false imprisonment and intentional infliction of emotional distress.
Erin Everly's Superior Court suit charges that Rose repeatedly beat Ever-ly throughout their four-year relationship by punching, slapping, shoving and kicking her. The suit also says that Rose spit on Everly, hit her with "foreign objects" and dragged her by the hair.
Everly is seeking payment for injuries, pain and suffering and unspecified punitive damages. Rene Tatro, Everly's attorney, said she is considering asking the Los Angeles County district attorney's office to examine the complaint for possible criminal charges.
A spokeswoman for Rose said she could not comment because she had not seen the lawsuit.

Blackstar

ADMIN




Posts

: 9427


Plectra

: 64372


Reputation

: 97


Join date

: 2018-03-17



Associated Press/Albuquerque Journal, March 9, 1994
Transcript:
---------------
Axl Rose's Ex-Wife Sues Rocker, Seeks Damages for Alleged Abuse
THE ASSOCIATED PRESS
LOS ANGELES — Axl Rose's ex-wife accuses him in a lawsuit of punching her, slapping her, shoving her, kicking her, tying her up, gagging her, spitting on her and dragging her by the hair.
After one beating, the suit said, Erin Everly passed out and woke up in a hospital to learn she had been injected with heroin and cocaine and gone into cardiac arrest.
The former Mrs. Rose also said he forced her several times to have sex and claimed to be "in touch with spirit and extraterrestrial beings."
Rose, lead singer for Guns 'N Roses, wouldn't comment on the Superior Court suit filed Monday. Neither he nor his attorneys had seen it, said Bryn Bridenthal, a spokeswoman for the band's label, Geffen Records.
Rose, 32, and Everly, 28, met in 1986 and were married in April 1990. They stopped living together in 1991. She waited until now to sue Rose because she feared for her safety, her attorney, Rene Tatro, said.
Everly, the daughter of Don Everly of the Everly Brothers, is seeking unspecified compensation for injuries, pain and suffering, along with punitive damages.
She plans to give a deposition for a May trial over abuse allegations by Rose's ex-fiance, model Stephanie Seymour. Rose sued Seymour, accusing her of attacking him during a 1992 brawl at their home. Seymour countersued, saying he beat her up.

Blackstar

ADMIN




Posts

: 9427


Plectra

: 64372


Reputation

: 97


Join date

: 2018-03-17



Detroit Free Press, March 9, 1994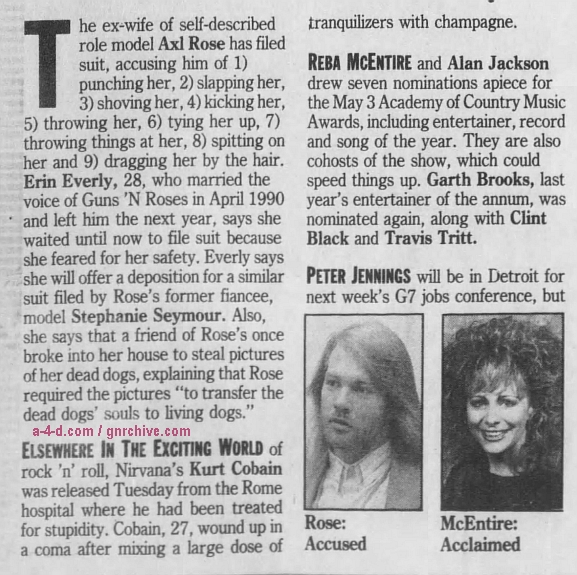 Transcript:
-----------------
The ex-wife of self-described role model Axl Rose has filed suit, accusing him of 1) punching her, 2) slapping her, 3) shoving her, 4) kicking her, 5) throwing her, 6) tying her up, 7) throwing things at her, 8) spitting on her and 9) dragging her by the hair. Erin Everly, 28, who married the voice of Guns 'N Roses in April 1990 and left him the next year, says she waited until now to file suit because she feared for her safety. Everly says she will offer a deposition for a similar suit filed by Rose's former fiancee, model Stephanie Seymour. Also, she says that a friend of Rose's once broke into her house to steal pictures of her dead dogs, explaining that Rose required the pictures "to transfer the dead dogs' souls to living dogs."

Blackstar

ADMIN




Posts

: 9427


Plectra

: 64372


Reputation

: 97


Join date

: 2018-03-17



---
Permissions in this forum:
You
cannot
reply to topics in this forum