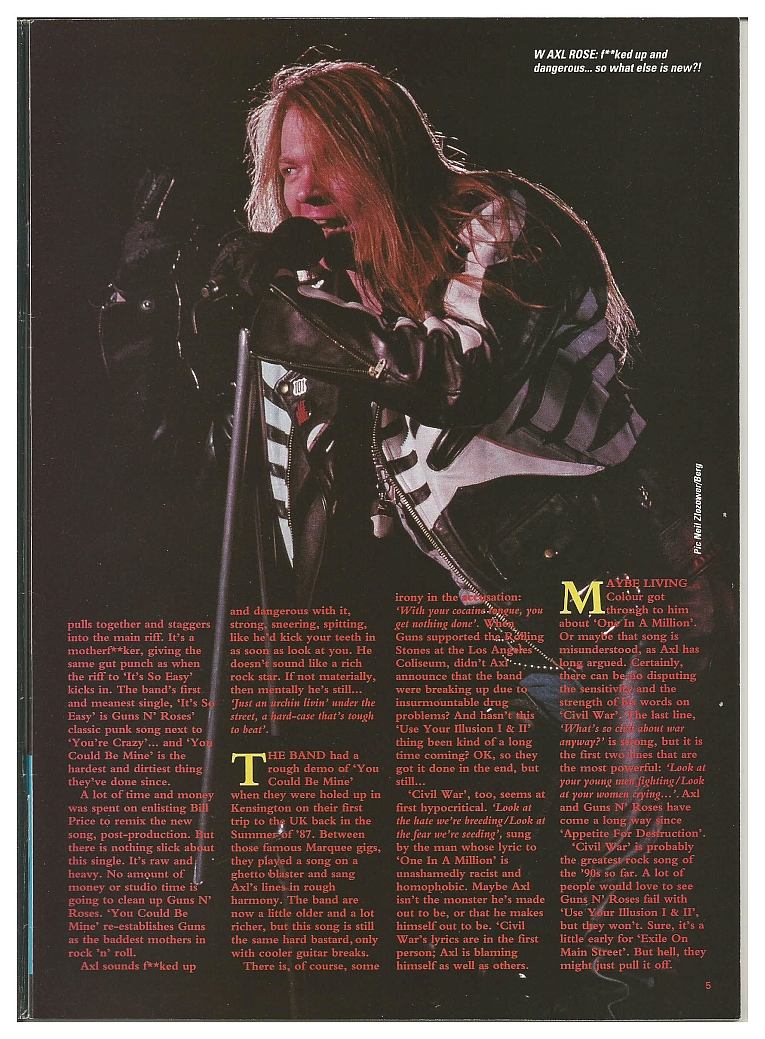 Transcript:
-------------------
SINGLEZ
It came out this past Monday and it's entitled 'You Could Be Mine'· It's the mega-delayed, much-anticipated new 45 from rock 'n' roll mad boys GUNS N' ROSES ...and here's a gratuitous two-page assessment of said single by PAUL ELLIOTT!
WITH YOUR bitch slap rappin' and your cocaine tongue, you get nothin' done
This, the last line on the inner bag of 'Appetite For Destruction', is the main thrust of 'You Could Be Mine', the first single from Guns N' Roses' 'Use Your Illusion' albums, specifically from volume II.
At around four years old, 'You Could Be Mine' is one of the oldest, if not
the
oldest, band original on the two new records.
Unsurprisingly, given its age, it's very much in the 'Appetite For Destruction' vein; certainly more so than 'Pretty Tied Up' and 'Double Talking Jive', the two numbers featured on the latest controversial 'Hard 'N' Heavy' video (since withdrawn from sale), the ballad 'November Rain' or 'Civil War' (first heard on the Romanian Orphan appeal compilation 'Nobody's Child', and now the B-side of this single).
From the film 'Terminator 2: Judgement Day' and featuring a menacing Arnold Schwarzenegger on the cover, 'You Could Be Mine' begins like a punk tune.
NEW DRUMMER Matt Sorum rattles out a frantic tattoo, shadowed by a percussive scratched guitar. Duff is first to pick up on the tempo before Slash and Izzy's guitars start to howl, harmonising slowly, then urgently, all the while bleeding feedback.
The whole band then pulls together and staggers into the main riff. It's a motherf**ker, giving the same gut punch as when the riff to 'It's So Easy' kicks in. The band's first and meanest single, 'It's So Easy' is Guns N' Roses' classic punk song next to 'You're Crazy'... and 'You Could Be Mine' is the hardest and dirtiest thing they've done since.
A lot of time and money was spent on enlisting Bill Price to remix the new song, post-production. But there is nothing slick about this single. It's raw and heavy. No amount of money or studio time is going to clean up Guns N' Roses. 'You Could Be Mine' re-establishes Guns as the baddest mothers in rock 'n' roll.
Axl sounds f**ked up and dangerous with it, strong, sneering, spitting, like he'd kick your teeth in as soon as look at you. He doesn't sound like a rich rock star. If not materially, then mentally he's still...
'Just an urchin livin' under the street, a hard-case that's tough to beat'.
THE BAND had a rough demo of 'You Could Be Mine' when they were holed up in Kensington on their first trip to the UK back in the Summer of '87. Between those famous Marquee gigs, they played a song on a ghetto blaster and sang Axl's lines in rough harmony. The band are now a little older and a lot richer, but this song is still the same hard bastard, only with cooler guitar breaks. There is, of course, some irony in the accusation: '
With your cocaine tongue, you get nothing done
'. When Guns supported the Rolling Stones Stones at the Los Angeles Coliseum, didn't Axl announce that the band were breaking up due to insurmountable drug problems? And hasn't this 'Use Your Illusion I & II' thing been kind of a long time coming? OK, so they got it done in the end, but still...
'Civil War', too, seems at first hypocritical.
'Look at the hate we're breeding/Look at the fear we're seeding'
, sung by the man whose lyric to 'One In A Million' is unashamedly racist and homophobic. Maybe Axl isn't the monster he's made out to be, or that he makes himself out to be. 'Civil War's lyrics are in the first person; Axl is blaming himself as well as others.
MAYBE LIVING Colour got through to him about 'One In A Million'. Or maybe that song is misunderstood, as Axl has long argued. Certainly, there can be no disputing the sensitivity and the strength of his words on 'Civil War'.  The last line, '
What's so civil about war anyway?
' is strong, but it is the first two lines that are the most powerful:
'Look at your young men fighting/Look at your women crying...
'. Axl and Guns N' Roses have come a long  way since 'Appetite For Destruction'.
'Civil War' is probably the greatest rock song of the '90s so far. A lot of people would love to see Guns N' Roses fail with 'Use Your Illusion I & II', but they won't. Sure, it's a little early for 'Exile On Main Street'. But hell, they might just pull it off.
***
GN'R latest news update: no 'Illusion' 'til September?
■ GUNS N' ROSES, the world's leading rock 'n' roll band, have once again postponed the release of their two new studio recordings, 'Use Your Illusion I' and '...II', until August 19. Delays again focus on the Bill Price remixes of several album tracks, which are still to be completed.
The new release date of August 19 is perilously close to the band's much-anticipated Wembley Stadium show on the 31st. Understandably, there are fears that the albums may not even make this revised release date. In fact,
Kerrang!
understands that the albums may not be available until after the Wembley gig - in September! This could prove to be disastrous for Guns, who would then be faced with playing a set full of unfamiliar material to a vast crowd.
September also sees major new album releases from Michael Jackson, Simply Red, U2 and Dire Straits, so competition for the Number One chart slot is likely to be intense.
Further to our story in issue 346, Metallica co-manager Peter Mensch contacted Kerrang! to deny that the Thrash giants were troubled by the release of the Guns' albums, then due on August 12, the same day that the new Metallica opus is due to emerge.
"We're not at all worried," said Mensch. "We think we've got a better record than Guns N' Roses have.
That'll be proved when they all come out. And by the way, the Metallica album will be untitled. It's not called 'Metallica'. It has no title, like Led Zeppelin's fourth album."
Guns N' Roses' new single, 'You Could Be Mine', was released by Geffen on Monday.

Blackstar

ADMIN




Posts

: 9414


Plectra

: 64297


Reputation

: 97


Join date

: 2018-03-17



Another article from the same issue.
Thanks to
@Surge
for sending it!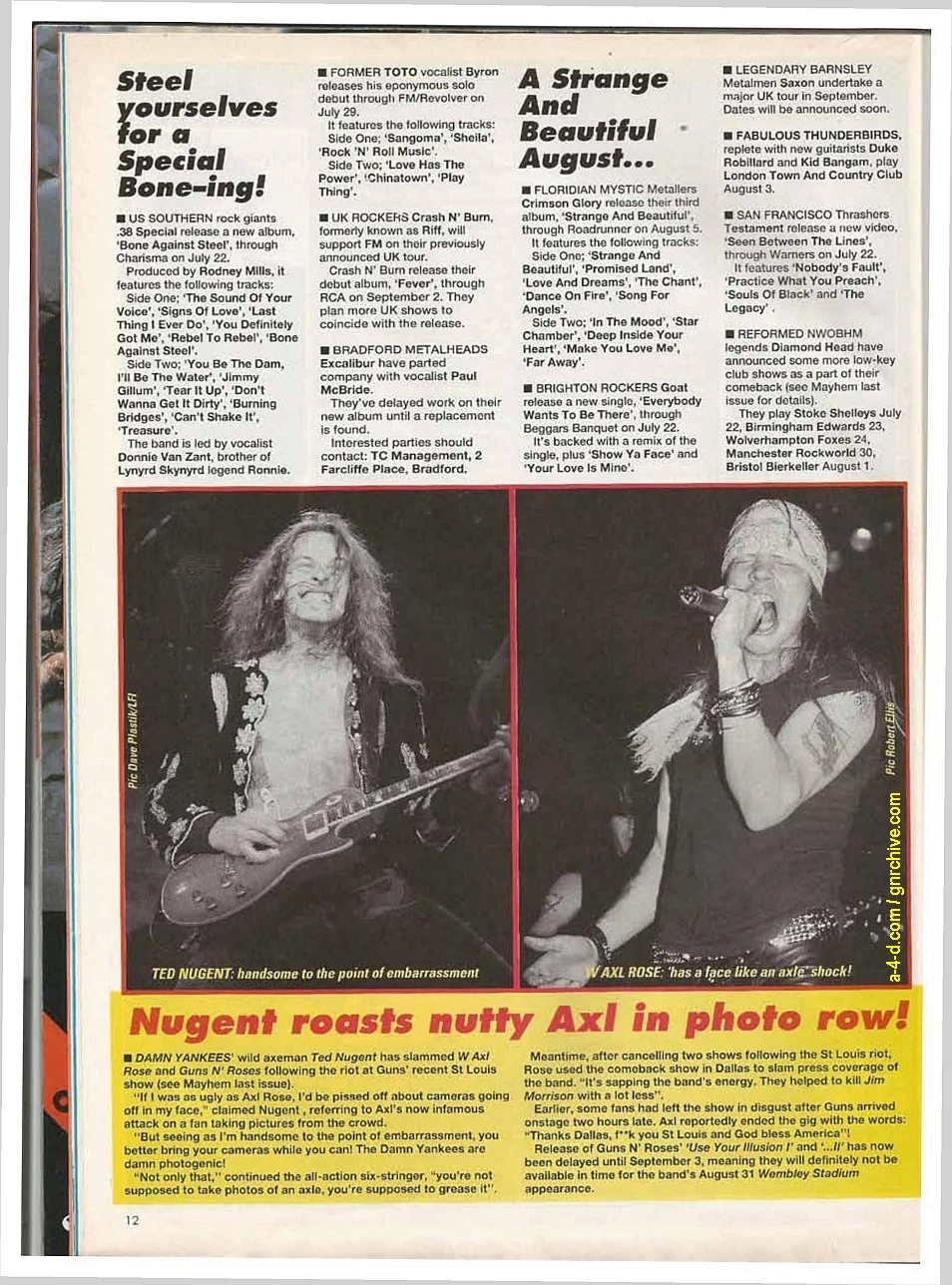 Transcript:
------------------
Nugent roasts nutty Axl in photo row!

DAMN YANKEES
' wild axeman
Ted Nugent
has slammed
W Axl Rose
and
Guns N' Roses
following the riot at Guns' recent St Louis show (see Mayhem last issue).
"If I was as ugly as Axl Rose, I'd be pissed off about cameras going off in my face,' claimed Nugent, referring to Axl's now infamous attack on a fan taking pictures from the crowd.
"But seeing as I'm handsome to the point of embarrassment, you better bring your cameras while you can! The Damn Yankees are damn photogenic!
"Not only that," continued the all-action six-stringer, -you're not supposed to take photos of an axle, you're supposed to grease it".
Meantime, after cancelling two shows following the St Louis riot, Rose used the comeback show in Dallas to slam press coverage of tho band. ''It's sapping the band's energy. They helped to kill
Jim Morrison
with a lot less".
Earlier, some fans had left the show in disgust after Guns arrived onstage two hours late. Axl reportedly ended the gig with the words: "Thanks Dallas, f**k you St Louis and God bless America"!
Release of Guns N' Roses'
'Use Your Illusion I'
and
'...II'
has now been delayed until September 3, meaning they will definitely not be available in time for the band's August 31
Wembley Stadium
appearance.

Blackstar

ADMIN




Posts

: 9414


Plectra

: 64297


Reputation

: 97


Join date

: 2018-03-17



---
Permissions in this forum:
You
cannot
reply to topics in this forum