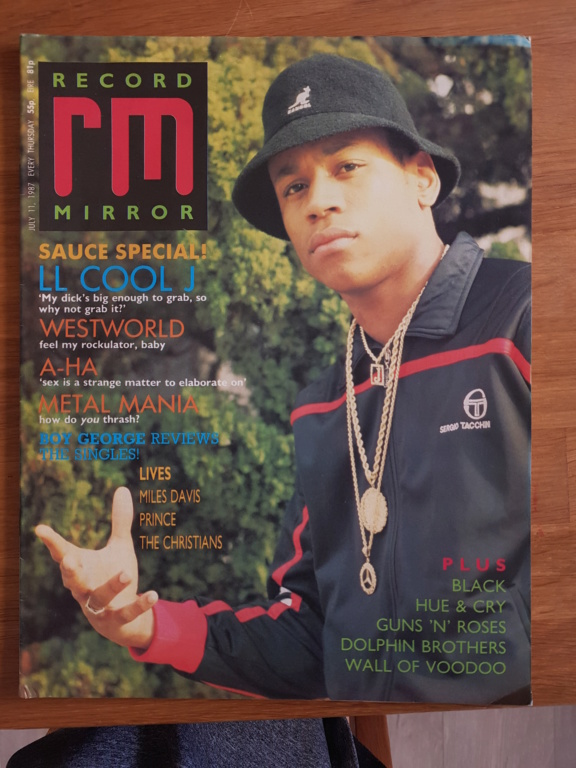 Transcript:
"WE FOUGHT EVERY INCH OF THE WAY TO GET OVER HERE TO PLAY THE MARQUEE"
Yup, despite liin' close to the edge on the streets of LA, gettin' in trouble with the Sheriff and havin' a wild and crazy rock 'n' roll reputation, Guns 'N' Roses say that playing in London's celebrated sweatbox hos been their dream ever since eighth grade. Pete Paisley takes his life in his hands to folk to the real-life Bad News. Rockshot by Jayne Houghton
In classic style
, the most notorious press about Guns 'N' Roses always lingers on their fights, their drugs, their police busts, their women. In classic rock 'N' roll style, it's
almost
all rubbish, too.
But when you go to interview a crew like Guns 'N' Roses — fuelled on LA juice, with names like Axl, Slash and lzzy and a pretty ugly reputation preceding and trailing them — you take precautions. At least, you try. But when the editor informs you your safety can't be guaranteed on such a sensitive mission, well, you're well and truly on your own.
I find the boys at their hotel, looking suitably like Bad News and lounging in front of the TV. They don't wanna talk, and they most certainly don't wanna have their photos taken. But I'm ushered up to a darkened room where guitarist and Ron Wood lookalike Izzy and singer AxI are eventually prompted to croak.
They used to live in a place called the Hellhouse on Los Angeles' infamous Santa Boulevard, a haven for prostitutes and drug-pushers. Rumour has it Guns 'N' Roses had a tough time there. Were they really on such bad terms with the LA law?
Izzy: "Yeah, all the time, every day. Things just happen. Nothing major. Confrontations. When you're travelling a lot there's a lot of energy there. There's nothing we do out of the ordinary. As a band things get twisted. ... And LA's so big that if there's a rumour it spreads fast."
Axl: "So many people hang round us," (Guns 'N' Roses have been touring the US for four years already) "and if they get in your way then you have to deal with it or they'll run you over. They want your money, your home, your girlfriend. You perform for them so they think they own you. We've had guys come to the shows standing outside the doors with 9mm Lugers waiting to blow me offstage. I told one of them that if he was going to do something he'd better make it good, 'cos if he didn't I'd be back to get him."
They catalogue several
more gun incidents that have injured members of their entourage, and it turns out Axl has five cases of harassment pending against him from the West Hollywood Sheriff's Department. He's already defended himself three times in court and sprung himself from various police charges. Could the law ironically be the next career step?
AxI: "Oh yeah. If I wasn't doing this I'd be in law. But right now I don't have time to study. I hope to. I always used to get As at school — it got to be boring. But there was no point getting As if I was still getting messed about at home. So I started singing."
What about?
Axl: "I don't like fantasy rock. I want something I can relate to or feel I've been through. The biggest judge of my songs isn't you, or the public, it's the person it was written about. If that person can read the song and go 'that's bullshit' then I've done a bad job. Apart from that I can't actually stand my own voice," (sounds a bit like the guy howling in 'Magnum') "but everyone else in this band is so scared of doing it that it's always left to me."
Most of their material — missionary position glam metal — seems to be about various people's drug problems. Wealth, and living in general, does seem to be a bit out of control in the land of the free, doesn't it, chaps?
Izzy: "But it's not all rich teenage billionaires. Only six miles from Beverly Hills you've got people just corroding, literally on the sidewalk."
Axl: "It's a challenge. It's there. You just have to go out and get round it. And I like doing it, honestly. If you go round ripping people off you won't get away with it free forever. No-one ever does. It's not like we had everything handed to us on a plate. We fought every inch of the way to get over here to play the Marquee. And that's a dream we've all had since eighth grade."
Guns 'N' Roses
are quick to claim their brawling press image is so much nonsense. But the sheer crazy grind of city-living in America does seem to leave them in a series of perpetual legal lurches. Nearly all of the tabloids' stories about them are rubbish. Problem is, the true stories seem to be worse!
Certainly Izzy (quietly enjoying his old blues tapes and his Rolling Stones biography) and Axl (a voracious novel reader) seem sane enough to talk to. But for how long? Their live set —New York Dolls without the clothes or the tunes — is smart enough, but it's a pretty familiar scene to British audiences. Their forthcoming album, for all its Hanoi Rocks-style bravado, is still heavy on the love songs.
Nevertheless, at least one writer has suggested that the band simply are not going to live long enough to gather their first royalty cheques. Could this possibly be true?
"Time will tell," says Izzy. "Time will tell."

Soulmonster

Stage manager







Posts

: 14730


Plectra

: 72393


Reputation

: 827


Join date

: 2010-07-06



---
Permissions in this forum:
You
cannot
reply to topics in this forum