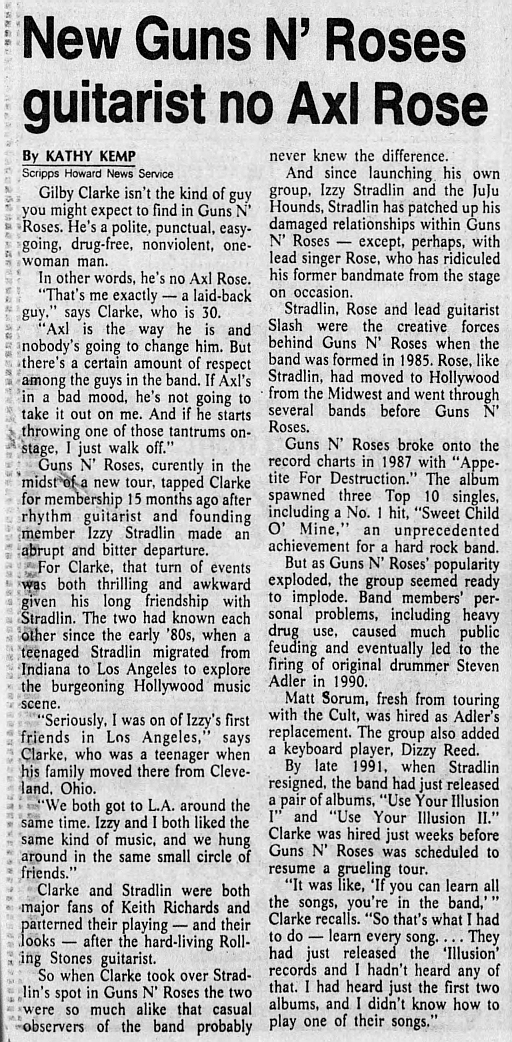 Transcript:
-----------------
New Guns N' Roses guitarist no Axl Rose
By KATHY KEMP
Scripps Howard News Service
Gilby Clarke isn't the kind of guy you might expect to find in Guns N' Roses. He's a polite, punctual, easygoing, drug-free, nonviolent, one-woman man.
In other words, he's no Axl Rose.
"That's me exactly — a laid-back guy." says Clarke, who is 30.
"Axl is the way he is and nobody's going to change him. But there's a certain amount of respect among the guys in the band. If Axl's in a bad mood, he's not going to take it out on me. And if he starts throwing one of those tantrums onstage, I just walk off."
Guns N' Roses, currently in the midst of a new tour, tapped Clarke for membership 15 months ago after rhythm guitarist and founding member Izzy Stradlin made an abrupt and bitter departure.
For Clarke, that turn of events was both thrilling and awkward given his long friendship with Stradlin. The two had known each other since the early '80s, when a teenaged Stradlin migrated from Indiana to Los Angeles to explore the burgeoning Hollywood music scene.
"Seriously, I was one of Izzy's first friends in Los Angeles," says Clarke, who was a teenager when his family moved there from Cleveland, Ohio.
"We both got to L.A. around the same time. Izzy and I both liked the same kind of music, and we hung around in the same small circle of friends."
Clarke and Stradlin were both major fans of Keith Richards and patterned their playing — and their looks — after the hard-living Rolling Stones guitarist.
So when Clarke took over Strad-lin's spot in Guns N' Roses the two were so much alike that casual observers of the band probably never knew the difference.
And since launching his own group, Izzy Stradlin and the JuJu Hounds, Stradlin has patched up his damaged relationships within Guns N' Roses — except, perhaps, with lead singer Rose, who has ridiculed his former bandmate from the stage on occasion.
Stradlin, Rose and lead guitarist Slash were the creative forces behind Guns N' Roses when the band was formed in 1985. Rose, like Stradlin, had moved to Hollywood from the Midwest and went through several bands before Guns N' Roses.
Guns N' Roses broke onto the record charts in 1987 with "Appetite For Destruction." The album spawned three Top 10 singles, including a No. 1 hit, "Sweet Child O' Mine," an unprecedented achievement for a hard rock band.
But as Guns N' Roses' popularity exploded, the group seemed ready to implode. Band members' personal problems, including heavy drug use, caused much public feuding and eventually led to the firing of original drummer Steven Adler in 1990.
Matt Sorum, fresh from touring with the Cult, was hired as Adler's replacement. The group also added a keyboard player, Dizzy Reed.
By late 1991, when Stradlin resigned, the band had just released a pair of albums, "Use Your Illusion I" and "Use Your Illusion II." Clarke was hired just weeks before Guns N' Roses was scheduled to resume a grueling tour.
"It was like, 'If you can learn all the songs, you're in the band,' " Clarke recalls. "So that's what I had to do — learn every song.... They had just released the 'Illusion' records and I hadn't heard any of that. I had heard just the first two albums, and I didn't know how to play one of their songs."

Blackstar

ADMIN




Posts

: 9285


Plectra

: 63245


Reputation

: 97


Join date

: 2018-03-17



---
Permissions in this forum:
You
cannot
reply to topics in this forum