This article was a preview for the show in Cincinnati which was rescheduled (after Axl blew his voice in Birmingham, Alabama) and eventually cancelled.
-------------------------------------------------------------------------------------------------------------------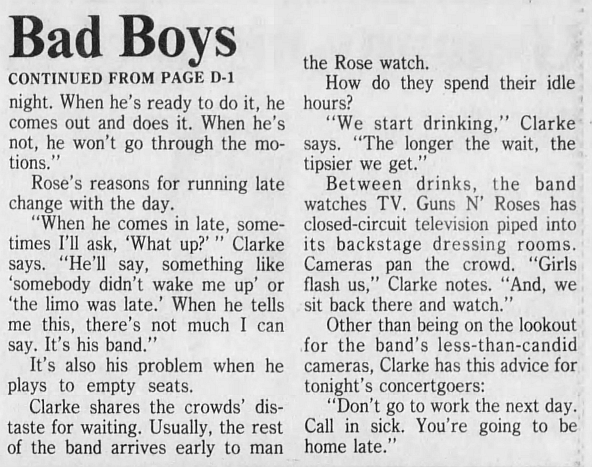 Transcript:
-------------------
Staying out late with the BAD BOYS
BY CLIFF RADEL
The Cincinnati Enquirer
Run for cover. Guns N' Roses is coming.
Rock 'n' roll's reigning band of bad boys plays Riverfront Coliseum on Saturday.
It will be a long and, possibly, stormy night.
Guns N' Roses is infamous for saying yes to drugs and presenting concerts that start late, run long — ending at 3 and 4 a.m. — and cause trouble.
■ December, 1992. While touring South America, Guns N' Roses runs afoul of the law in Chile (traces of cocaine are found on the band's plane) and Brazil (lead singer Axl Rose tosses a chair from a balcony of a Sao Paulo hotel).
■ July 2, 1991. Rose dives into a St. Louis crowd. He punches a man with a camera, smashes his microphone on stage and walks off. The crowd riots, causing 65 injuries and $300,000 in damages.
■ May 28-29, 1991. One-hundred-sixty-one concertgoers are arrested during the band's two-night stand at Indianapolis' Deer Creek Music Center. Rose is fined $5,000 for curfew violations and comparing Indiana, his home state, to a Nazi concentration camp.
"Hey, it's rock 'n' roll," says Gilby Clarke, Guns N' Roses' rhythm guitarist.
Bad track record
"Because of the band's track record, we will have a larger detail of officers at the concert as well as a drug unit," says Cincinnati Police Division Capt. Walter McAlpin.
"We are prepared for an extra long evening," says John Nath, coliseum vice-president and general manager.
Whenever a rock band with rebellion in its heart plays Cincinnati, it's a long night. This is where The Who tragedy of 1979 took place and claimed the lives of 11 concertgoers outside the coliseum. More recently, this is where Ted Nugent went to jail for shooting flaming arrows on stage Jan. 11 at Cincinnati Gardens.
"In general we are good boys," says Clarke, who replaced Izzy Stradlin in 1991. "We don't shoot flaming arrows. There's nothing we do on stage that is illegal."
The trouble is getting the band on stage. Rose has redefined the meaning of tardy. When Guns N' Roses played Dayton's Nutter Center Jan. 13, 1992, the group didn't take the stage until 12:25 a.m. The concert ended at 3:05 a.m.
"Lately we have been very close to being on time," Clarke notes. "In South America, where we had a new problem every day, we were very, very late. But in Australia, where we just got back from touring, we were pretty much on time."
There's on time. Then there's on time by way of Axl Standard Time. Rose lives in a time zone all his own. The rule of thumb for a Guns N' Roses concert is that the band takes the stage one hour after the opening act's last note.
That rule, however, is often thrown out the window.
"It just depends when Axl shows up," Clarke says.
And when he doesn't, that's when the fun begins.
Special seating
"If he waits until midnight to come on, we are prepared to deal with it," Nath says. "We have extra security people on the floor. But I don't want to say how many to give the little darlings any idea."
Since Guns N' Roses crowds tend to be energetic and prone to leaping on stage, Nath has changed the coliseum's floor seating for Saturday's show. The first six rows run continuously from side to side with no center aisles. In concert business terminology, this arrangement is called "continental seating" and it's designed, "to restrict points of entry to the stage."
Beer consumption at the coliseum also will be restricted. Nath has no set time to shut off the taps. But, "I'll be in close contact with backstage. If he's not coming out 'til midnight, we won't be selling alcoholic beverages all night long." Nath believes Rose's history of late arrivals has hurt the concert's ticket sales. "We are not sold out, and we're not going to sell out," he says. Ticket sales stand at 10,000 out of a possible 16,000.
"Maybe the bloom is off this Rose," Nath notes. "You have to respect the people who are making your fortune for you. You can't make them wait two to three hours in a building. They have lives, too."
Clarke knows this. He insists Rose does, too. "It has nothing to do with the fans," the guitarist says. "He does care about them. But it's just one of those things where he puts out everything he has every single night. When he's ready to do it, he comes out and does it. When he's not, he won't go through the motions."
Rose's reasons for running late change with the day.
"When he comes in late, sometimes I'll ask, 'What up?' " Clarke says. "He'll say, something like 'somebody didn't wake me up' or 'the limo was late.' When he tells me this, there's not much I can say. It's his band."
It's also his problem when he plays to empty seats.
Clarke shares the crowds' distaste for waiting. Usually, the rest of the band arrives early to man the Rose watch.
How do they spend their idle hours?
"We start drinking,'' Clarke says. "The longer the wait, the tipsier we get."
Between drinks, the band watches TV. Guns N' Roses has closed-circuit television piped into its backstage dressing rooms. Cameras pan the crowd. "Girls flash us," Clarke notes. "And, we sit back there and watch."
Other than being on the lookout for the band's less-than-candid cameras, Clarke has this advice for tonight's concertgoers:
"Don't go to work the next day. Call in sick. You're going to be home late."

Blackstar

ADMIN




Posts

: 12210


Plectra

: 80075


Reputation

: 97


Join date

: 2018-03-17



---
Permissions in this forum:
You
cannot
reply to topics in this forum