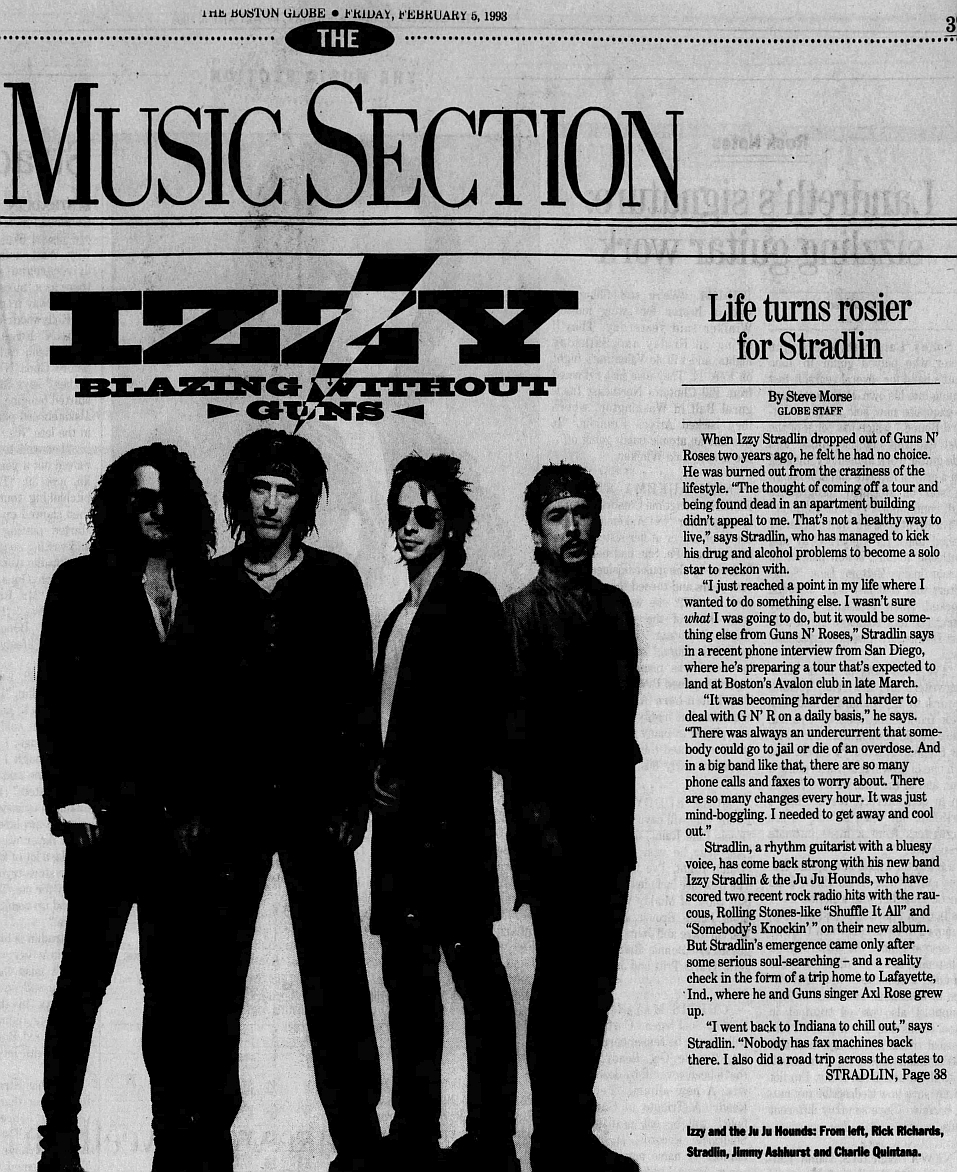 Transcript:
_____________
IZZY BLAZING WITHOUT GUNS
Life turns rosier for Stradlin
By Steve Morse
GLOBE STAFF
When Izzy Stradlin dropped out of Guns N' Roses two years ago, he felt he had no choice. He was burned out from the craziness of the lifestyle. "The thought of coming off a tour and being found dead in an apartment building didn't appeal to me. That's not a healthy way to live," says Stradlin, who has managed to kick his drug and alcohol problems to become a solo star to reckon with.
"I just reached a point in my life where I wanted to do something else. I wasn't sure what I was going to do, but it would be something else from Guns N' Roses," Stradlin says in a recent phone interview from San Diego, where he's preparing a tour that's expected to land at Boston's Avalon club in late March.
"It was becoming harder and harder to deal with G N' R on a daily basis," he says. "There was always an undercurrent that somebody could go to jail or die of an overdose. And in a big band like that, there are so many phone calls and faxes to worry about. There are so many changes every hour. It was just mind-boggling. I needed to get away and cool out."
Stradlin, a rhythm guitarist with a bluesy voice, has come back strong with his new band Izzy Stradlin & the Ju Ju Hounds, who have scored two recent rock radio hits with the raucous, Rolling Stones-like "Shuffle It All" and "Somebody's Knockin' " on their new album. But Stradlin's emergence came only after some serious soul-searching - and a reality check in the form of a trip home to Lafayette, Ind., where he and Guns singer Axl Rose grew up.
"I went back to Indiana to chill out," says Stradlin. "Nobody has fax machines back there. I also did a road trip across the states to see places like the Grand Canyon, Key West and New Orleans. I'd drive around and stay here and there as a tourist. But it helped just to get away from Hollywood."
Hollywood, of course, is where Guns N' Roses was hatched. "We had a band called Hollywood Rose before Guns N' Roses was put together," says Stadlin, who had first started hanging out with Axl Rose in a skateboard park back in Lafayette in the late '70s.
"I moved to L.A. first, then Axl moved out a year later," says Strad-lin, now 30. "Then Axl went on a hitchhiking tour across the states, then showed up again in LA and we started putting the band together and writing songs."
Stradlin went on to write or cowrite such Guns standards as "Patience," "Mr. Brownstone," "Double Talkin' Jive," "Pretty Tied Up" and "Dust N' Bones." But the band's maniacal lifestyle just proved too much.
"In 1989, I started to clean up," says Stradlin. "It was a home detox.
I didn't go to any rehabilitation center. I went cold turkey. But once I got off drugs, I thought I could still drink, though I then screwed up in an airplane and got very drunk and got arrested." (He's referring to an infamous episode in which he urinated in an airplane aisle.)
"I never was a good drinker. At 16, like a lot of kids, I'd hang out at a liquor store trying to get older guys to buy for me. Then later that night, I'd end up vomiting face down somewhere."
Stradlin is blunt, to say the least. And he's very blunt in saying he doesn't miss Guns N' Roses. "No, but I'm still on good terms with all the guys in the band," he says, though he admits he hasn't seen much of Axl Rose. "Axl is pretty insulated with lots of bodyguards and security."
Nor has Stradlin seen Guns perform, other than catching their pay-per-view concert from Paris last year. "Yeah, I spent my $25 to see it. It was strange watching them on TV. It seemed to go so slow. They had added six or seven people to the band - extra keyboards and harmonica and girls dressed up in bikinis playing horns. I couldn't hear a bit of it from the way the sound was mixed."
For sure, Stradlin doesn't miss the two-hour concert delays that Axl Rose created because of backstage procrastination that Stradlin never understood. "Not only does that drive the audience crazy, but it's hard on your road crew that has to take the stage down later. They might be up until sunup because of the delay. I once asked Axl what was
going on, but I never found out. I've known the guy for a really long time, but I didn't get an answer."
Stradlin has moved on to the Ju Ju Hounds, consisting of guitarist Rick Richards (formerly of the Georgia Satellites), bassist Jimmy Ash-hurst (formerly of Broken Homes) and drummer-percussionist Charlie Quintana, who's played with the Cruzados and Bob Dylan.
"We're a groove band," he says. "In that way, we're like the Stones. The groove and the vibe are always the most important things."
Speaking of the Stones, Stradlin recently opened for Stones guitarist Keith Richards in San Francisco. "He's the tops. He's been doing it for so long. I listened to him as a little kid, and 20 years later, here I am opening for him. Afterwards, I also got to hang out with him a bit. We mostly talked about technical things like amps, monitors and guitars. You know, guitar stuff."
Stradlin remembers falling in love with the Stones from listening to neighbors' records back in Indiana. "I lived in a government housing place and these neighbors were super cool. They had kids and a huge record collection with the Stones, Bob Dylan and Pink Floyd. So I listened to all that '60s stuff. Then in the late '70s, I got into all the punk records and really liked the Ra-mones."
This love of classic rock and punk was a signature of Guns N' Roses -and a signature of the Ju Ju Hounds. The Hounds traffic mostly in high-energy rock 'n' roll, but also surprise with a punky version of the reggae hit "Pressure Drop" by Toots & the Maytals. Another reggae track, "Can't Hear Him," featuring Jamaican singer Mikey Dread, is on a Ju Ju Hounds EP.
"I got turned on to reggae through Eric Clapton's version of 'I Shot the Sheriff,' and through the Stones album 'Black and Blue.' When I soaked up reggae, ironically, was when I was cleaning up. I started getting into all that old Bob Mar-ley, Peter Tosh and Toots & the Maytals music."
Stradlin is now at a point where other artists want to get into him. Aerosmith singer Steve Tyler wanted to write songs with him, though they couldn't work out a mutually convenient time. Pianists Ian McLa-gan and Nicky Hopkins, known for their work with the Stones, volunteered to help out on the new, epony-mously titled Ju Ju Hounds album.
"It's great to meet some of these guys I've been fans of for so many years," says Stradlin. "And it's great to be back on stage and playing clubs. I had been living in a stadium world with G N' R, which is like an altered state of reality. In stadiums, it's easy to forget you're playing for real people. I missed having people right there in front of me, which is what clubs are all about."

Blackstar

ADMIN




Posts

: 9427


Plectra

: 64372


Reputation

: 97


Join date

: 2018-03-17



---
Permissions in this forum:
You
cannot
reply to topics in this forum