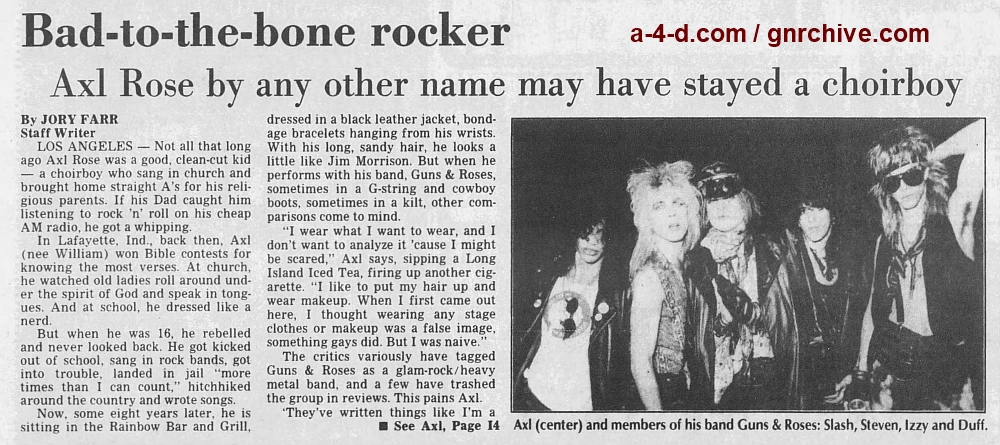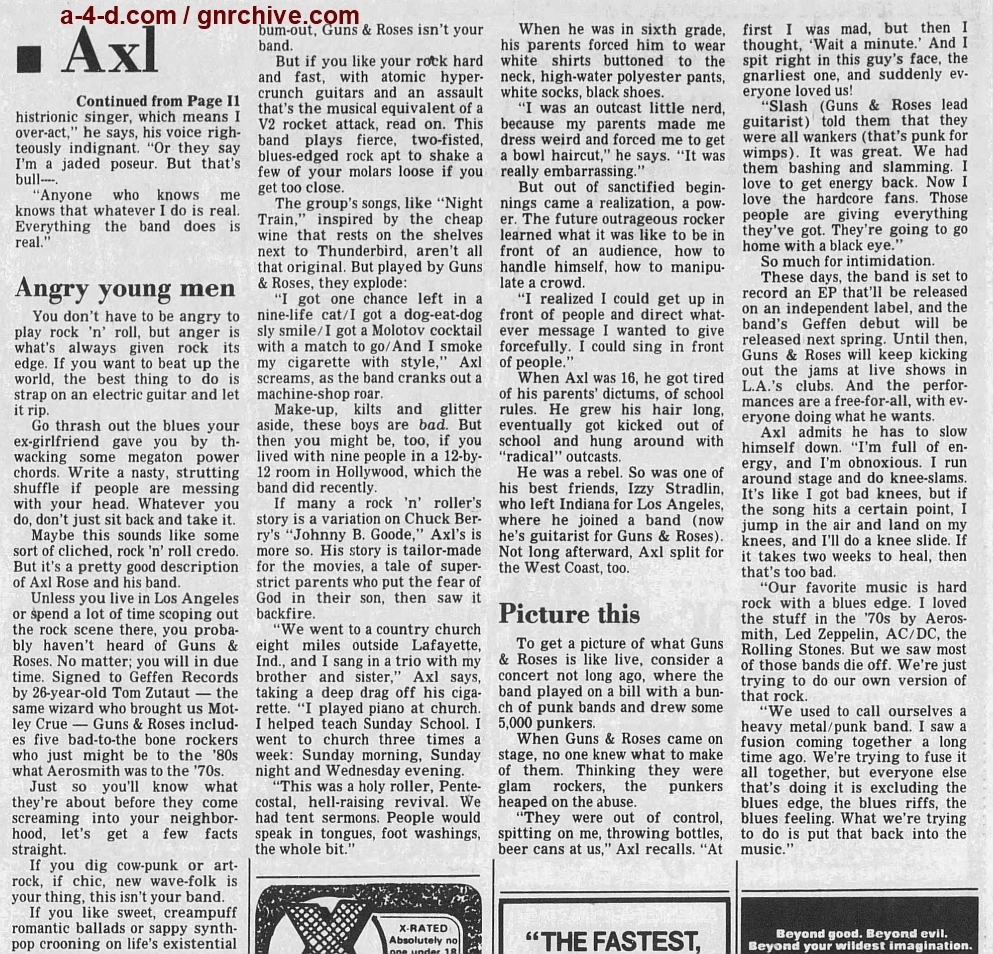 Transcript:
--------------
Bad-to-the-bone-rocker
Axl Rose by any other name may have stayed a choirboy
By JORY FARR
Staff Writer
LOS ANGELES – Not all that long ago Axl Rose was a good, clean-cut kid – a choirboy who sang in church and brought home straight A's for his religious parents. If his Dad caught him listening to rock 'n' roll on his cheap AM radio, he got a whipping. 
In Lafayette, Ind., back then, Axl (nee William) won Bible contests for knowing the most verses. At church, he watched old ladies roll around under the spirit of God and speak in tongues. And at school, he dressed like a nerd. 
But when he was 16, he rebelled and never looked back. He got kicked out of school, sang in rock bands, got into trouble, landed in jail "more times that I can count," hitchhiked around the country and wrote songs. 
Now, some eight years later, he is sitting in the Rainbow Bar and Grill, dressed in a black leather jacket, bondage bracelets hanging from his wrists. With his long, sandy hair, he looks a little like Jim Morrison. But when he performs with his band, Guns & Roses, sometimes in G-string and cowboy boots, sometimes in a kilt, other comparisons come to mind. 
"I wear what I want to wear, and I don't want to analyze it 'cause I might be scared," Axl says, sipping a Long Island Iced Tea, firing up another cigarette. "I like to put my hair up and wear makeup. When I first came here, I thought wearing any stage clothes or makeup was a false image, something gays did. But I was naive." 
The critics variously have tagged Guns & Roses as a glam-rock/heavy metal band, and a few have trashed the group in reviews. This pains Axl. 
"They've written things like I'm a histrionic singer, which means I over-act," he says, his voice righteously indignant. "Or they say I'm a jaded poseur. But that's bull---.
"Anyone who knows me knows that whatever I do is real. Everything the band does is real." 
Angry young men
You don't have to be angry to play rock 'n' roll, but anger is what's always give rock its edge. If you want to beat up the world, the best thing to do is strap on an electric guitar and let it rip. 
Go thrash out the blues your ex-girlfriend gave you by thwacking some megaton power chords. Write a nasty, strutting shuffle if people are messing with your head. Whatever you do, don't just sit back and take it. 
Maybe this sounds like some sort of cliched, rock 'n' roll credo. But it's a pretty good description of Axl Rose and his band. 
Unless you live in Los Angeles and spend a lot of time scoping out the rock scene there, you probably haven't heard of Guns & Roses. No matter; you will in due time. Signed to Geffen Records by 26-year-old Tom Zutaut – the same wizard who brought us Motley Crue – Guns & Roses includes five bad-to-the bone rockers who just might be to the 80s what Aerosmith was to the 70s. 
Just so you'll know what they're about before they come screaming into your neighborhood, let's get a few facts straight. 
If you dig cow-punk or art-rock, if chic, new wave-folk is your thing, this isn't your band.  
If you like sweet, creampuff romantic ballads or sappy synthesizers crooning on life's existential bum-out, Guns & Roses isn't your band.  
But if you like your rock hard and fast, with atomic hyper-crunch guitars and an assault that's the musical equivalent of a V2 rocket attack, read on. This band plays fierce, two-fisted, blues-edged rock apt to shake a few of your molars loose if you get too close. 
The group's songs, like "Night Train", inspired by the cheap wine that rests on the shelves next to Thunderbird, aren't all that original. But played by Guns & Roses, they explode: 
"I got one chance left in a nine-life cat/I got a dog-eat-dog sly smile/I got a Molotov cocktail with a match to go/And I smoke my cigarette with style," Axl screams, as the band cranks out a machine-shop roar. 
Make-up, kilts and glitter aside, these boys are
bad
. But then you might be, too, if you lived with nine people in a 12-by-12 room in Hollywood, which the band did recently. 
If many a rock 'n' roller's story is a variation on Chuck Berry's "Johnny B. Goode," Axl's is more so. His story is tailor-made for the movies, a tale of super-strict parents who put the fear of God in their son, then saw it backfire. 
"We went to a country church eight miles outside Lafayette, Ind., and I sang in a trio with my brother and sister," Axl says, taking a deep drag off his cigarette. "I played piano at church. I helped teach Sunday School. I went to church three times a week: Sunday morning, Sunday night and Wednesday evening. 
"This was a holy roller, Pentecostal, hell-raising revival. We had tent sermons. People would speak in tongues, foot washings, the whole bit." 
When he was in sixth grade, his parents forced him to wear white shirts buttoned to the neck, high-water polyester pants, white socks, black shoes. 
"I was an outcast little nerd, because my parents made me dress weird and forced me to get a bowl haircut," he says. "It was really embarrassing." 
But out of sanctified beginnings came a realization, a power. The future outrageous rocker learned what it was like to be in front of an audience, how to handle himself, how to manipulate a crowd. 
"I realized I could get up in front of people and direct whatever message I wanted to give forcefully. I could sing in front of people." 
When Axl was 16, he got tired of his parents dictums, of school rules. He grew his hair long, eventually got kicked out of school and hung around with "radical" outcasts. 
He was a rebel. So was one of his best friends, Izzy Stradlin, who left Indiana for Los Angeles, where he joined a band (now he's guitarist for Guns & Roses). Not long afterward, Axl split for the West Coast, too. 
Picture this
To get a picture of what Guns & Roses is like live, consider a concert not long ago, where the band played on a bill with a bunch of punk bands and drew some 5,000 punkers.  
When Guns & Roses came on stage, no one knew what to make of them. Thinking they were glam rockers, the punkers heaped on the abuse. 
"They were out of control, spitting on me, throwing bottles, beer cans at us," Axl recalls. "At first I was mad, but then I thought, 'Wait a minute.' And I spit right in this guy's face, the gnarliest one, and suddenly everyone loved us!
"Slash (Guns & Roses lead guitarist) told them that they were all wankers (that's punk for wimps). It was great. We had them bashing and slamming. I love to get energy back. Now I love the hardcore fans. Those people are giving everything they've got. They're going to go home with a black eye." 
So much for intimidation. 
These days, the band is set to record an EP that'll be released on an independent label, and the band's Geffen debut will be released next spring. Until then, Guns & Roses will keep kicking out the jams at live shows in L.A.'s clubs. And the performances are a free-for-all, with everyone doing what he wants. 
Axl admits he has to slow himself down. "I'm full of energy, and I'm obnoxious. I run around stage and do knee-slams. It's like I got bad knees, but if the song hits a certain point, I jump in the air and land on my knees, and I'll do a knee slide. If it takes two weeks to heal, then that's too bad.
"Our favorite music is hard rock with a blues edge. I loved the stuff in the '70s by Aerosmith, Led Zeppelin, AC/DC, the Rolling Stones. But we saw most of those bands die off. We're just trying to do our own version of that rock.
"We used to call ourselves a heavy metal/punk band. I saw a fusion coming together a long time ago. We're trying to fuse it together, but everyone else that's doing it is excluding the blues edge, the blues riffs, the blues feeling. What we're trying to do is put that back into the music."
Last edited by Blackstar on Wed Aug 10, 2022 3:21 pm; edited 2 times in total

Blackstar

ADMIN




Posts

: 11740


Plectra

: 77427


Reputation

: 96


Join date

: 2018-03-17




Blackstar

ADMIN




Posts

: 11740


Plectra

: 77427


Reputation

: 96


Join date

: 2018-03-17



ludurigan likes this post

ludurigan

&nbsp





Posts

: 421


Plectra

: 4834


Reputation

: 0


Join date

: 2016-04-23



---
Permissions in this forum:
You
cannot
reply to topics in this forum