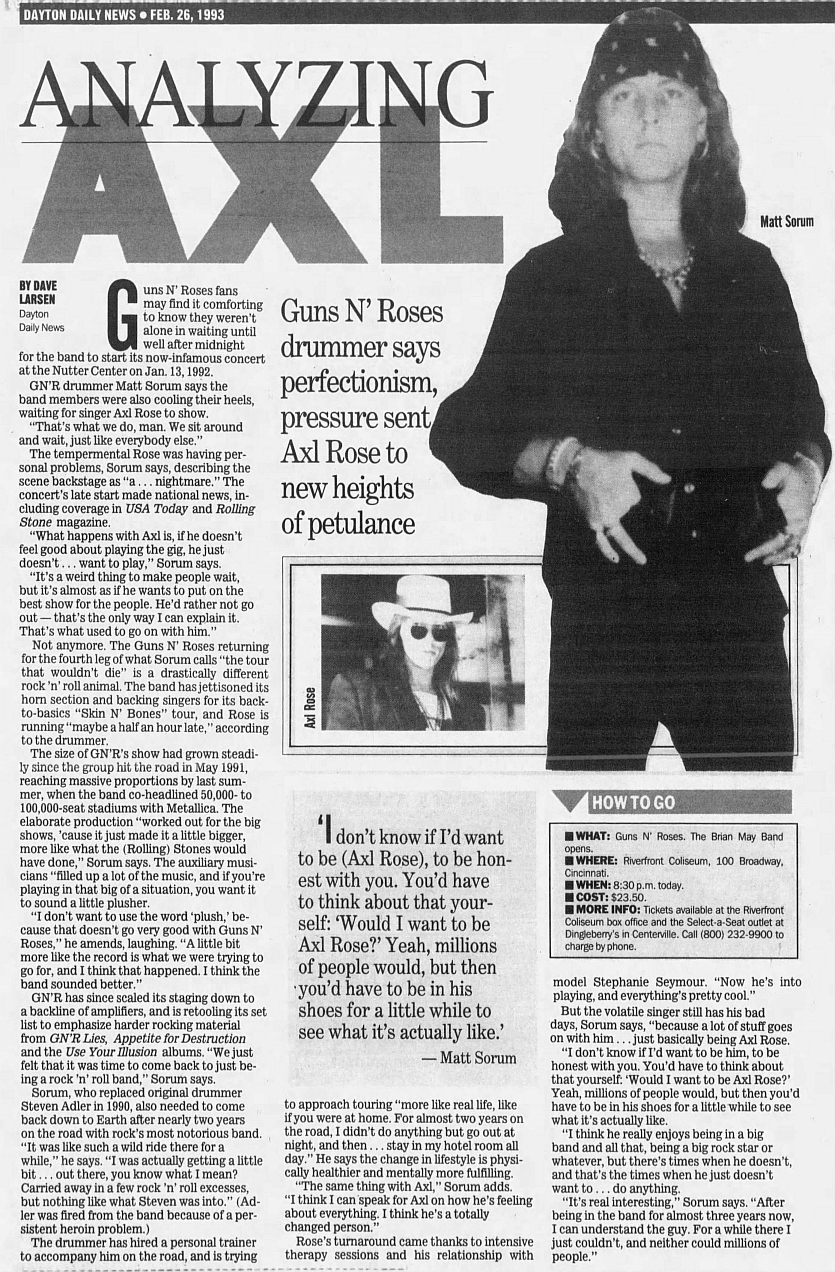 Transcript:
----------------
ANALYZING AXL
Guns N' Roses drummer says perfectionism, pressure sent Axl Rose to new heights of petulance
BY DAVE LARSEN
Dayton Daily News
Guns N' Roses fans may find it comforting to know they weren't alone in waiting until well after midnight for the band to start its now-infamous concert at the Nutter Center on Jan. 13, 1992.
GN'R drummer Matt Sorum says the band members were also cooling their heels, waiting for singer Axl Rose to show.
"That's what we do, man. We sit around and wait, just like everybody else.''
The temperamental Rose was having personal problems, Sorum says, describing the scene backstage as "a... nightmare." The concert's late start made national news, including coverage in
USA Today
and
Rolling Stone
magazine.
"What happens with Axl is, if he doesn't feel good about playing the gig, he just doesn't... want to play," Sorum says.
"It's a weird thing to make people wait, but it's almost as if he wants to put on the best show for the people. He'd rather not go out — that's the only way I can explain it. That's what used to go on with him."
Not anymore. The Guns N' Roses returning for the fourth leg of what Sorum calls "the tour that wouldn't die" is a drastically different rock 'n' roll animal. The band has jettisoned its horn section and backing singers for its back-to-basics "Skin N' Bones" tour, and Rose is running "maybe a half an hour late," according to the drummer.
The size of GN'R's show had grown steadily since the group hit the road in May 1991, reaching massive proportions by last summer, when the band co-headlined 50,000- to 100,000-seat stadiums with Metallica. The elaborate production "worked out for the big shows, 'cause it just made it a little bigger, more like what the (Rolling) Stones would have done," Sorum says. The auxiliary musicians "filled up a lot of the music, and if you're playing in that big of a situation, you want it to sound a little plusher.
"I don't want to use the word 'plush,' because that doesn't go very good with Guns N' Roses," he amends, laughing. "A little bit more like the record is what we were trying to go for, and I think that happened. I think the band sounded better."
GN'R has since scaled its staging down to a backline of amplifiers, and is retooling its set list to emphasize harder rocking material from
GN'R Lies
,
Appetite for Destruction
and the
Use Your illusion
albums. "We just felt that it was time to come back to just being a rock 'n' roll band," Sorum says.
Sorum, who replaced original drummer Steven Adler in 1990, also needed to come back down to Earth after nearly two years on the road with rock's most notorious band. "It was like such a wild ride there for a while," he says. "I was actually getting a little bit... out there, you know what I mean? Carried away in a few rock 'n' roll excesses, but nothing like what Steven was into." (Adler was fired from the band because of a persistent heroin problem.)
The drummer has hired a personal trainer to accompany him on the road, and is trying to approach touring "more like real life, like if you were at home. For almost two years on the road, I didn't do anything but go out at night, and then... stay in my hotel room all day." He says the change in lifestyle is physically healthier and mentally more fulfilling.
"The same thing with Axl," Sorum adds.
"I think I can speak for Axl on how he's feeling about everything. I think he's a totally changed person."
Rose's turnaround came thanks to intensive therapy sessions and his relationship with model Stephanie Seymour. "Now he's into playing, and everything's pretty cool."
But the volatile singer still has his bad days, Sorum says, "because a lot of stuff goes on with him... just basically being Axl Rose.
"I don't know if I'd want to be him, to be honest with you. You'd have to think about that yourself: 'Would I want to be Axl Rose?' Yeah, millions of people would, but then you'd have to be in his shoes for a little while to see what it's actually like.
"I think he really enjoys being in a big band and all that, being a big rock star or whatever, but there's times when he doesn't, and that's the times when he just doesn't want to... do anything.
"It's real interesting," Sorum says. "After being in the band for almost three years now, I can understand the guy. For a while there I just couldn't, and neither could millions of people."

Blackstar

ADMIN




Posts

: 9582


Plectra

: 65559


Reputation

: 97


Join date

: 2018-03-17



---
Permissions in this forum:
You
cannot
reply to topics in this forum