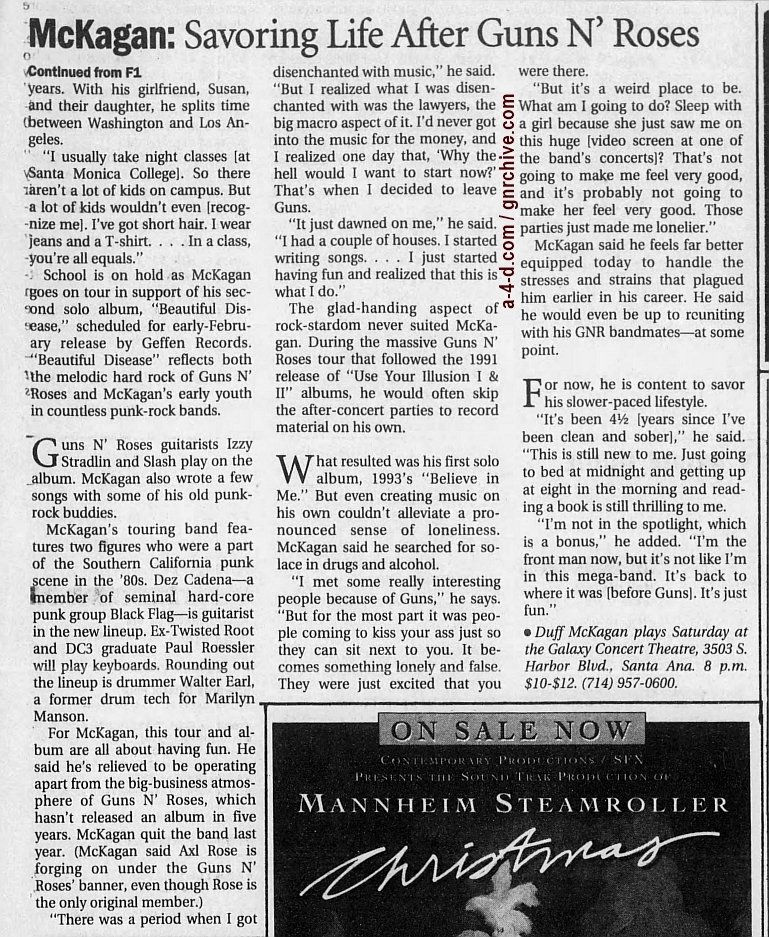 He's Out of the Jungle : After Vices Nearly Killed Him, Ex-GNR Bassist Savors Habits Like Books, Sports, Songwriting
November 27, 1998|JON MATSUMOTO | SPECIAL TO THE TIMES

In 1994, Duff McKagan found himself near death in a Seattle hospital--his pancreas had exploded. Years of alcohol and drug abuse had taken a massive toll on the deteriorating body of the bassist for notorious hard rock band Guns N' Roses.

"It was the constant seven-days-a-week drinking and drugs," McKagan said recently, speaking by phone from a house he bought recently in eastern Washington. "I couldn't wake up without there being a cocktail next to my bed. It was just constant abuse.

"I was in my house in Seattle when a small pain became acute. It was so bad that I couldn't pick up the phone to call anyone," he said. "Luckily, my best friend happened to come over to my house, and I got to [the emergency room]."

At the hospital, McKagan said, his personal physician told McKagan that he was unlikely to live. When McKagan was released eight days later, the doctor warned him that even one drink could kill him.

It was then, with a renewed appreciation of life, that McKagan--who performs Saturday at the Galaxy Concert Theatre in Santa Ana--beat his addictions cold turkey.

If he had been done in by his vices, few would have been surprised. After all, Guns N' Roses was the embodiment of rock 'n' roll decadence during its late-'80s, early-'90s heyday.

McKagan, 34, appears to be far different from the self-destructive and myopic young man of 10 years ago. The engaging Washington native speaks animatedly about everything from sports and his dedication to martial arts, to 15-month-old daughter Grace, to his love of learning.

Now he has a different habit: He's an information junkie who reads a book a week. He's been on a six-novel Hemingway binge.

*

"When I was a kid, I was really good in school," McKagan said. "It was kind of easy for me. I dropped out of high school because I was starting to tour in little punk-rock bands. So I took my [high-school equivalency exam] early."

McKagan also has been a sporadic business student in recent years. With his girlfriend, Susan, and their daughter, he splits time between Washington and Los Angeles.

"I usually take night classes [at Santa Monica College]. So there aren't a lot of kids on campus. But a lot of kids wouldn't even [recognize me]. I've got short hair. I wear jeans and a T-shirt. . . . In a class, you're all equals."

School is on hold as McKagan goes on tour in support of his second solo album, "Beautiful Disease," scheduled for early-February release by Geffen Records. "Beautiful Disease" reflects both the melodic hard rock of Guns N' Roses and McKagan's early youth in countless punk-rock bands.

*

Guns N' Roses guitarists Izzy Stradlin and Slash play on the album. McKagan also wrote a few songs with some of his old punk-rock buddies.

McKagan's touring band features two figures who were a part of the Southern California punk scene in the '80s. Dez Cadena--a member of seminal hard-core punk group Black Flag--is guitarist in the new lineup. Ex-Twisted Root and DC3 graduate Paul Roessler will play keyboards. Rounding out the lineup is drummer Walter Earl, a former drum tech for Marilyn Manson.

For McKagan, this tour and album are all about having fun. He said he's relieved to be operating apart from the big-business atmosphere of Guns N' Roses, which hasn't released an album in five years. McKagan quit the band last year. (McKagan said Axl Rose is forging on under the Guns N' Roses' banner, even though Rose is the only original member.)

"There was a period when I got disenchanted with music," he said. "But I realized what I was disenchanted with was the lawyers, the big macro aspect of it. I'd never got into the music for the money, and I realized one day that, 'Why the hell would I want to start now?' That's when I decided to leave Guns.

"It just dawned on me," he said. "I had a couple of houses. I started writing songs. . . . I just started having fun and realized that this is what I do."

The glad-handing aspect of rock-stardom never suited McKagan. During the massive Guns N' Roses tour that followed the 1991 release of "Use Your Illusion I & II" albums, he would often skip the after-concert parties to record material on his own.

*

What resulted was his first solo album, 1993's "Believe in Me." But even creating music on his own couldn't alleviate a pronounced sense of loneliness. McKagan said he searched for solace in drugs and alcohol.

"I met some really interesting people because of Guns," he says. "But for the most part it was people coming to kiss your ass just so they can sit next to you. It becomes something lonely and false. They were just excited that you were there.

"But it's a weird place to be. What am I going to do? Sleep with a girl because she just saw me on this huge [video screen at one of the band's concerts]? That's not going to make me feel very good, and it's probably not going to make her feel very good. Those parties just made me lonelier."

McKagan said he feels far better equipped today to handle the stresses and strains that plagued him earlier in his career. He said he would even be up to reuniting with his GNR bandmates--at some point.

*

For now, he is content to savor his slower-paced lifestyle.

"It's been 4 1/2 [years since I've been clean and sober]," he said. "This is still new to me. Just going to bed at midnight and getting up at eight in the morning and reading a book is still thrilling to me.

"I'm not in the spotlight, which is a bonus," he added. "I'm the front man now, but it's not like I'm in this mega-band. It's back to where it was [before Guns]. It's just fun."

Soulmonster

Stage manager







Posts

: 14766


Plectra

: 72592


Reputation

: 827


Join date

: 2010-07-06



---
Permissions in this forum:
You
cannot
reply to topics in this forum