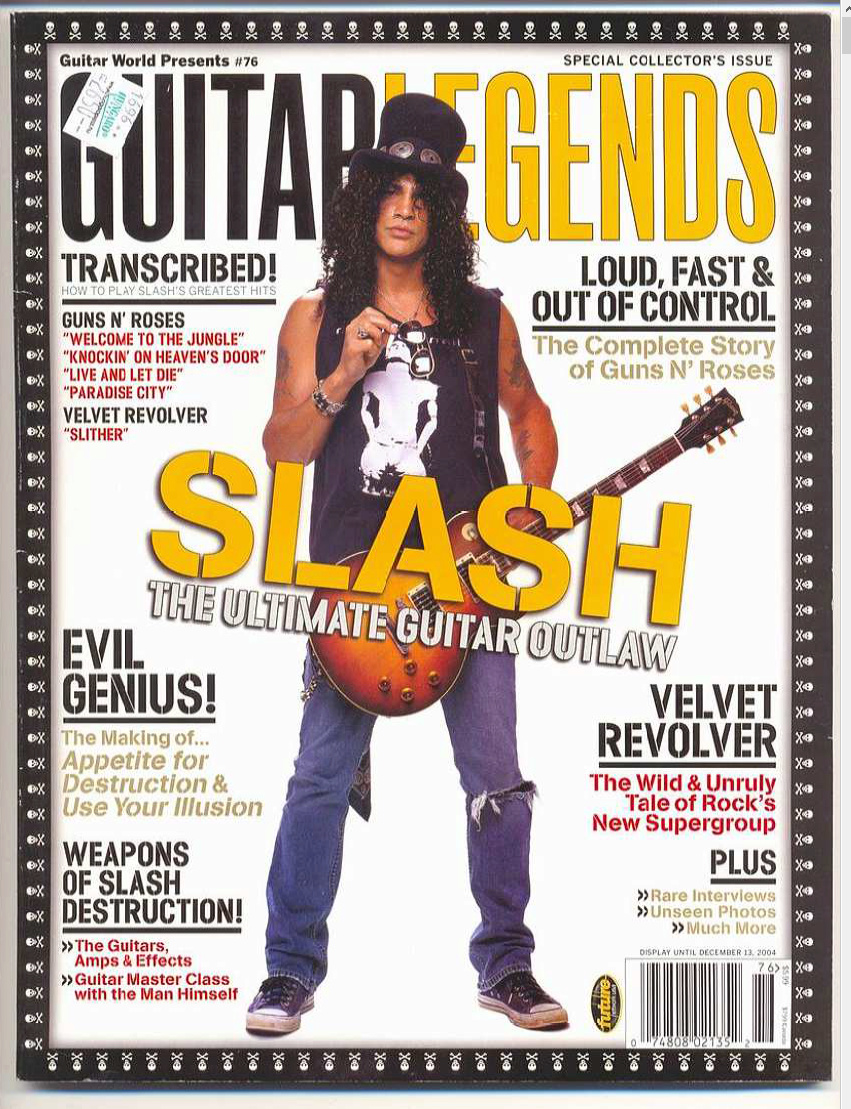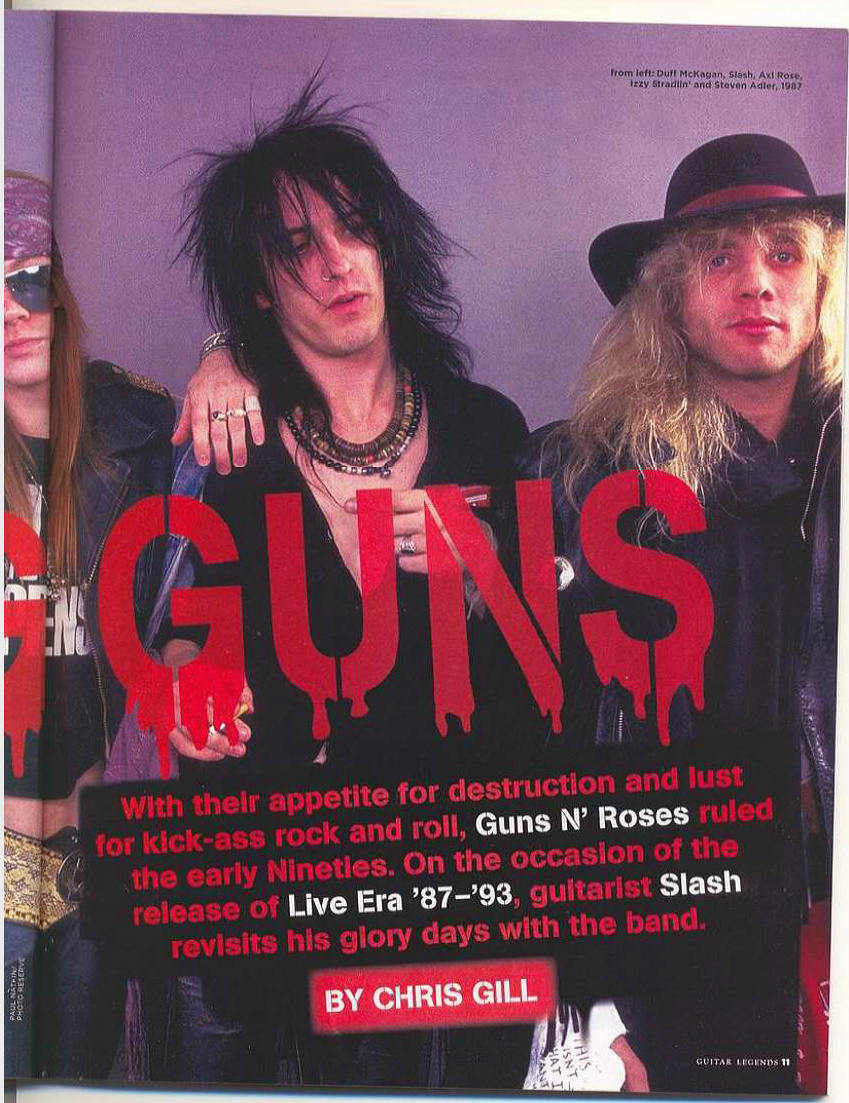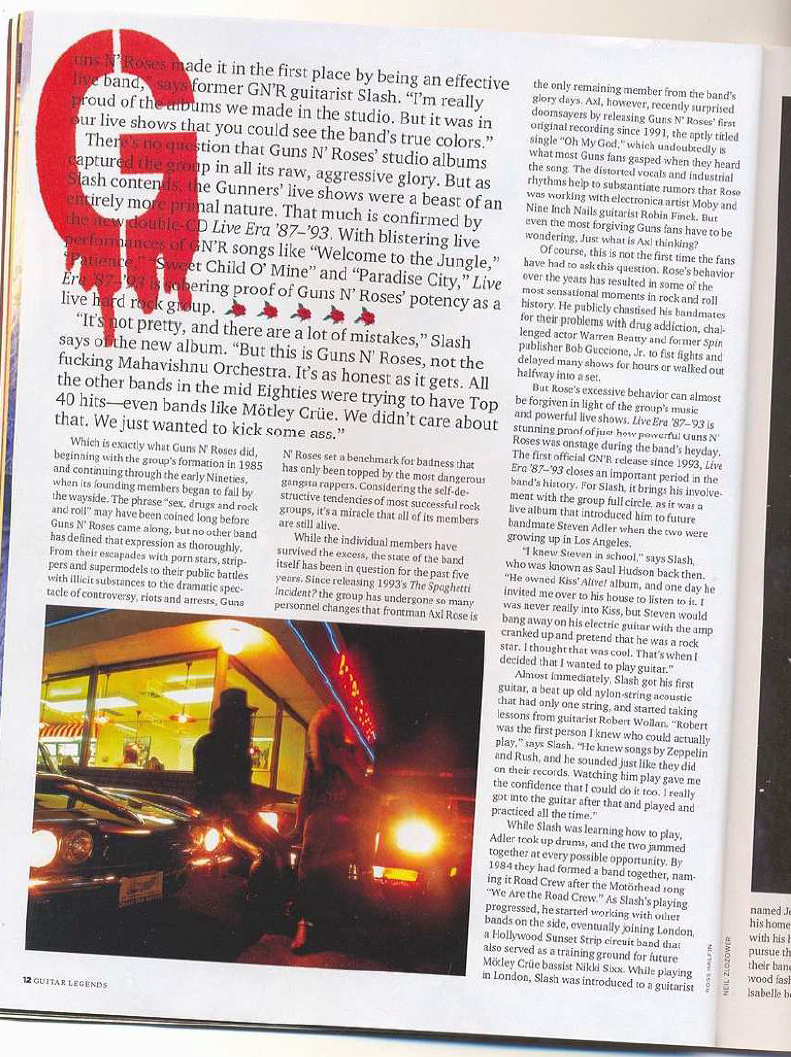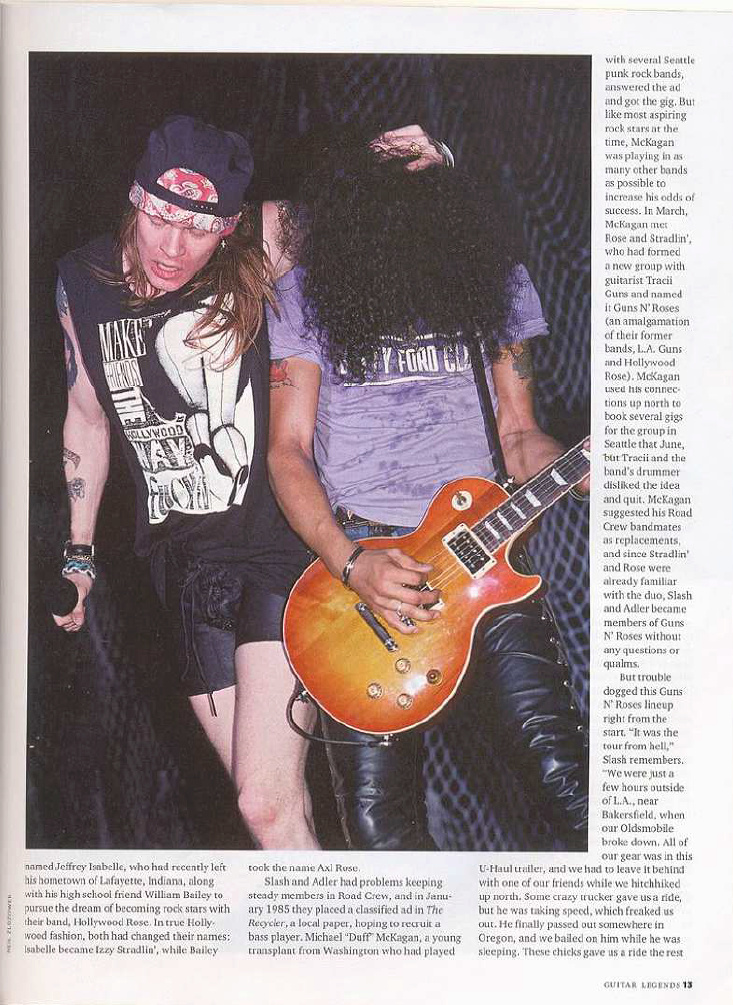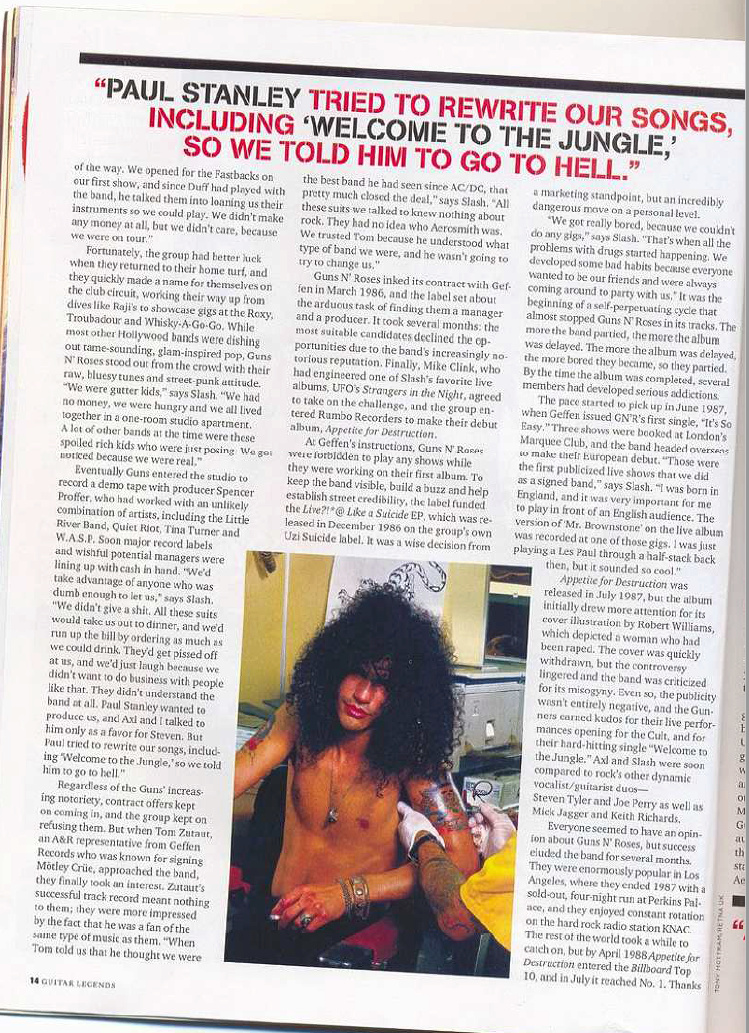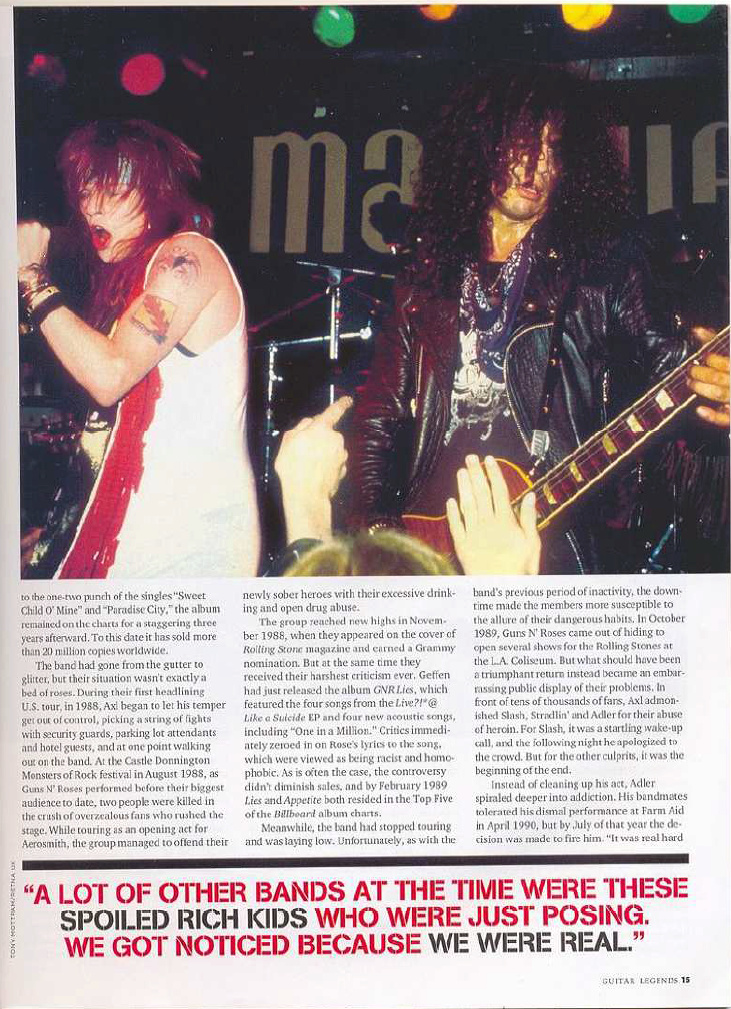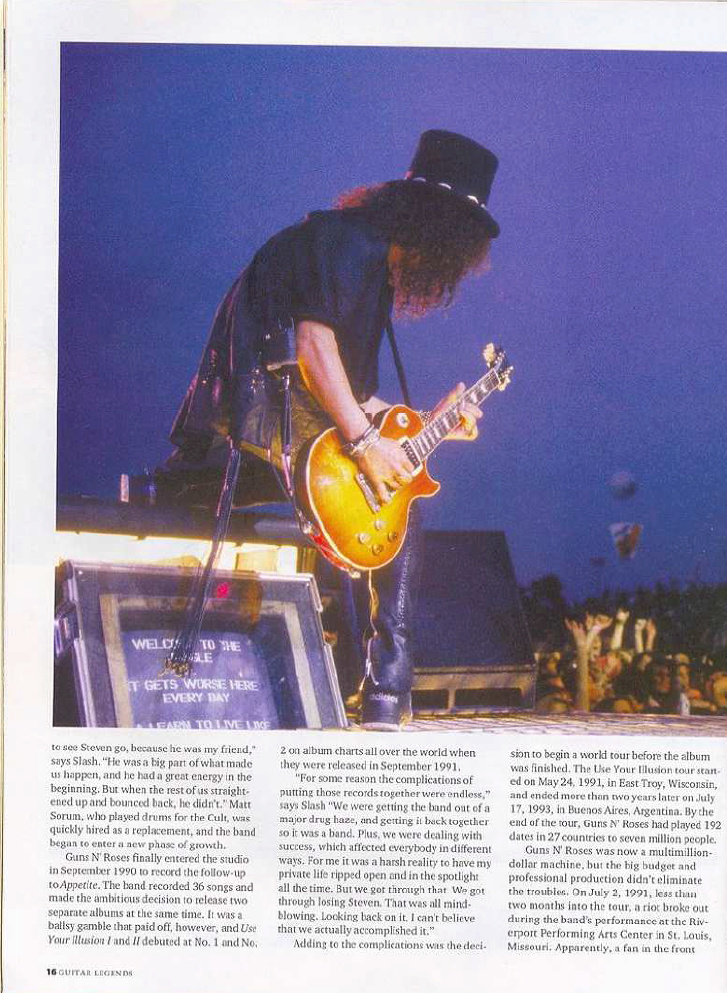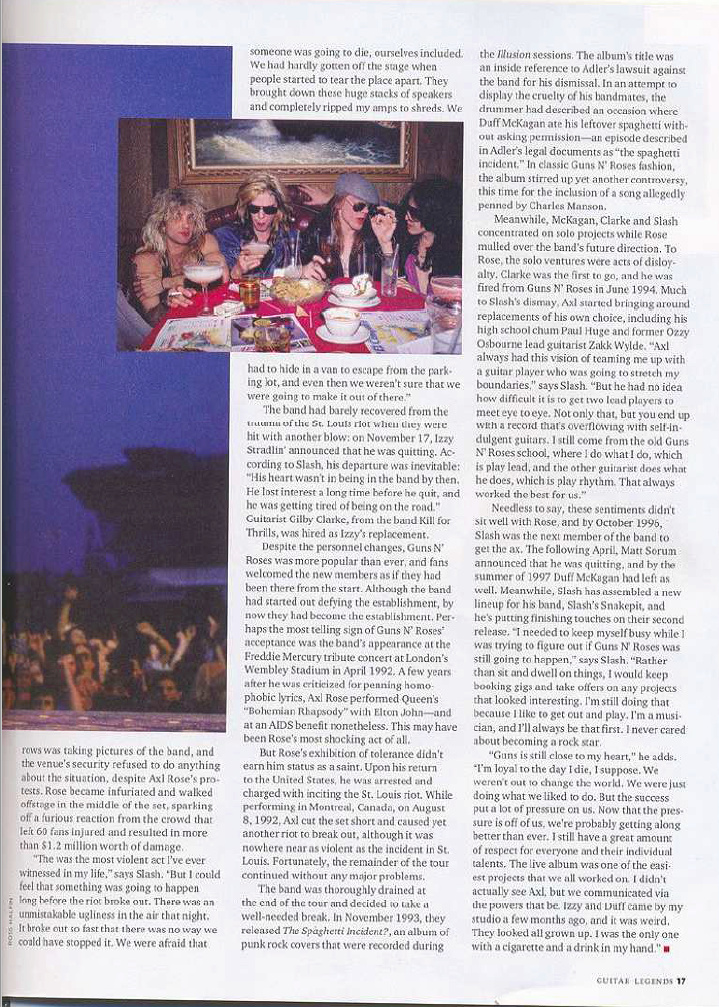 Transcript:
YOUNG GUNS
With their appetite for destruction and lust for kick-ass rock and roll, Guns N' Roses ruled the early Nineties. On the occasion of the release of Live Era '87-'93, guitarist Slash revisits his glory days with the band.
BY CHRIS GILL
"Guns N' Roses made it in the first place by being an effective live band," says former GN'R guitarist Slash. "I'm really proud of the albums we made in the studio. But it was in our live shows that you could see the band's true colors."
There's no question that Guns N' Roses' studio albums captured the group in all its raw, aggressive glory. But as Slash contends, the Gunners' live shows were a beast of an entirely more primal nature. That much is confirmed the new double CD
Live Era '87-'89
. With blistering live GN'R songs like "Welcome to the Jungle," "Patience," "Sweet Child O' Mine" and "Paradise City,"
Live Era '87-'93
is offering proof of Guns N' Roses' potency as a live hard rock group.
"It's not pretty, and there are a lot of mistakes," Slash says of the new album. "But this is Guns N' Roses, not the fucking Mahavishnu Orchestra. It's as honest as it gets. All the other bands in the mid Eighties were trying to have Top 40 hits—even bands like Motley Crites We didn't care about that. We just wanted to kick some ass."
Which is exactly what Guns N' Roses did, beginning with the group's formation in 1985 and continuing through the early Nineties, when its founding members began to fall by the wayside. The phrase "sex, drugs and rock and roll" may have been coined long before Guns N' Roses came along, but no other band has defined that expression as thoroughly. From their escapades with porn stars, strippers and supermodels to their public battles with illicit substances to the dramatic spectacle of controversy, riots and arrests, Guns N' Roses set a benchmark for badness that has only been topped by the most dangerous gangsta rappers. Considering the self-destructive tendencies of most successful rock groups, it's a miracle that all of Its members are still alive.
While the individual members have survived the excess, the state of the band itself has been in question for the past five years. Since releasing 1993's
The Spaghetti Incident?
the group has undergone so many personnel changes that frontman Axl Rose is the only remaining member from the band's glory days. Axl, however, recently surprised doomsayers by releasing Guns N' Roses first original recording since 1991, the aptly titled single "Oh My God," which undoubtedly is what most Guns fans gasped when they heard the song. The distorted vocals and industrial rhythms help to substantiate rumors that Rose was working with electronica artist Moby and Nine Inch Nails guitarist Robin Finck. But even the most forgiving Guns fans have to be wondering, Just what is Axl thinking?
Of course, this is not the first time the fans have had to ask this question. Rose's behavior over the years has resulted in some of the most sensational moments In rock and roll a history. He publicly chastised his bandmates for their problems with drug addiction, challenged actor Warren Beatty and former
Spin
publisher Bob Guccione, Jr. to fist fights and delayed many shows for hours or walked out halfway into to set.
But Rose's excessive behavior can almost be forgiven in light of the group's music and powerful live shows.
Live Era 87-'93
is stunning proof of how powerful Guns N' Roses was onstage during the band's heyday. The first official GN'R release since 1993,
Live Era '87-'93
closes an important period in the as band's history. For Slash, it brings his involvement with the group full circle, as it was a live album that introduced him to future bandmate Steven Adler when the two were growing up in Los Angeles.
"I knew Steven in school," says Slash, who was known as Saul Hudson back then. "He owned Kiss'
Alive
album, and one day he invited me over to his house to listen to it. I was never really into Kiss, but Steven would bang away on his electric guitar with the amp cranked up and pretend that he was a rock star. I thought that was cool, That's when I decided that I wanted to play guitar."
Almost immediately, Slash got his first guitar, a beat up old nylon-string acoustic that had only one string, and started taking lessons from guitarist Robert Wollan. "Robert was the first person I knew who could actually play," says Slash. "He knew songs by Zeppelin and Rush, and he sounded just like they did on their records. Watching him play gave me the confidence that I could do it too. I really got into the guitar after that and played and practiced all the time."
While Slash was learning how to play, Adler took up drums, and the two jammed together at every possible opportunity. By 1984 they had formed a band together, naming it Road Crew after the Motorhead song "We Are the Road Crew." As Slash's playing progressed, he started working with other bands on the side, eventually joining London, a Hollywood Sunset Strip circuit band that also served as a training ground for future Motley Crue bassist Nikki Sixx. While playing in London, Slash was introduced to a guitarist named Jeffrey Isabelle, who had recently left his hometown of Lafayette, Indiana, along with his high school friend William Bailey to pursue the dream of becoming rock stars with their hand, Hollywood Rose. In true Hollywood fashion, both had changed their names; Isabelle became Izzy Stradlin', while Bailey took the name Axl Rose.
Slash and Adler had problems keeping steady members in Road Crew, and in January 1985 they placed a classified ad in
The Recycler
, a local paper, hoping to recruit a bass player. Michael "Duff" McKagan, a young transplant from Washington who had played with several Seattle punk rock bands, answered the ad and got the gig. But like most aspiring rock stars at the time, McKagan was playing in as many other bands as possible to increase his odds of success. In March, McKagan met Rose and Stradlin. who had formed a new group with guitarist Tracii Guns and named it Guns N' Roses (an amalgamation of their former bands, LA. Guns and Hollywood Rose). McKagan used his connections up north to book several gigs for the group in Seattle that June, but Tracii and the band's drummer disliked the idea and quit. McKagan suggested his Road Crew bandmates as replacements and since Stradlin' and Rose were already familiar with the duo, Slash and Adler became members of Guns N' Roses without any questions or qualms.
But trouble dogged this Guns N' Roses lineup right from the start. "It was the tour from hell," Slash remembers.
"We were just a few hours outside of L.A., near Bakersfield, when our Oldsmobile broke down. All of our gear was in this U-Haul trailer, and we had to leave it behind with one of our friends while we hitchhiked up north. Some crazy trucker gave us a ride, but he was taking speed, which freaked us out. He finally passed out somewhere in Oregon, and we bailed on him while he was sleeping. These chicks gave us a ride the rest of the way. We opened for the Fastbacks on our first show, and since Duff had played with the band, he talked them into loaning us their instruments so we could play. We didn't make any money at all, but we didn't care, because we were on tour."
Fortunately, the group had better luck when they returned to their home turf, and they quickly made a name for themselves on the club circuit, working their way up from dives like Raji's to showcase gigs at the Roxy, Troubadour and Whisky-A-Go-Go. While most other Hollywood bands were dishing out tame-sounding, glam-inspired pop, Guns N' Roses stood out from the crowd with their raw, bluesy tunes and street-punk attitude.
"We were gutter kids," says Slash. "We had no money, we were hungry and we all lived together in a one-room studio apartment. A lot of other bands at the time were these spoiled rich kids who were just posing. We got noticed because we were real."
Eventually Guns entered the studio to record a demo tape with producer Spencer Proffer, who had worked with an unlikely combination of artists, including the Little River Band, Quiet Riot, Tina Turner and W. A.S.P. Soon major record labels and wishful potential managers were lining up with cash in hand. "We'd take advantage of anyone who was dumb enough to let us," says Slash. "We didn't give a shit. All these suits would take us out to dinner. and we'd run up the bill by ordering as much as we could drink. They'd get pissed off at us, and we'd just laugh because we didn't want to do business with people like that. They didn't understand the band at all. Paul Stanley wanted to produce us. and Axl and I talked to him only as a favor for Steven. But Paul tried to rewrite our songs, including 'Welcome to the Jungle,' so we told him to go to hell."
Regardless of the Guns' increasing notoriety, contract offers kept on coming in, and the group kept on refusing them. But when Tom Zutaut, an AR representative from Geffen Records who was known for signing Motley Crue, approached the band, they finally took an interest. Zutaut's successful track record meant nothing to them; they were more impressed by the fact that he was a fan of the same type of music as them. "When Tom told us that he thought we were the best band he had seen since AC/DC, that pretty much closed the deal." says Slash. "All these suits we talked to knew nothing about rock. They had no idea who Aerosmith was. We trusted Tom because he understood what type of band we were, and he wasn't going to try to change us."
Guns N' Roses inked its contract with Geffen in March 1986, and the label set about the arduous task of finding them a manager and a producer. It took several months: the most suitable candidates declined the opportunities due to the band's increasingly notorious reputation. Finally, Mike Clink, who had engineered one of Slash's favorite live albums, UFO's
Strangers in the Night
, agreed to take on the challenge, and the group entered Rumbo Recorders to make their debut album,
Appetite for Destruction
.
At Geffen's instructions, Guns N' Roses were forbidden to play any shows while they were working on their first album. To keep the band visible, build a buzz and help establish street credibility, the label funded the
Live?!*@ Like a Suicide
EP, which was released in December 1986 on the group's own Uzi Suicide label. It was a wise decision from a marketing standpoint, but an incredibly dangerous move on a personal level.
"We got really bored, because we couldn't do any gigs," says Slash. "That's when all the problems with drugs started happening. We developed some had habits because everyone wanted to be our friends and were always coming around to party with us." It was the beginning of a self-perpetuating cycle that almost stopped Guns N' Roses in its tracks. The now the band partied, the more the album was delayed. The more the album was delayed, the more bored they became, so they partied. By the time the album was completed, several members had developed serious addictions.
The pace started to pick up in June 1987, when Geffen issued GN'R's first single, "It's So Easy." Three shows were booked at London's Marquee Club, and the band headed overseas to make their European debut. "Those were the first publicized live shows that we did as a signed band," says Slash. "I was born in England, and it was very important for me to play in front of an English audience. The version of 'Mr. Brownstone' on the live album was recorded at one of those gigs. I was just playing a Les Paul through a half-stack back then, but it sounded so cool."
Appetite for Destruction was released in July 1987, but the album initially drew more attention for its cover illustration by Robert Williams, which depicted a woman who had been raped. The cover was quickly withdrawn, but the controversy lingered and the band was criticized for its misogyny. Even so, the publicity wasn't entirely negative, and the Gunners earned kudos for their live performances opening for the Cult, and for their hard-hitting single "Welcome to the Jungle." Axl and Slash were soon compared to rock's other dynamic vocalist/guitarist duos—Steven Tyler and Joe Perry as well as Mick Jagger and Keith Richards.
Everyone seemed to have an opinion about Guns N' Roses, but success eluded the band for several months. They were enormously popular in Los Angeles, where they ended 1987 with a sold-out, four-night run at Perkins Palace, and they enjoyed constant rotation on the hard rock radio station KNAC. The rest of the world took a while to catch on, but by April 1988
Appetite for Destruction
entered the
Billboard
Top 10. and in July it reached No. 1. Thanks to the one-two punch of the singles "Sweet Mkt a Mine" and "Paradise City," the album remained on the charts for a staggering three years afterward. To this date it has sold more than 20 million copies worldwide.
The band had gone from the gutter to glitter, but their situation wasn't exactly a bed of roses. During their first headlining U.S. tour, in 1988, Axl began to let his temper get out of control, picking a string of fights with security guards, parking lot attendants and hotel guests, and at one point walking out on the band. At the Castle Donnington Monsters of Rock festival in August 1988, as Guns N' Roses performed before their biggest audience to date, two people were killed in the crush of overzealous fans who rushed the stage. While touring as an opening act for Aerosmith, the group managed to offend their newly sober heroes with their excessive drinking and open drug abuse.
The group reached new highs in November 1988, when they appeared on the cover of Rolling Stone magazine and coined a Grammy nomination. But at the same time they received their harshest criticism ever. Geffen had just released the album
GNR Lies
, which featured the four songs from the
Live?I'@ Like a Suicide
EP and four new acoustic songs, including "One in a Million." Critics immediately zeroed in on Rose's lyrics to the song, which were viewed as being racist and homophobic. As is often the case, the controversy didn't diminish sales, and by February 1989
Lies
and
Appetite
both resided in the Top Five of the
Billboard
album charts.
Meanwhile, the band had stopped touring and was laying low. Unfortunately, as with the band's previous period of inactivity, the downtime made the members more susceptible to the allure of their dangerous habits. In October 1989, Guns N Roses came out of hiding to open several shows for the Rolling Stones at the L.A. Coliseum. But what should have been a triumphant return instead became an embarrassing public display of their problems. In front of tens of thousands of fans, Axl admonished Slash, Stradlin' and Adler for their abuse of heroin. For Slash, it was a startling wake-up call, and the following night he apologized to the crowd. But for the other culprits, it was the beginning of the end.
Instead of cleaning up his act, Adler spiraled deeper into addiction. His bandmates tolerated his dismal performance at Farm Aid in April 1990, but by July of that year the decision was made to fire him. "It was real hard to see Steven go, because he was my friend." says Slash. "He was a big pan of what made us happen, and he had a great energy in the beginning. But when the rest of us straightened up and bounced back, he didn't." Matt Sorum, who played drums for the Cult, was quickly hired as a replacement, and the band begun to enter a new phase of growth.
Guns N' Roses finally entered the studio in September 1990 to record the follow-up to Appetite. The band recorded 36 songs and made the ambitious decision to release two separate albums at the same time. It was a ballsy gamble that paid off, however. and
Use Your illusion I
and
II
debuted at No. 1 and No, 2 on album charts all over the world when they were released in September 1991.
"For some reason the complications of putting those records together were endless." says Slash "We were getting the band out of a major drug haze, and getting it back together so it was a band. Plus, we were dealing with success, which affected everybody in different ways. For me it was a harsh reality to have my private life ripped open and in the spotlight all the time. But we got through that. We got through losing Steven. That was all mind-blowing. Looking back on it, I can't believe that we actually accomplished it."
Adding to the complications was the decision to begin a world tour before the album was finished. The Use Your Illusion tour started on May 24, 1991, in East Troy, Wisconsin, and ended more than two years later on July 17. 1993, in Buenos Aires. Argentina. By the end of the tour, Guns N' Roses had played 192 dates in 27 countries to seven million people.
Guns N' Roses was now a multimillion-dollar machine, but the big budget and professional production didn't eliminate the troubles. On July 2, 1991, less than two months into the tour, a riot broke out during the band's performance at the Riverport Performing Arts Center in St. Louis, Missouri. Apparently, a fan in the front rows was taking pictures of the band, and the venue's security refused to do anything about the situation, despite Axl Rose's protests. Rose became infuriated and walked offstage in the middle of the set, sparking off a furious reaction from the crowd that left 60 fans injured and resulted in more than $1.2 million worth of damage.
"The was the most violent act I've ever witnessed in my life," says Slash. "But I could feel that something was going to happen long before the riot broke out. There was an unmistakable ugliness in the air that night. It broke out so fast that there was no way we could have stopped it. We were afraid that someone was going to die, ourselves included. We had hardly gotten off the stage when people started to tear the place apart. They brought clown these huge stacks of speakers and completely ripped my amps to shreds. We had to hide in a van to escape from the parking lot, and even then we weren't sure that we were going to make it out of there."
The band had barely recovered from the trauma of the St. Louis riot when they were hit with another blow: on November 17, Izzy Stradlin' announced that he was quitting. According to Slash, his departure was inevitable: "His heart wasn't in being in the band by then. He lost interest a long time before he quit, and he was getting tired of being on the road." Guitarist Gilby Clarke, from the band Kill for Thrills, was hired as Izzy's replacement.
Despite the personnel changes, Guns N' Roses was more popular than ever, and fans welcomed the new members as if they had been there from the start. Although the band had started out defying the establishment, by now they had become the establishment. Perhaps the most telling sign of Guns N' Roses' acceptance was the band's appearance at the Freddie Mercury tribute concert at London's Wembley Stadium in April 1992. A few years after he was criticized for penning homophobic lyrics, Axl Rose performed Queen's "Bohemian Rhapsody" with Elton John—and at an AIDS benefit nonetheless. This may have been Rose's most shocking act of all.
But Rose's exhibition of tolerance didn't earn him status as a saint. Upon his return to the United States, he was arrested and charged with inciting the St. Louis riot. While performing in Montreal, Canada, on August 8. 1992, Axl cut the set short and caused yet another riot to break out, although it was nowhere near as violent as the incident in St. Louis. Fortunately, the remainder of the tour continued without any major problems.
The band was thoroughly drained at the end of the tour and decided to take a well-needed break. In November 1993, they released
The Spaghetti Incident?
, an album of punk rock covers that were recorded during the
Illusion
sessions. The album's title was an inside reference to Adler's lawsuit against the band for his dismissal. In an attempt to display the cruelty of his bandmates, the drummer had described an occasion where Duff McKagan ate his leftover spaghetti without asking permission—an episode described in Adler's legal documents as "the spaghetti incident." In classic Guns N' Roses fashion, the album stirred up yet another controversy, this time for the inclusion of a song allegedly penned by Charles Manson.
Meanwhile. McKagan, Clarke and Slash concentrated on solo projects while Rose mulled over the band's future direction. To Rose, the solo ventures were acts of disloyalty. Clarke was the first to go. and he was fired from Guns N' Roses in June 1994. Much to Slash's dismay, Axl started bringing around replacements of his own choice, including his high school chum Paul Huge and former Ozzy Osbourne lead guitarist Zakk Wylde. "Axl always had this vision of teaming me up with a guitar player who was going to stretch my boundaries," says Slash. "But he had no idea how difficult it is to get two lead players to meet eye to eye. Not only that, but you end up with a record that overflowing with self-indulgent guitars. I still come from the old Guns N' Roses school where I do what I do, which is play lead, and the other guitarist does what he does, which is play rhythm. That always worked the best for us."
Needless to say, these sentiments didn't sit well with Rose, and by October 1996, Slash was the next member of the band to get the ax. The following April, Matt Sorum announced that he was quitting, and by the summer of 1997 Duff McKagan had left as well. Meanwhile, Slash has assembled a new lineup for his band, Slash's Snakepit, and he's putting finishing touches on their second release. "I needed to keep myself busy while I was trying to figure out if Guns N' Roses was still going to happen," says Slash. "Rather than sit and dwell on things, I would keep booking gigs and take offers on any projects that looked interesting. I'm still doing that because I like to get out and play. I'm a musician, and I'll always be that first. I never cared about becoming a rock star.
"Guns is still close to my heart," he adds. "I'm loyal to the day I die, I suppose. We weren't out to change the world. We were just doing what we liked to do. But the success put a lot of pressure on us. Now that the pressure is off of us, we're probably getting along better than ever. I still have a great amount of respect for everyone and their individual talents. The live album was one of the easiest projects that we all worked on. I didn't actually see Axl, but we communicated via the powers that be. Izzy and Duff came by my studio a few months ago, and it was weird. They looked all grown up. I was the only one with a cigarette and a drink in my hand."
Attachments

the-ultimate-guitar-outlaw.pdf

You don't have permission to download attachments.

(7.9 Mb) Downloaded 23 times

Soulmonster

Band Lawyer







Posts

: 15355


Plectra

: 74819


Reputation

: 831


Join date

: 2010-07-06



---
Permissions in this forum:
You
cannot
reply to topics in this forum