In April and May 1994 Guns N' Roses were rumoured to be among the acts to play at Woodstock II/Woodstock '94 that would take place in August 12-14.
Transcript:
-------------------
25 YEARS LATER
Woodstock II acts revealed
Love-in veterans expected
SAUGERTIES (AP) -Woodstock veterans Neil Young and his former mates in Crosby, Stills and Nash are expected to take the stage with acts like Public Enemy and the Red Hot Chili Peppers at a 25th anniversary show this summer.
Promoters trying to recreate the epochal concert have refused to say who will perform this summer, but word is starting to slip out about acts planning to attend.
Hard rock stalwarts Pearl Jam and
Guns N' Roses
are also being hotly pursued by promoters, according to industry sources.
At least 250,000 people are expected at the two-day concert on the anniversary weekend of August 13-14 at a farm in Sauger-ties, about two hours north of New York City and 45 miles from the original Woodstock site. Promoters are targeting an audience that wasn't born 25 years ago.
"We want to create a festival that is relevant to this generation," said John Scher, president of PolyGram Diversified Entertainment. "The people who are in their 30s and 40s had their Woodstock."
Still, Scher said organizers will offer "a wink and a nod" to the original concert.
At least 26 artists are expected to perform and Scher said he already has the show "80 percent booked." He said the lineup will be announced next month.
But the California-based music trade magazine Hits, citing managers, agents and other music industry officials, has already published the names of more than a dozen acts expected to perform, including: Aerosmith, Soundgarden, Nine Inch Nails, Metallica, The Rollins Band, Peter Gabriel, Alice in Chains, Cypress Hill, Van Halen and The Spin Doctors.
R.E.M., which hasn't toured for several years, and first festival performers Santana are also being pursued by promoters, according to an industry source.
With Cypress Hill, leaders of a cadre of pro-pot musicians, and the New York-based Public Enemy, the second Woodstock has embraced rap—a genre that didn't exist the first time.
Young and CSN performed at the first Woodstock. There's no word on whether they'll re-form for the reunion.
Scher said he's "not overly optimistic" that he will convince The Grateful Dead to return.
The anniversary concert is being planned by Scher and the same three men who booked the original show. In recent weeks, they have broken ground at the site, acquired necessary permits and signed an agreement with the influential PolyGram entertainment company.
Television plans are still being made, but Scher said the concert will probably be offered on pay television broadcasts.
A concert album will be released this fall, he said.
Tickets will go on sale in early June, said organizer Joel Rosenman. They are expected to cost around $125, including parking and camping, and be available by lottery.
Food vendors, video theaters "and the greatest array of 'port-a-johns' in the history of western civilization" will be at the site, organizers said.
The original Woodstock forced the closing of the New York State Thruway. In an effort to cut down on traffic jams, promoters are considering spread-ingout incoming traffic by opening the gates two days early and bringing in local musicians to perform.
A second, competing concert is being planned for the Bethel farm where the original Wood-stock was held. Promoter Sid Bernstein wants to bring back original Woodstockers like John Sebastian and Melanie. But he faces a deadline at the end of this month to prove he has the necessary financial backing.
Last edited by Blackstar on Sun Sep 01, 2019 12:32 pm; edited 1 time in total

Blackstar

ADMIN




Posts

: 12210


Plectra

: 80075


Reputation

: 97


Join date

: 2018-03-17



Earlier article in
The Observer, April 10, 1994
: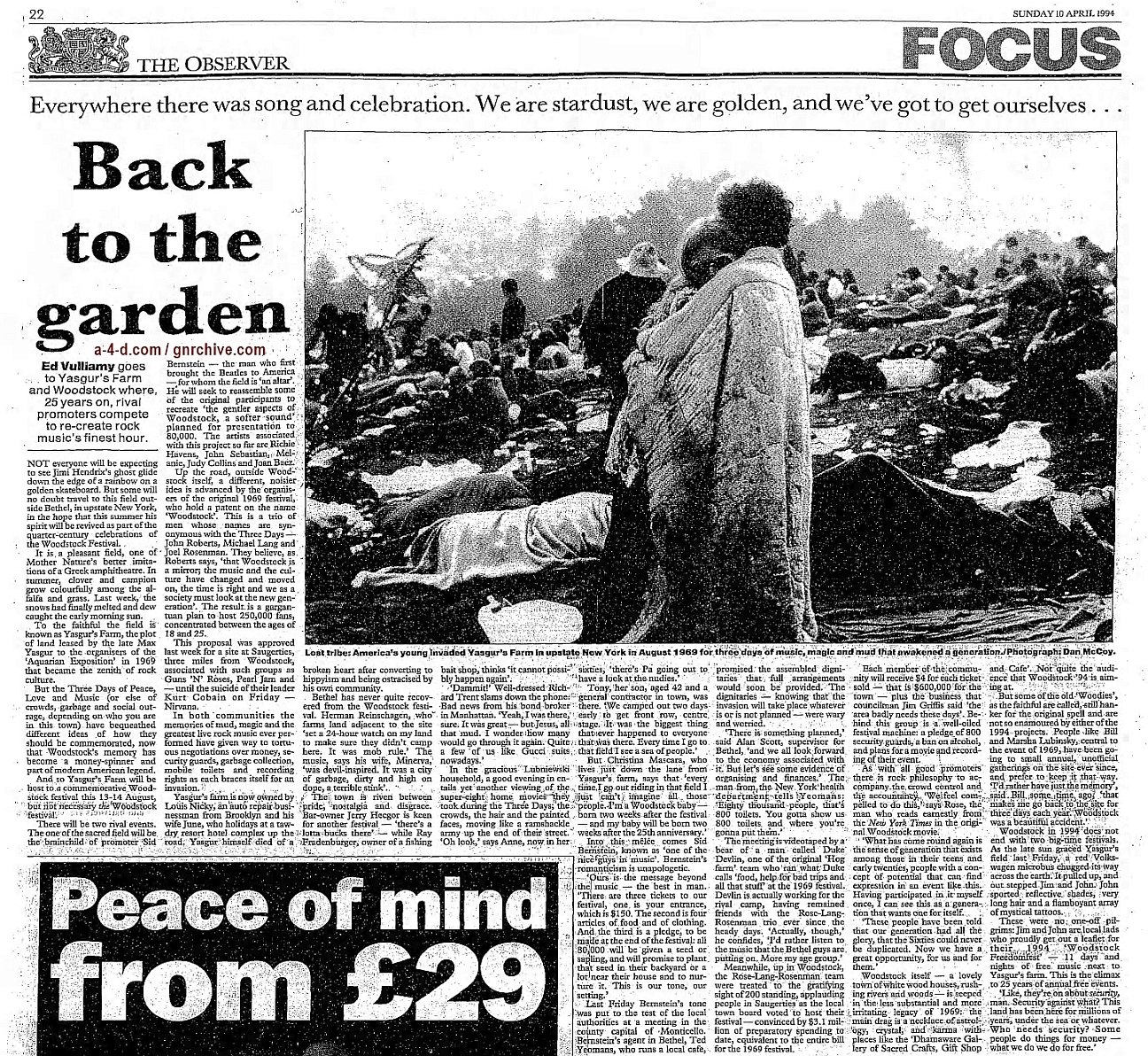 Transcript (excerpt):
------------------------------
[...]
Up the road, outside Woodstock itself, a different, noisier idea is advanced by the organisers of the original 1969 festival, who hold a patent on the name 'Woodstock'. This is a trio of men whose names are synonymous with the Three Days – John Roberts, Michael Lang and Joel Rosenman. They believe, as Roberts says, 'that Woodstock is a mirror, the music and the culture have changed and moved on, the time is right and we as a society must look at the new generation'. The result is a gargantuan plan to host 250,000 fans, concentrated between the ages of 18 and 25.
This proposal was approved last week for a site at Saugerties, three miles from Woodstock, associated with such groups as Guns N' Roses, Pearl Jam and – until the suicide of their leader Kurt Cobain on Friday – Nirvana.
[...]
Last edited by Blackstar on Sun Sep 01, 2019 10:20 am; edited 1 time in total

Blackstar

ADMIN




Posts

: 12210


Plectra

: 80075


Reputation

: 97


Join date

: 2018-03-17



Los Angeles Times, May 1, 1994: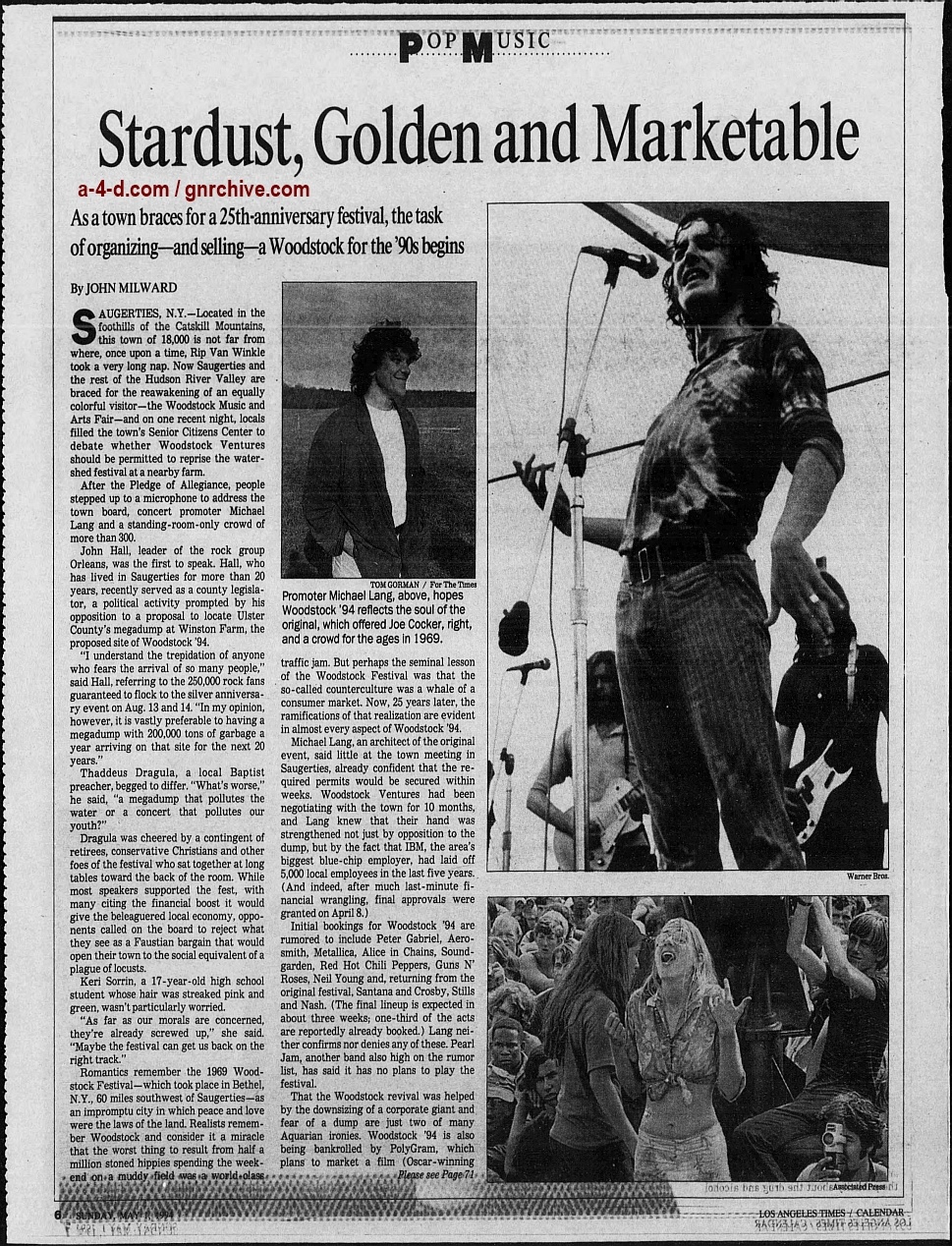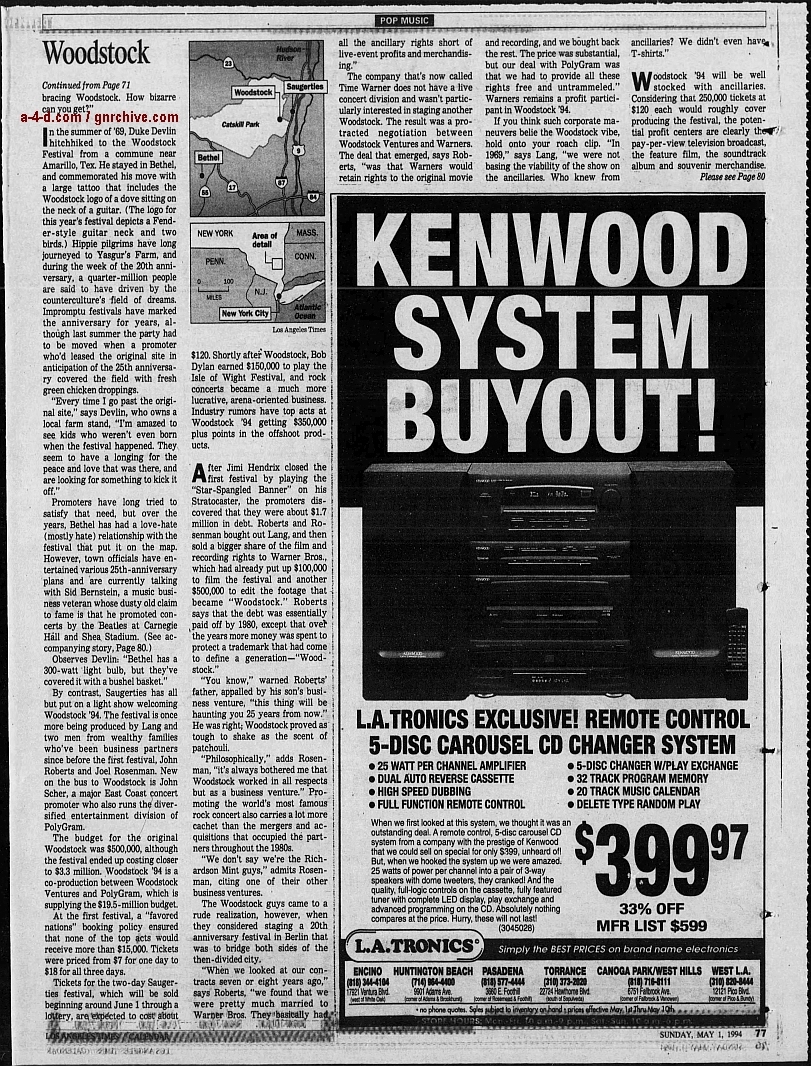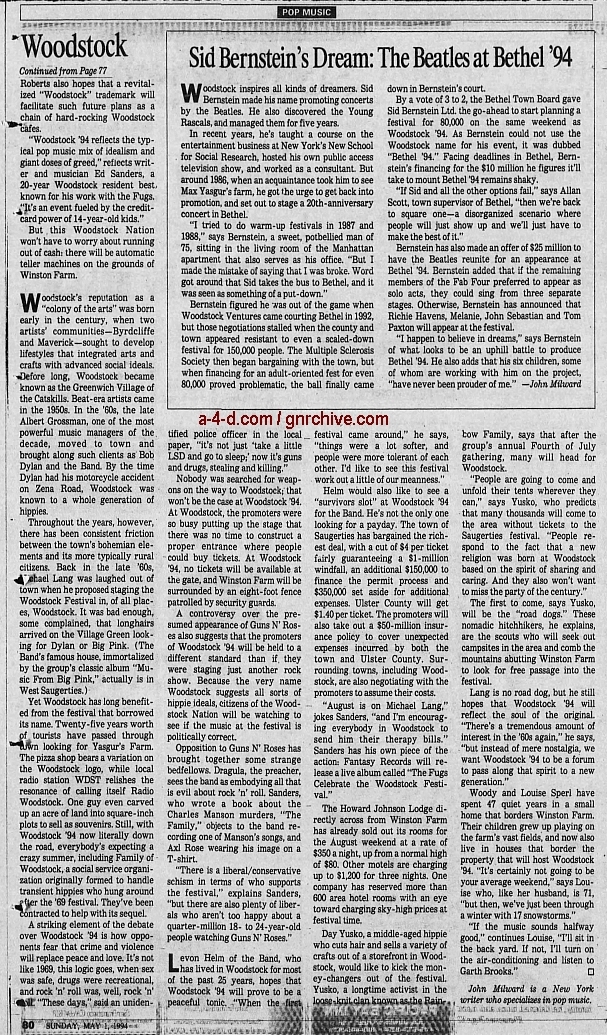 Transcript (excerpt):
--------------------------
[...]
Initial bookings for Woodstock '94 are rumored to include Peter Gabriel, Aerosmith, Metallica, Alice in Chains, Soundgarden, Red Hot Chili Peppers, Guns N' Roses, Neil Young and, returning from the original festival, Santana and Crosby, Stills and Nash. (The final lineup is expected in about three weeks; one third of the acts are reportedly already booked.) Lang neither confirms nor denies any of these.
[...]
A controversy over the presumed appearance of Guns N' Roses also suggests that the promoters of Woodstock '94 will be held to a different standard than if they were staging just another rock show. Because the very name Woodstock suggests all sorts of hippie ideals, citizens of the Woodstock Nation will be watching to see if the music at the festival is politically correct.
Opposition to Guns N' Roses has brought together some strange bedfellows. Dragula, the preacher, sees the band as embodying all that is evil about rock 'n' roll. Sanders, who wrote a book about the Charles Manson murders, "The Family," objects to the band recording one of Manson's songs, and Axl Rose wearing his image on a T-shirt.
"There is a liberal/conservative schism in terms of who supports the festival," explains Sanders, "but there are also plenty of liberals who aren't happy about a quarter-million 18- to 24-year-old people watching Guns N' Roses."
[...]

Blackstar

ADMIN




Posts

: 12210


Plectra

: 80075


Reputation

: 97


Join date

: 2018-03-17



Of course Guns N' Roses didn't play at Woodstock '94 eventually.
Slash made a guest appearance, though, on the third day, August 14.
Public Opinion, August 15, 1994:

Transcript (excerpt):
-----------------------------
[...]
The south stage gathered a crowd of around 50,000 to 75,000 for acts such as the Neville Brothers, Green Day and Carlos Santana. Slash from Guns N' Roses joined Paul Rogers, Jason Bonham and others in a rendition of Hendrix's I Don't Live Today.  Incredible!
[...]

Blackstar

ADMIN




Posts

: 12210


Plectra

: 80075


Reputation

: 97


Join date

: 2018-03-17



---
Permissions in this forum:
You
cannot
reply to topics in this forum