Album:
The Spaghetti Incident?
, 1993, track no. 10.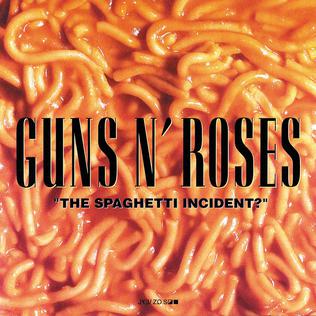 Written by:
Steve Jones and Paul Cook (The Professionals)
Musicians:
Vocals: W. Axl Rose
Lead & Rhythm Guitars: Slash
Rhythm Guitar: Gilby Clarke
Bass: Duff McKagan
Drums: Matt Sorum
Live performances:
'Black Leather' has to our knowledge never been played live.
Lyrics:

Well she's all geared up
Walkin' down the street
And I can feel the slime
Drippin' down her sleeve

Well you can't refuse
and you just can't choose what she's gonna do
Well you can't refuse
and you just can't choose what she's gonna do

Well it's late at night
And I'm all alone
And I can hear her boots
As she's near her home

Well you can't refuse
and you just can't choose what she's gonna do
Well you can't refuse
and you just can't choose what she's gonna do
Scratch, scratch
She's clawing at the door
Oh no I can't take it anymore
Crack, crack
I'm feelin' so sore
I never should've asked for
Black Leather
Black Leather
Ooh Black Leather
Black Leather

And you can try to hide
But you won't get far
You can let her in
And you start again

Well you can't refuse
and you just can't choose what she's gonna do
Well you can't refuse
and you just can't choose what she's gonna do
Scratch, scratch
She's clawing at the door
Oh no I can't take it anymore
Crack, crack
I'm feelin' so sore
I never should've asked for
Black Leather
Black Leather
Ooh Black Leather
Black Leather

Black Leather
Black Leather
Black Leather
Black Leather
Black Leather
Black Leather
Black Leather
Black Leather
Black Leather
Quotes regarding the song
I saw [former Sex Pistol] Steve Jones at Matt Sorum's wedding. He goes, "When is the record coming out?" I said, "Probably in November. 'Black Leather' sounds really good." He says, "I hope it's better than the Runaways' version." I said, "Steve, I'm sorry to say it's a lot better than yours too." [Laughs] I've known him for a while, I was just fucking with him. [...] Axl wanted to do "Black Leather"[...]
Guitar Player, January 1994


Soulmonster

Band Lawyer







Posts

: 15355


Plectra

: 74819


Reputation

: 831


Join date

: 2010-07-06



---
Permissions in this forum:
You
cannot
reply to topics in this forum