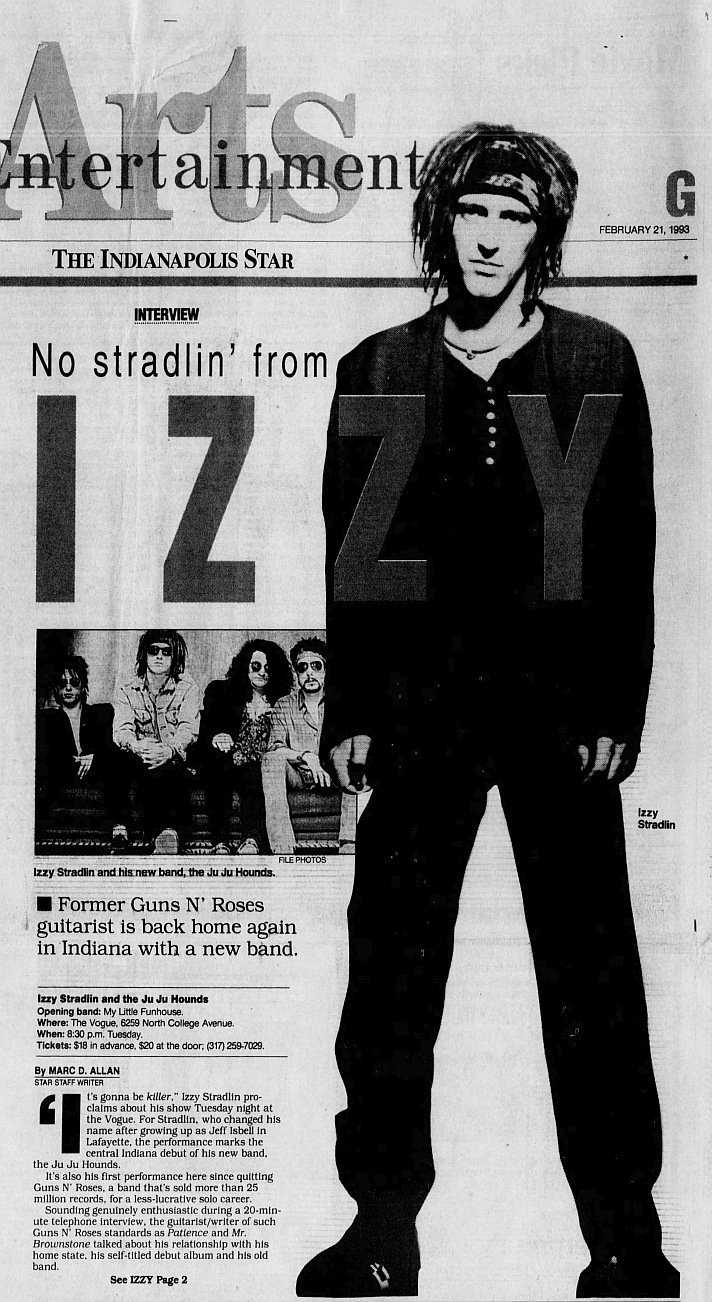 Transcript:
-------------------
No stradlin' from IZZY
■ Former Guns N' Roses guitarist is back home again in Indiana with a new band.
Izzy Stradlin and the Ju Ju Hounds
Opening band:
My Little Funhouse.
Where:
The Vogue, 6259 North College Avenue.
When:
8:30 p.m. Tuesday.
Tickets:
$18 in advance, $20 at the door; (317) 259-7029.
By MARC D. ALLAN
STAR STAFF WRITER
It's gonna be
killer
," Izzy Stradlin proclaims about his show Tuesday night at the Vogue. For Stradlin, who changed his name after growing up as Jeff Isbell in Lafayette, the performance marks the central Indiana debut of his new band, the Ju Ju Hounds.
It's also his first performance here since quitting Guns N' Roses, a band that's sold more than 25 million records, for a less-lucrative solo career.
Sounding genuinely enthusiastic during a 20-minute telephone interview, the guitarist/writer of such Guns N' Roses standards as
Patience
and
Mr. Brownstone
talked about his relationship with his home state, his self-titled debut album and his old band.
Question:
You have two fairly sentimental songs about Indiana on this record (
Izzy Stradlin and the Ju Ju Hounds
), but from what I've read, you don't have a lot of fondness for this state.
Answer:
You gotta understand, from 1980 to '87, I was in California and Guns N' Roses. We did some interviews, the first ones we'd done, in '86 or '85, drunker than s —. The subject of Indiana came up and somehow we were sputtering crap about it.
I moved back to Indiana in 1988, 89 — after Guns N' Roses had been out on tour and made some money. I bought a house (in Lafayette) and I've been based out of there since. I've got family and I've got old friends back there and I kind of got to know the place again, I suppose. I dig it back there.
Youthful indiscretionsQ:
So those were youthful indiscretions on your part?
A:
I was 20 years old. I guess I should have known a little better.
Q:
Is it going to be strange to come home and play a club?
A:
It's gonna be
killer
. I'm looking so forward to it. We just got back off a tour. We've been out for three months — Europe. Japan, Australia — and the first gig we did before the tour started, we did a quick club gig up in Chicago. We wanted to launch the tour out of the States, then come back and do it right.
When Guns N' Roses played Indianapolis, when Axl (Rose, the group's lead singer, who also grew up in Lafayette) would start to go off on a tirade, I'd stand there and go, "Oh, let's go. Next song, next song." Kind of embarrassing. But there's no shutting him up. Once he gets going, that's it.
Q:
One of the great things about your record is how live it sounds. How did you record it?
A:
We would rehearse the song — sometimes it was just me, Jimmy (Ashhurst, the bassist) and Charlie (Quintana, the drummer), sometimes it was me, Jimmy and Rick (Richards, the guitarist) — and get it to where it sounded decent, go in and play it through three or four times and then move on to the next song.
After working on the
Illusions
records (Guns N' Roses'
Use Your Illusion I
and
II
) for two years and recording so many songs I can't remember all of them, I just really had the urge to go in and do it how we did
Appetite For Destruction
, which was, you go in, track it live, do three or four takes and move right along. No messing around.
Rolling Stones soundsQ:
While your record got fairly good reviews, everyone mentioned how much it sounds like the Rolling Stones. Does it sound like the Stones to you?
A:
Not
Bucket O' Trouble
, not
Pressure Drop
. There's the obvious two-guitar thing that's happening. It definitely has Stones influences and Stones vibes, and it's got a lot of other things, too. Maybe they're not as obvious.
To me, it sounds like the kind of music I like to play and hear. I love the Stones, reggae. I like any music. I listen to all kinds of stuff, even classical. Anything. I just love music.
Q:
The song
Shuffle it All
sounds like you're exhausted by the whole rock 'n' roll lifestyle. Is that an accurate reading of how you were feeling at the time?
A:
I did end up flashing back on constantly living out of a suitcase and constantly traveling, but at the same time enjoying it. At that time, the baggage was getting a little heavy, maybe. I've always loved touring. I got a bad rap from the Gunners about not wanting to tour and do videos and all that.
But I've always loved traveling and I've always loved playing different places. I've lived from suitcase to suitcase since '86.
Boyhood memoriesQ:
On
Train Tracks
, you reminisce about your boyhood hangout. Tell me more about that.
A:
Where I live now, too, I bought a house that's by the train tracks. That's where we used to hang out all the time. We'd ride dirt bikes and hang out, build tree forts, that kind of stuff. It was my favorite place to be.
When I came back there in '88, after the Guns N' Roses tour was all finished, that was the first place I went back to. That got the idea going for the song back then. It's just kind of a biography tune.
We moved out to the West Coast and boom, this band popped and got a bunch of bad habits and kicked all that s - - -. But I still like hanging out down there. We still go riding down there.
Q:
What caused you to write
Come On Now Inside
?
A:
I wrote that back in Lafayette, right before I came back out to LA to hook up with Jimmy,
the bass player. It was after I left Guns N' Roses. It was one of the first winters that I'd ever really spent that much time in Indiana.
I was there for just about a month, and the weather was really bad. One day the sun came up and I started feeling really good. I forgot how good it felt to have a little sunshine. I was sitting at my 8-track and tracked that song, just put it all together right there.
"A percussion thing"Q:
Tell me about
Morning Tea
, the uncredited instrumental at the end of the record.
A: How it started was, I've always wanted to do a percussion thing. I've always been into drums. I played drums before I played guitar or bass. I love drums. We did this thing in Chicago and we had everybody — the road crew, the band, everybody — all playing different drums. I had a couple of these Indian drums I bought down in Oklahoma. Ceremonial drums.
We did it in Chicago and we mixed the album in Copenhagen. Jimmy met this guy, his name is Agafa, he's Rastafarian. He's from Africa, but he lives in Copenhagen and he teaches African tribal drums. That's what he does for a living.
We did a live track, it was just me and him. I played on this talking drum, and he played the answer drum. We added two more tracks to It, and we had this track of guitar feedback and we stuck that in there with it. It was a trip.
Q:
Are you still friendly with the guys in Guns N' Roses?
A: Yeah. Duff (McKagan, the bassist) tried calling me here last night at like 4 in the morning, but I was sleeping. I got the message this morning. I saw (lead guitarist) Slash in New York last January and I talked to Matt (Sorum, the drummer).
I haven't talked to Axl since December of '91, but I'm sure he's been busy. But I've left the doors open if they want to call or anything like that. No animosity on my part.
Q:
So how did you feel when you saw that 'Where's Izzy' sign in the
Don't Cry
video?
A:
I thought, well, s —, I'm here in Indiana, man. What do you mean, where am I?
Last edited by Blackstar on Wed May 22, 2019 9:32 pm; edited 1 time in total (Reason for editing : Corrected wrong date)

Blackstar

ADMIN




Posts

: 2716


Plectra

: 18252


Reputation

: 87


Join date

: 2018-03-17



Ah, and this is from 1993

Soulmonster

Stage manager







Posts

: 10448


Plectra

: 60636


Reputation

: 814


Join date

: 2010-07-06



@Soulmonster

wrote:Ah, and this is from 1993
Of course it is
Fixed

Blackstar

ADMIN




Posts

: 2716


Plectra

: 18252


Reputation

: 87


Join date

: 2018-03-17




---
Permissions in this forum:
You
cannot
reply to topics in this forum